Warm and heartfelt winter evenings by the flaming fire are just wonderful. We're sure you've imagined yourself in the atmosphere of this festive luxury filled with the aromas of tangerines, the light of garlands and the sounds of Christmas music. If you live in a city apartment and you only dream of a stylishly decorated New Year's fireplace, we will tell you how to make it. See a selection of cool ideas and create amazing New Year 2023 decorations with Joy-pup.
Fireplace for New Year 2023 from cardboard boxes
Getting ready to celebrate New Year 2023? Create an unusual photo zone at home and try to make luxurious holiday props from scrap materials. It's pretty affordable and not difficult at all. The boxes that we usually throw away or, at best, store for recycling can serve as an excellent material for creating a DIY New Year fireplace.
This decorative element harmoniously fits into the interior of any house or apartment and doesn't need much space. If the apartment is very small, you can make a corner fireplace. In order to make a fireplace with your own hands for the New Year 2023, prepare the following materials:
cardboard boxes from household appliances or other goods;
2 plates of expanded polystyrene;
cyanoacrylate adhesive and hot-melt glue;
materials for decoration: paint, colored paper, polystyrene;
tools for work: (scissors, wallpaper knife, brushes).
Tip. Before you start making an imitation fireplace, we suggest reviewing the draft and calculating the measurements. A large TV box and several smaller ones are perfect for this kind of Christmas decor. Also, note that while working with cardboard and paper to create a Christmas fireplace with your own hands, you should use cyanoacrylate adhesive.
Christmas fireplace 2023: step by step instructions and photos
Glue 2 boxes together to form the side pieces. If you want your piece to be durable, glue white cardboard on top of the boxes.
Use cardboard to make an arch for the future hearth and glue it between the columns. To do this you'll need hot melt glue.
Glue the arch from the inside so that it looks voluminous and beautiful from all sides.
Make the back plank for the fireplace from a single cardboard sheet. Glue the bar and press it down so that the part is well fixed.
Use foam board as the base and top panel for the fireplace.
Your cardboard fireplace is almost finished. All you need is to choose decorations and setup.
You can use various materials for covering. For example, cut out sheets of red paper to create bricks, glue stylized wallpaper, or make rectangles of white foam and stick them on the frame.
Corner fake fireplace 2023 from scrap materials
When there is very little space in the apartment, a New Year's atmosphere can be created using a corner fireplace. Such decor is made from a large TV box and scrap materials that everyone can find at home.
Cut one side of the box so that you fold it into a triangle. Draw an opening on the facade of the future fireplace, make a small cut in the form of a semicircle. At the bottom of the fireplace, draw a corner for the firepot, make cuts and curve the cardboard inward. Make the walls out of additional cardboard and glue them with tape or hot glue. Decorate the fireplace with wallpaper and add other festive elements you like.
You can also paint the ready-made decoration with water-based paint, choose imitate brickwork, or apply fake styrofoam or drywall sculpting.
Styrofoam fireplace 2023: simple options for the home decor
Styrofoam is an excellent material for creating a DIY Christmas fireplace. It is lightweight, durable enough, affordable and very flexible to work with. To make a fake fireplace for the holiday, you will need:
2 rectangles, 40×60 cm;
2 rectangles, 40×20 cm;
sharp knife;
masking tape;
primer and glue.
You can also choose other measurements for the details of your future fireplace, it all depends on the free space. Watch the video on how to make a luxurious Styrofoam fireplace step by step for the New Year 2023.
How to decorate a fireplace: a selection of ideas for the New Year 2023
You can decorate the fireplace for the New Year 2023 as you wish: choose from the above mentioned ways to decorate it with your own hands. Take a look at several options in the photos showing imitation of white or red brick, snow-white decoration or improvised stucco molding. All these ideas can be easily implemented at home with the help of scrap materials like colored paper, old wallpaper, paint, drywall remnants.
A little imagination and festive decor, and a chic handmade fireplace for New Year 2023 will delight you and your loved ones. See how you can decorate a fake fireplace for the New Year and Christmas holidays.
t's just incredible to see how ordinary scrap materials turn into something cozy and beautiful! Decorate the Chjristmas tree, light the candles and the Christmas garland and enjoy the cozy holiday atmosphere.
Photo ideas of fireplaces with your own hands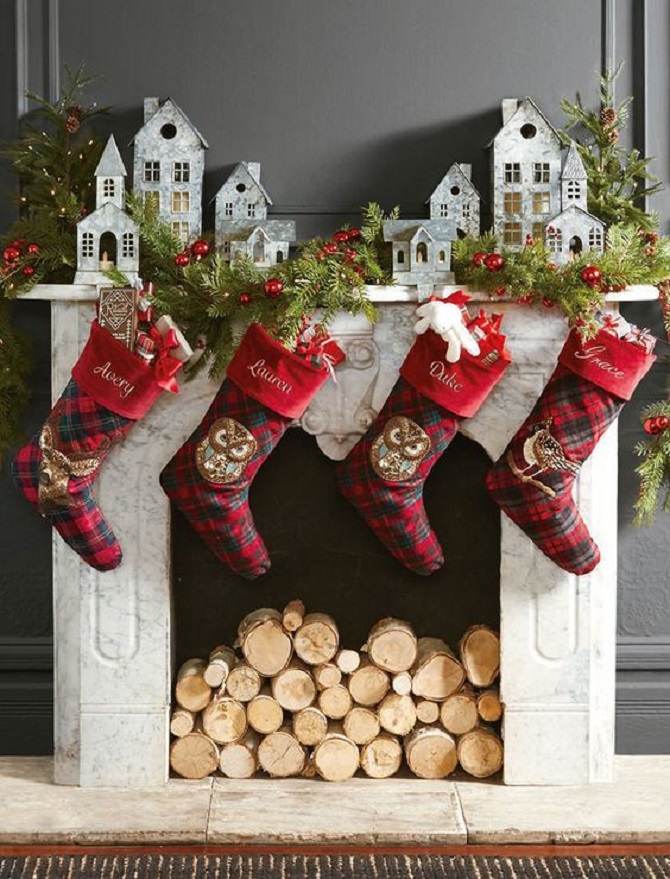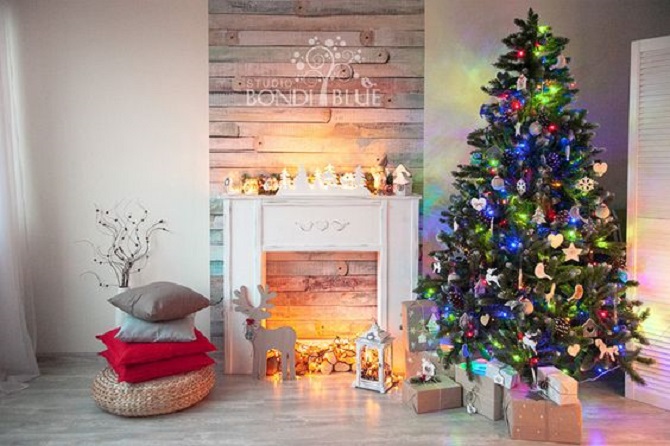 Similar articles / You may like this