2023 is the year of the Black Water Rabbit. This is a sweet, meek animal, and the year will pass, for the most part, calmly and harmoniously. It will be non-leap year, lasting 365 days, including 28 days in February. We look forward to the end of 2022 so that we can start life with a clean slate from a smooth start. Joy-pup will tell you what the year 2023 will be like for all the signs of the zodiac – in what area everything will go smoothly for you, where it will be difficult and in what cases you should be careful.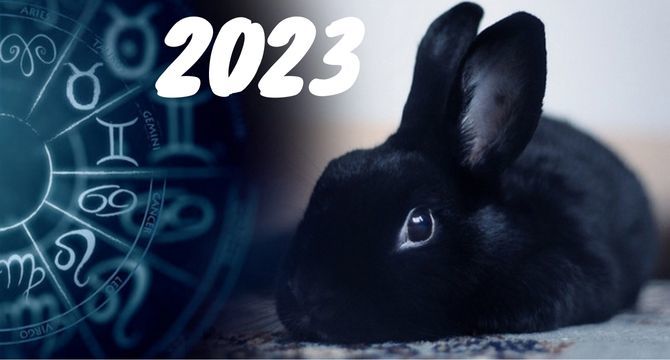 Aries
The horoscope for 2023 predicts that Aries will have more favorable conditions in the new year than you might expect. You will say goodbye to your monotonous life and discover a new side to yourself. Concerns about aspects such as career, finances, relationships, health will disappear. You will be more motivated to climb the new ladder in life. You will become more confident and stop being the quiet introvert you were last year. Quarrels and misunderstandings are possible on the love front from January to March, but October will give you happiness in your personal life.
Taurus
Taurus will have a hard time in the year of the Black Water Rabbit. It will bring chaos and many different changes that you will not be able to handle. Advice from the stars: train your intuition, learn to listen to your inner voice, look for balance in different situations and do not go to extremes. From May to September 2023, your efforts will surely pay off. This is the time when you must take the initiative in your work in order to receive a well-deserved reward. Real changes in the financial sector should be expected from April to August. The horoscope for 2023 predicts that this is a happy period for future married couples. At the beginning of the year, you will have to go through some trials, but this will only strengthen your bond with each other.
Gemini
For Gemini, 2023 will not be a smooth year. The upcoming changes that will come into your life will not always please. When faced with a major choice in your life, trust your intuition, keep your mind clear, and stay away from provocations. At the beginning of the year, focus on friends and love, where pleasant surprises await you. From the end of June to October is one of the most effective periods for self-renewal, you will have more strength and show your abilities in the best possible way. This year will give Gemini an opportunity to test themselves, learn to act more maturely and not be impulsive and quick-tempered.
Cancer
Cancer enters the new year with a very positive attitude and far-reaching plans, many of which are quite unrealistic. The traits of your nature are speed and insight, which must be used. 2023 is a year of opportunity for you, but at the same time there is a bit of risk that you can easily handle. In the new year, you will have a stable personal life, but be careful in communication and actions, especially with your loved ones. Jupiter will help in financial matters, but you will constantly lack time for family and relationships.
Leo
2023 will be a good year for Leos if they can use it right. It is favorable for personal growth, partnerships, diplomatic relations. September will bring changes to your emotional, personal and social life. This is a particularly good year for marriage, planning a child and generating new ideas. The beginning of the year can be tough, but by spring you will have regained your strength. Pay more attention to your health – both physical and mental.
Virgo
The strongest trait of Virgo is that she always knows how to find opportunities. 2023 will be a good period for this sign if he can use it correctly. At the beginning of the year, you will set a tremendous pace. You are full of energy and efficient as never before. Until mid-March, thanks to Mercury, you will be close to the limit of genius. There will be some turbulence in love, try to understand and respect your partner. From August, Mars will be in your zodiac sign, as a result, you will enjoy your love life to the fullest.
Libra
For the sign of Libra, the annual horoscope indicates that it is better to stick to safe decisions than to try new paths in work and life. This is especially true for investments in areas in which you are not oriented. Be patient with any change. It takes time to adapt to everything new. Start the New Year with extra strength and motivation. You have great ideas to tackle as early as March, thanks to the positive influence of Mercury. July to September is the best time to open your heart and let love in.
Scorpion
In 2023, Scorpio business will reach new heights, there will be many opportunities for rapid growth and career building. You will be offered a leadership position and take on many big responsibilities. In financial matters, you need to limit spending and focus on saving and accumulating money. You have an excellent nose in money matters and thus you can improve your financial situation. In 2023, you crave a change in your personal life. Uranus gives you romantic ideas that will breathe new life into your relationship. In September, couples can make further plans for the future: family planning or marriage.
Sagittarius
At the beginning of the year, Sagittarius will plunge into a whirlpool of events – both pleasant and not very pleasant. It is very important that you maintain your individuality and not be manipulated by others. You will have ups and downs in your career and studies in 2023. Also, you should be careful in choosing friends – toxic relationships will negatively affect your life. This year will be a year of challenges and opportunities to create something tangible in your life. In the middle of the year you will experience turmoil in the emotional process. Advice from the stars: do not part with your loved one this year, otherwise you will regret it all your life.
Capricorn
This year will be successful for Capricorns in their careers and finances. This year, this zodiac sign will have significant changes in life, especially in professional terms. In the second half of the year, Jupiter will help you with large cash flows and nice bonuses. But you should focus on family relationships, because there may be some conflicts between family members.
Aquarius
In the life of Aquarius in 2023, amazing transformations will occur. The position of the planets at the beginning of the year will bring many positive moments. Spring will be fruitful, your creativity knows no bounds, and good ideas will follow one after another. Due to the influence of Mercury, this will be a great time for your personal growth. You will learn new things about life and explore many areas that you never knew.
Pisces
The horoscope for 2023 indicates that this is a very important year for Pisces in many ways. You are the one who shapes and creates your own destiny, this year do not let anyone control you. Check everything with care, so you save yourself from pain and disappointment. However, by the end of the year, there will be times when things will be so difficult that you want to give up. Be strong and believe that you can face any unpleasant situation.
Similar articles / You may like this