New Year's holidays are hardly thinkable without a decorated Christmas tree, shining garlands and colorful toys. But today more and more people are dropping a living tree in favor of creative and, sometimes unusual, substitutes. For example, it's possible to create an eco-tree made of plywood, make an unusual New Year tree from a household stepladder, books or textile. If you can't imagine this, then watch a delightful selection of creative ideas from Joy-pup ideas and decorate your home for the New Year 2024.
Photos of alternative Christmas trees 2024 made from scrap materials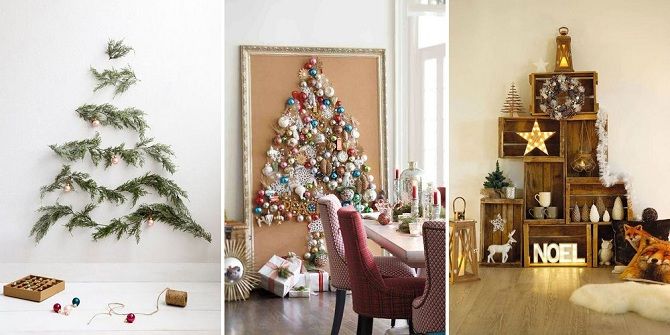 Today the reality shows us that a modern Christmas tree can be made from anything. And it does not necessarily mean that it will be green, fragrant and with needles. Such an exclusive handmade Christmas tree for the New Year 2024 will be, without any doubt, elegant and non-standard. One of the best options is to make it part of a festive interior.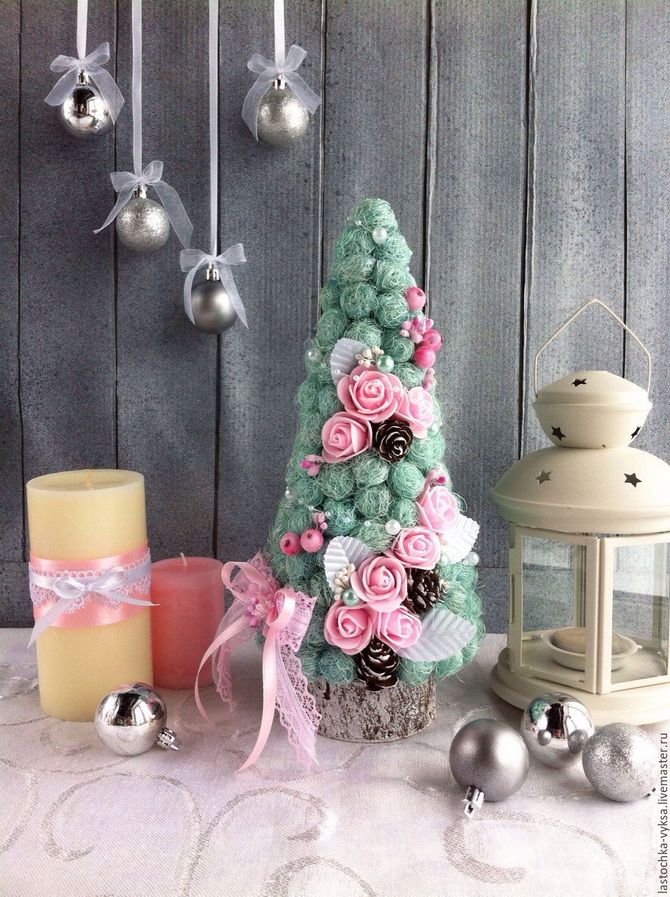 On the window, on the wall, in the flower pot and even on the ceiling – an alternative tree can be placed anywhere in your apartment. After all, this is a work of art where you can embody your creative fantasies.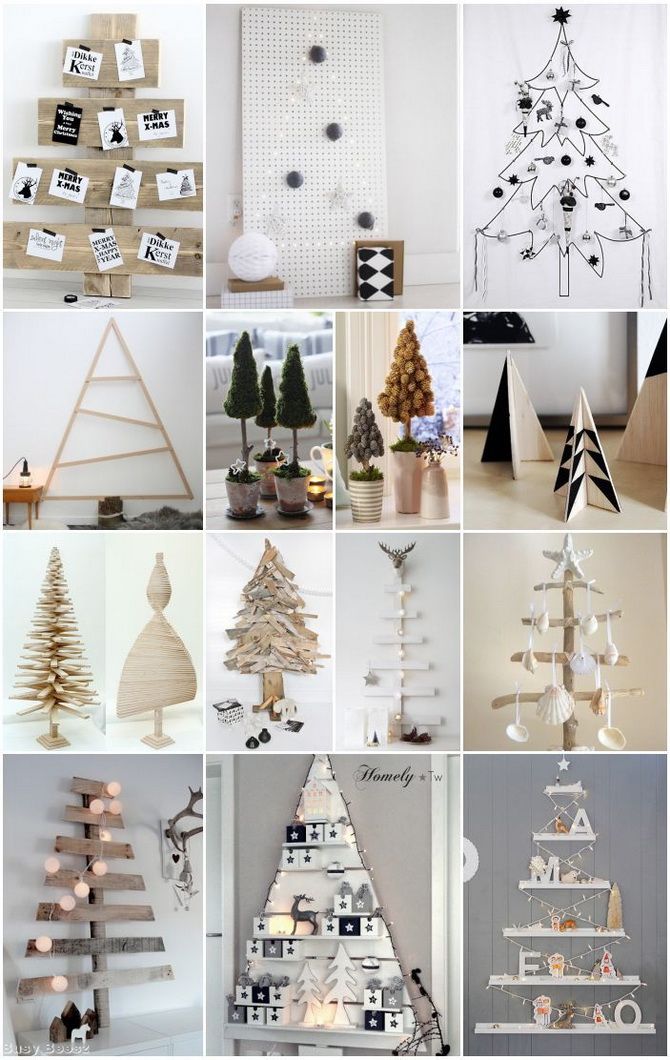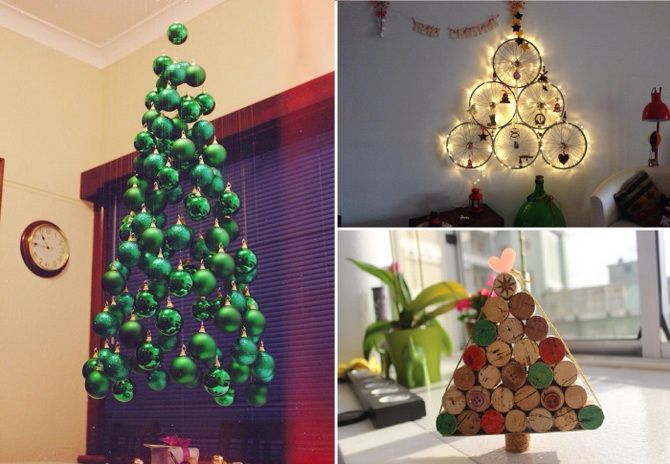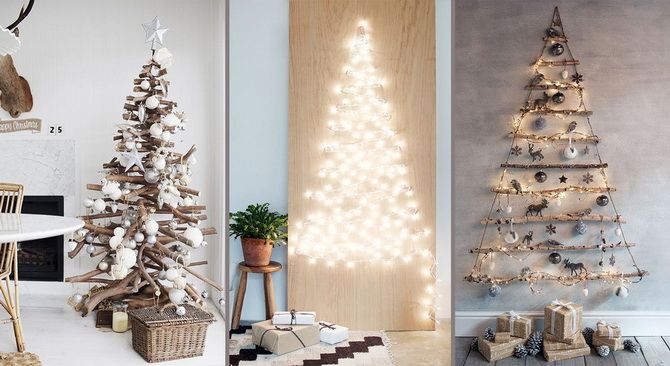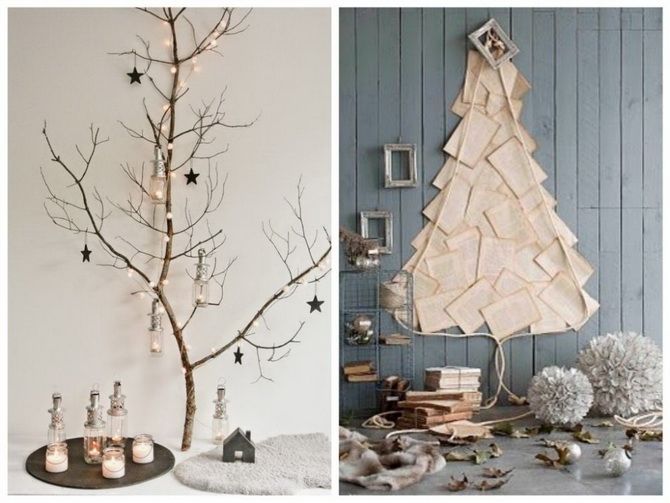 You don't have to buy all the elements in the store, you can make an incredible Christmas tree from scrap materials. What is better to use as a basis for making an exclusive Christmas tree with your own hands? Anything you want, starting with paper, felt and cotton and ending with thread, lace, dry tree branches, Christmas toys and even upside-down flower pots. The coolest option is a Christmas tree made from succulents. In the photo you can see how it looks in a festive New Year's interior.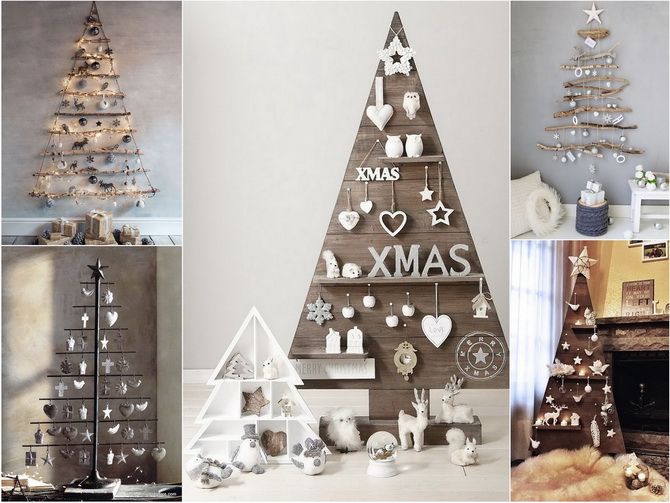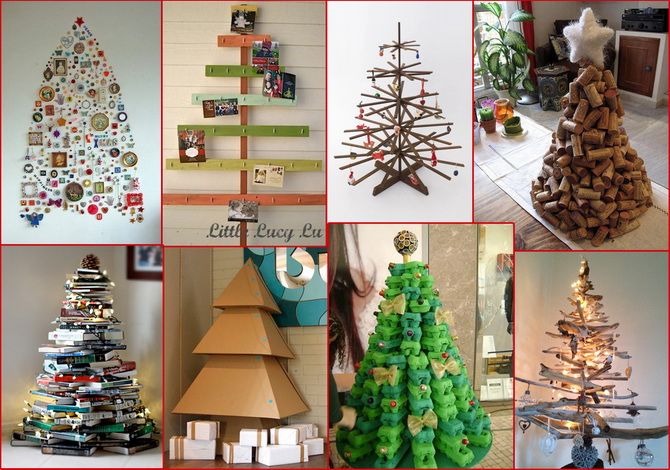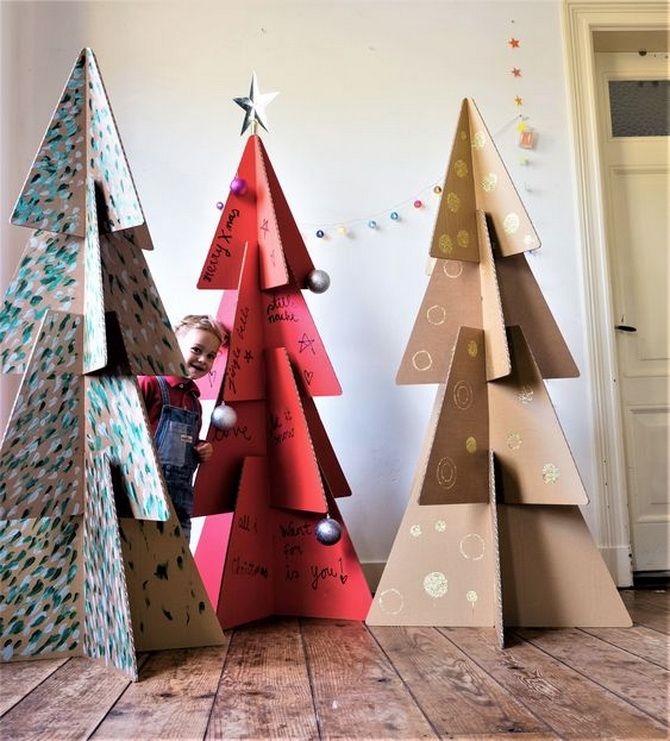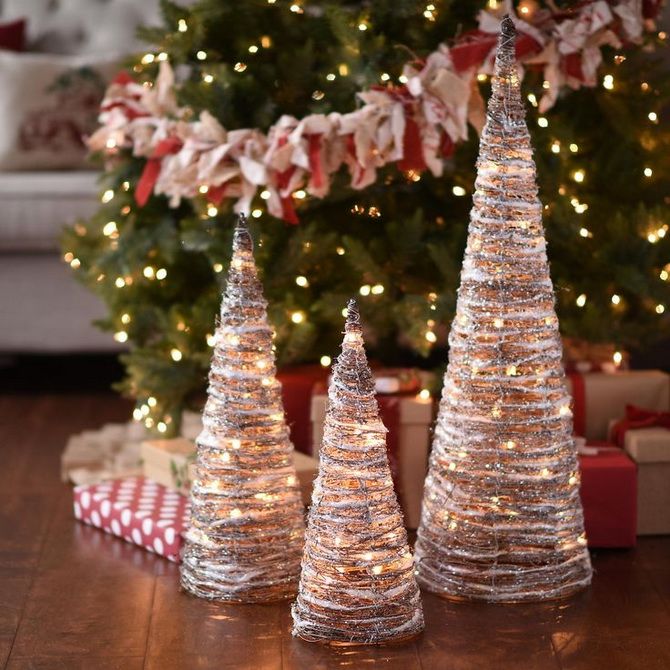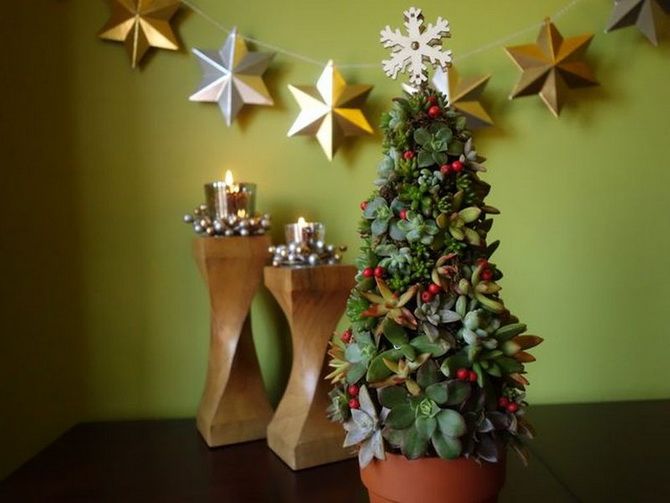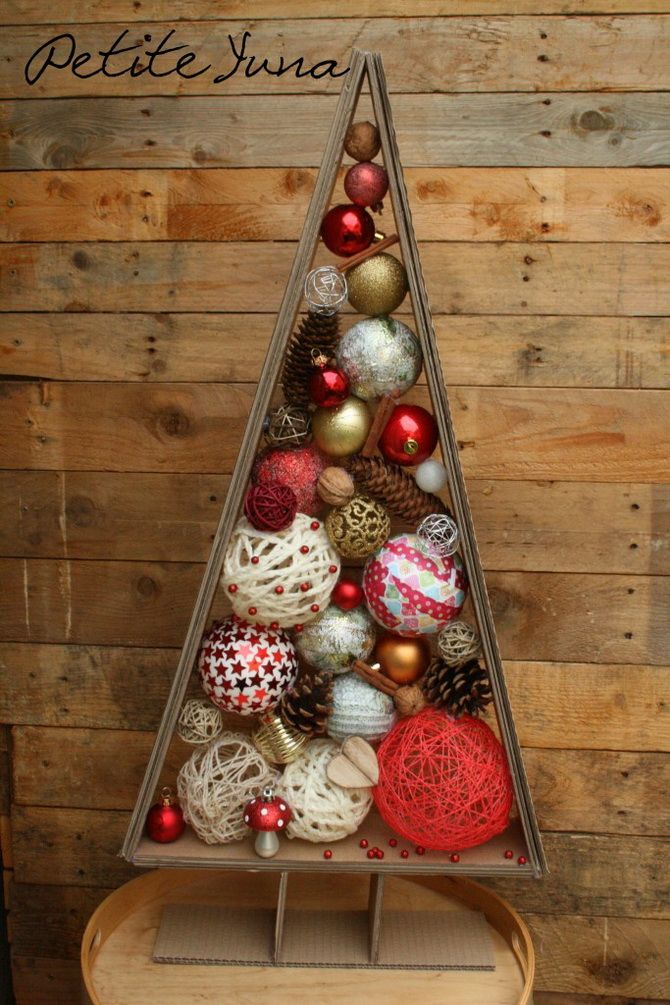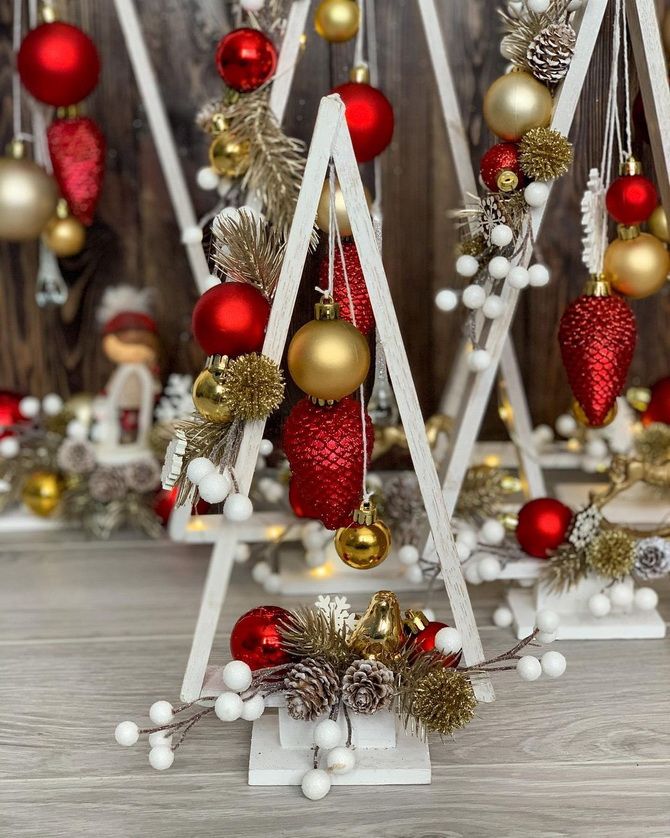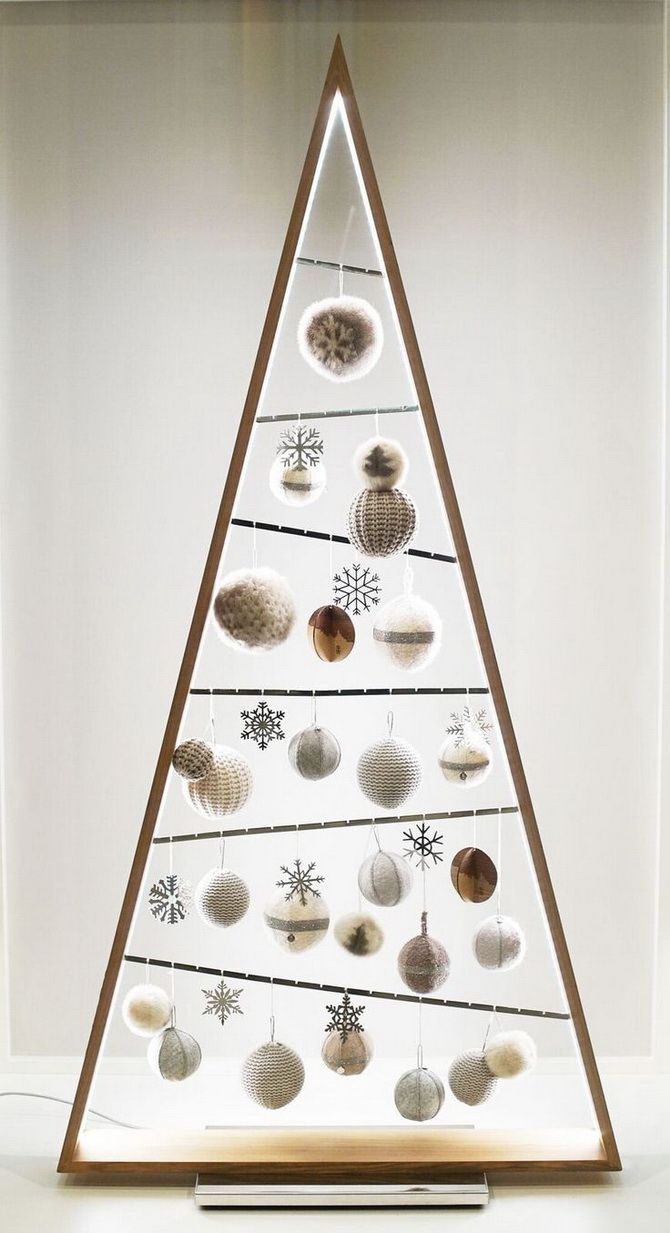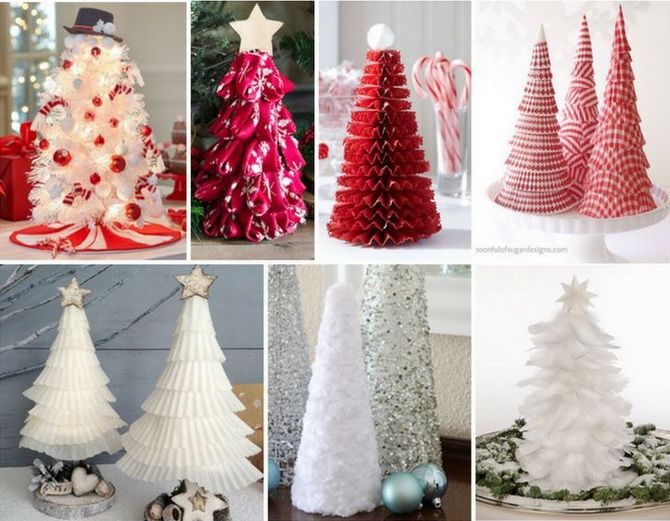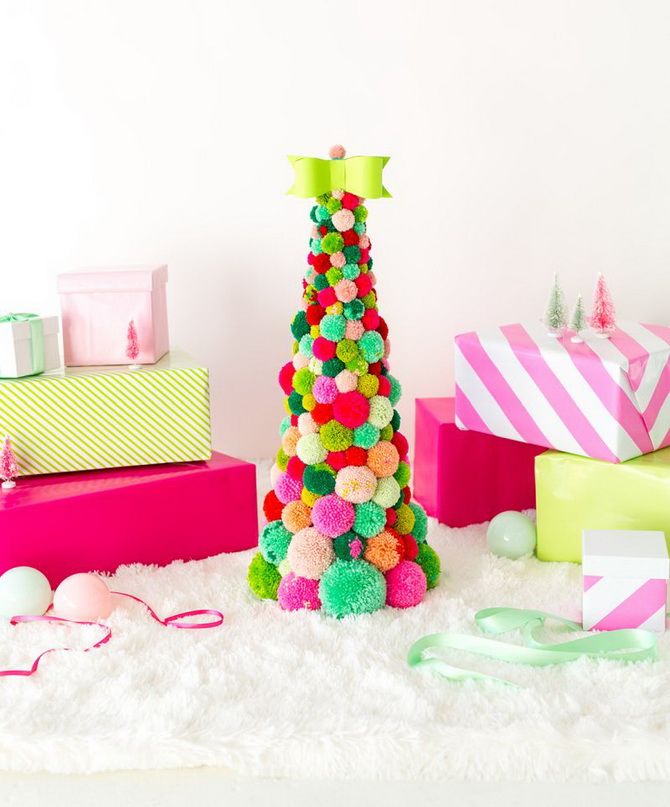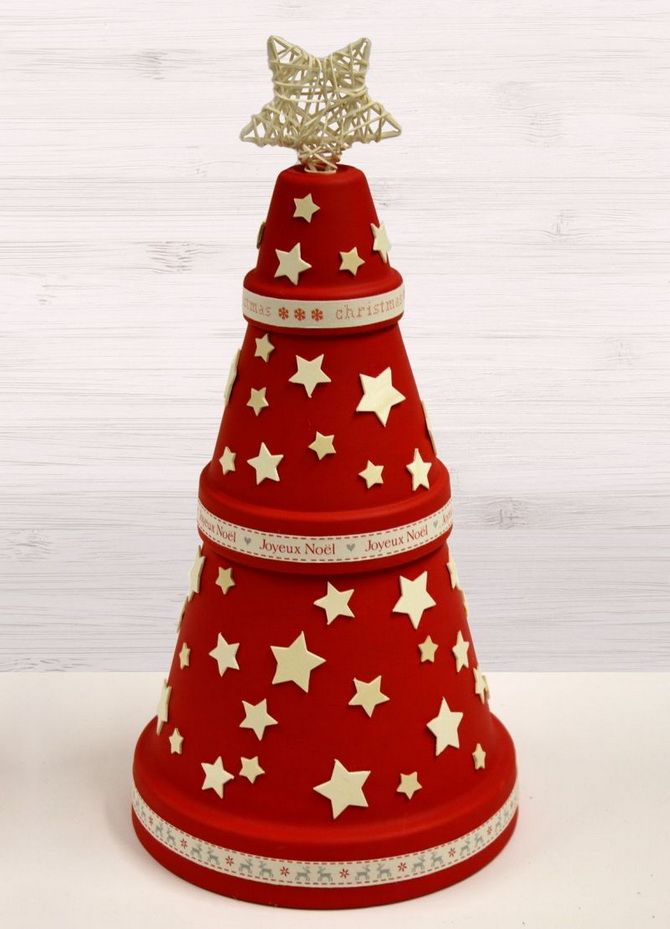 Christmas tree made of stabilized moss
Stabilized moss is a fashion trend in interior design. Due to the rich bright green color, this natural material looks great in the form of a Christmas tree. And, unlike a real Christmas tree, a symbolic tree made of stabilized moss is soft, not prickly and pleasant to the touch. It will be soft and fluffy for several years and will be an excellent decoration for the New Year's interior.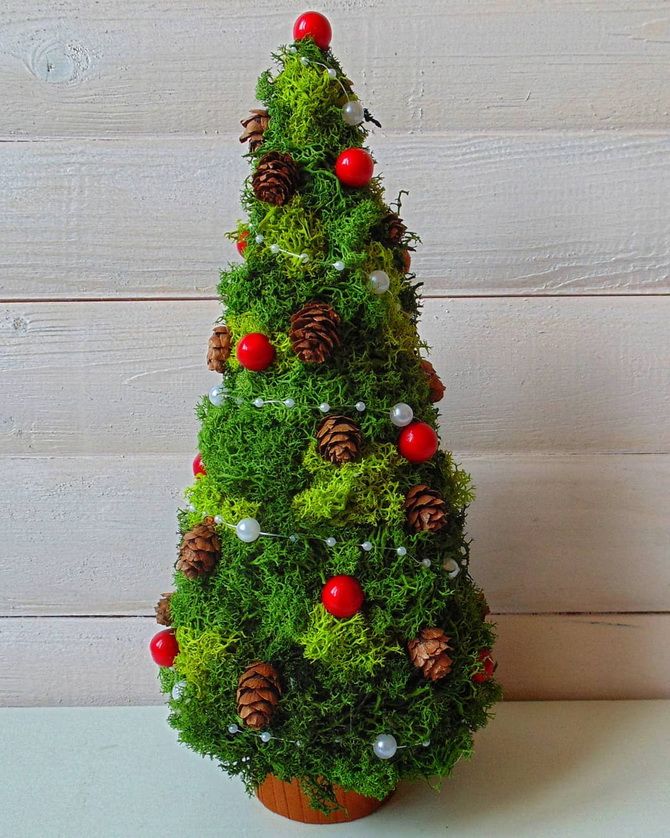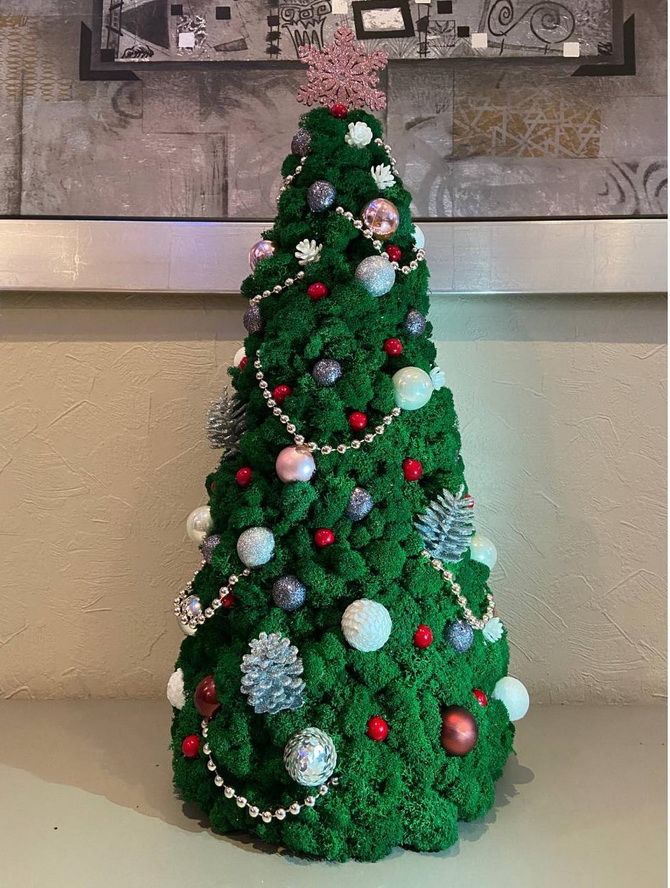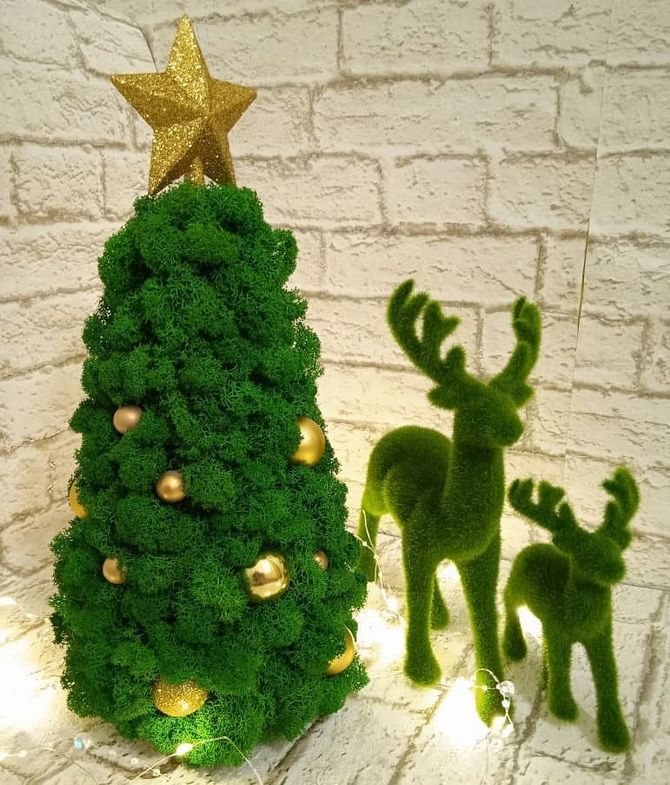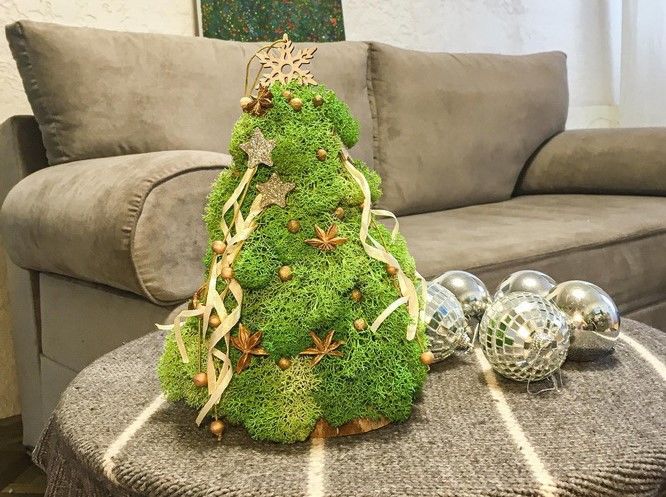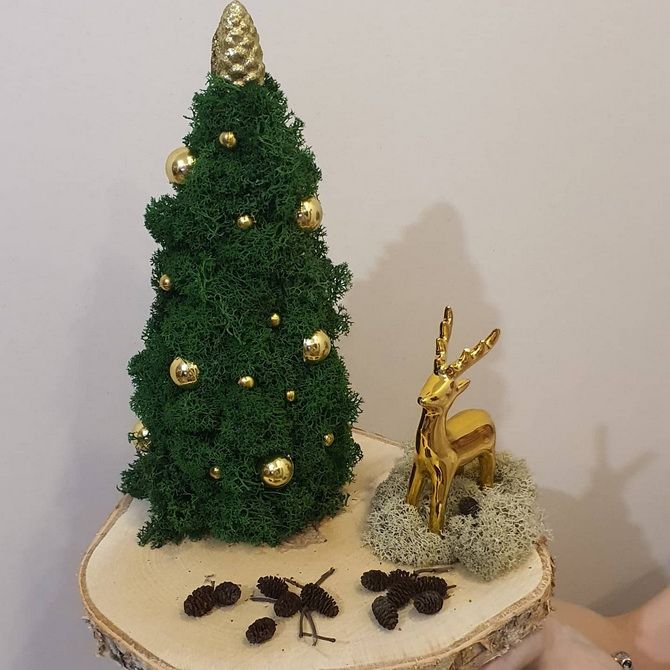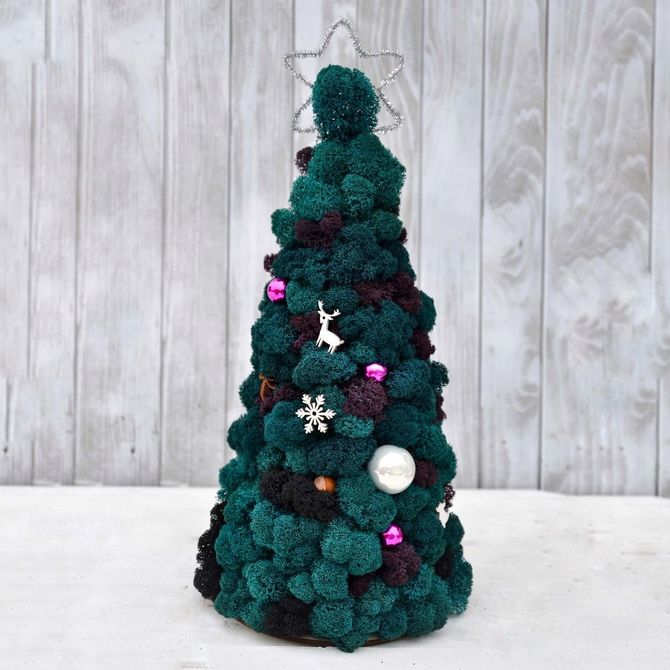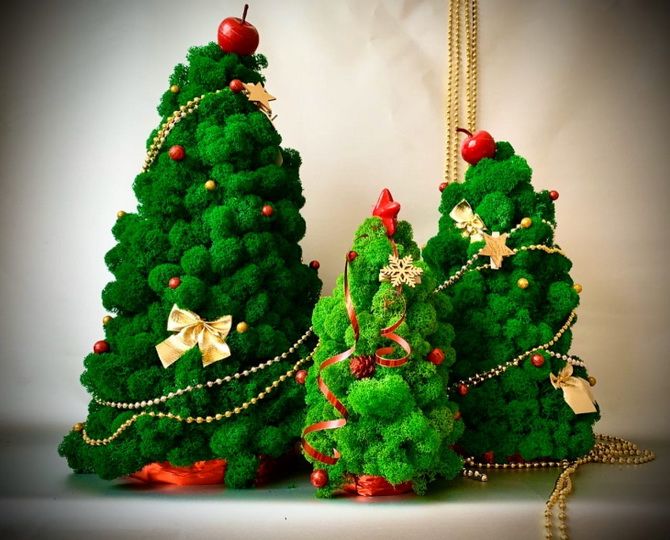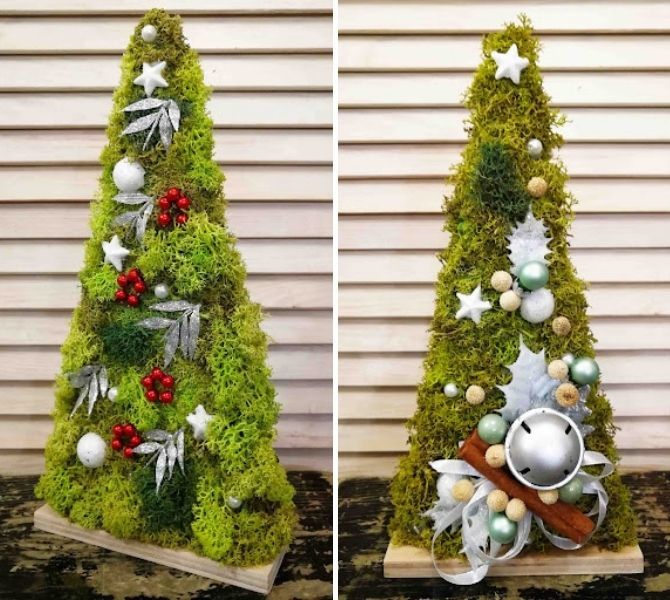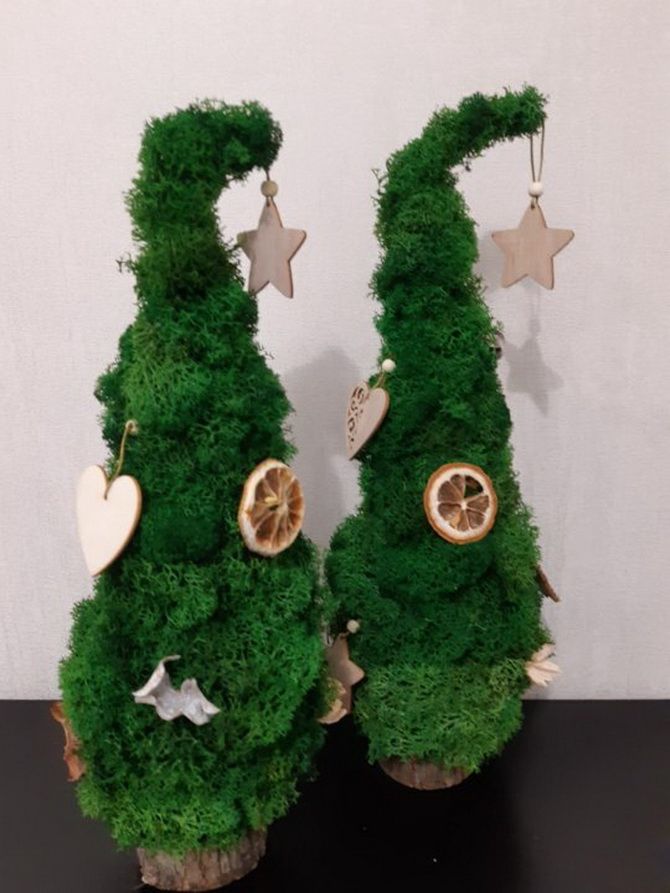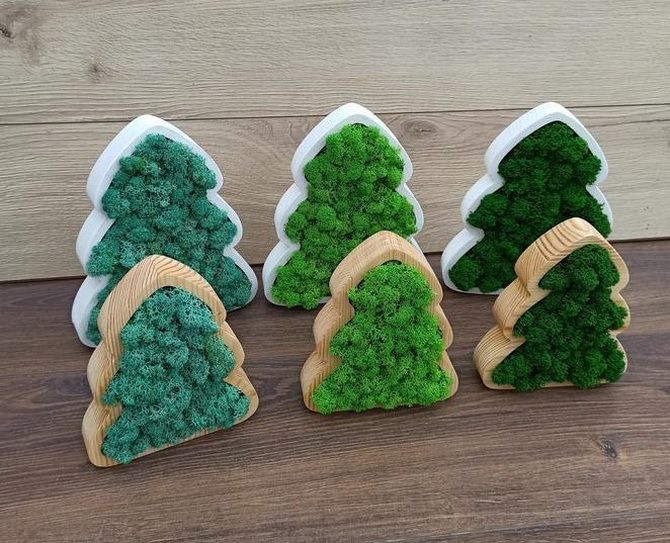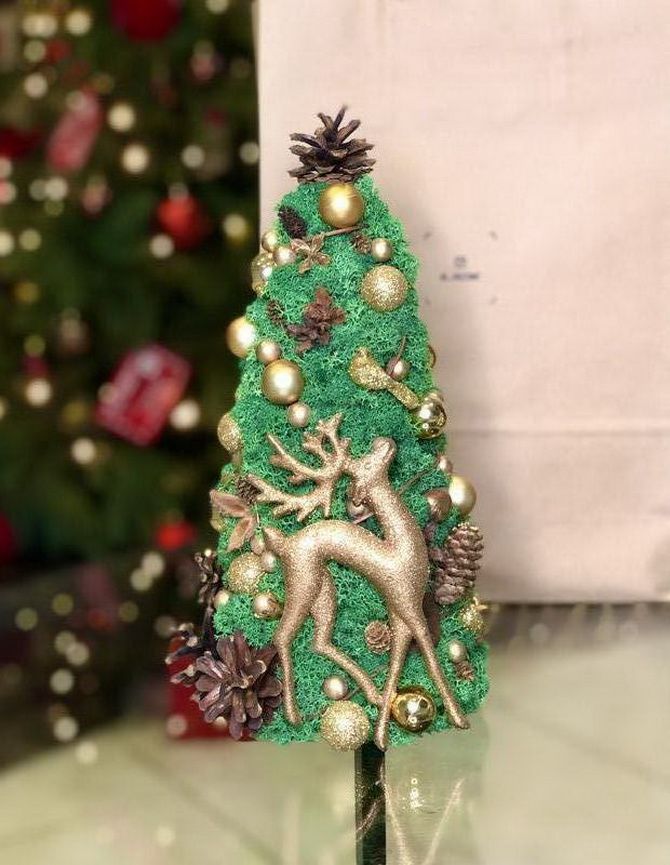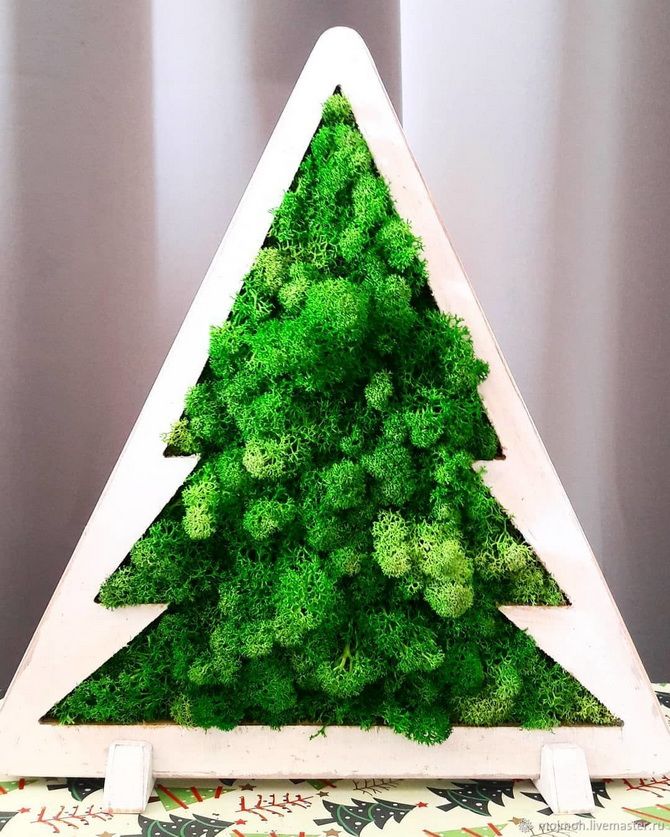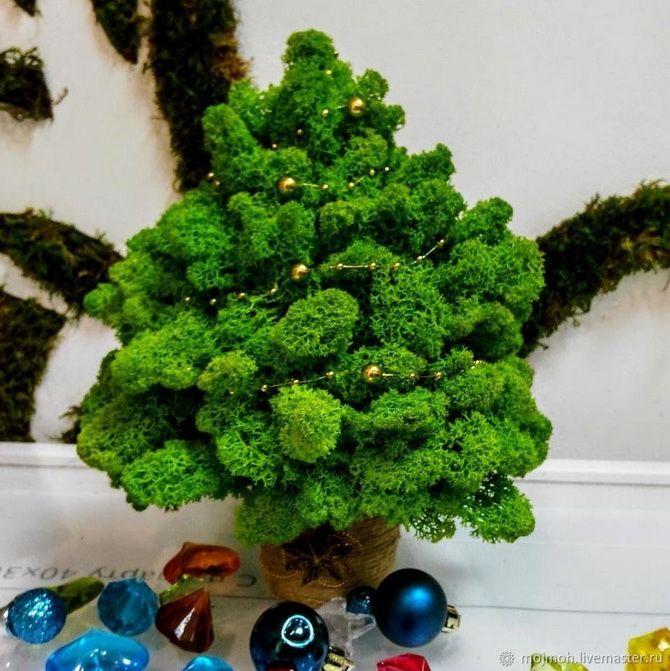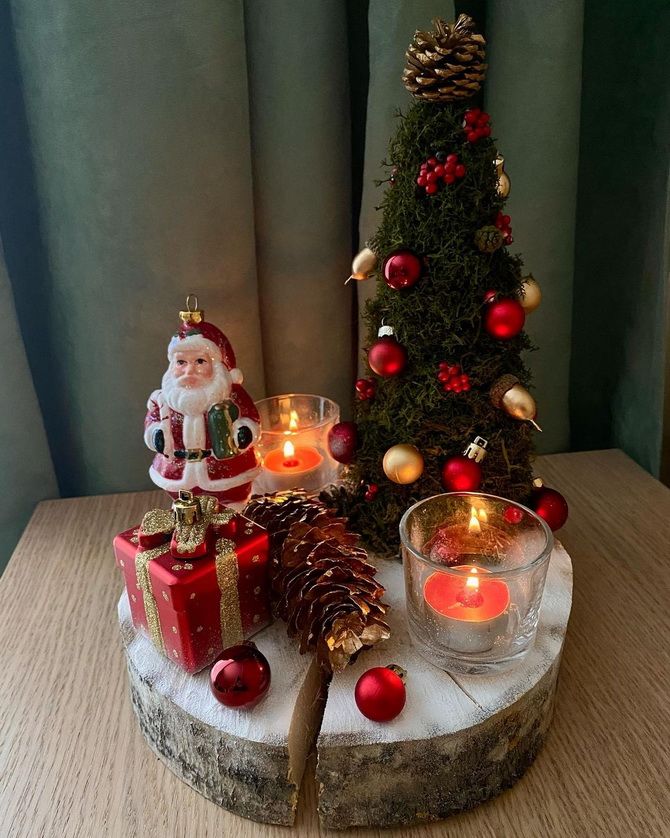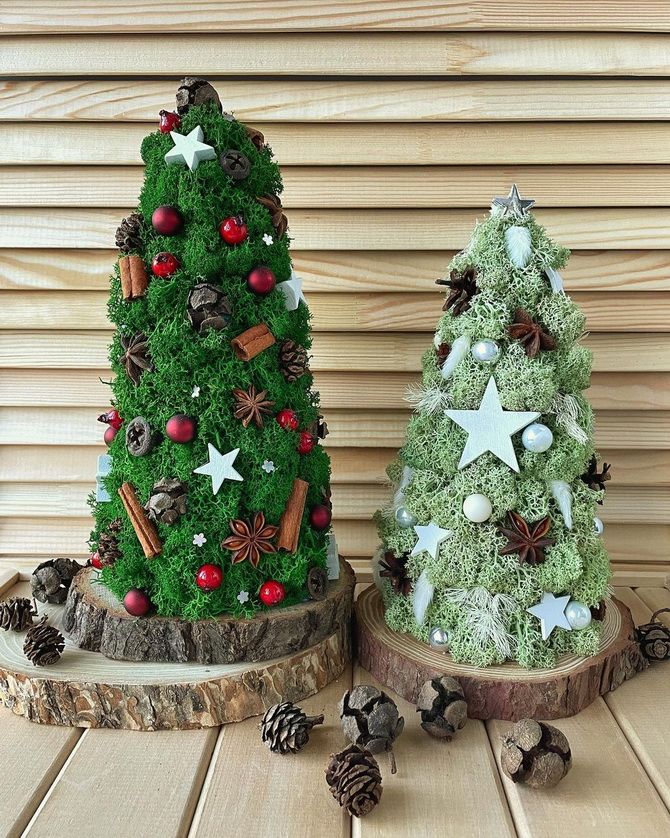 Queen of the holiday: DIY big Christmas tree 2024
There are plenty of creative options for you: a Christmas tree made from an old ladder or a gorgeous composition made of ordinary cardboard, New Year's art object made from beer bottles or an incredible book composition. For the New Year 2024 celebration, you can make an original and beautiful Christmas tree from simple and affordable materials, and it will become a real decoration for your home. See the photos and enjoy!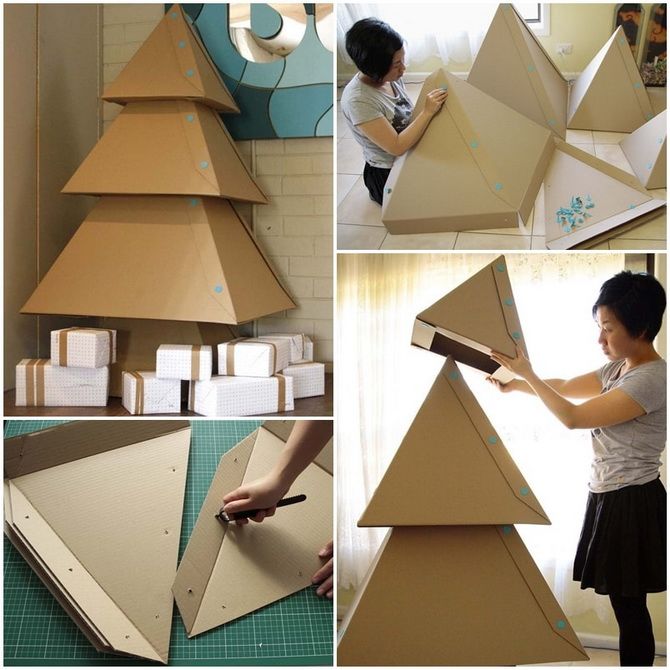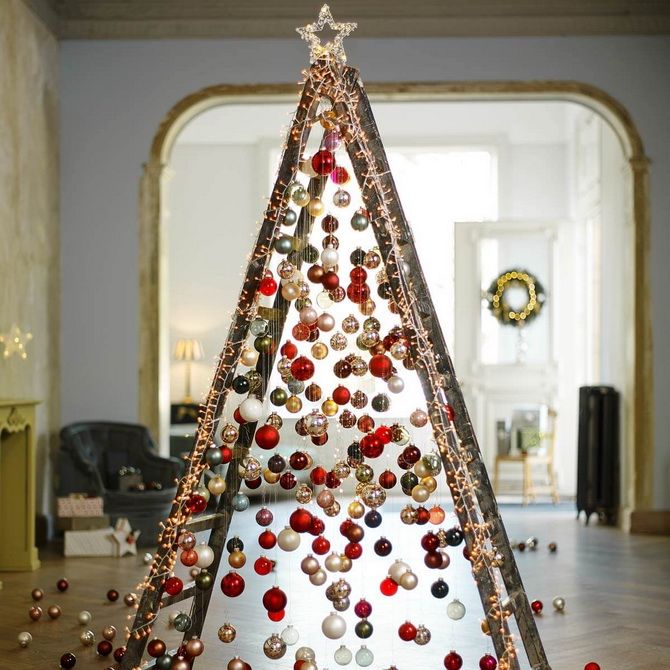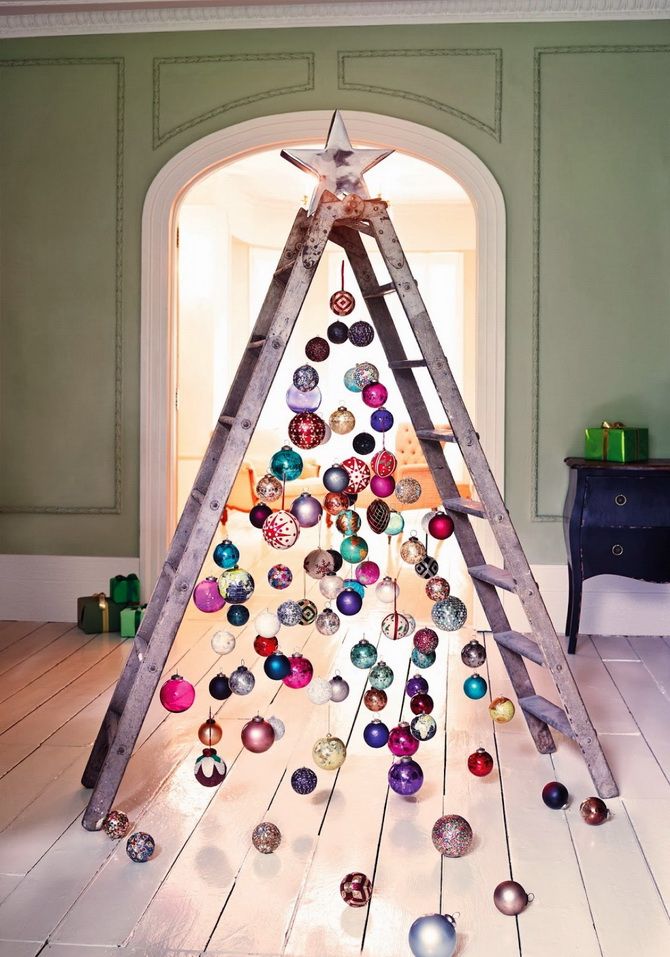 This tree looks incredible after the lights are turned off!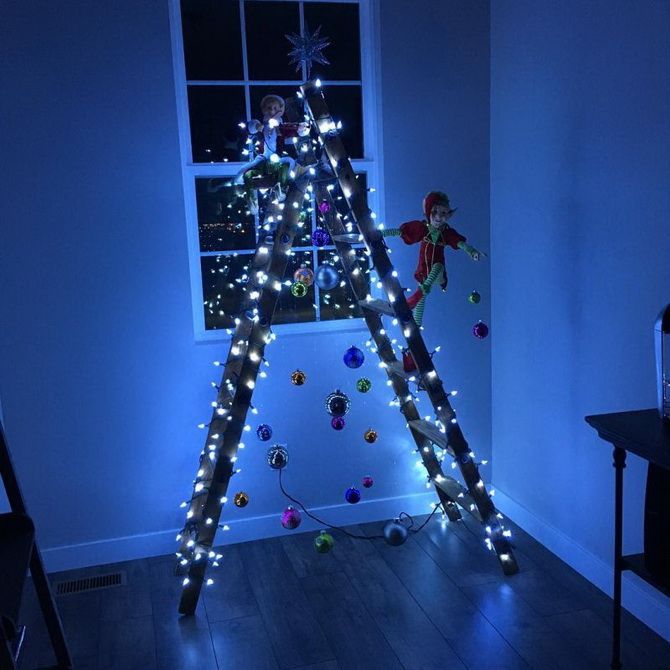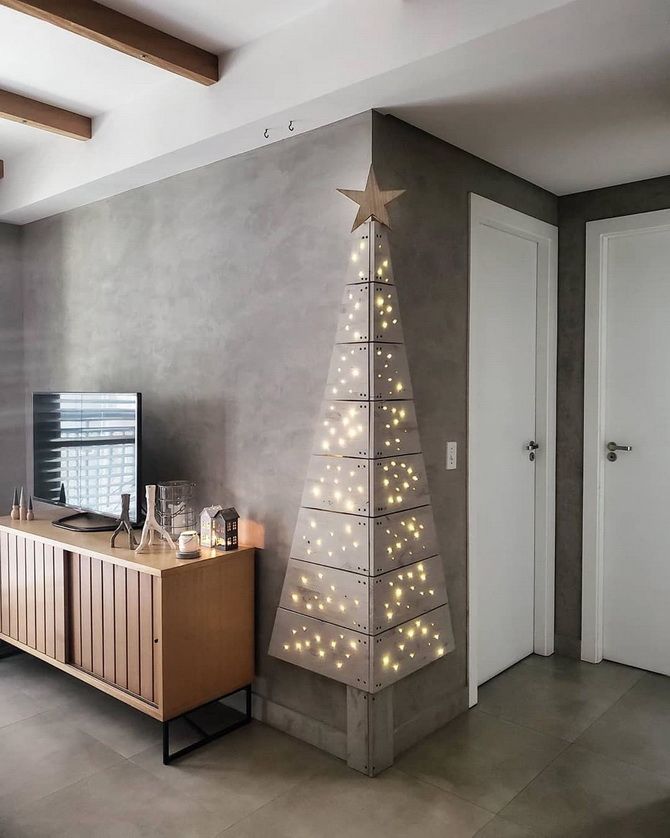 There are many ways to create a volumetric Christmas tree out of paper, but these holiday options became our favorite. Santa Claus will definitely leave gifts under such a Christmas tree!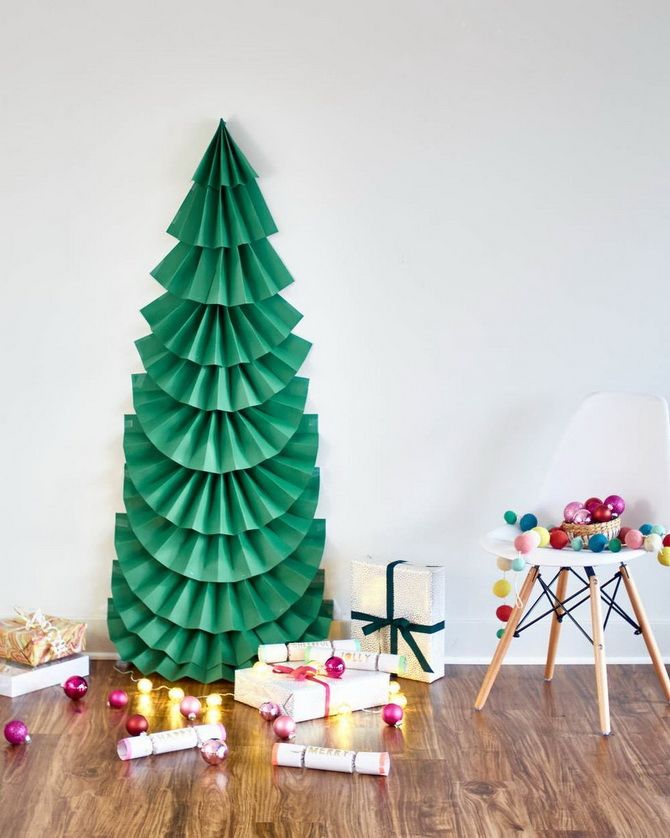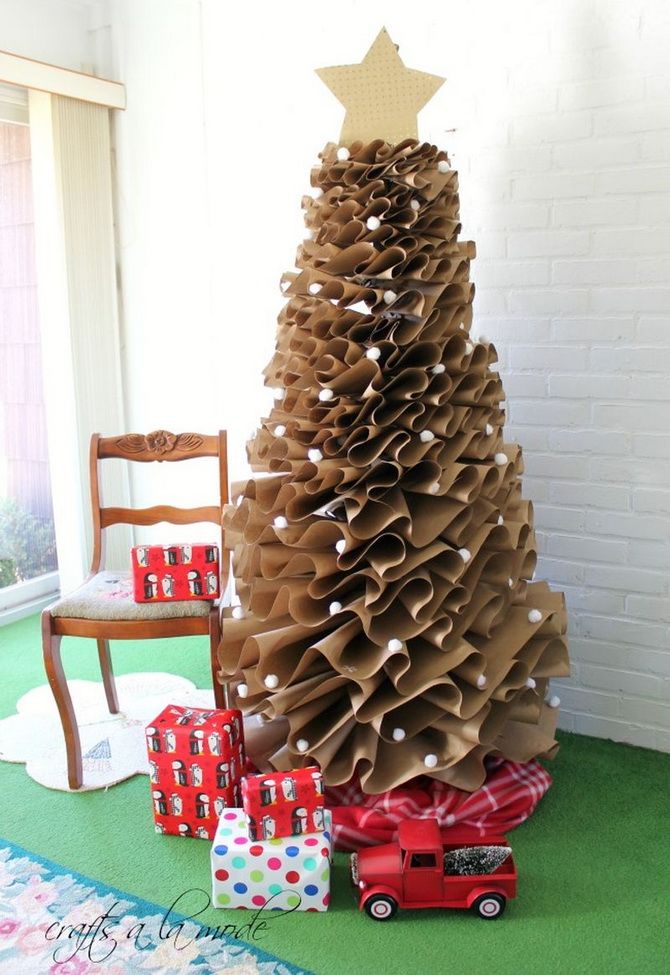 Decorating a wooden Christmas tree is much safer than a living one – you don't have to be afraid that the needles will accidentally prick you, and the plant itself will turn yellow or even fall.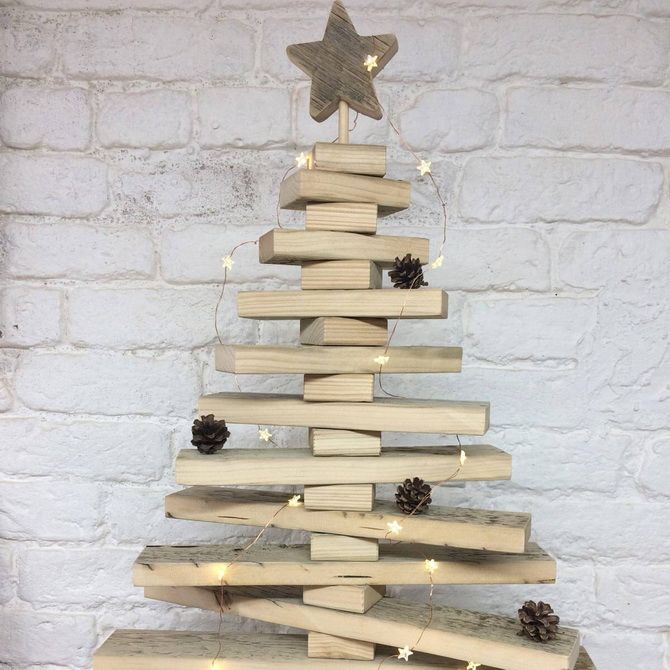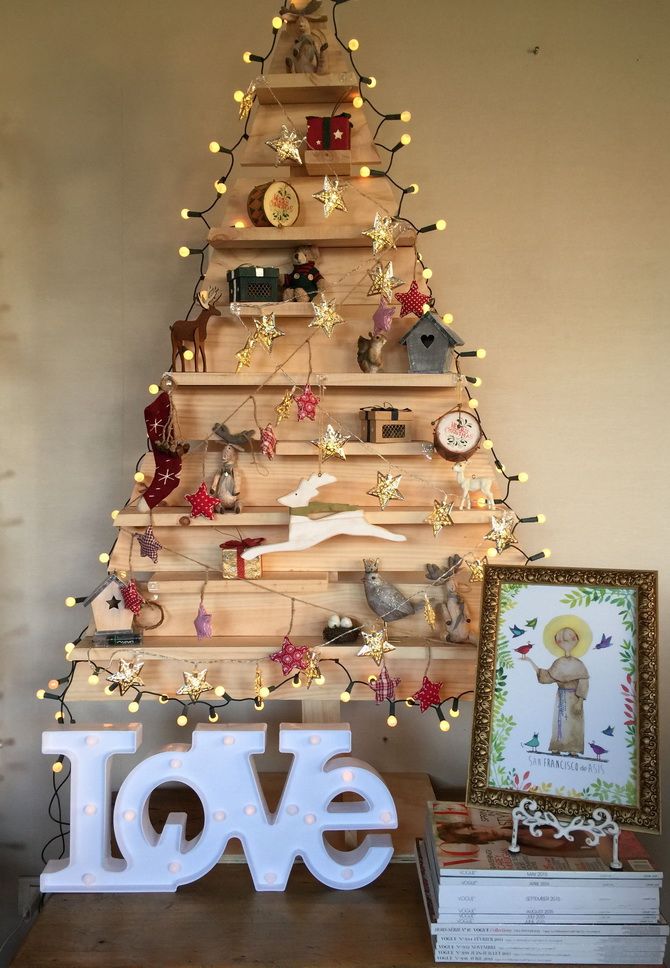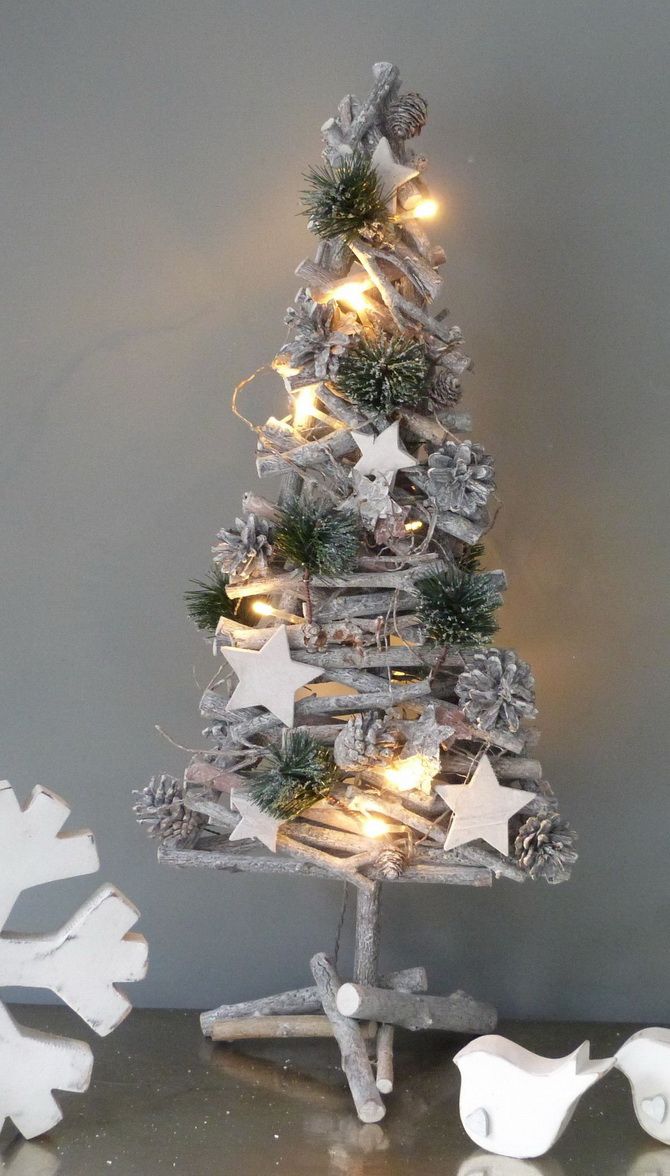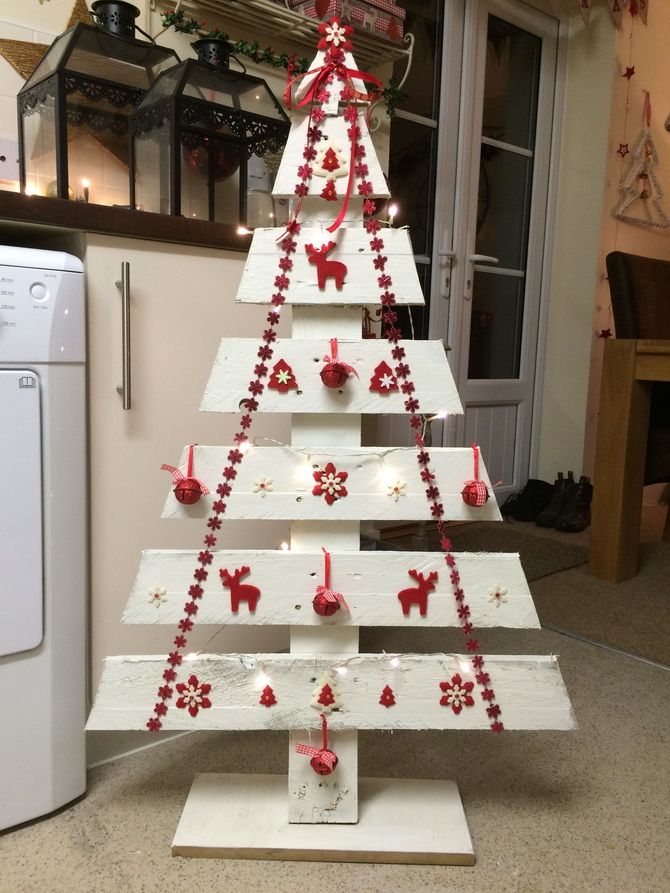 A "fragile" idea for an alternative Christmas tree for New Year 2024 is to use balloons, glass bottles or Christmas tree decorations. Such a craft will definitely not leave anyone indifferent. Just walk very carefully near it.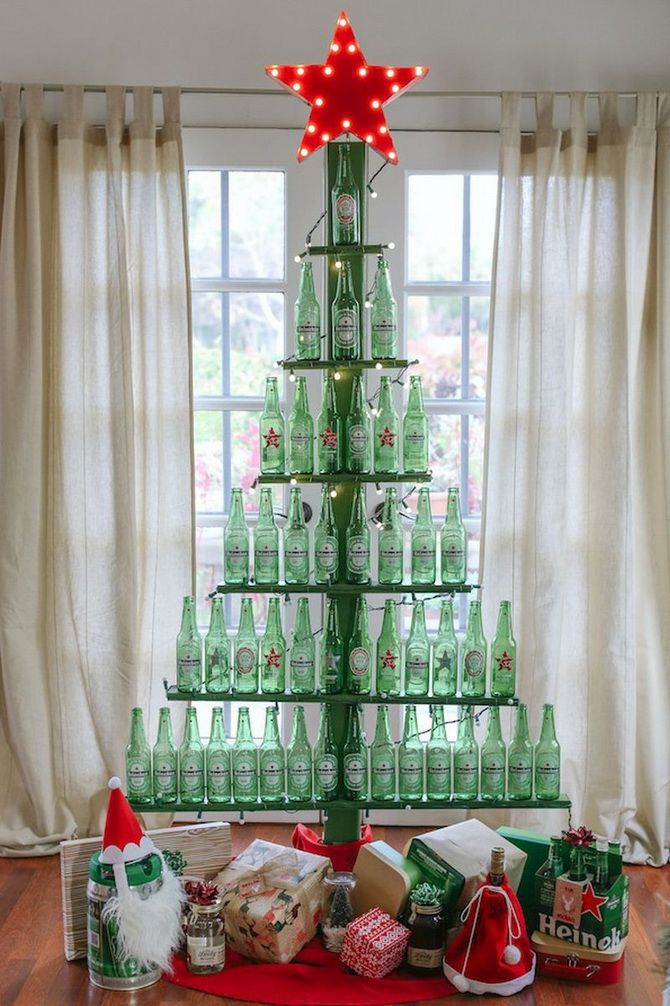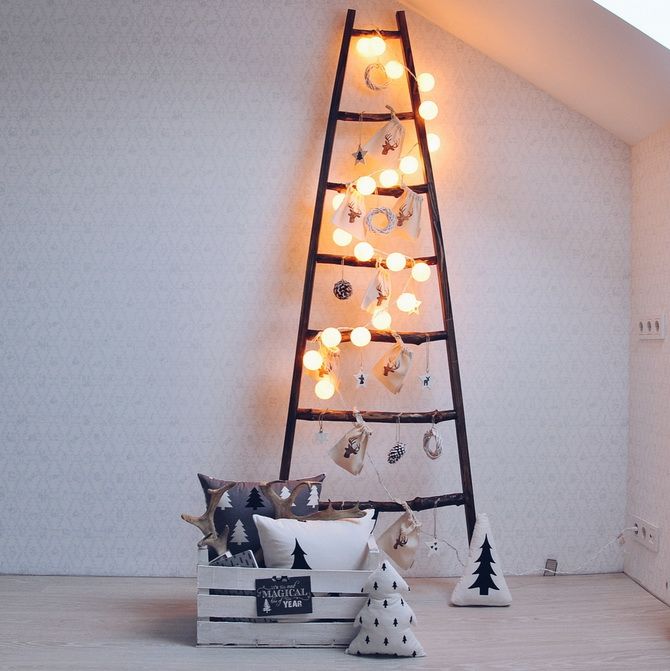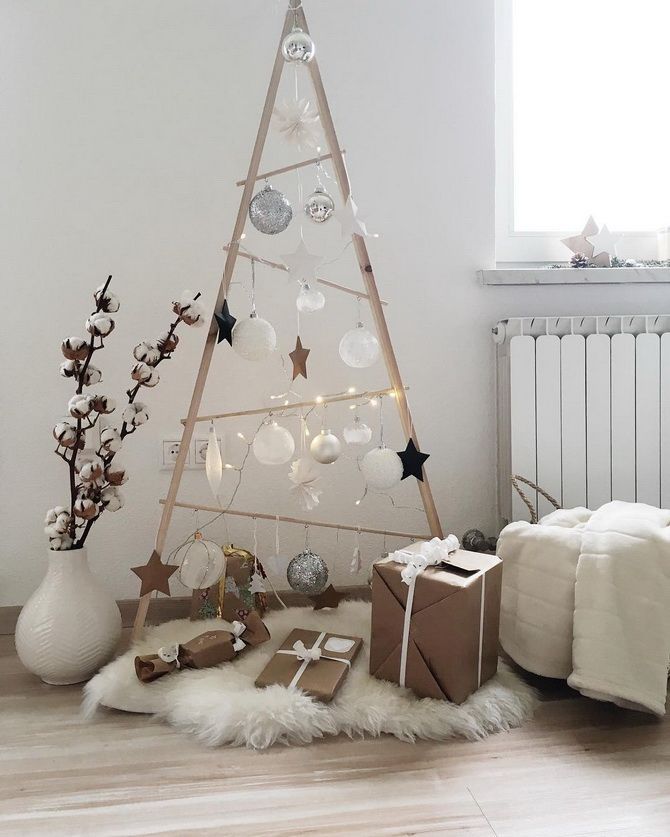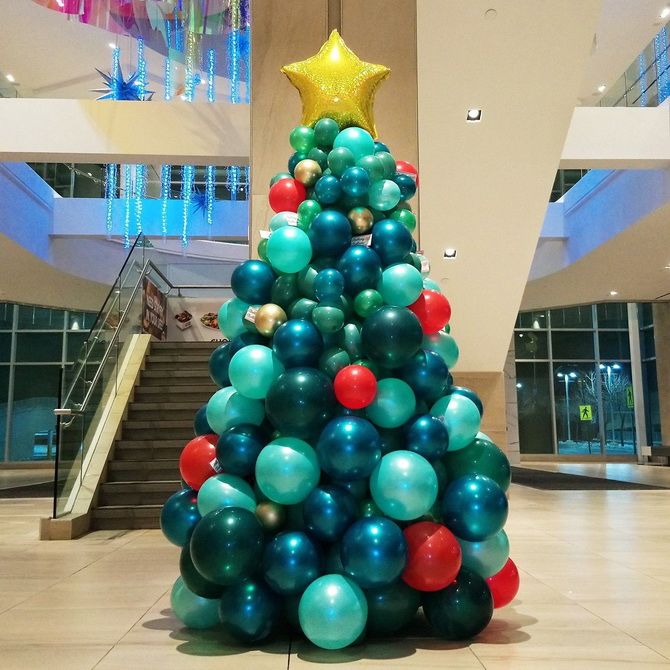 Do-it-yourself eco tree can be made from old books. The idea is simply gorgeous if you have old notes, magazines, a couple of Christmas balls and a New Year's garland at hand.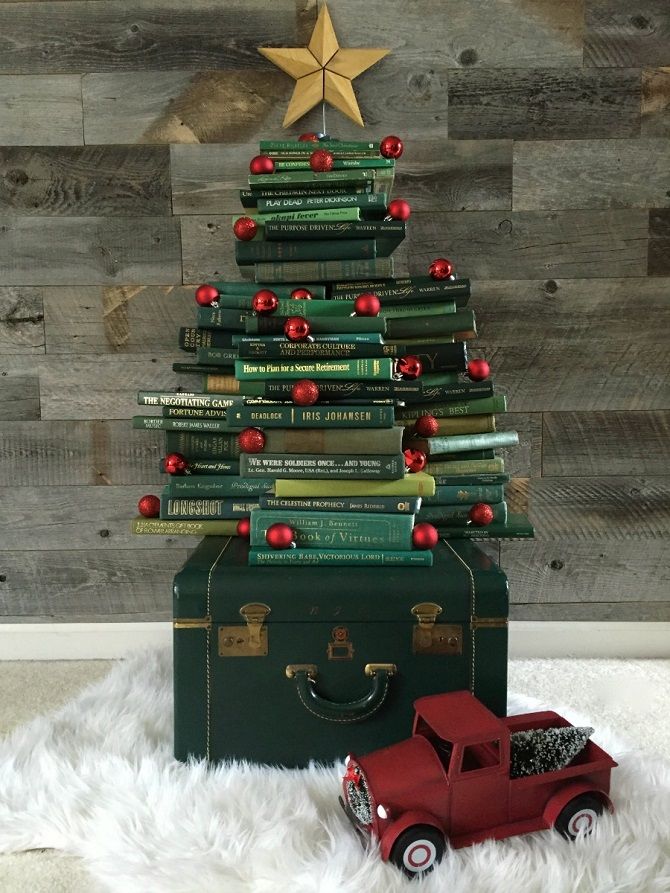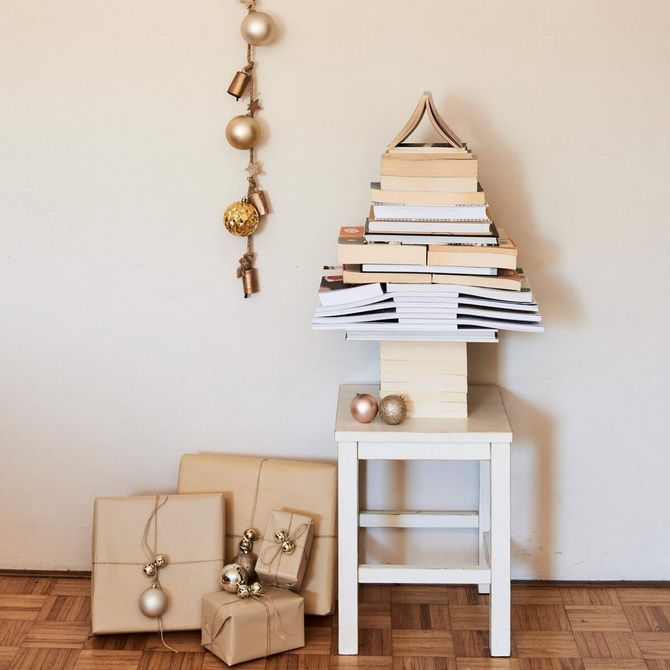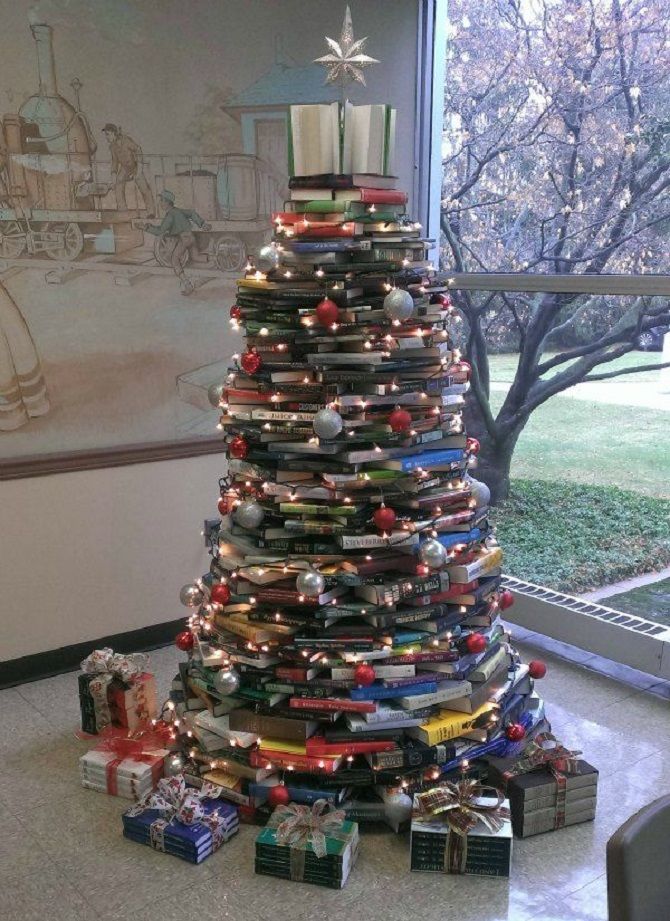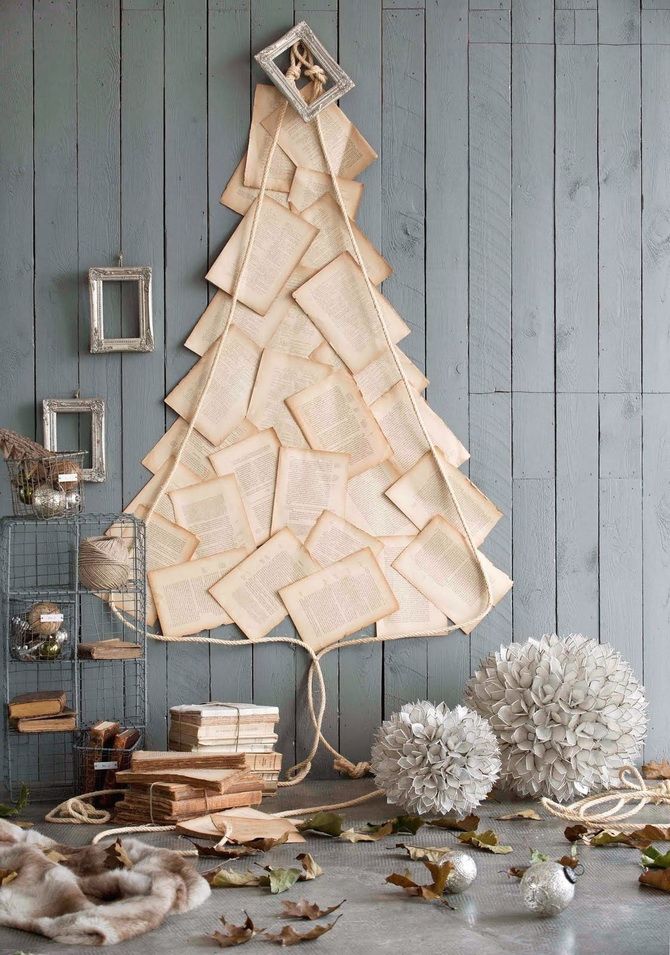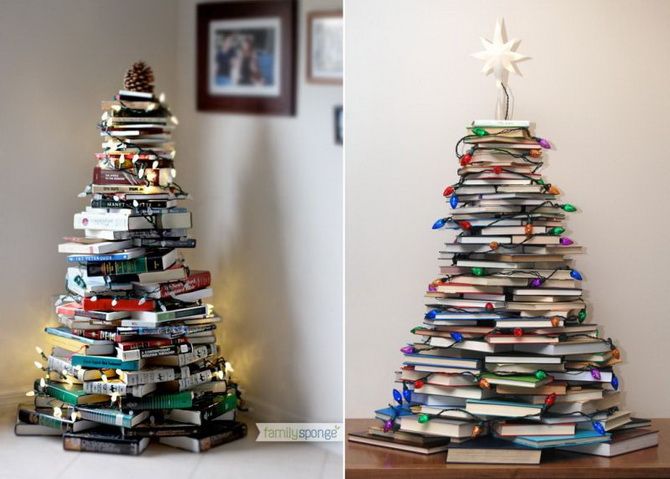 Wall mounted Christmas tree 2024: creative photos
A novelty in the festive decor of 2024 is a creative DIY wall tree. To create it, craftsmen and handmade lovers use Christmas balls, branches, decorations, garlands, holiday cards and even family photos. Try creating this exclusive decor together with children.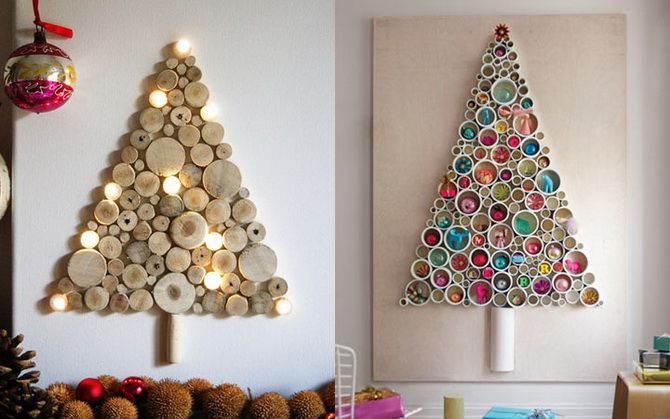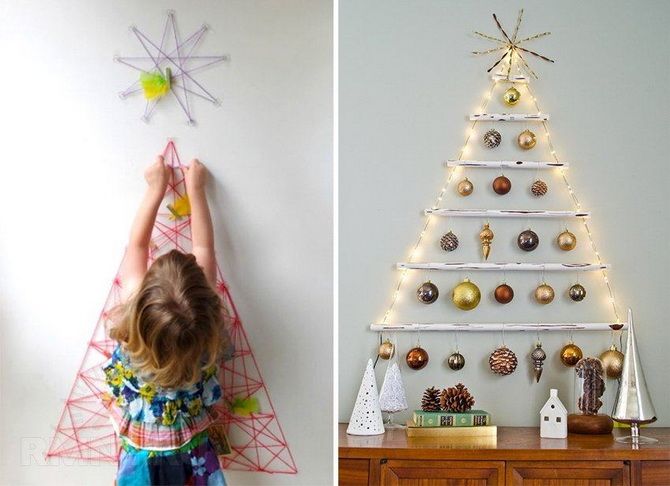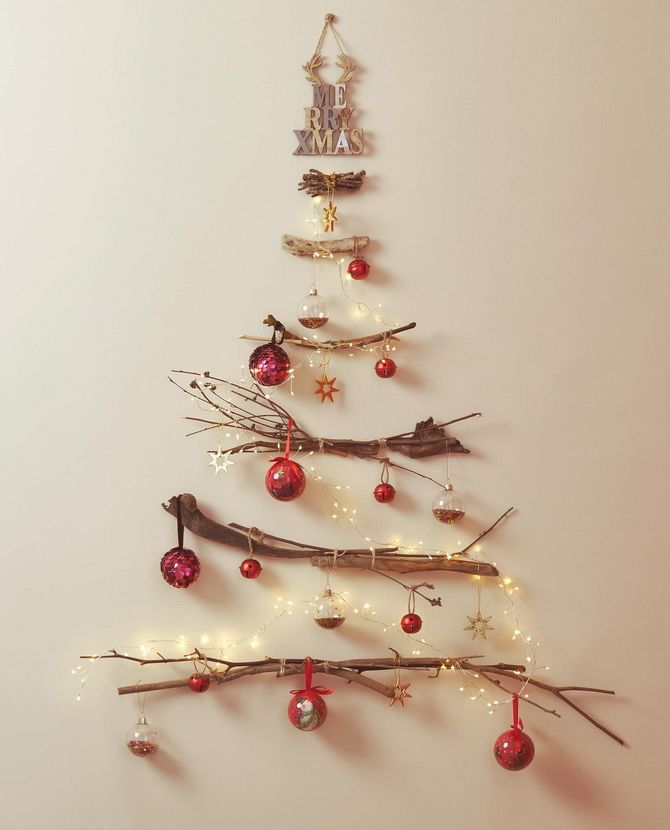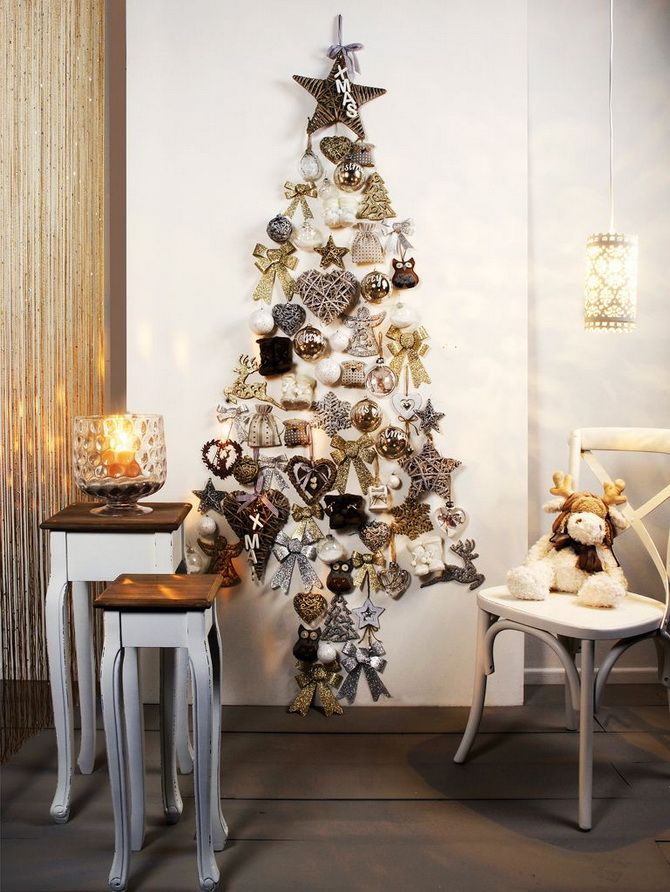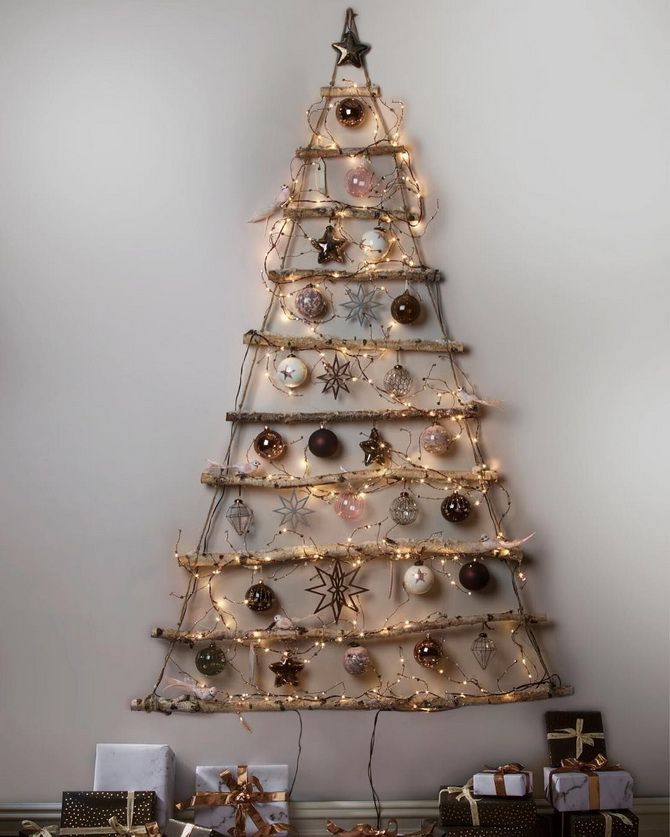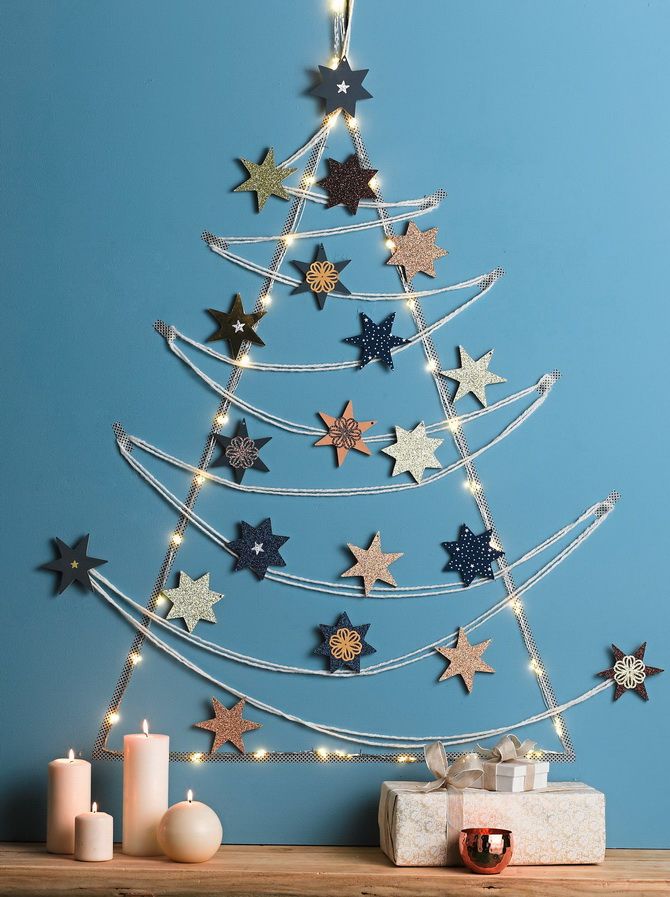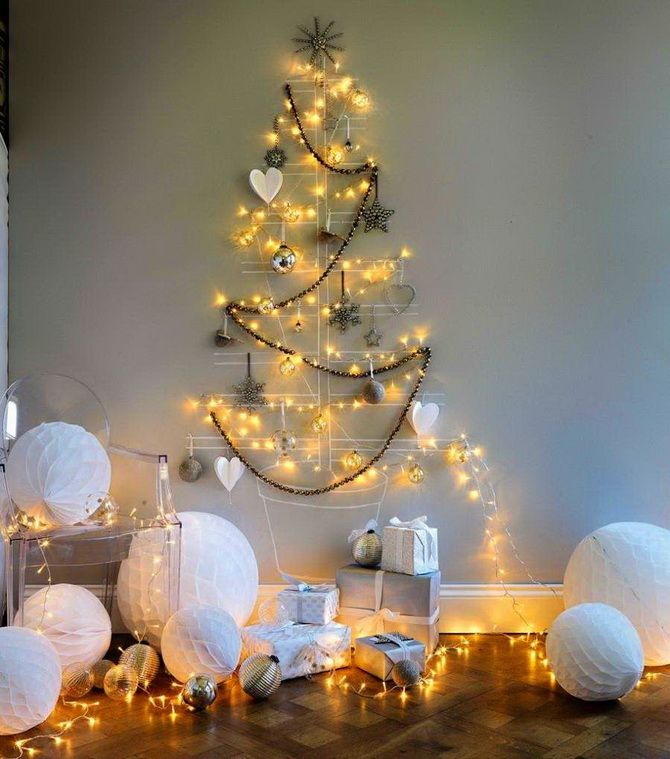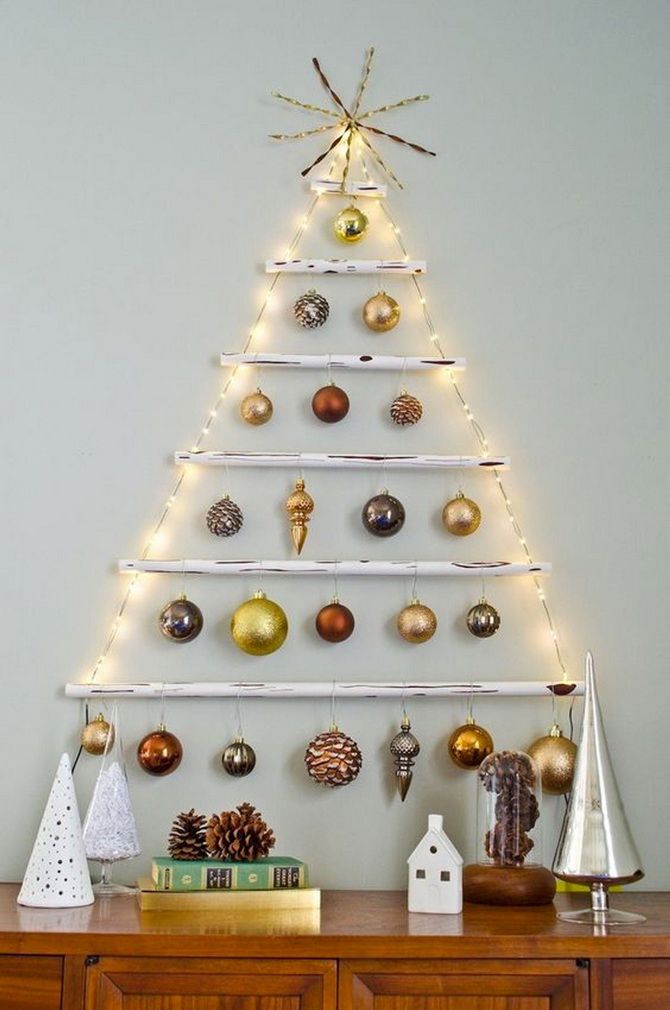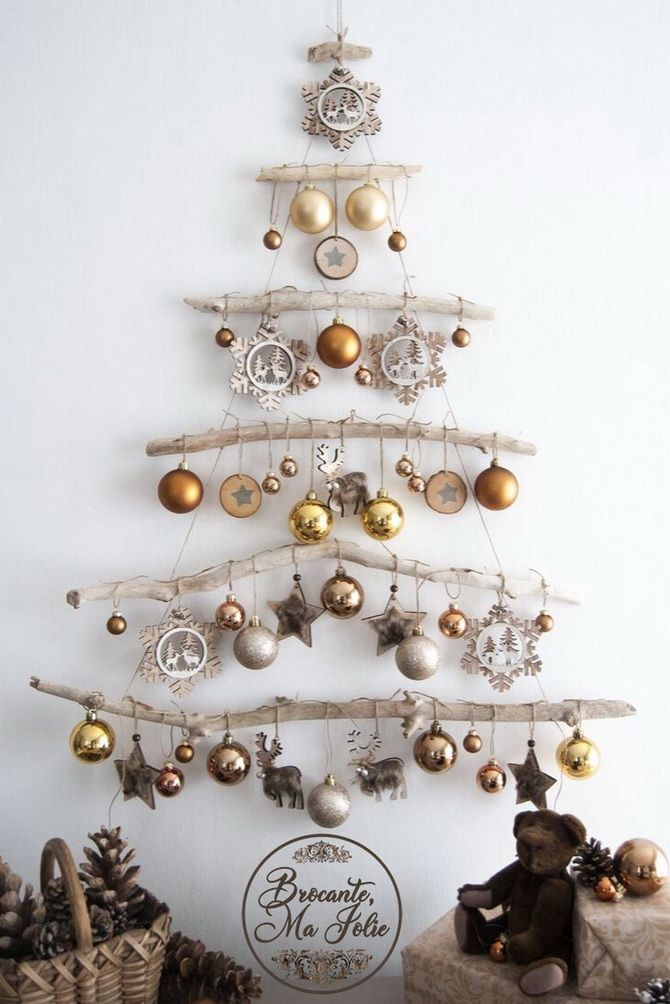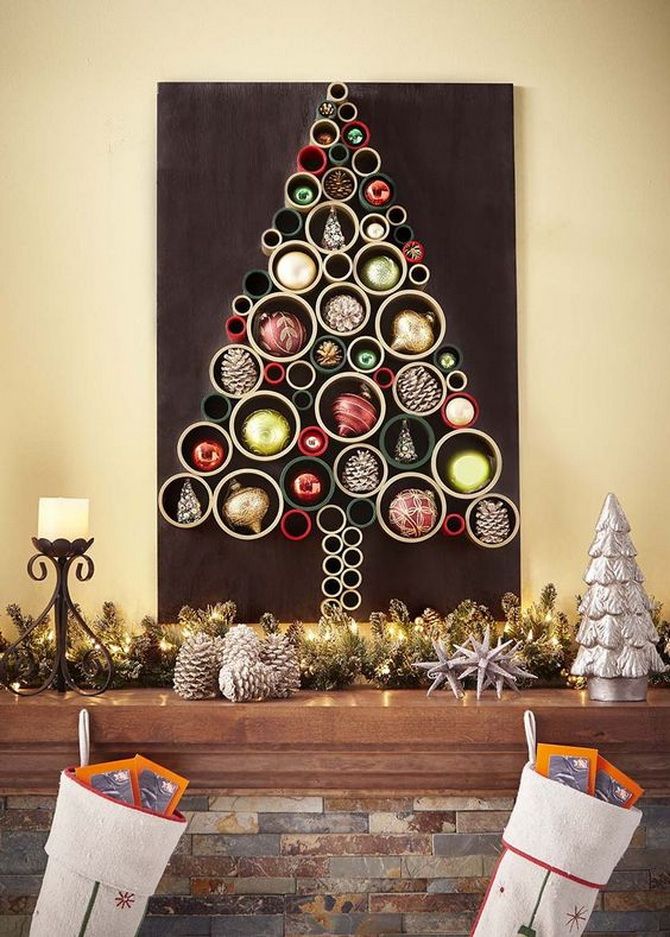 A wall mounted Christmas tree made of multicolored paper pompons, postcards or photographs will look gorgeous in the interior of a children's room. You can also make an Advent calendar for your child with holiday assignments and stick it on the wall in the form of a Christmas tree.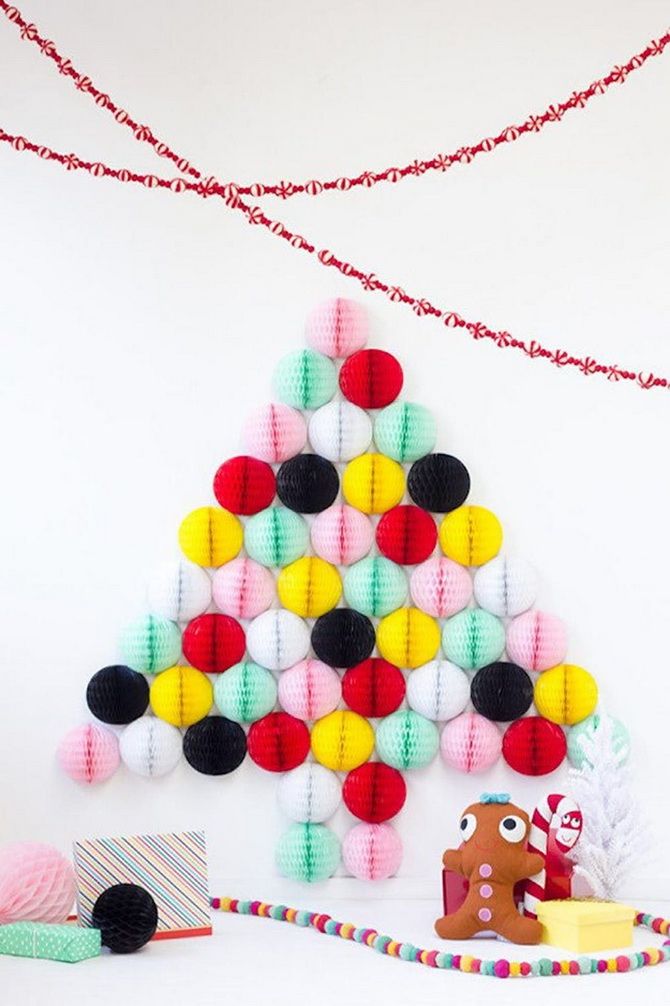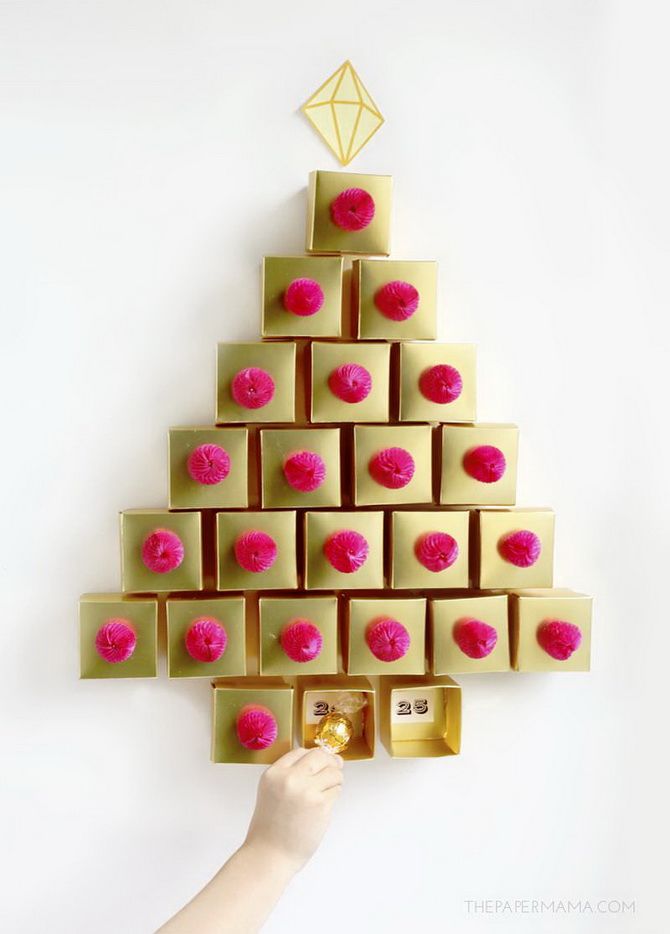 New Year's miracle on the desk: DIY small Christmas trees
Even the smallest Christmas tree can bring a festive mood. Especially if it's made wholeheartedly and with your own hands. Such an exclusive souvenir can be presented as a New Year's gift to your relatives, friends or colleagues. Be sure, that it will delight them throughout the winter holidays.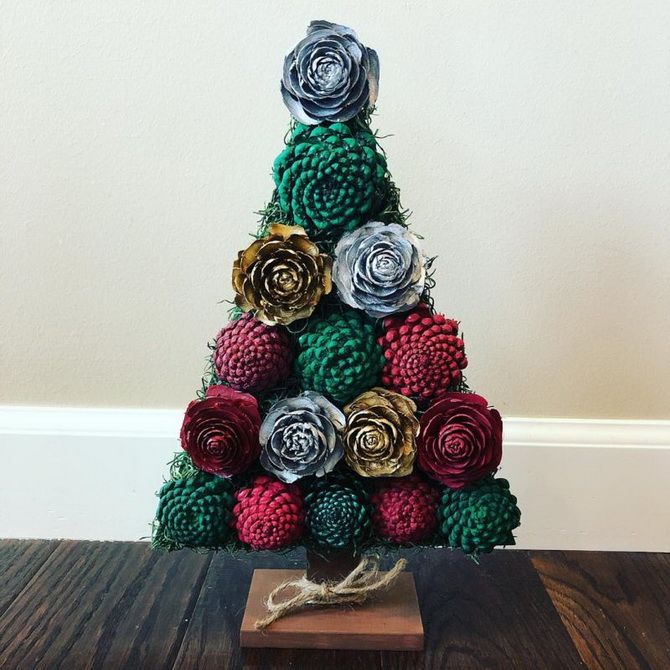 Eco tree for the New Year 2024 can be made from corks, felt, cones and even macaroni. Get inspired by simple ideas and create your own masterpiece!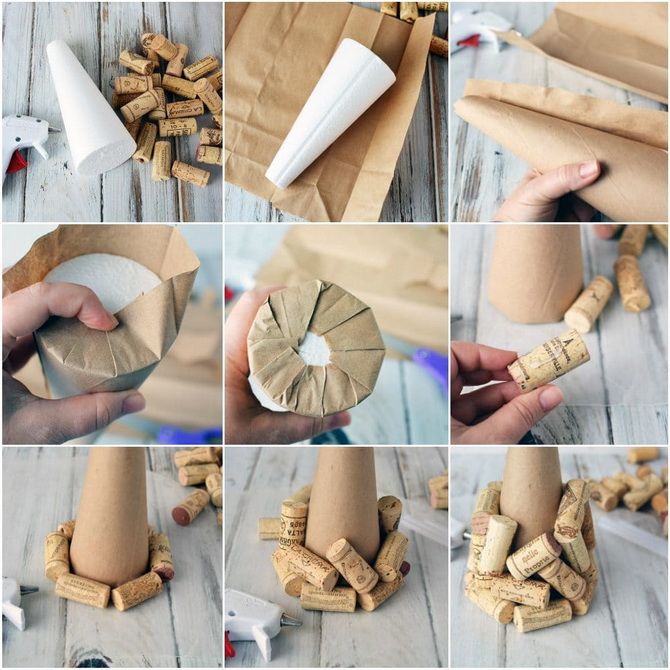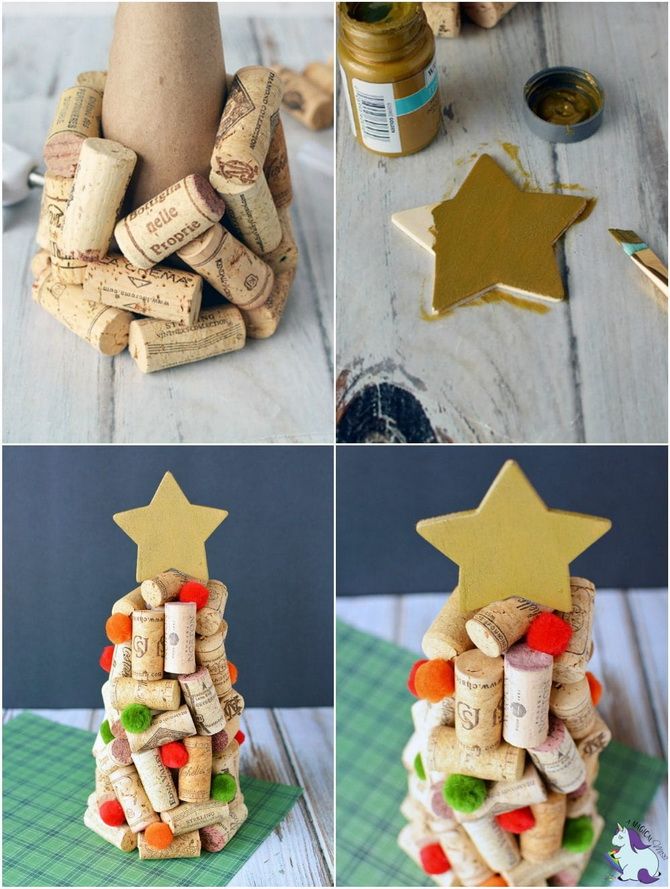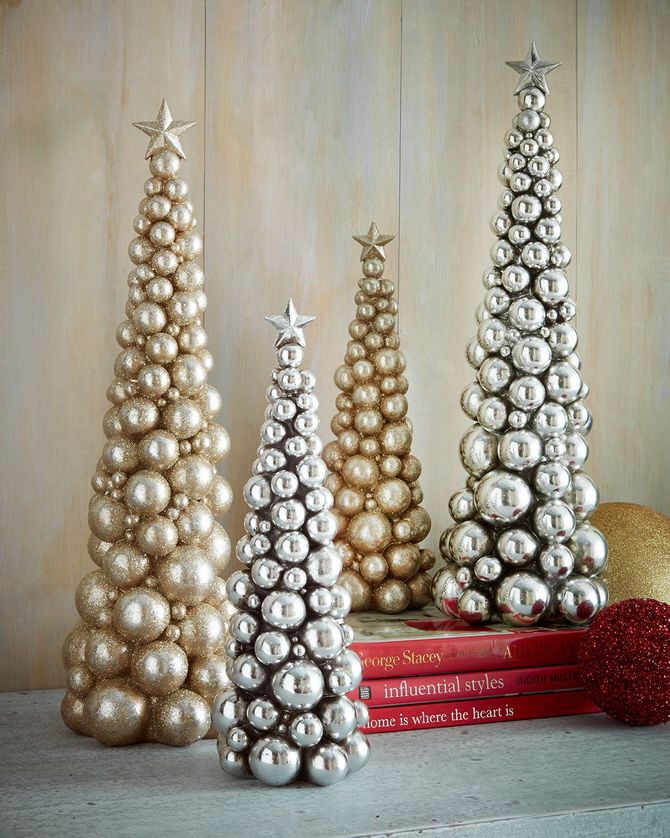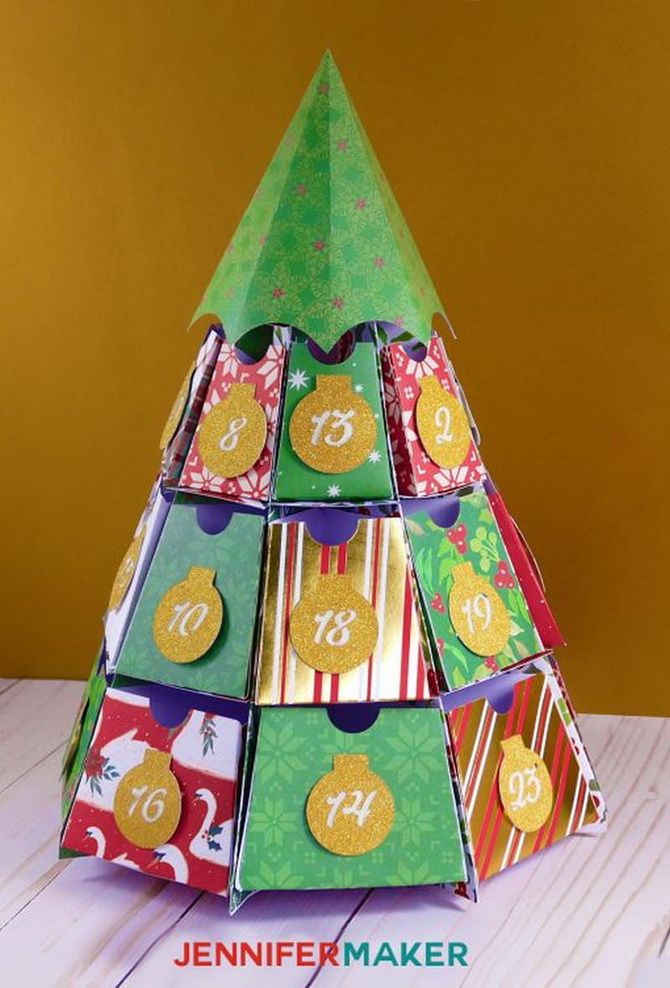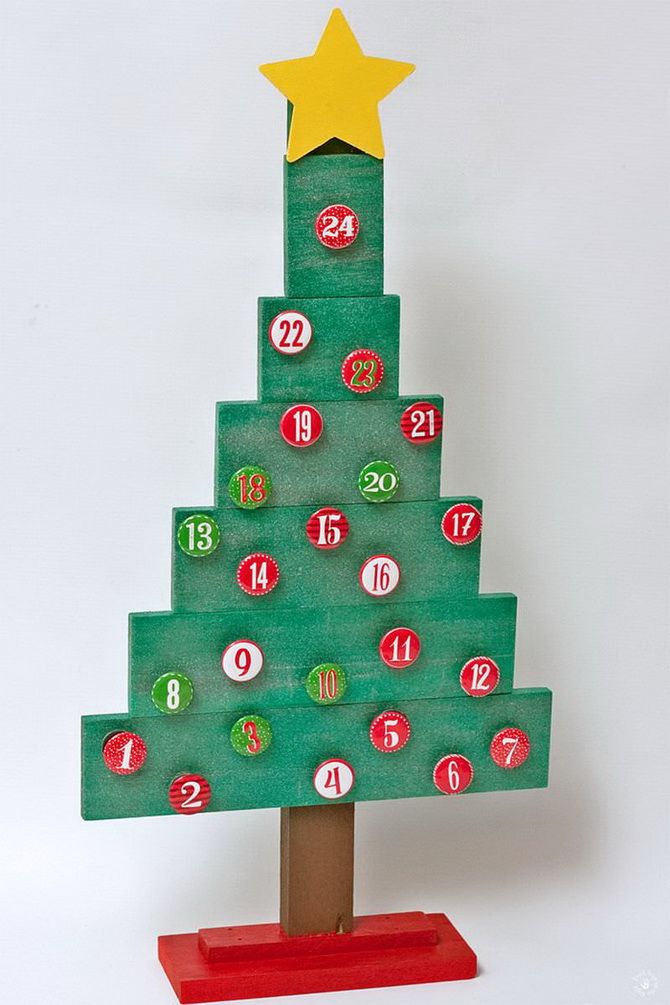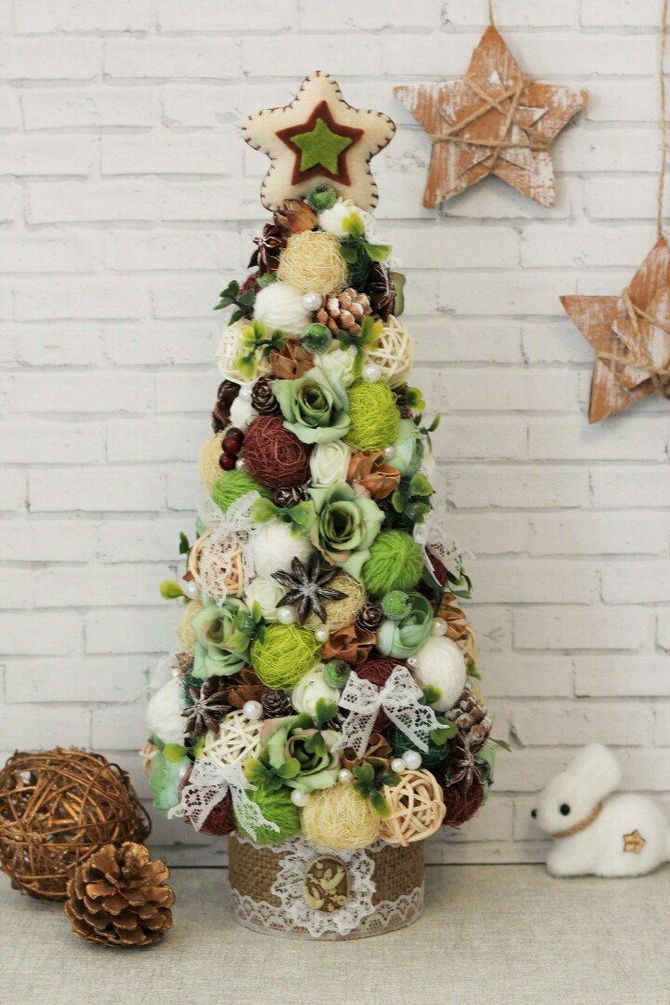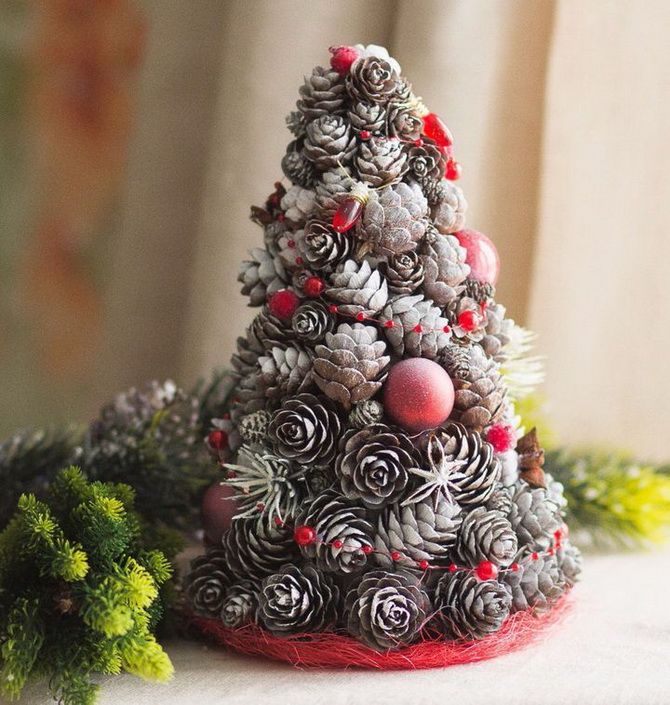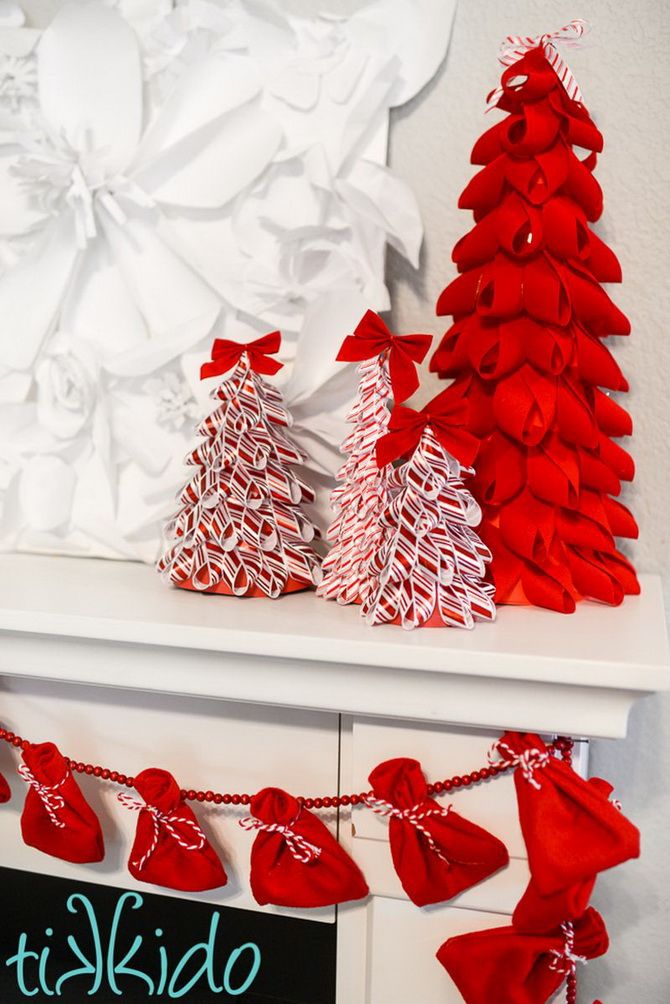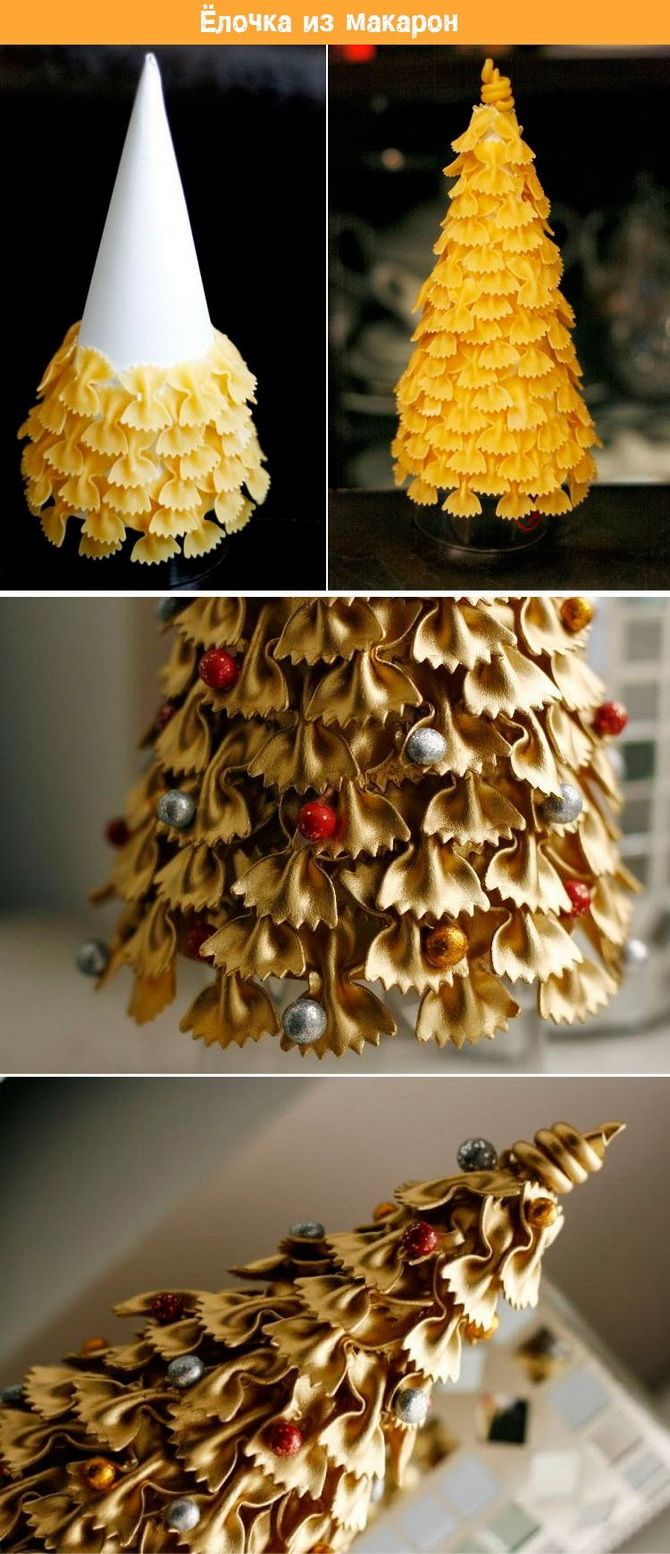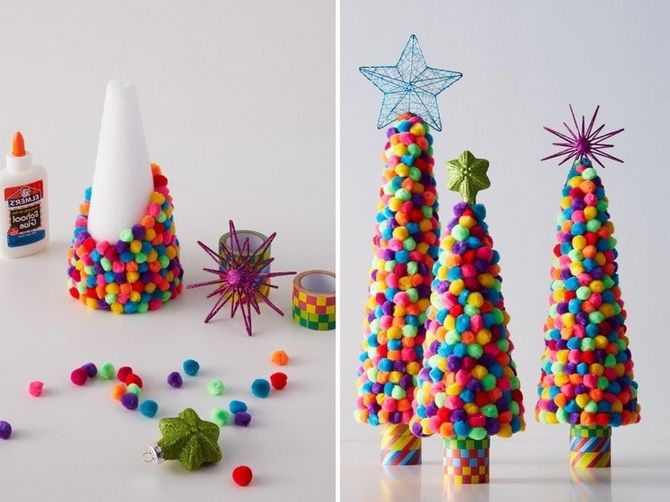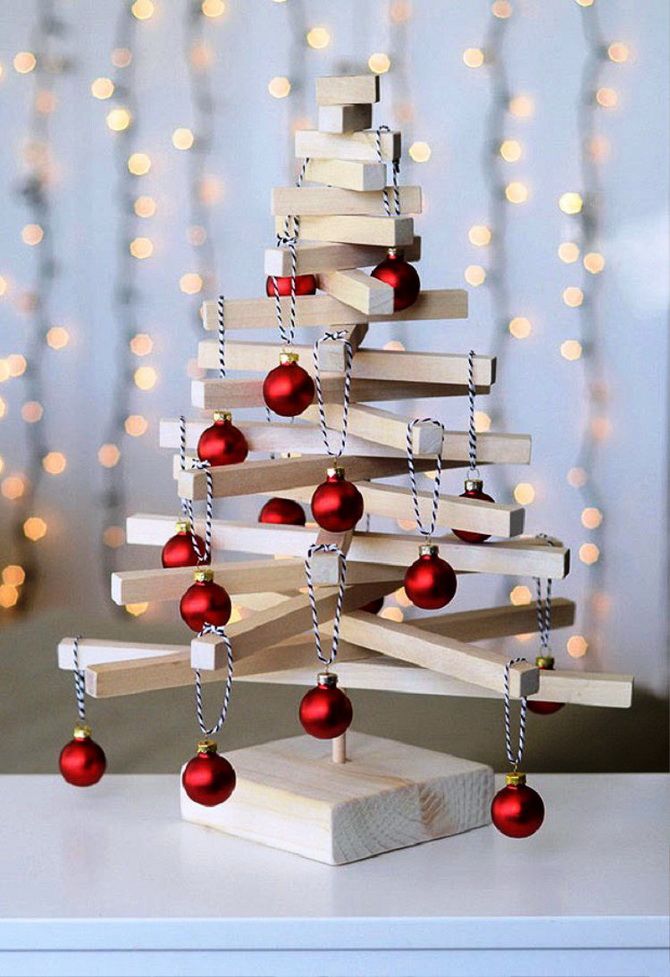 Needlewomen know what a cool Christmas tree can be made from threads, textiles, felt, twine, cardboard or chenille yarn. Look at these creative ideas in the photos and try to create a unique craft in the shape of a Christmas tree for the New Year 2024 with your own hands.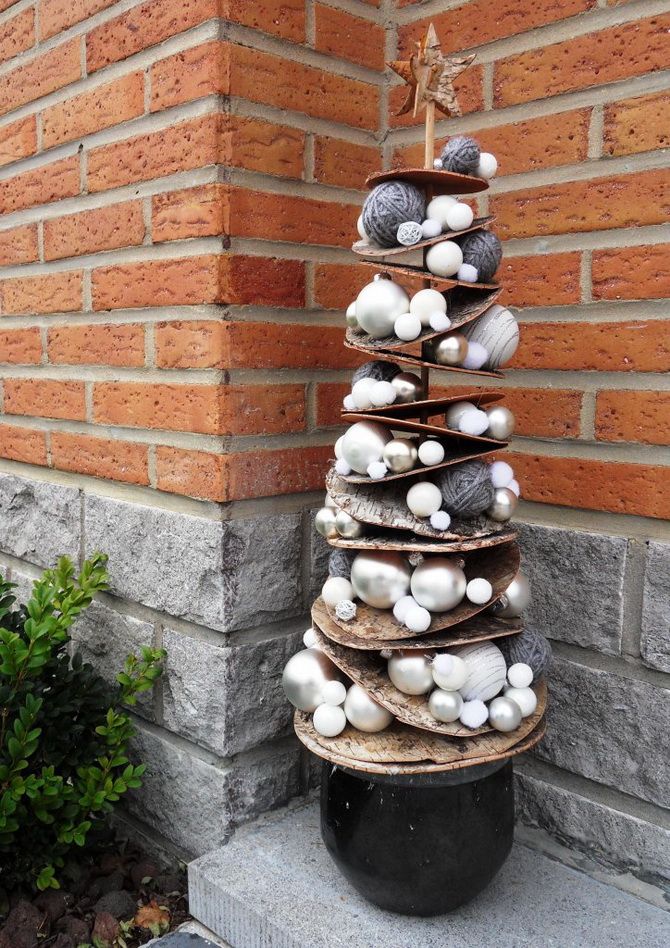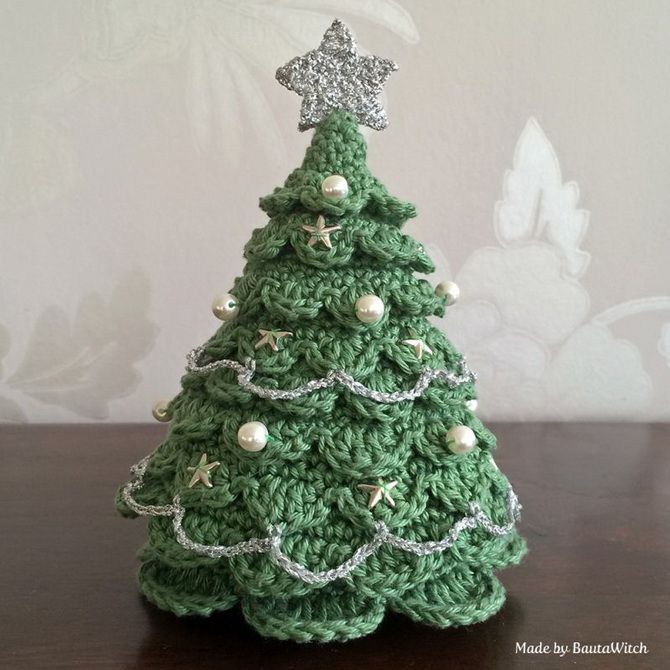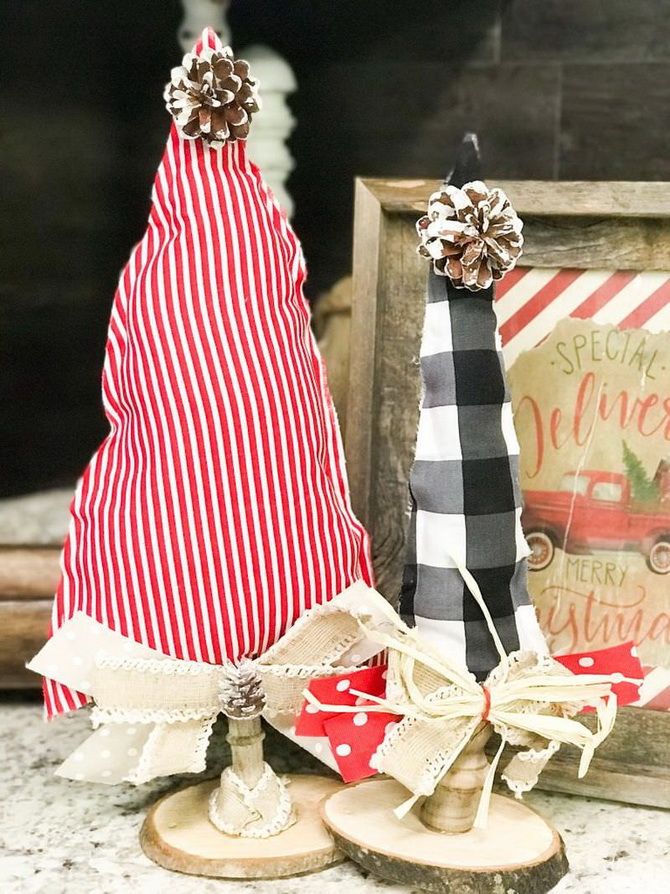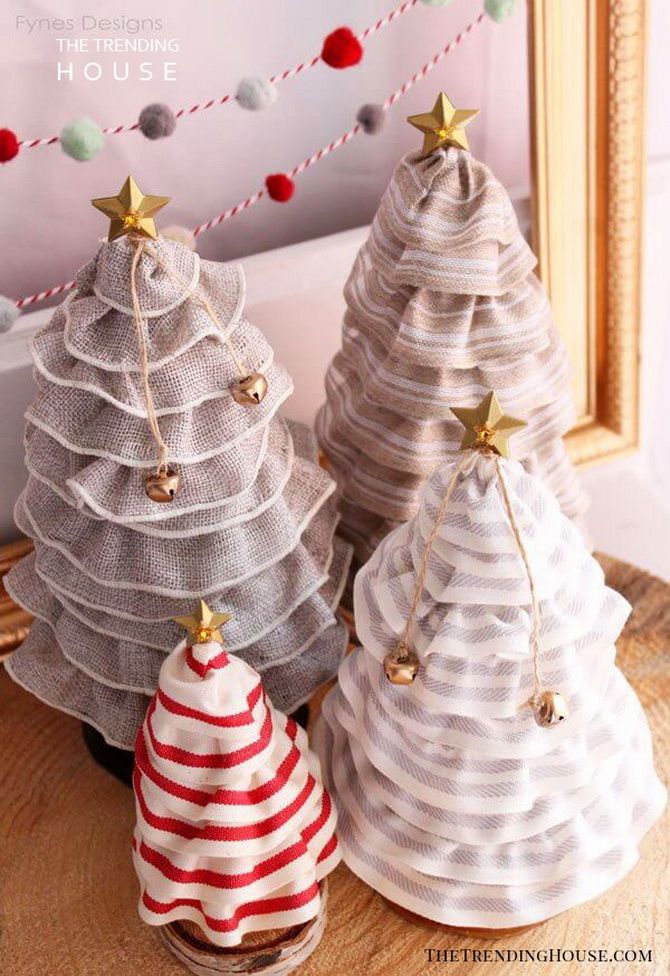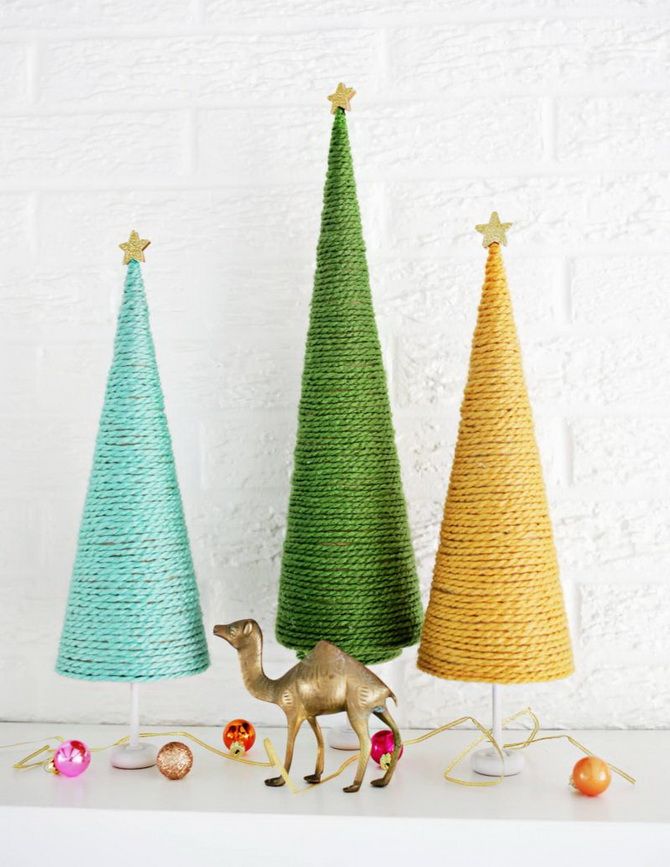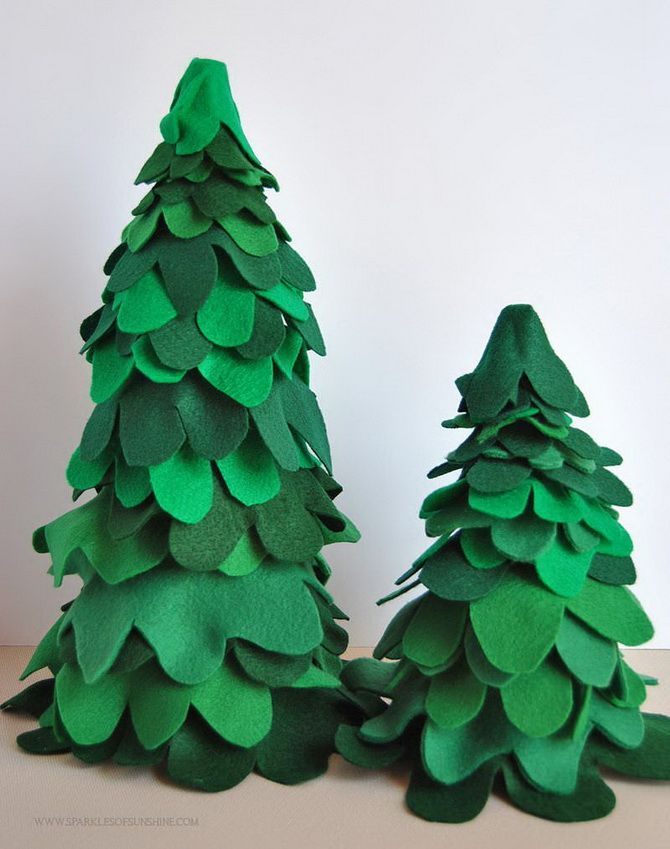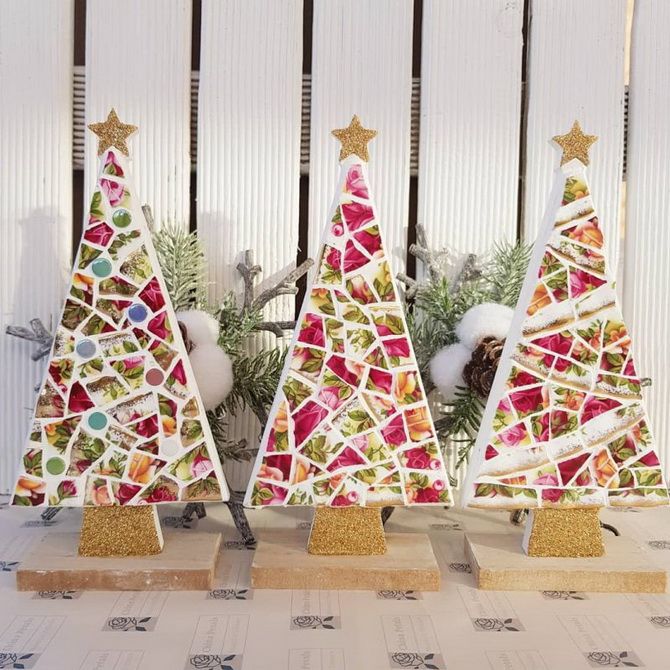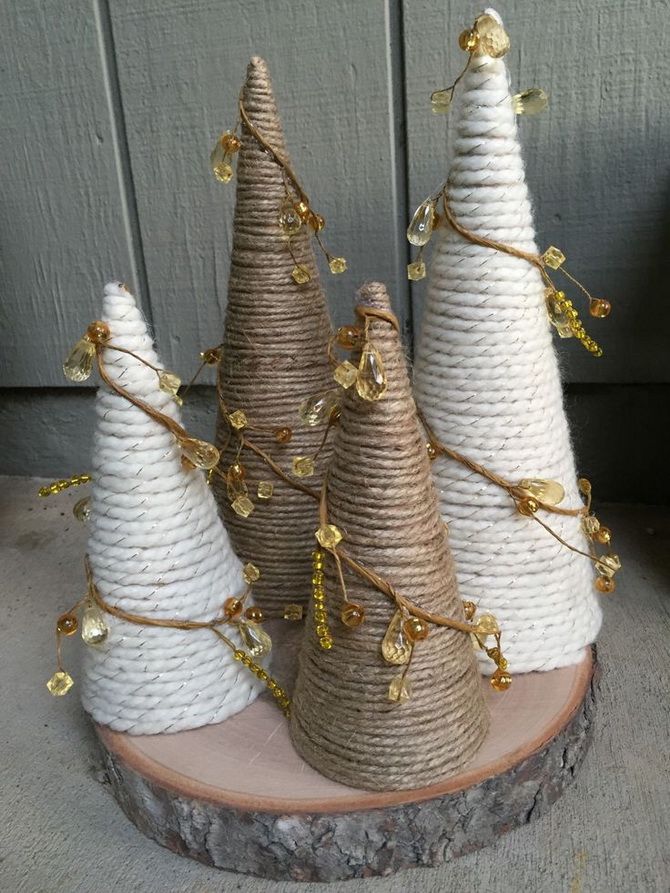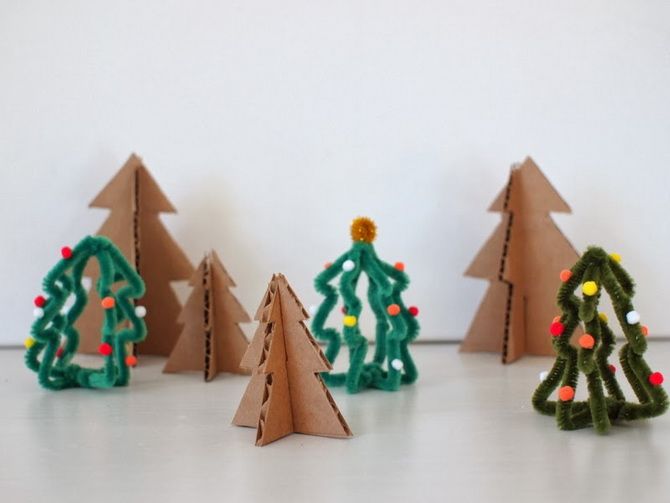 The most unusual options are a Christmas tree made from sheets of paper, a themed craft made from flower pots or from a plastic bottle.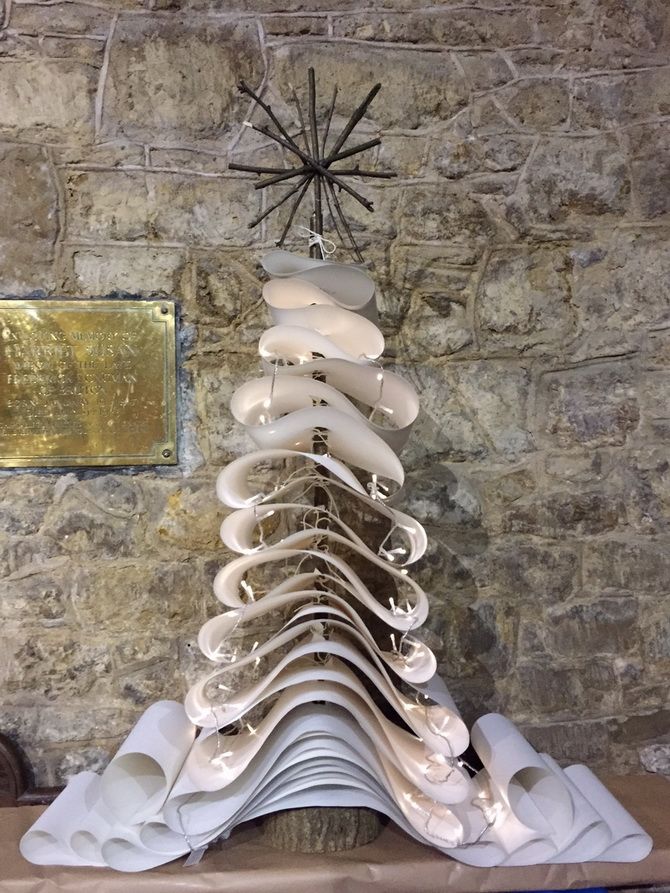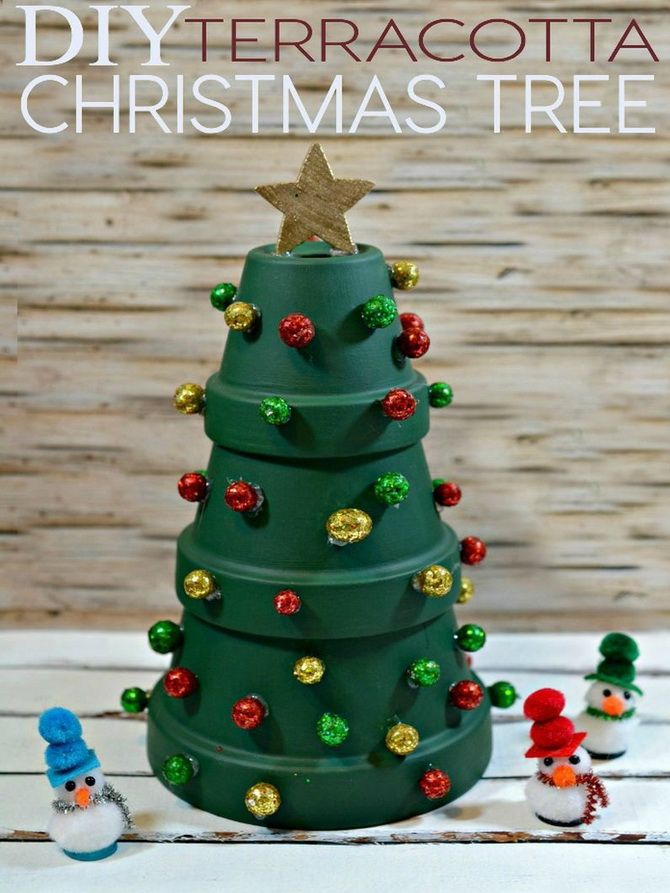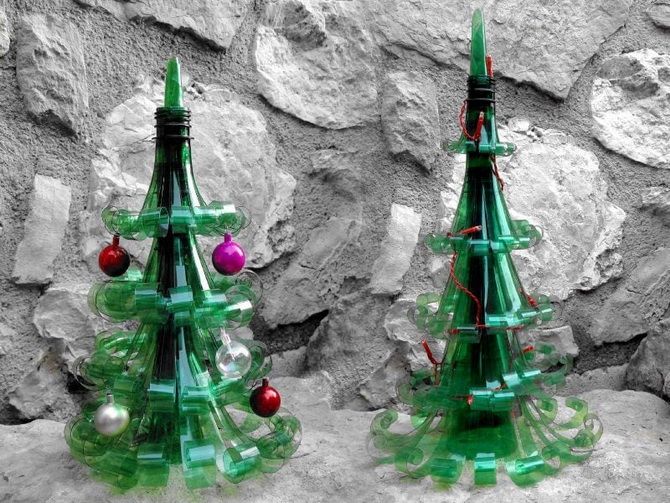 New Year's minimalism: unusual ideas for the lazy
Lots of people must like decorating the Christmas tree. But experiencing a pre-holiday rush in search of New Year's decor is not an activity for everyone. If you want to spend a minimum of time and money on decorating a Christmas tree, choose minimalist decorating style. Today, these do-it-yourself Christmas tree decoration options are very popular.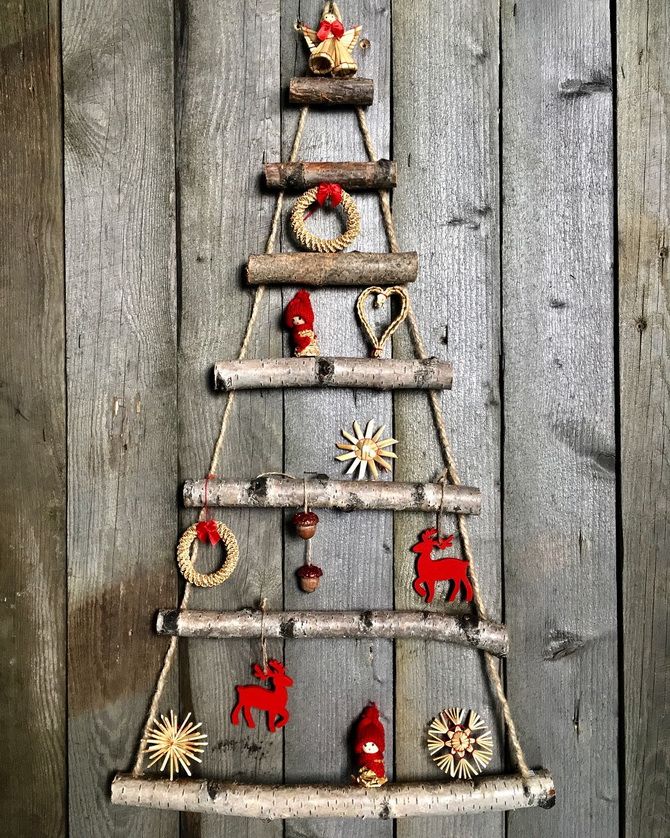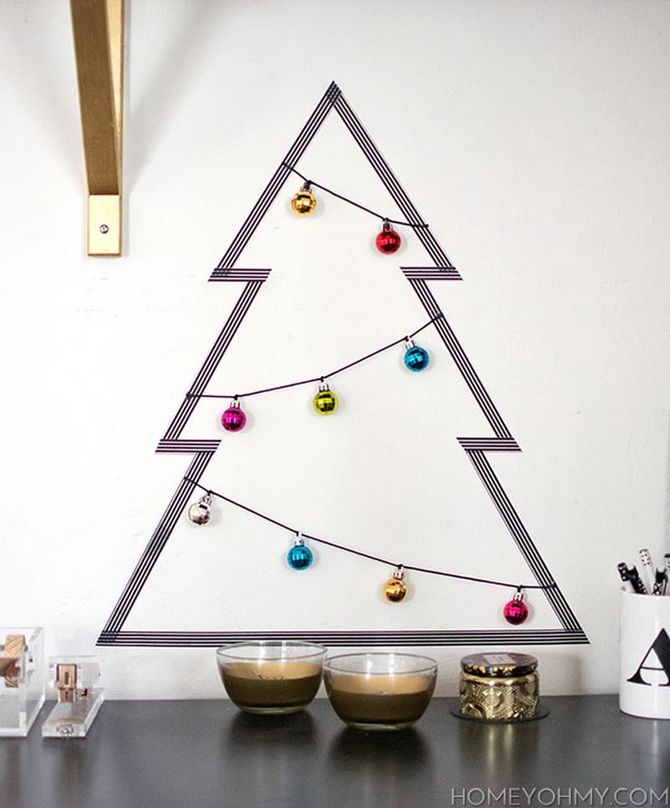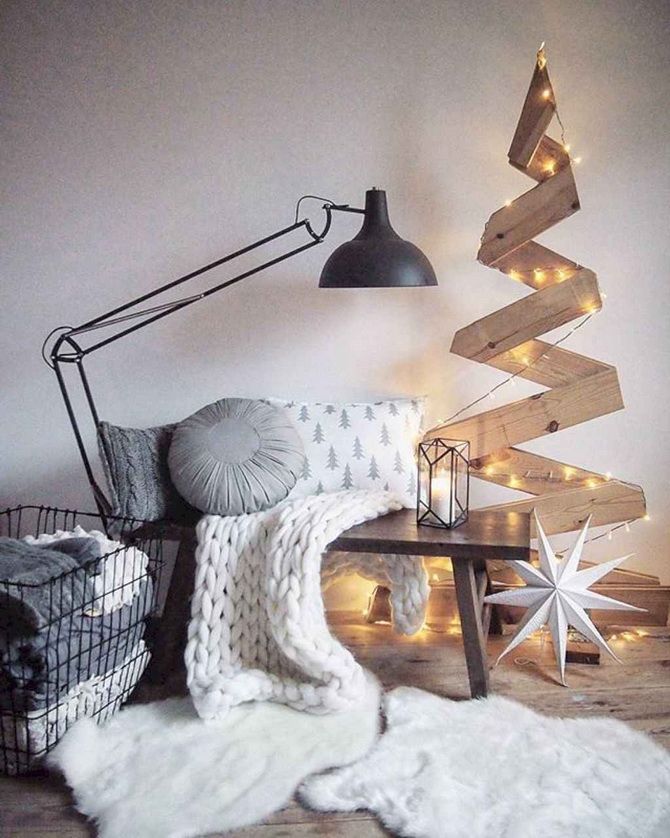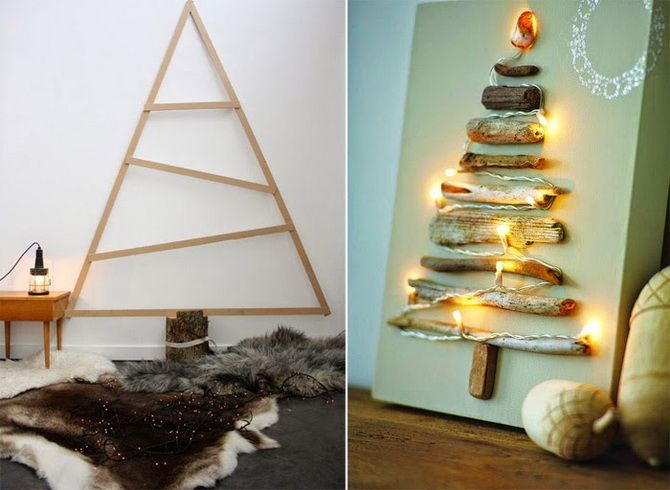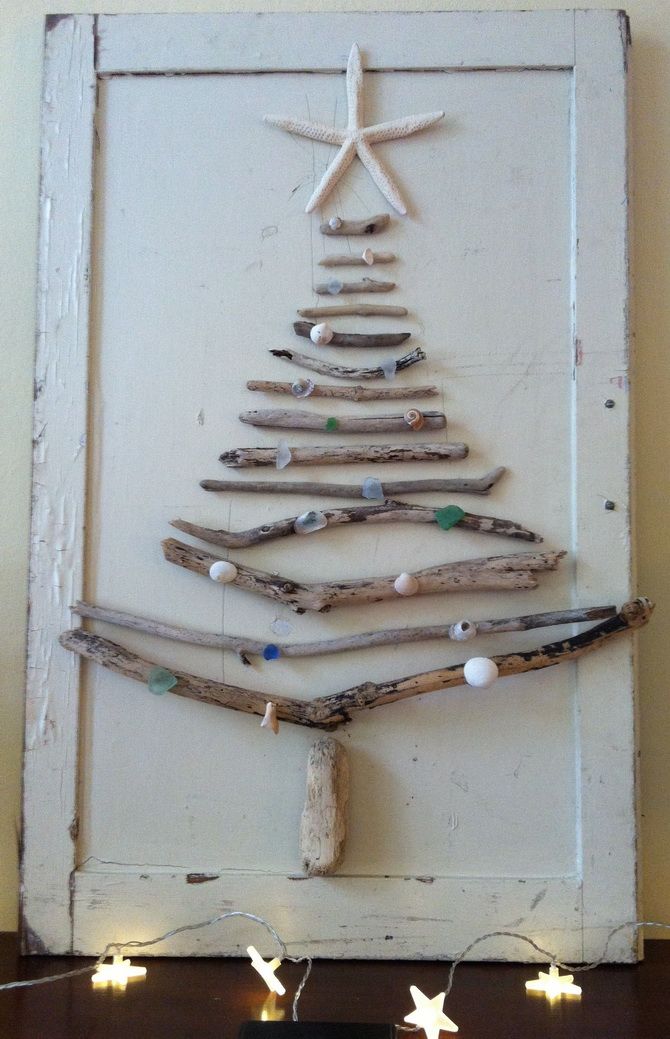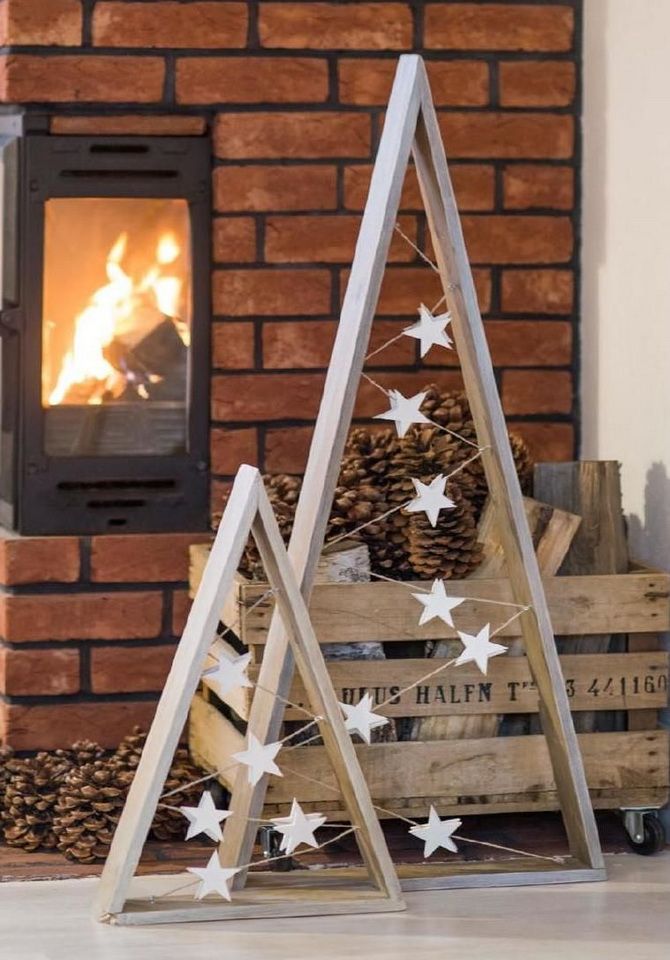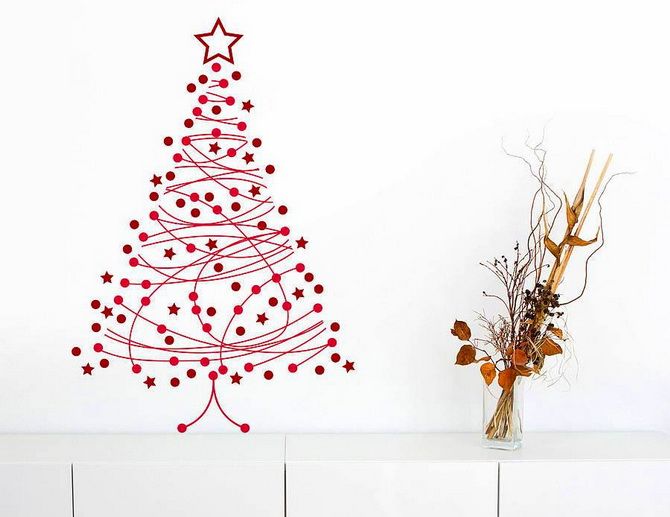 Holiday treat: edible Christmas trees for the New Year 2024
For some, the best Christmas tree for the New Year 2024 is one that you can eat. Children will really like a non-standard treat in the form of a gingerbread tree or themed candy craft. And the fruit tree as a New Year's snack will be enjoyed by adults during the festive buffet table.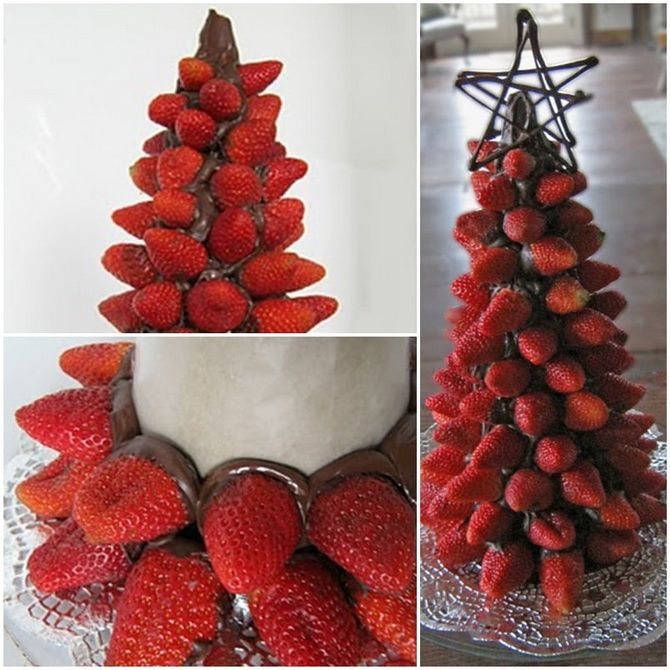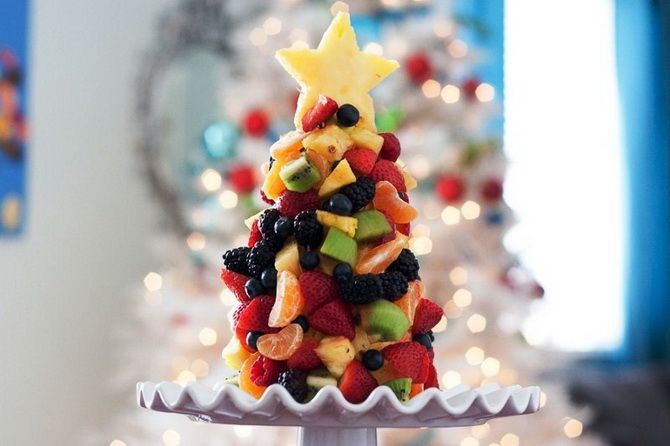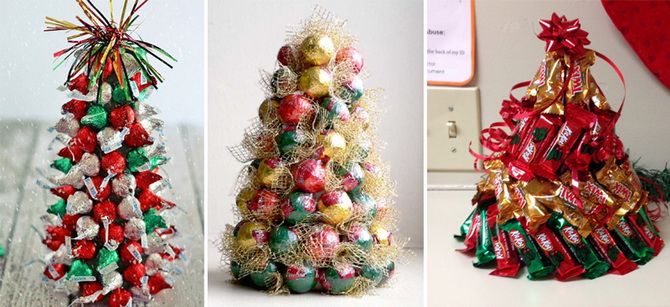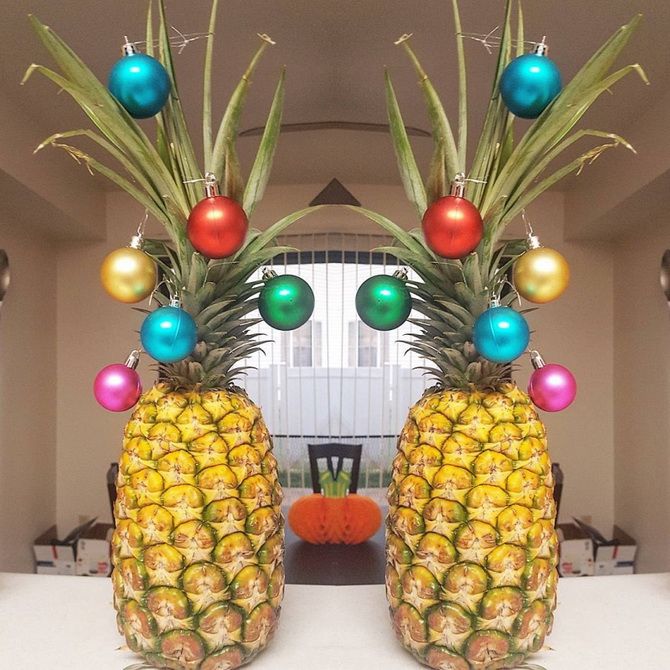 You can also read a selection of creative ideas on how to make a fireplace with your own hands.
Similar articles / You may like this