New Year and Christmas holidays 2023 will soon bring the atmosphere of joy and good mood. You should prepare for the celebration in advance, so our Joy-pup editorial team has collected the best ideas for New Year's gifts 2023 that can be made with your own hands. All of these gifts are very simple, so you can easily make them at home. And so that the festive atmosphere reigns in your home right away, check out the main trends of New Year and Christmas decorations.
Christmas decoration trends: novelties and traditions
Don't forget about the symbol of the year, whose image must certainly be on New Year's toys, souvenirs and gifts.
Among the main trends of 2023, designers highlight environmental friendliness and naturalness when it comes to choosing materials for decor. Choose a neutral and natural color scheme – green, brown, sand. Also use natural materials in the interior and New Year's decor 2023. It can be textured wood, burlap, cones and spruce branches, thuja plants and succulents. Use aromatic spices and citrus fruits – cinnamon sticks and anise stars, garlands of dried oranges and lemons, paper crafts, salt dough and clay.
The main decor for the New Year 2023 is surely a Christmas tree, which should be decorated in white and silver colors.
DIY gifts for the New Year 2023: ideas for homemade decor
Delight your loved ones with exclusive hand made New Year gifts. See photos of cute and simple presents that you can make with your own hands.
DIY candlestick for the New Year 2023
This is a 2 in 1 gift idea. First, you surprise your loved ones with an original present, and then it turns out that the glass vase can be used all year round. An affordable and cool gift!
For this simple and extraordinary craft for the New Year 2023, you will need a large vase on a stake, a wide candle, thuja twigs, scissors and glue spray.
To begin with, we clean the vase with a window cleaner, wipe it dry. Spray the greens with the glue over the entire surface so that they stick well to the glass. Choose similar thuja twigs and fasten them to the sides of the vase so that the tips hang down a little. Press the branches well, cut off the excess ends.
You can put a candle and give your loved ones an original candlestick for the New Year.
A few more ideas for decorating a candlestick with your own hands.
DIY Christmas wreath
Using spruce branches you can make a fragrant and beautiful New Year's wreath to decorate doors, windows or walls. A wreath is a symbol of happiness, infinity, prosperity and welfare, so let's make it with our own hands.
For a wreath, you will need a cardboard or wire frame, craft paper for wrapping, fir branches, toys, pine cones, figurines, fragrant spices and citrus fruits for decoration. For fastening – twine, string or glue gun.
A Christmas wreath can be made from anything. Christmas tree decorations, artificial branches, and silver cascade are suitable. You can also make a spruce bouquet, decorate it with citruses, nuts, gingerbread and vanilla sticks and give it to your friend, mother or boss for the New Year 2023.
Christmas tree made of succulents
The fashion trend of 2023 is a succulent tree that will keep a fresh and festive look for a long time. This alternative to a living or even artificial Christmas tree will surely appeal to those who care about the environment. After all, today there are ecological substitutes for many household items.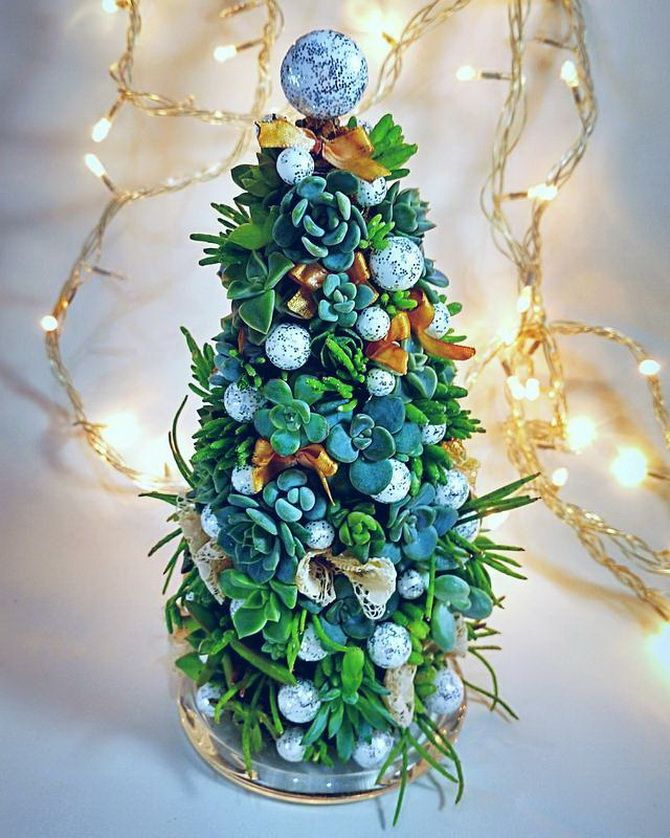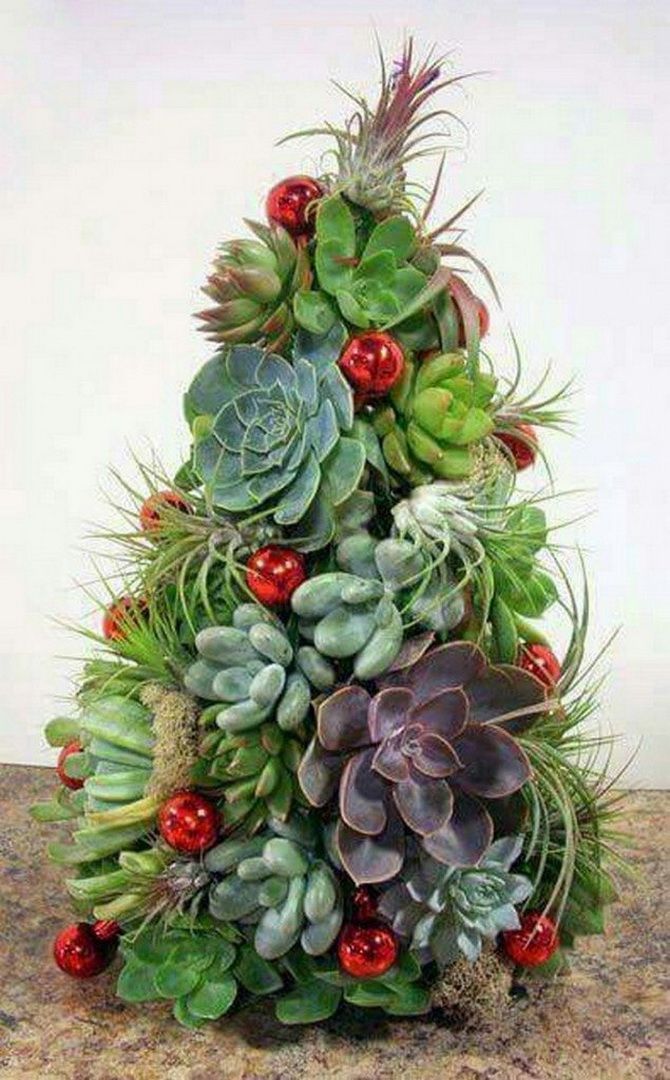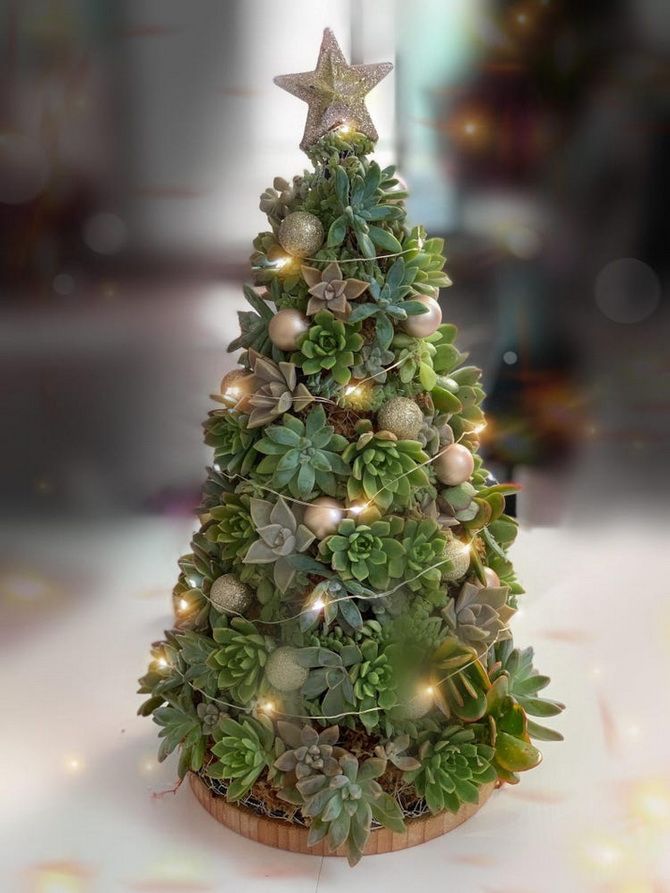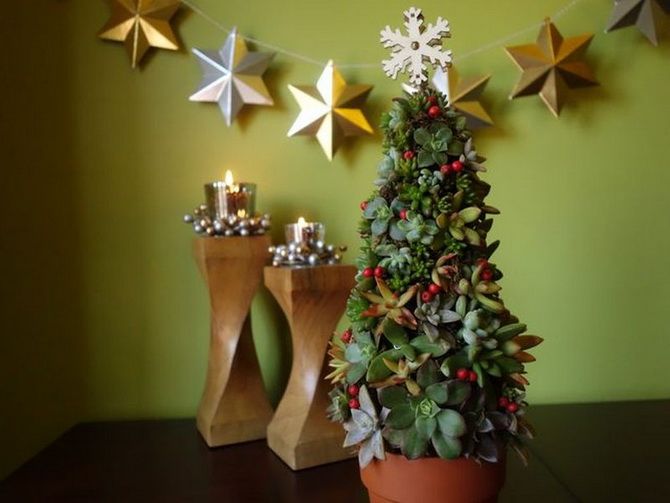 Gifts for the New Year made of clay or salt dough
If you like making creative gifts from clay or salt dough, make original Christmas tree decorations with your own hands.
A fresh and rather unusual idea for a New Year's gift is a handmade clay plate with a relief pattern and unique pendants with names.
Knitted gifts for the New Year
Knitted things are always associated with love and care. If you can knit or crochet, then use your talent to knit a cozy scarf or blanket with your own hands.
Today, chunky knit is popular, so you may not even need knitting needles to create a plaid or a scarf. Try hand knitting and you will be able to create cool and warm accessories in just 30 minutes. Watch the video tutorial on how to do this.
Those who are just learning the art of knitting can take a look at a detailed workshop "DIY star made of threads".
Give gifts with all your heart and be happy in the New Year!
Similar articles / You may like this