A leather biker jacket is a classic, the basic item of clothing in your wardrobe, which is't going to outmode yet. Regardless of whether you prefer genuine or faux leather, such a jacket is worth the investment and will be worn more than one year. Take care of it and it'll look even better over the years.
Joy-pup.com decided to share photos of the hottest outfits with the the legendary biker jacket.
History
For the first time, leather jackets were made for German aviators in the First World War. Such outerwear warmed well, and slanting zipper didn't let the cold wind penetrate through it. After the military, bikers became fans of black leather jackets. In 1954, Harley Davidson got and idea to make this model of jackets for women.
Today, five in ten people have a biker jacket, and wearing a leather jacket with jeans and a top is almost considered bad manners, unless you have a perfect body and a flawless outfit.
Do you think that people got sick and tired of leather jackets? Let's not give up on this thing, but rather get creative!
Biker Jackets and Trousers
The tight fit models are no longer relevant, so take a look at loose styles. Instead of jeans, try suit pants, culottes, and even the suit itself. These items will look great with sneakers.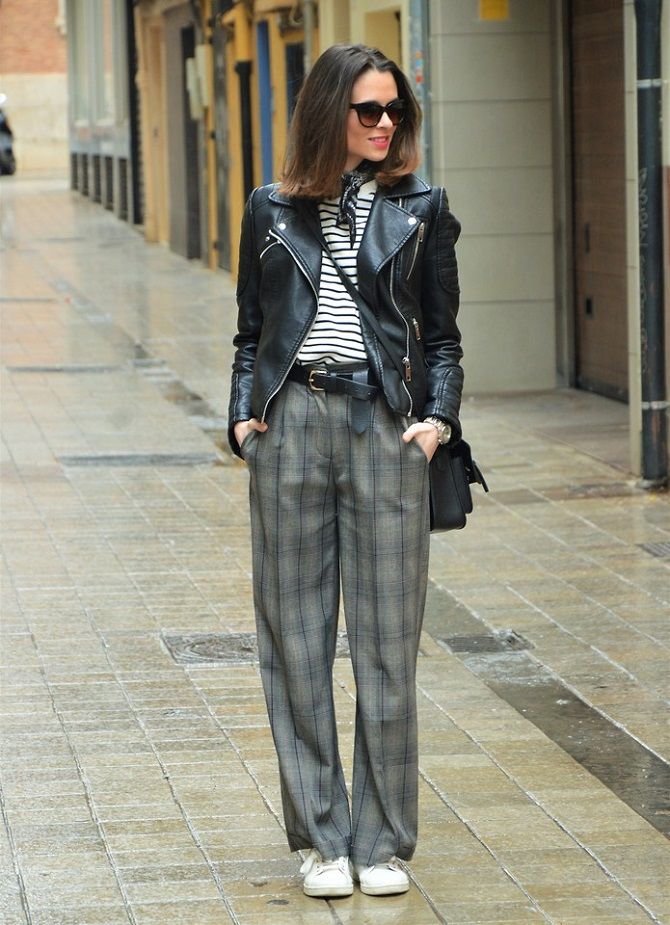 Please note that the classic straight and oversize leather jackets match with trousers.
Brutal leather jacket and delicate dress
A voluminous biker jacket with a tie strap and large sleeves looks incredibly stylish with a long dress or skirt. Black total look is quite dangerous, so you can brighten it with a gray jacket, for example:
"Gentle + rude" is the hottest new trend today, so creating such a look is the main task of fashionistas.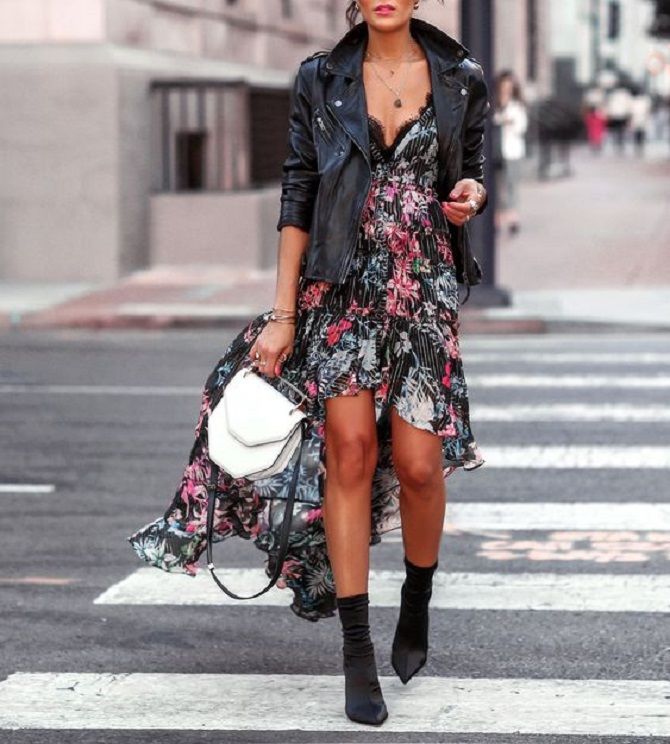 Biker jacket and tight-fitting mini is a bad combination. It's unstylish and outdated. A skirt made of tulle, mesh or lace will be an interesting variant for your look..
Jacket and Hoody
A jacket, hoody or tracksuit, running shoes and a baseball cap is all you need for a comfortable trip around the city, when there is no time to choose lots of clothes. Enjoy the perfect outfit.
Biker jacket and a skirt
Anything but a mini. Forget about this combination for a long time. Moreover, there is a pleated skirt, a linen skirt, which can be combined with cool rough grunge-style boots.
Contrary to what many people think, the biker jacket will look great in a business outfit.
Crop top combination
Fashionable tops, especially short ones, look good with a biker jacket. And again, remember that the bottom part isn't necessarily jeans, better wear pants or sweatpants.
The main criteria when choosing a biker jacket :
Fabric: leather, eco-leather, suede, tweed.
Size. Put aside the fitted models, focus on the freedom of moves. When trying on, raise your hands, move,because you have to feel comfortable in the jacket.
Colour. Choosing the right colour is especially important for overweight women.
Quality. Check all zippers, rivets, and seams.
Accessories. Be careful with them because you'll have to "fit" the whole outfit to match a jacket with an original ornament, fringe, lots of closing, rivets and studs. It should be harmonious, thought out and convenient for you, and a minimally decorated jacket will deal with the task.
Choosing your colour
In addition to black, pay attention to wine, green bottle, chocolate, cappuccino, chestnut, burgundy, powder, white or blue colour of the leather jackets.
Biker jackets in bright colors are perfect for blondes, as a black jacket makes the image "heavier". Choose white shades with a cropped silhouette in combination with high-waisted trousers or light dresses.
Косуха в светлых тонах прекрасно подойдет блондинкам, так как черная куртка «утяжеляет» образ. Выбирайте оптический белый оттенок с укороченным силуэтом в сочетании с брюками с высокой талией или легкими платьями.
Creating a layered image
Choose an oversize leather jacket or a fashionable model with a belt and puff sleeves if you are for convenience and comfort! You can check it this way – if you can put on a thick sweater under the jacket, then it is quite voluminous. This model will help create a cool multi-layer outfit, that can be worn with romantic or street style dresses.
Notice the original models
Such a model is a shocking biker jacket with a dramatic basque (does a basque really return to us?) In the style of Alexander McQueen. It can be worn, for example, with a leather skirt.
Style matters
You should definitely think about the fact whether a certain outfit with a biker jacket will suit you? Do you prefer more feminine or sports outfits? Decide whether you're ready to sacrifice comfort in order to have a spectacular look.
Interesting fact! Look at the cool outfits from the past, or rather from the 90s as the fashion of that time is returns once in a while. Together with the biker jackets they combined kerchiefs in the hairstyle, headbands and huge chains. In general, fashion designers are inspired by fashionable looks from the past.
Similar articles / You may like this