Kimono is a garment that every woman should have in her wardrobe. It has become mandatory in the list of trends of any fashionista and can be attributed to the basic things. Kimonos are versatile, lightweight and perfect for any outfit and season, making every look more sophisticated. Read on Joy-pup how to combine kimonos in your outfits.
Kimono benefits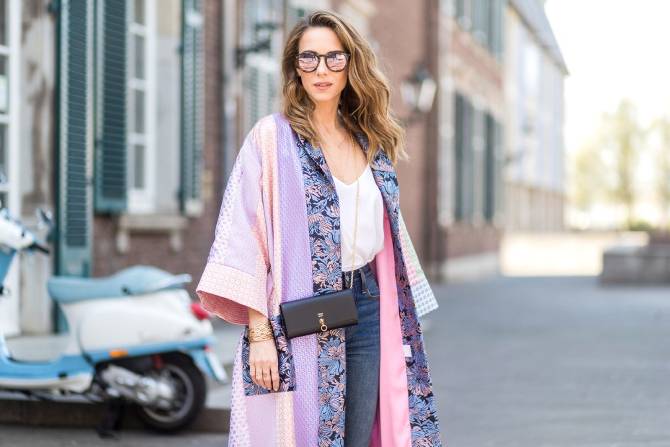 Suitable for any type of figure. Being a straight type of clothing, wearing a kimono open creates a vertical line on your figure, which makes it visually slimmer. If your figure is very thin and you, on the contrary, want to add volume, you can do this with details such as fringe, tassels, flounces or bright colors.
Hides excess weight. Kimonos are perfect for hiding everything that can make us feel insecure – wide hips, excess on the sides, a full belly.
Suitable for different styles. Whether you're a fan of understated, romantic or rock looks, the kimono will go with any outfit.
For different occasions. They are so versatile that it doesn't matter when you choose to wear them. In the morning for a walk, to a party or to the beach.
Diversifies any bow. If your look is too boring and formal, make it more ostentatious with printed kimonos.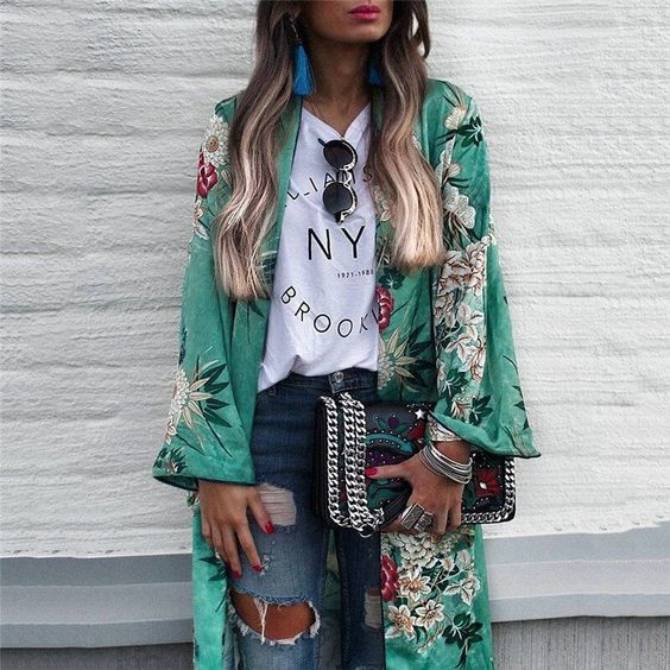 A kimono is a cross between a light jacket and a cape, with wide sleeves that fall for the most part from the wrist to the hip, and a sash at the waist. The traditional kimono in Japan is often decorated with images and symbols such as cherry blossoms, flowers, cranes, scrolls, or landscapes. Modern kimonos usually have a large pattern or solid color look. And that's what makes it perfect for a summer office look where you can sit comfortably at your desk all day long.
These clothes are perfect for any season, you just need to adapt them correctly. If you wear it in the summer, thin and flowy fabrics are best. For the cool season, choose kimonos made of thick fabrics. There are denim options that are worn as a demi-season jacket.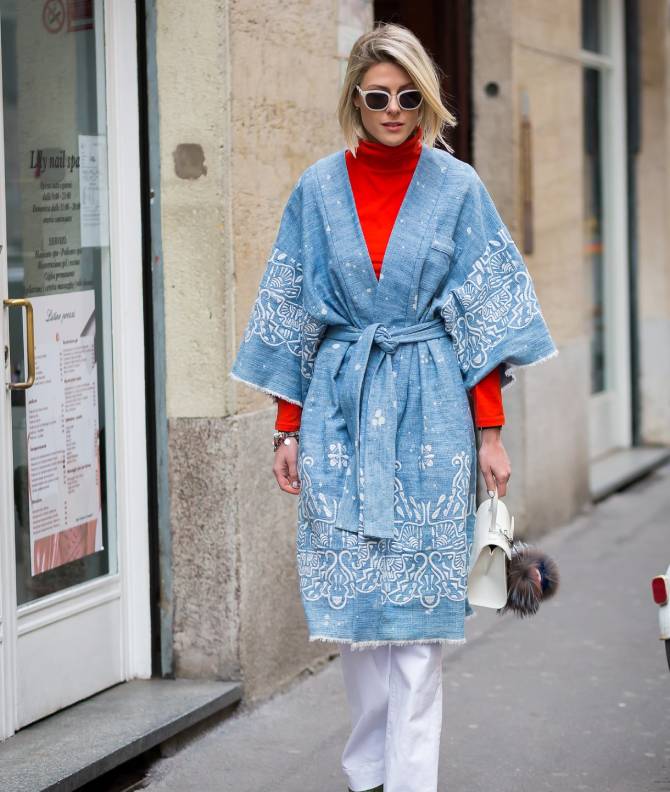 Women's kimono comes in different lengths. The most classic option is long, but there are midi and mini options. If you are short but love an elegant long kimono, pair it with heeled shoes and short clothing – a dress or a skirt. For fresh and casual bows, a short, waist-length kimono will do. It looks casual, perfect for the office or dinner with friends. Flat shoes – sandals or mules are best paired with a midi-length kimono.
Kimono look ideas
A kimono with different patterns, colors or textures can offer many styles. Fashion bloggers combine it with the main wardrobe items. Jeans, tops in classic tones and moderate accessories will give the best result.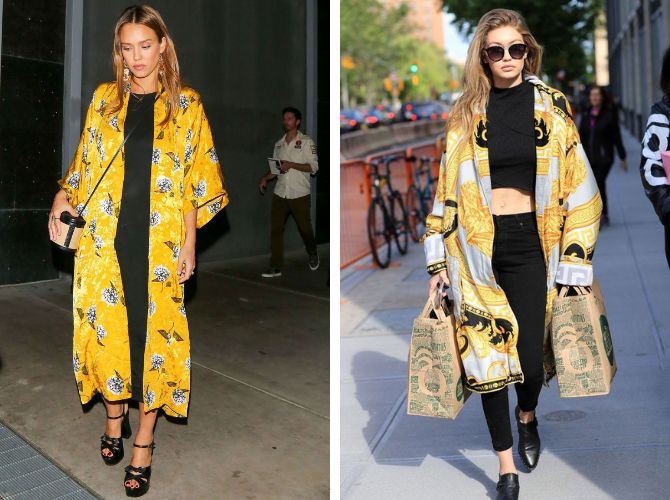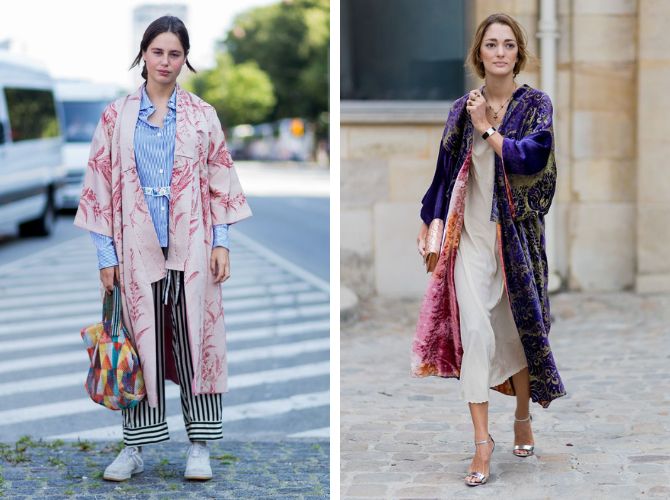 Kimono with jeans
The spring season is perfect for wearing this combo – it's not hot yet in jeans, and a light cape will always come in handy. A pair of jeans and a white t-shirt are perfect for a look in which the kimono takes center stage. A floral print option, geometric shapes and oriental-inspired patterns, will successfully demonstrate this look. From shoes, choose models with a closed toe – ballet flats, loafers or ankle boots.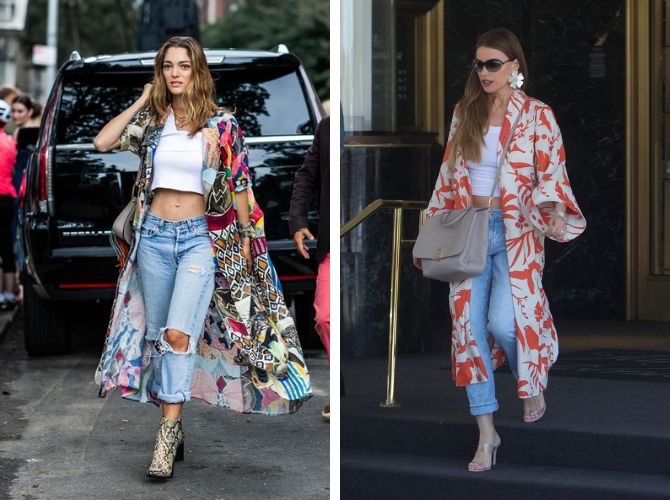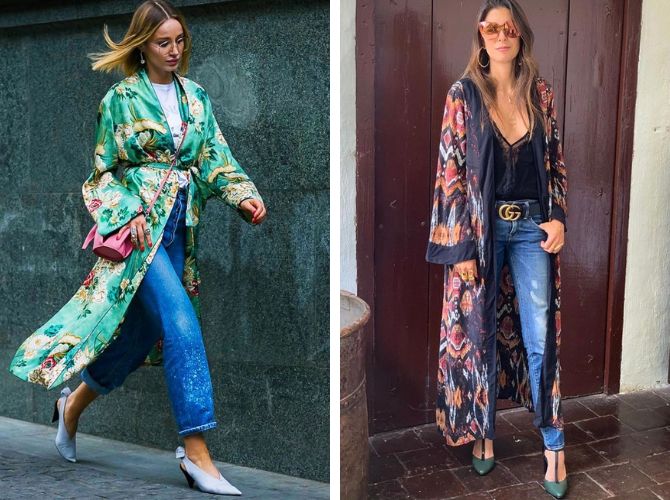 Kimono and dress
If you want your kimono to grab everyone's attention, pair it with a dress in neutral colors. This interesting piece of clothing is already eye-catching, but if you let it stand out, it will look spectacular and elegant. It is not necessary to choose the same length for these two garments. For evening looks with kimono, you can play with textures. A black bodycon dress will look great with a short lace kimono or a kimono with sequins and flared sleeves. For an evening look, it is best to wear stilettos that add height and elegance.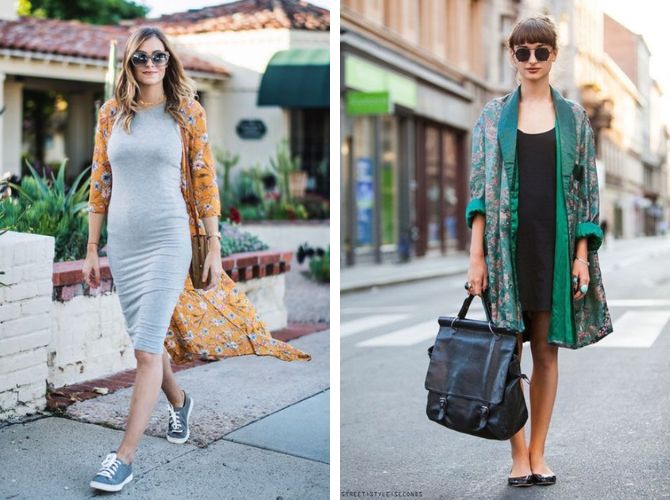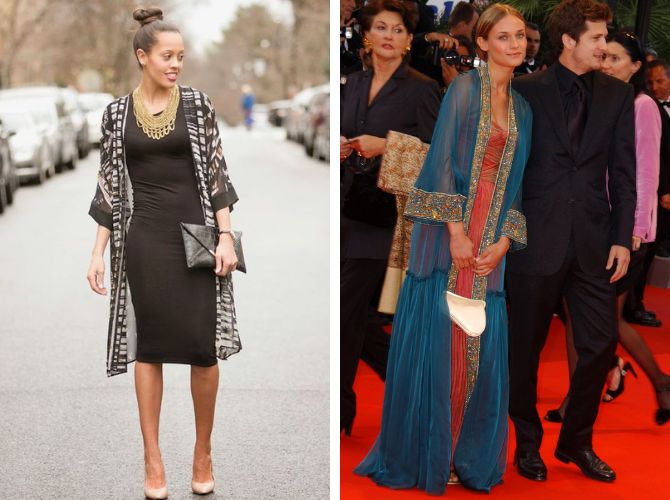 Kimono with shorts
As summer approaches, we opt for clothes that open our legs, and shorts are the best option to feel comfortable. Kimono over short denim shorts is one of the most popular summer outfits. Wear high shorts with a printed t-shirt or pastel-colored crop top. Complete the look with sandals or flat espadrilles for a relaxed look.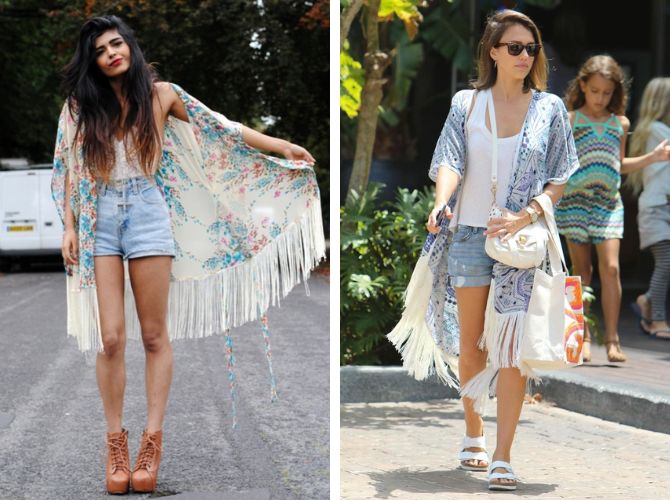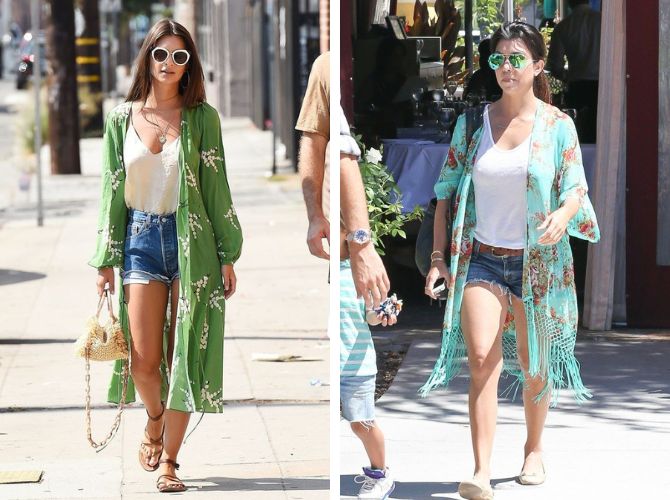 Kimono with dress pants
If you're planning to experiment with your style, try on a kimono with trousers. Give your formal look a whole new twist with matching kimonos. They are very stylish and can be easily incorporated into any of your business outfits.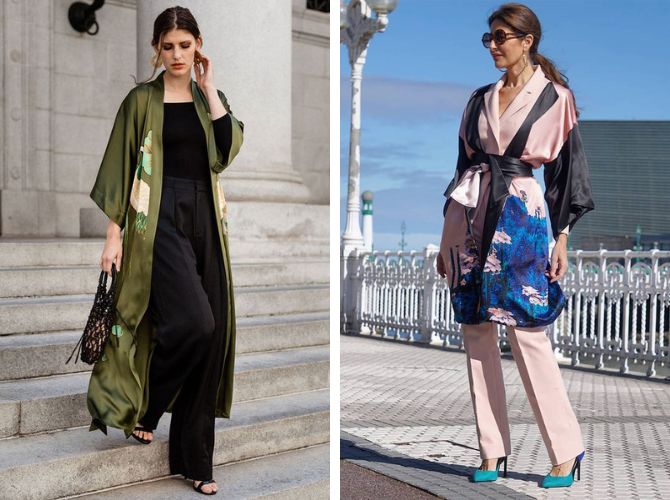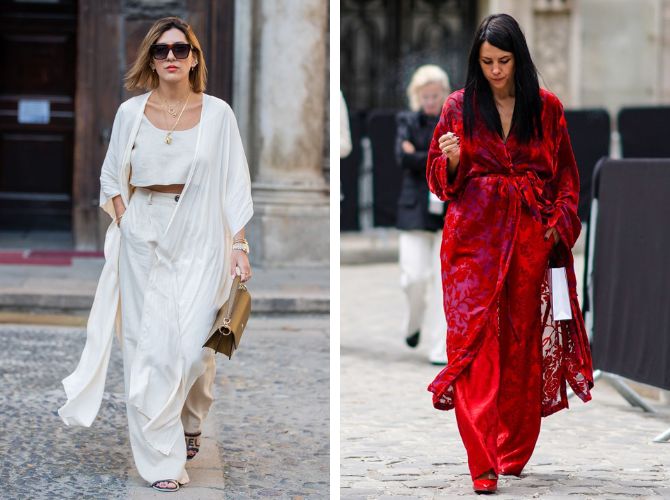 Kimono with a skirt
Wide-cut clothing pairs well with tight outfits, so a kimono looks stylish in tandem with a tight skirt. This combination will highlight your unique style. Black leather heeled sandals look perfect here.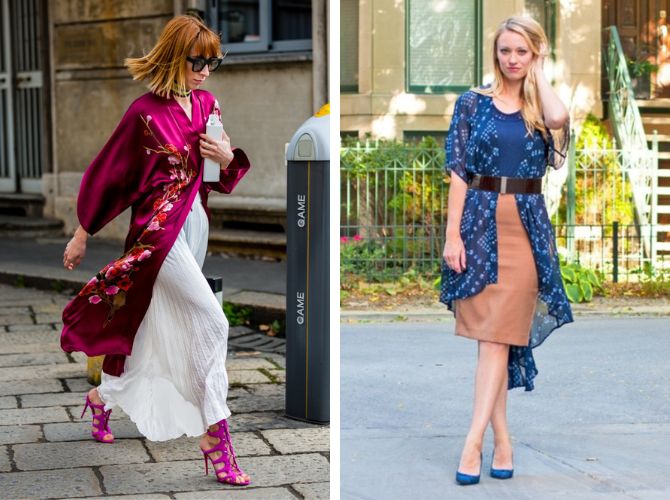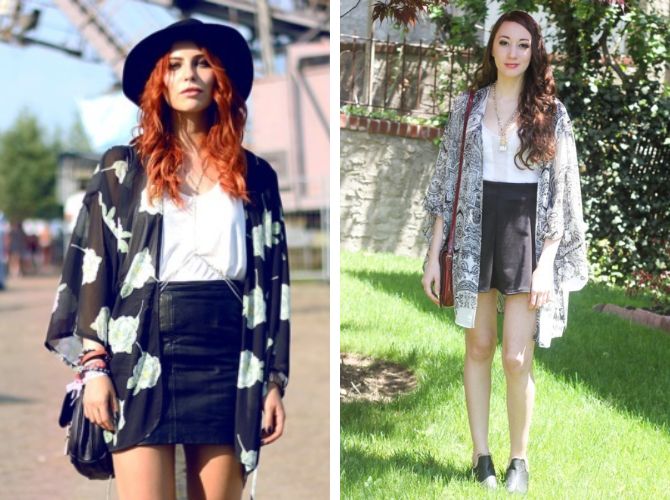 Kimono as a dress
Another great option is to turn this piece of clothing into a dress. To achieve this look, you must completely close the skirts of the kimono and use a sash or belt to keep the ends from swinging open. You can choose a belt of a different color and texture to emphasize the waist and give accents. This is a very sensual look that needs to be paired with high heels.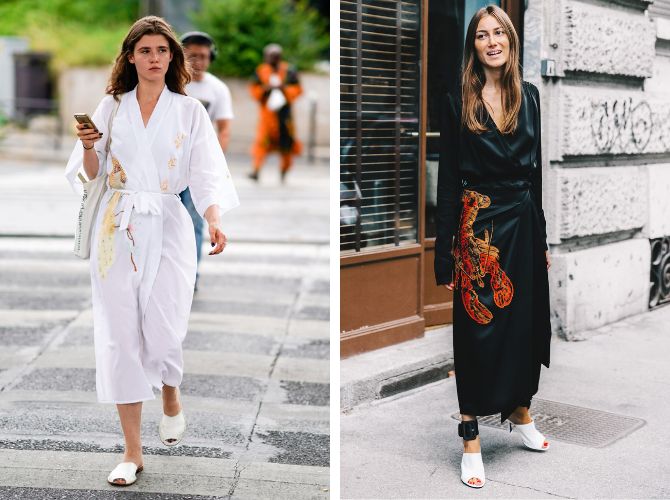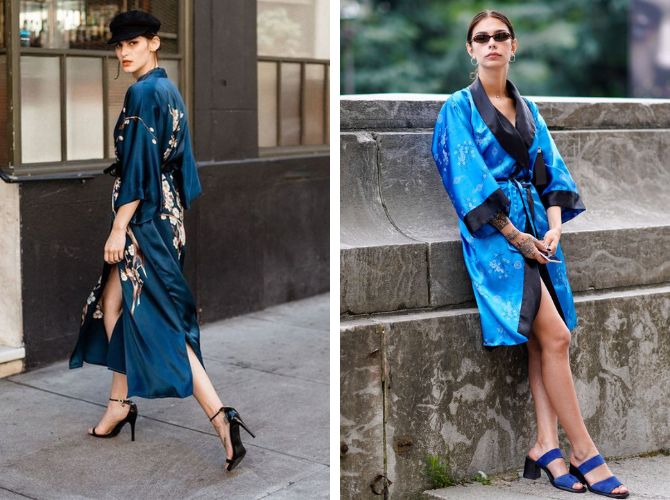 Kimono to the beach
Kimono can be used as a beach cover up for a swimsuit. On the beach or by the pool, you need to have something on hand to put on after getting out of the water, so the pareo has come to replace. One of the most used is the white lace or knitted kimono. Also on the beach, bright colors and light, transparent fabrics look beautiful. A wide hat, sunglasses, flip flops and a large wicker bag will complete the look.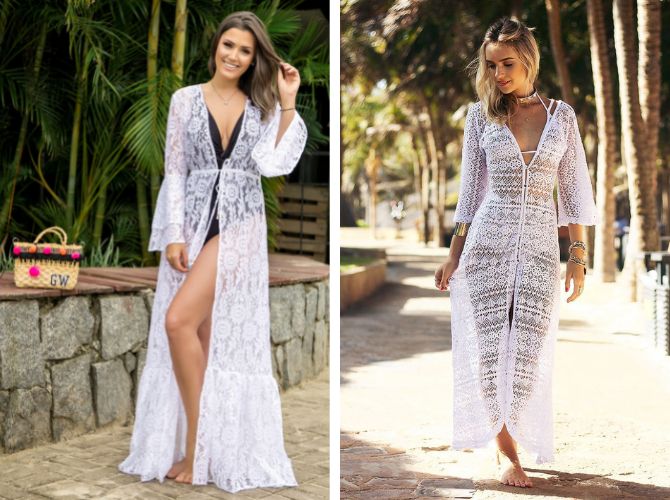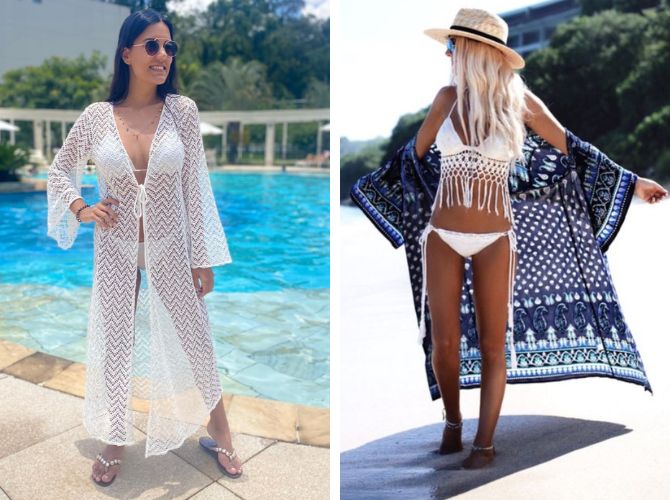 Kimono with floral print
Show off your summer style with this breathtaking floral print kimono. This outfit will give you a younger and fresher look and keep you comfortable all day long. If you want to add some flair to your sexy outfit, wear a stylish floral kimono over it.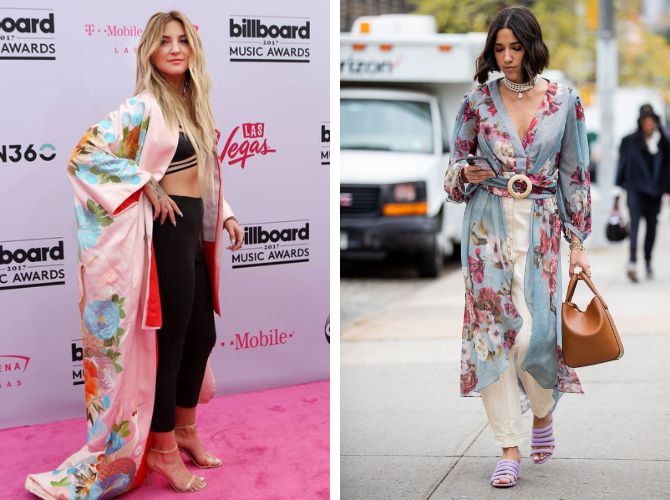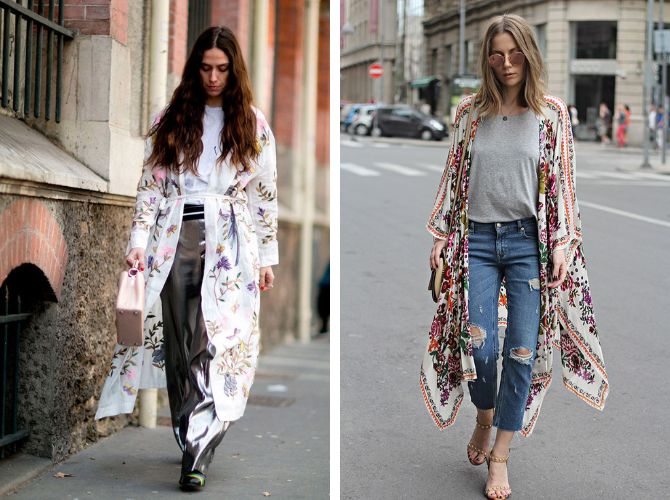 Monochrome looks
Total black kimono looks can turn you into a dizzying, chic and gorgeous lady.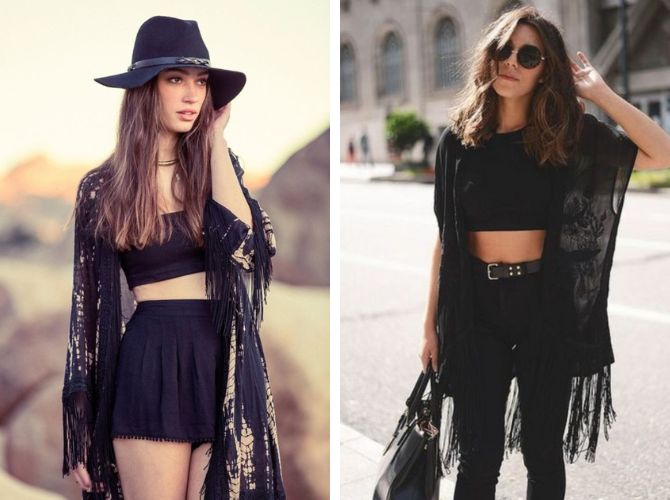 Similar articles / You may like this