Rabbit is the fourth sign of the Chinese zodiac, which includes people born in 1903, 1915, 1927, 1939, 1951, 1963, 1975, 1987, 1999, 2011, 2023. The year of birth is an important factor in determining personality traits and can reveal a lot about your strengths and weaknesses, according to Chinese astrology. We at Joy-pup will talk about the features of the Rabbit, its character and the compatibility of those born in the year of the Rabbit with other animals of the eastern horoscope.
What does the Year of the Rabbit symbolize?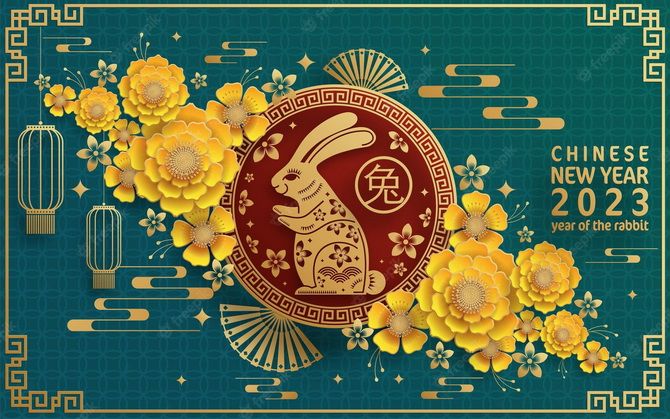 For the Chinese, the rabbit is a sweet, tame animal that represents hope and life. In Eastern astrology, it symbolizes longevity, patience and good luck, which means that 2023 will bring what we lacked in 2022 – peace and success. In Chinese culture, this animal is considered a symbol of the moon. According to legend, the moon goddess Chang'e has a rabbit as a pet, reflecting the idea of his kindness and noble beauty. For the ancient Chinese, the rabbit was the embodiment of the moon goddess and was a symbol of purity and auspiciousness. They believed that the big-eared one lives on the moon and that it can be seen on its bright side during the Full Moon in mid-autumn.
Characteristics of people born in the year of the Rabbit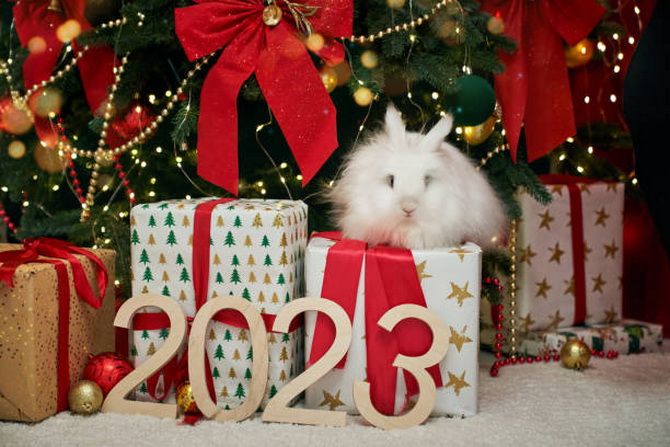 The rabbit is endowed with many wonderful qualities. He is very tactful, gentle, compassionate, an excellent diplomat, has an oratorical talent, extraordinary vitality, highly appreciates harmony and beauty. The Rabbit knows how to properly use its qualities and how to get out of or avoid any delicate situation. Behind the impeccable demeanor are intellectually strong personalities with the ability to turn the situation in their favor.
Those born in the year of the Rabbit are characterized by sophisticated style, good taste and a luxurious lifestyle. They prefer expensive food and drinks, branded clothes and attending important social events. The rabbit is an excellent manipulator. When he needs something, he will always get what he wants, using his methods of persuasion and excellent rhetoric. However, due to the inability to solve problems, they often become depressed and out of balance. Therefore, the Rabbit is not suitable for a leadership role or work in a very competitive environment.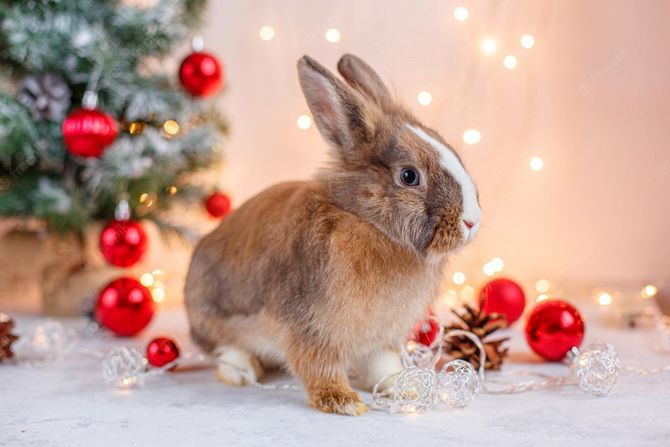 Rabbit Man
One of their main weaknesses of the Rabbit man is shyness, as a result of which they are often used by other people. They will not seek high positions and take risks in life. In the love sphere, he is usually in no hurry to move to the next level, they are attracted to quiet and calm women. The Rabbit man is usually reserved in relationships and does not show his feelings in public. One of the negative traits of the Rabbit man is that he is polygamous by nature.
Rabbit Woman
The compassionate nature of Rabbit women attracts many people to her. She is always ready to help those in need. The Rabbit Woman follows fashion, dresses according to the latest trends, loves to attend concerts, exhibitions, fashion shows and other cultural events. She is also very shy by nature and a potential gentleman should make a lot of efforts to win her favor. These are women who prefer long-term relationships.
Positive character traits of the Rabbit: sensitivity, tact, prudence, restraint, ambition, culture, good breeding, artistry, insight, wisdom, kindness, hospitality, modesty.
Negative character traits of the Rabbit: secrecy, excessive meticulousness, complexity, arrogance, indifference, snobbery, hypochondria, pettiness, love of love, self-centeredness.
What kind of children are born in the Year of the Rabbit?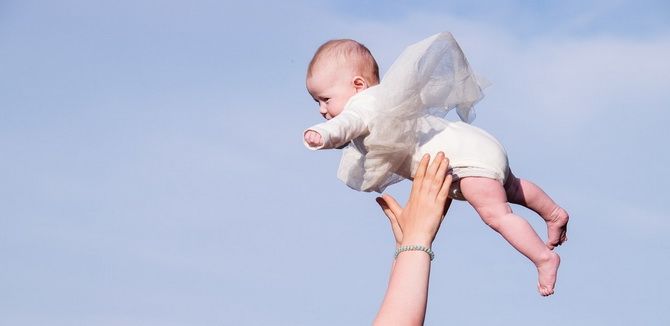 Children born under the sign of the Rabbit are calm, kind, patient and cheerful. Toddlers are usually distinguished by good health, good appetite, activity, love sports and physical movements. They like to travel and enjoy extreme sports.
Rabbits are great intellectuals from childhood. Children love to develop their intelligence, read a lot and want to know the answer to all questions. They have big goals and usually succeed in their ambitious plans. The only thing that can stop them is naivete. Parents should notice this feature and try to correct it.
Babies born in the year of the Rabbit need the protection of their parents, who will make sure that other children do not take advantage of them and do not try to deceive them. They are always ready to help those they consider friends, so they must learn to say "no" when necessary.
The dignity of their character is sensitivity, altruism, kindness and gullibility. The disadvantage in some cases may be a tendency to be pessimistic, snobbish and quickly rush from one extreme to another.
Who suits the Rabbit according to the horoscope?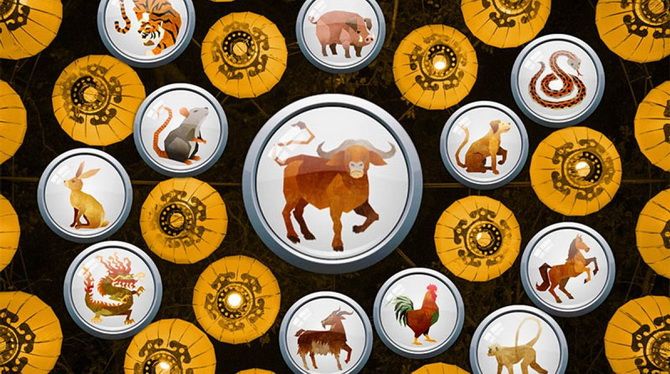 Animals that will find harmony in relations with Rabbits are the Pig, Dog and Goat. The Dragon, Rooster, Horse, Ox and Rat can have big problems communicating with Rabbits. In order for a relationship to work perfectly with these animal signs, a lot of compromise and mutual understanding will be required.
What is the element of the Rabbit?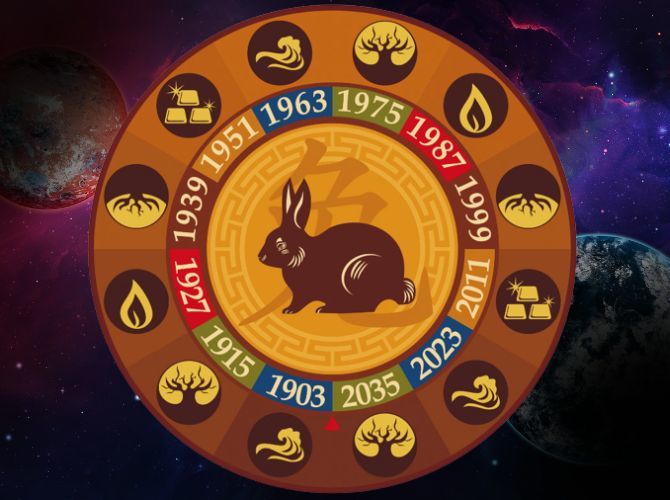 01/29/1903 to 02/15/1904 – Water. Year of the Black Water Rabbit.
02/14/1915 to 02/02/1916 – Tree. Year of the Blue Wood Rabbit.
02/02/1927 to 01/22/1928 – Fire. Year of the Red Fire Rabbit.
02/19/1939 to 02/07/1940 – Earth. Year of the Yellow Earth Rabbit.
02/06/1951 to 01/26/1952 – Metal. Year of the White Metal Rabbit.
01/25/1963 to 02/12/1964 – Water. Year of the Black Water Rabbit.
02/11/1975 to 01/30/1976 – Tree. Year of the Blue Wood Rabbit.
01/29/1987 to 02/16/1988 – Fire. Year of the Red Fire Rabbit.
02/16/1999 to 02/04/2000 – Earth. Year of the Yellow Earth Rabbit.
02/03/2011 to 01/22/2012 – Metal. Year of the White Metal Rabbit.
01/22/2023. until 09.02.2024 – Water. Year of the Black Water Rabbit.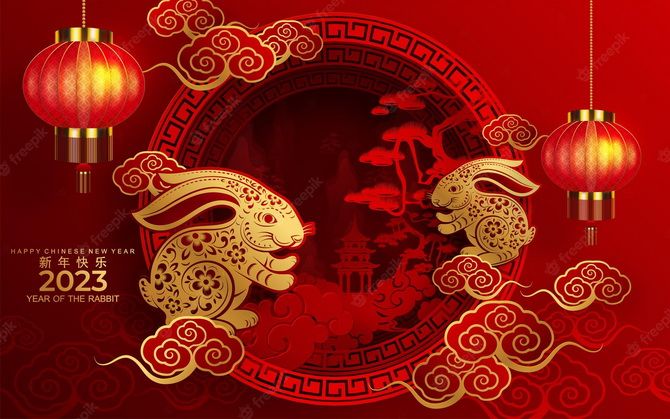 The personality of a person who was born in the year of the Rabbit depends on the element that affects them.
Metal. Rabbits born in years ending in 0 or 1 are under the influence of the Metal element. This gives them strength and self-confidence when it comes to business matters. Also, this element gives cunning and enhances intelligence, which makes these people very competitive. The ability to anticipate, analyze, and logical problem-solving skills are some of the Metal Rabbit's talents.
Water. Water (an element affecting years ending in 2 or 3) makes Rabbits extremely sensitive. Therefore, they lose their conviction and are easily influenced. These people lack problem-solving skills.
Wood. The Rabbit combined with the Wood element, that is, those born in years ending in 4 or 5, are very attractive. They are not snobs, like others born under this sign, but more generous, understanding and sociable. Their forte is teamwork and the pursuit of fame and fortune, which always take them far.
Fire. The element of Fire affects Rabbits born in years ending in 6 or 7. This element maximizes their skills. That is why they are extremely cunning and use it to their advantage in the business field or in their personal lives through diplomacy for their own benefit. They are cautious but very ambitious and hide their true intentions when they want to get something.
Earth. The Earth element belongs to those Rabbits whose year of birth ends in 8 or 9. This element brings stability to their nature, makes them more reflective, which guarantees them success in projects. But it also makes them less suited to interpersonal relationships. They are always striving to satisfy their material needs.
Similar articles / You may like this