Preparing to celebrate the New Year 2023, we carefully select dishes that will decorate our festive table. And a great option would be to prepare goodies in the form of next year's host. They will become the central elements of the feast. See what salads in the form of a Rabbit can be prepared for the New Year 2023.
Salad "Rabbit" with ham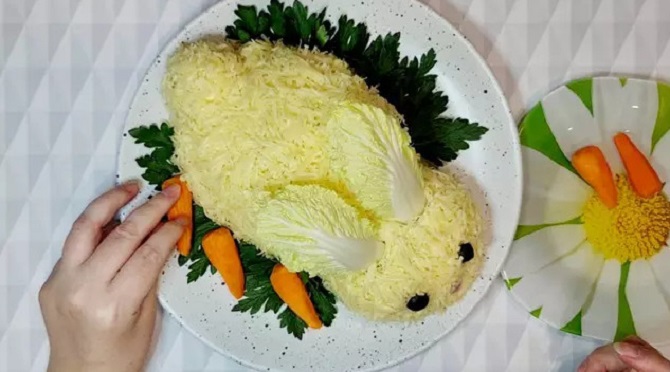 Decorate your table with a real rabbit, making it from simple and satisfying products. You will need:
200 g of ham;
1 cucumber;
bulb;
3 eggs;
half a can of canned corn;
1 cup boiled rice;
mayonnaise;
200 g of cheese;
black pepper and salt.
To decorate the salad, prepare:
Chinese cabbage leaves;
olives;
ham;
parsley;
carrot.
How to cook Rabbit salad for the New Year
If you have a small cucumber, cut it into small cubes so that it has a green part. Cut out the middle of a large cucumber, you do not need it.
Cut the ham into small cubes. Finely chop the dill and onion.
Grate cheese and boiled eggs on a coarse grater.
In a bowl, combine cucumbers, ham, onions, eggs, dill, corn, boiled rice. Salt and pepper, season with mayonnaise.
Take a large dish. On it, form a figure of a rabbit from lettuce. It should consist of a body, head, tail.
Lubricate the rabbit with mayonnaise, cover it with grated cheese, without pressing down.
Form eyes from olives, a nose from ham, and ears from sheets of Chinese cabbage. Also place a chopped carrot next to the rabbit.
So that the salad does not lose its shape, leave it for several hours in the refrigerator.
Salad "Rabbit" with chicken for the New Year 2023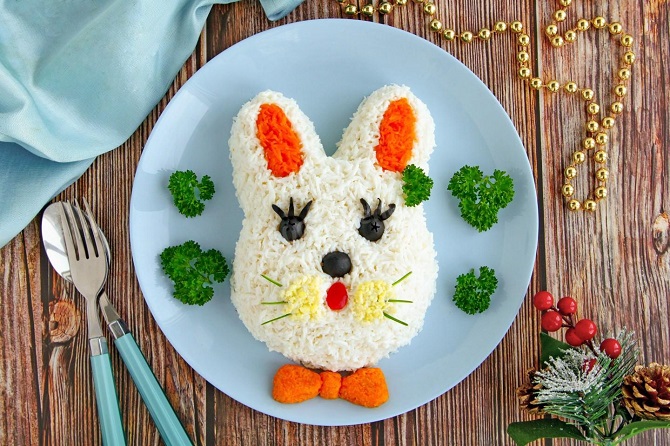 This is an excellent dish that will delight you with its nutritional value. By laying it out in the form of a rabbit, you will create a real New Year's mood.
Ingredients:
160 g chicken fillet;
4 boiled eggs;
120 g pickled cucumbers;
100 g of bell pepper;
120 g of hard cheese;
1 small carrot;
olives;
mayonnaise;
salt pepper.
How to cook rabbit salad for the New Year?
Boil or bake chicken fillet, after adding spices to taste. Cool it down and cut into small cubes.
Set aside two whites and one yolk of boiled eggs to decorate the rabbit, cut the rest into small cubes.
Cut pickled cucumbers into small cubes. Also cut the bell pepper into cubes.
On a dish of meat, form a muzzle of a rabbit. Lubricate the layer with mayonnaise.
Lay out the pickled cucumbers, grease the layer with mayonnaise.
Lay out a layer of boiled eggs, smear it with mayonnaise, then lay out a layer of pepper and brush it with mayonnaise.
Grate the cheese on a fine grater, lay it out as a layer and brush with mayonnaise.
Sprinkle your rabbit with grated egg whites. Form a mouth, ears with grated boiled carrots. Make eyes from olives, and their tendrils from parsley.
Advice. You can come up with your own decor for the New Year's rabbit. Just carefully shape his figure and decorate beautifully.
Salad "Carrot" for the New Year of the Rabbit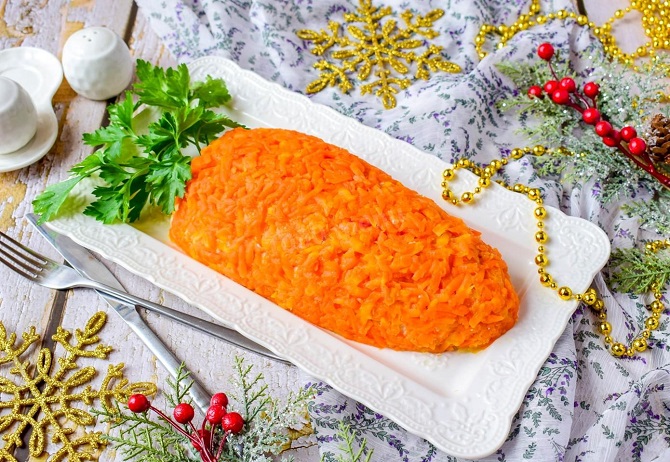 What does a rabbit love? Of course, carrots. Therefore, a salad in the form of a carrot would be an excellent option. You can make it with any filling. But, for sure, you will like a delicacy with tuna. You will need:
boiled potatoes;
boiled carrots;
canned tuna;
boiled eggs;
mayonnaise;
parsley for decoration.
How to make Carrot Salad
This salad is prepared according to the principle of Mimosa salad. You need to lay out the grated potatoes in one layer in the form of a carrot. Put a layer of mayonnaise on top of it.
Put a layer of tuna on your carrot, put grated eggs on it, from which you should make a slide so that the salad resembles a carrot.
Cover the eggs with mayonnaise, then lay out the grated carrots. Decorate the salad with parsley, making a carrot tail out of it.
Similar articles / You may like this