Beige has conquered the fashion capitals of the world, and today we can confidently say that beige has become a new classic. This season, fashion experts advise wearing dresses in coffee, nude, cream and other shades of beige that reflect the atmosphere of summer. Read on Joy-pup how you can wear it in style every day.
Bonus Video Best Beige Dress Collection
How to wear a beige dress?
You should always have a beautiful beige dress of any length in your wardrobe. This is the perfect color that suits almost any skin tone and looks very chic and classy. Paired with gold jewelry and high heeled sandals, this is the perfect look for any occasion. A beige mini dress is perfect for a vacation or summer on the town. Light color helps to survive the heat and looks amazing on a tanned body.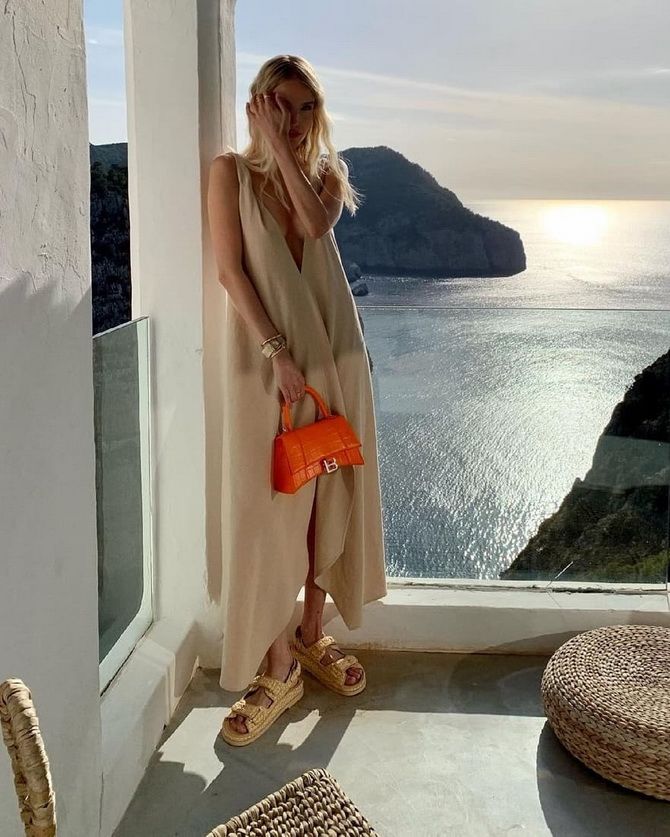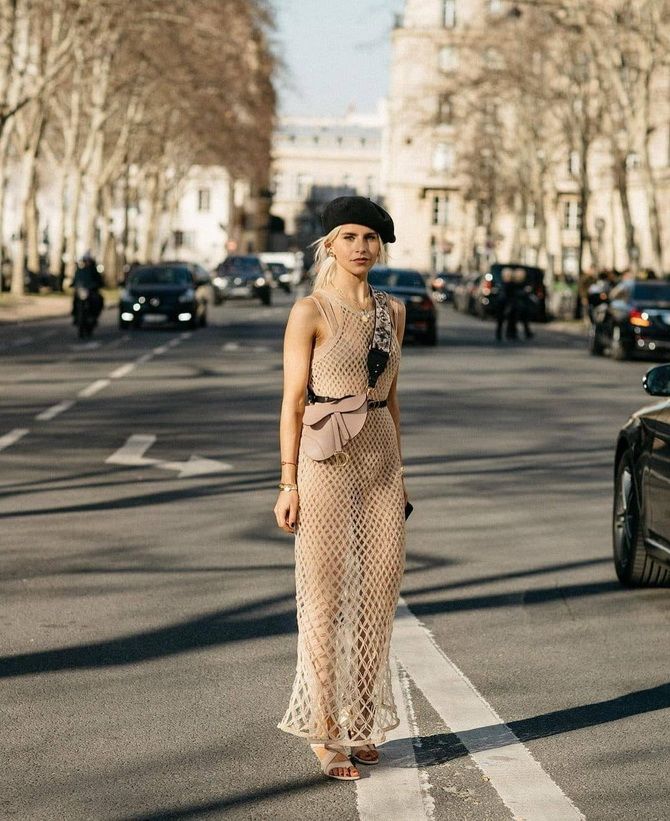 Due to its versatility and neutral color, a beige dress can be worn all year round. In spring and autumn, combine the model with trendy jackets. A plaid jacket is best suited for a beige dress, which diversifies the look. A good addition would be brown boots or ankle boots. If you prefer classics, choose a black and white look and pair the dress with an oversized black blazer and dark shoes.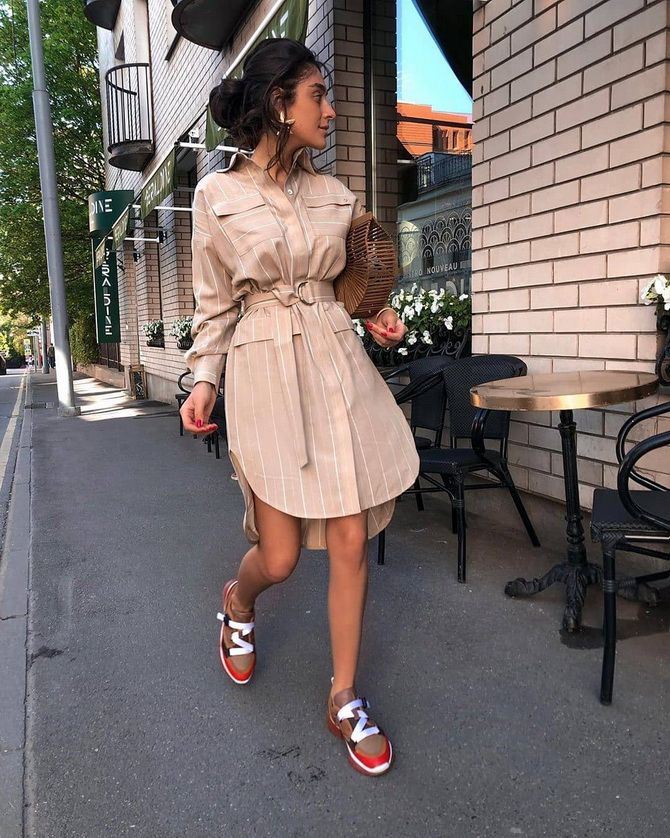 What shoes go with a beige dress?
Are there any shoes that don't match the beige dress? Probably not! This is such a versatile model that you can combine it with everything. If you are a fan of Parisian chic, pair the dress with burgundy boots or ballet flats. If you prefer a more sporty style, pair the beige dress with classic white sneakers or trendy retro sneakers. In summer, combine a beige dress with platform sandals or loafers.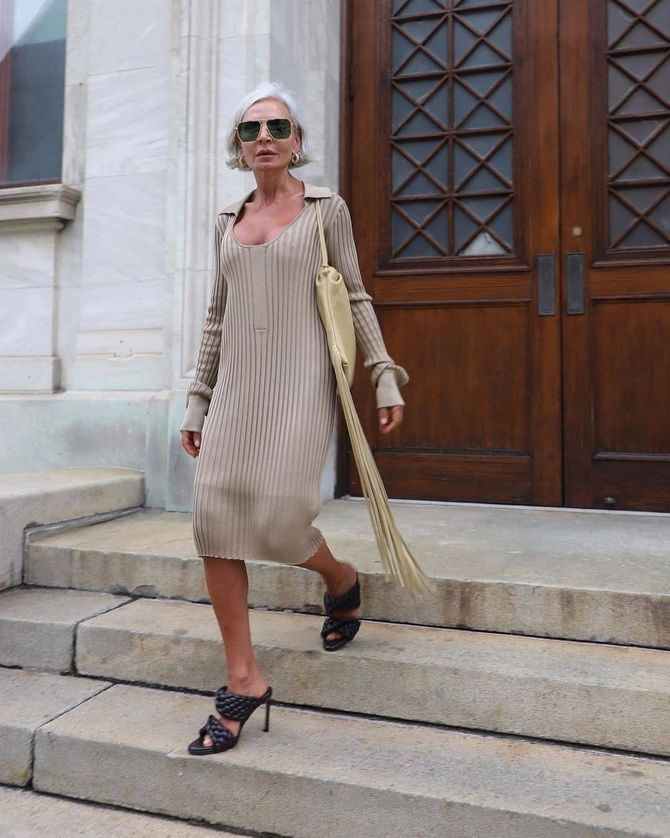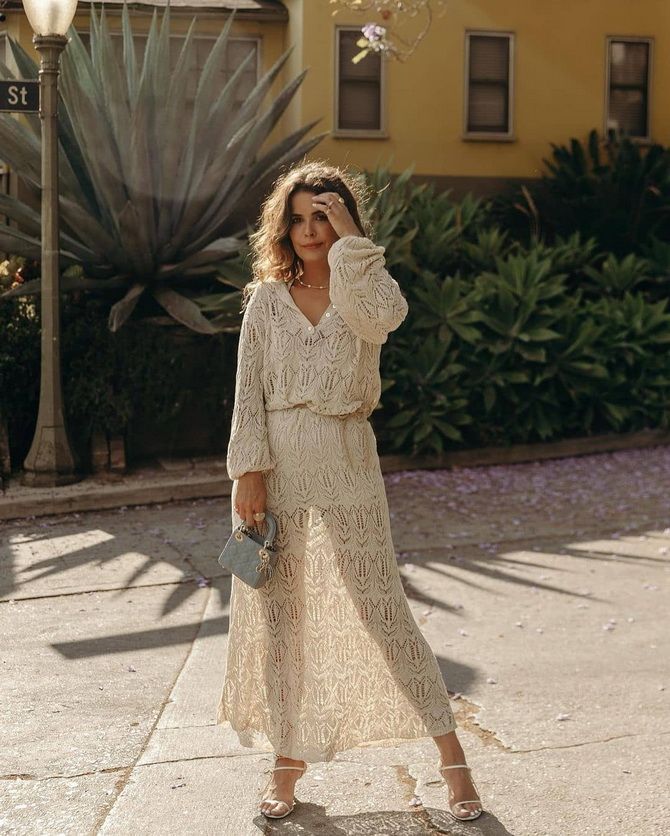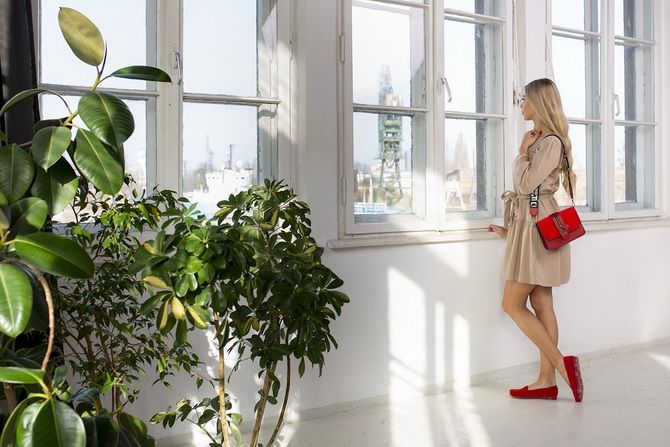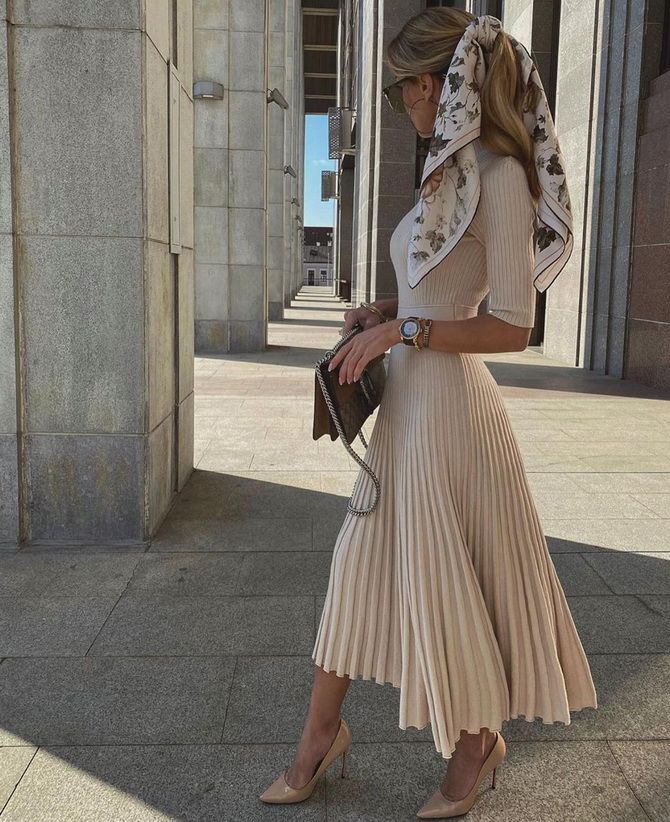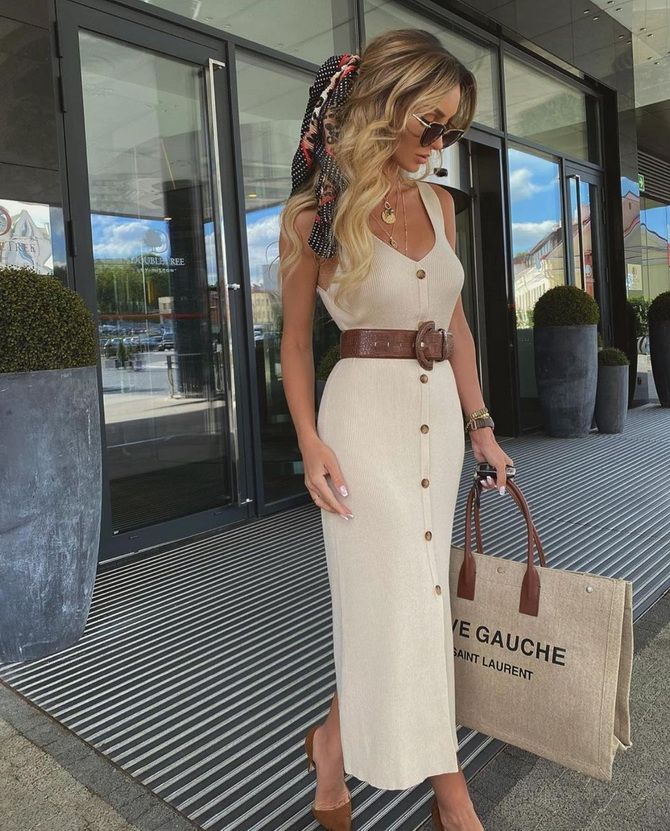 Beige dress and red shoes
Red pumps are synonymous with femininity and sensuality. Pairing these fiery shoes with a neutral, basic beige dress creates the perfect pairing. In the evening, you can wear an elegant beige dress with classic red high heel shoes. Complete the look with a mini bag and delicate jewelry. Let flashy shoes take center stage in your look.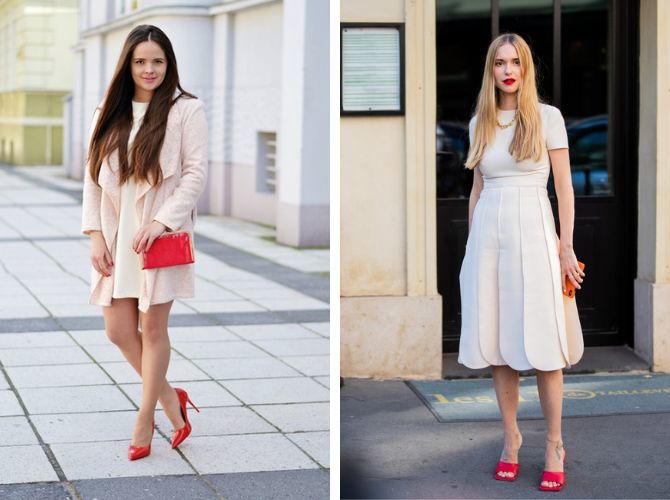 Beige dress and sneakers
White sneakers are a great addition to a beige total look. Monochrome looks are a fashion statement that is relevant not only this season. Combine a beige dress with a light-colored jacket or nude trench coat, a white handbag and white sneakers. All this can be diversified with accessories, for example, black glasses, bright jewelry or a scarf with a pattern.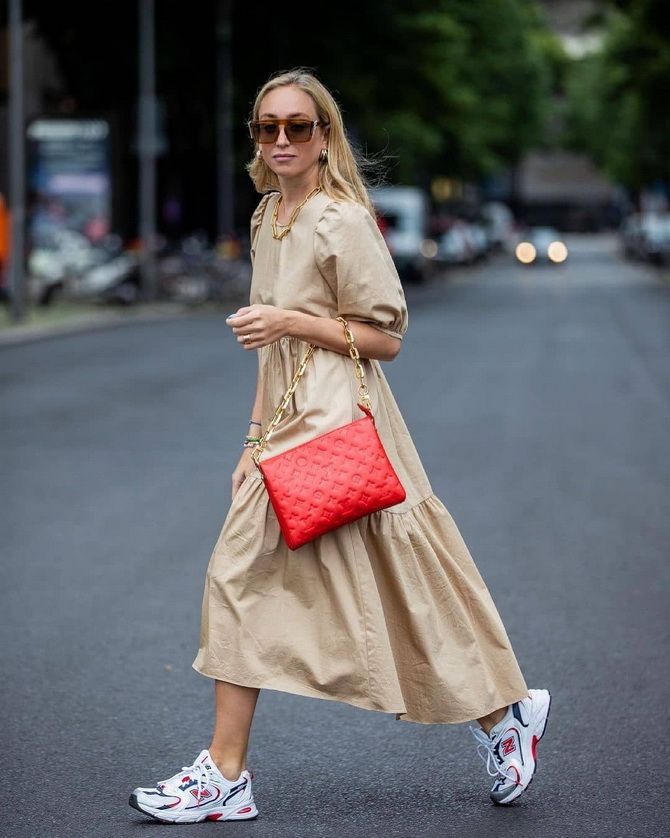 Beige Dress with Loafers
Loafers, especially on a solid platform, have been popular for several seasons. They gained huge popularity thanks to the Italian brand Prada, which presented black shiny loafers with a minimalist logo on the front a few years ago. This model instantly returned to trends, and today each of us has at least one pair in our wardrobe. Loafers also go great with skirts and dresses. The classic black model with a small platform is perfect for a beige dress.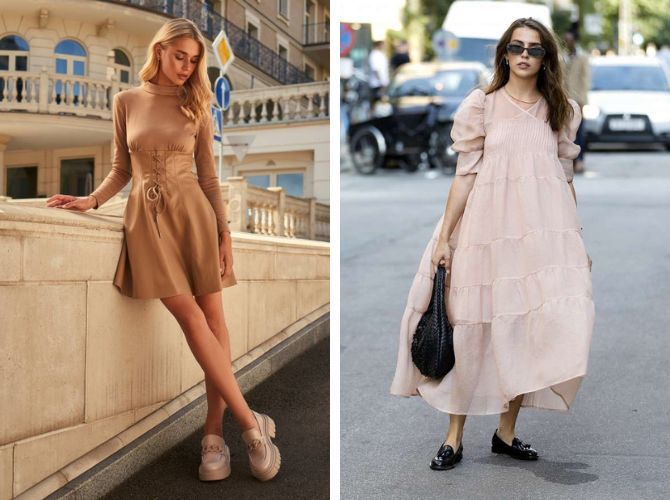 Beige knit dress and boots
In summer, beige knitted dresses are most often combined with sandals and high-heeled shoes, and in the cool season they are replaced by high boots. To avoid looking too boring, wear an eye-catching model with a snake, crocodile or zebra skin pattern. If animal prints aren't for you, opt for bright colored boots and complete the look with a flashy handbag, gold jewelry and red lipstick.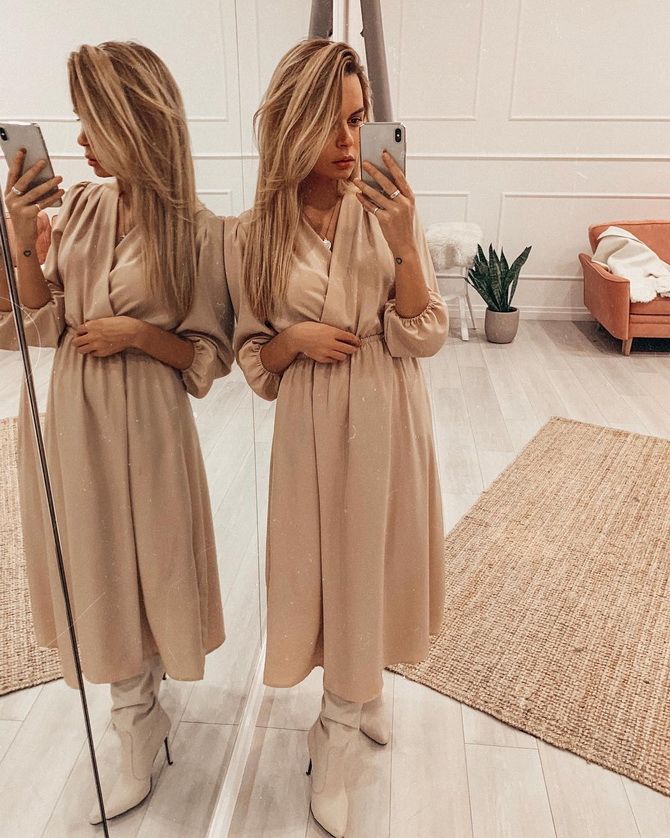 To be continued…
Similar articles / You may like this