Denim skirt is among the most relevant trends of 2023-2024. And that means it's time to select fashionable ideas for a stylish and non-trivial look with a denim skirt. Joy-pup will tell you how to wear it and what to combine with.
How to wear a denim midi skirt – photos 2023-2024
The most fashionable length of a denim skirt in 2023-2024 was … no, not mini, but midi. What to wear with midi models? Look at the photos with the most relevant options and try on a stylish look.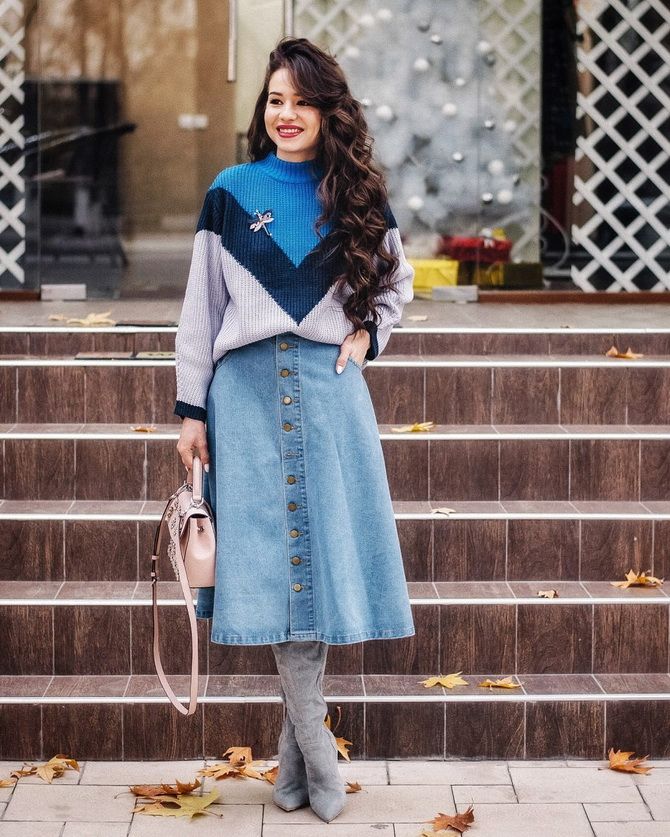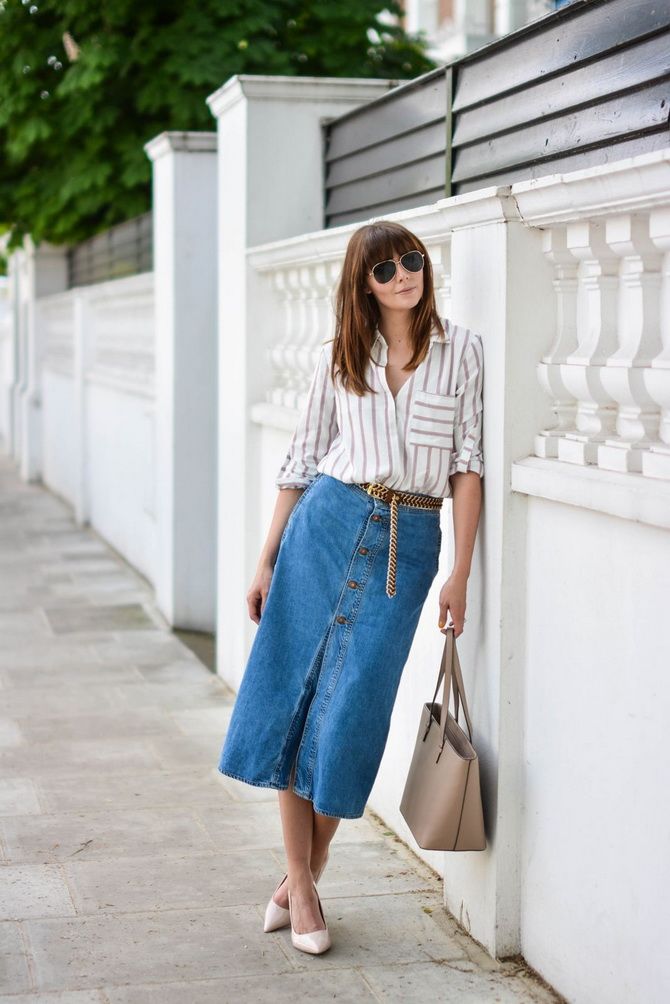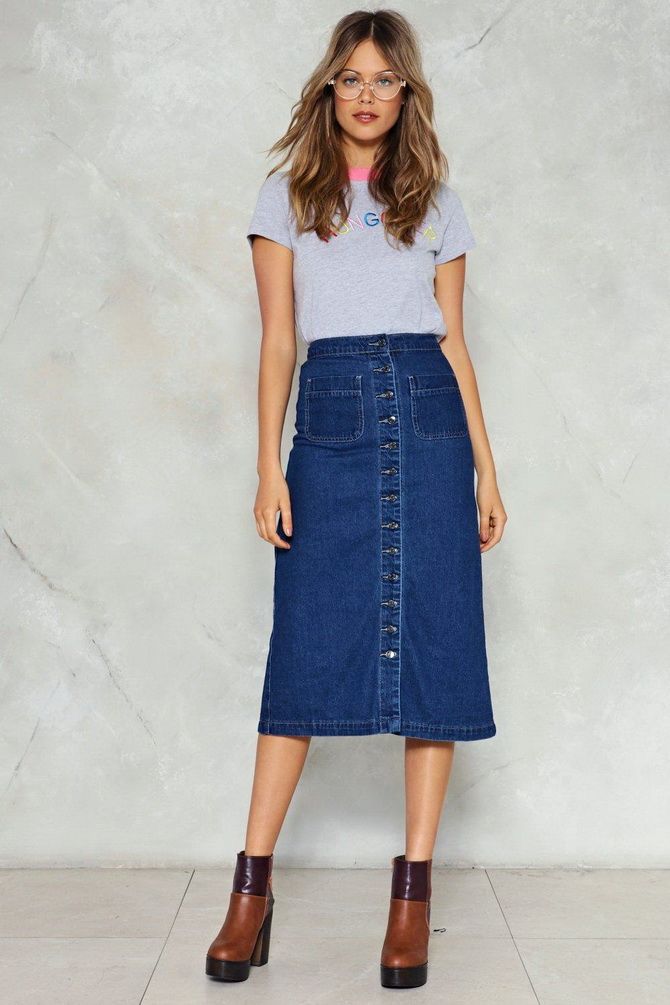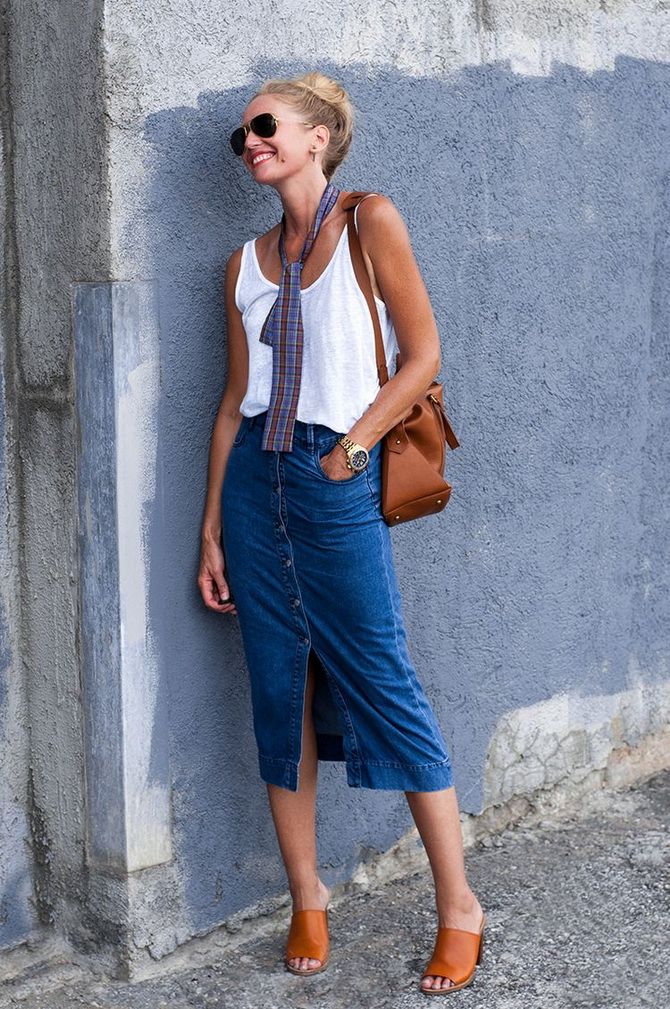 You can choose among different cuts of modern denim midi skirts: straight, narrowed, a-line, godet and circle. In 2023-2024, designers decorated denim skirts with new and not entirely new details. Denim skirts with buttons, wrap models and, of course, chic options with a vent hole are among the hottest trends. High waist is a must-have for a midi denim skirt and below-the-knee models in 2023-2024.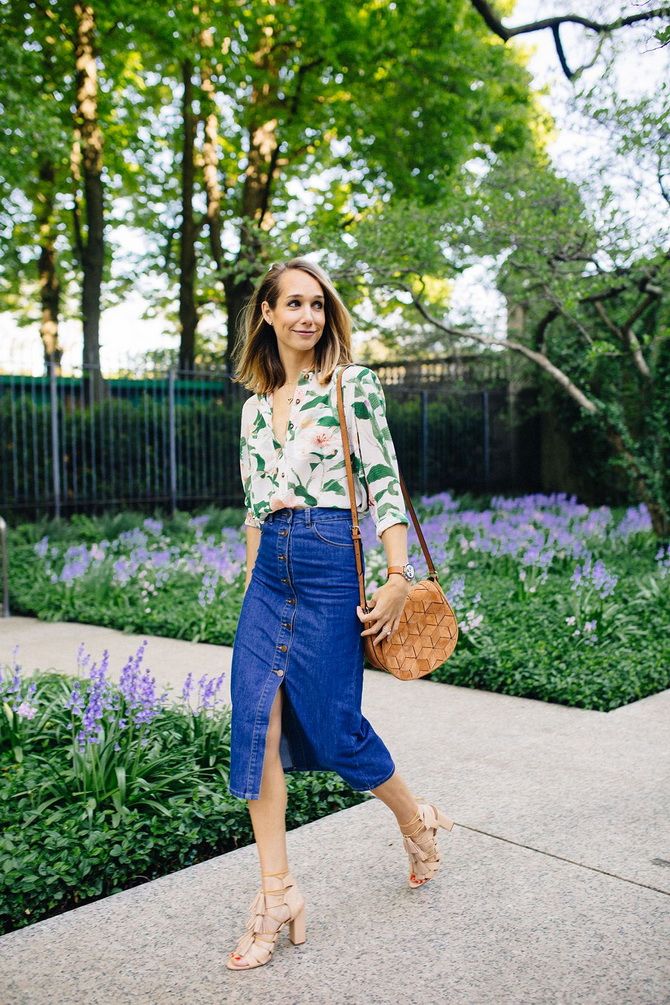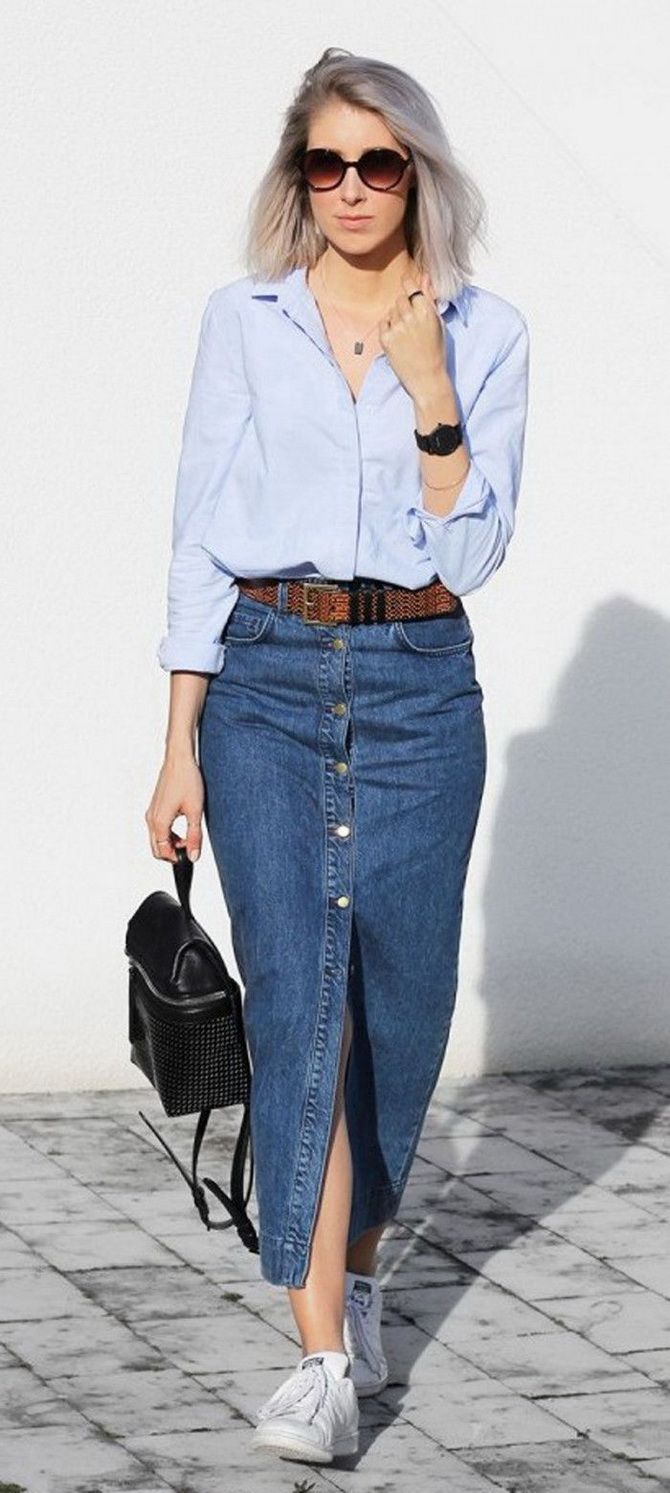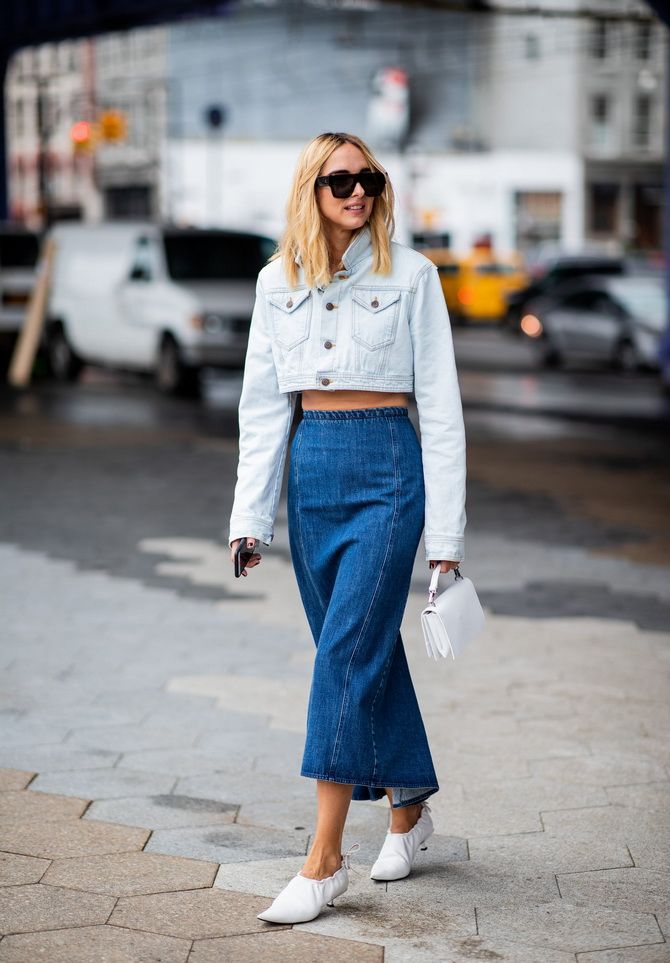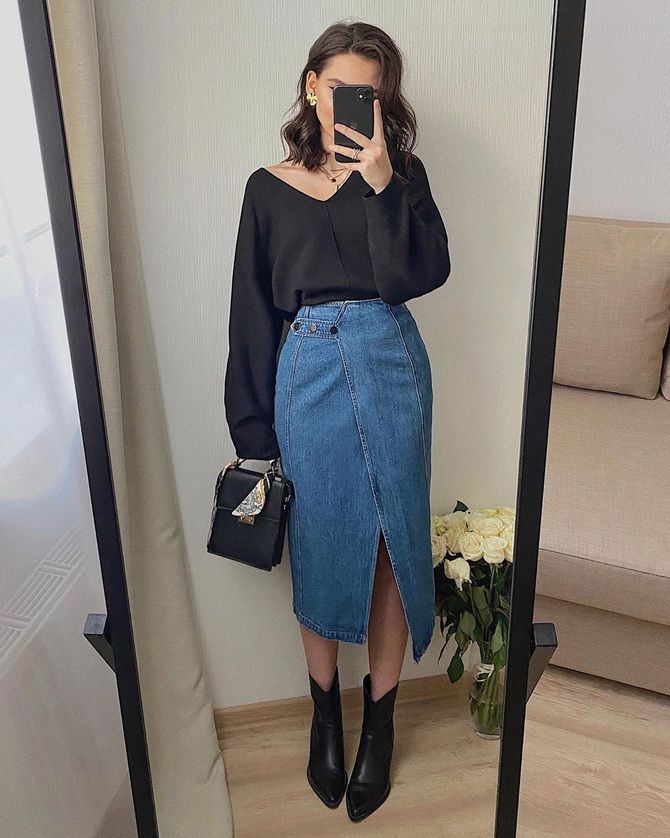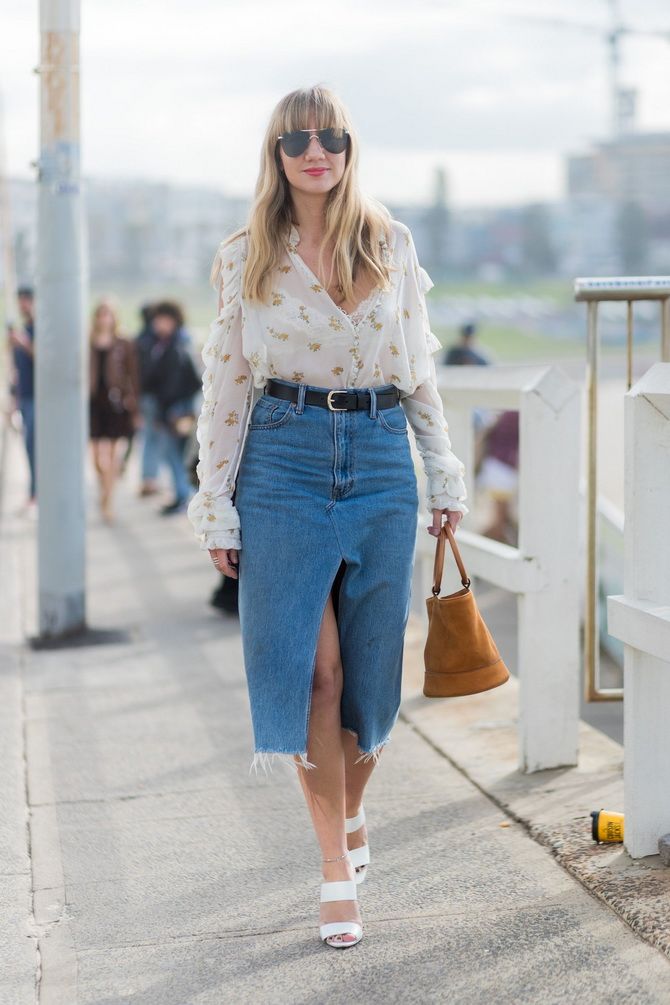 Denim midi skirt: spring, summer, autumn and winter outfits 2023-2024
In the spring and summer of 2023-2024, denim midi skirts should be combined with light pullovers, shirts, blouses, T-shirts, A-shirts and tops. Outfits with classic cardigans and coats are also relevant.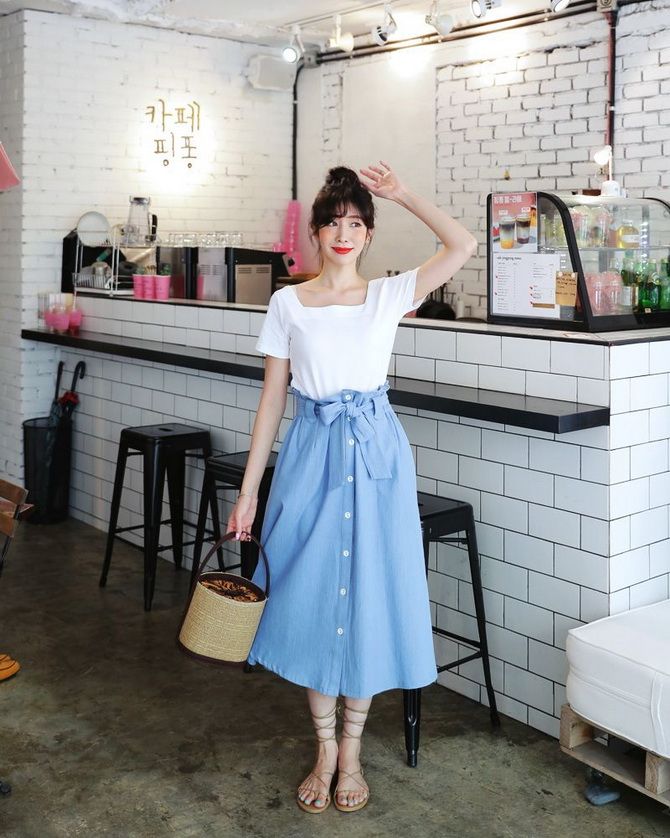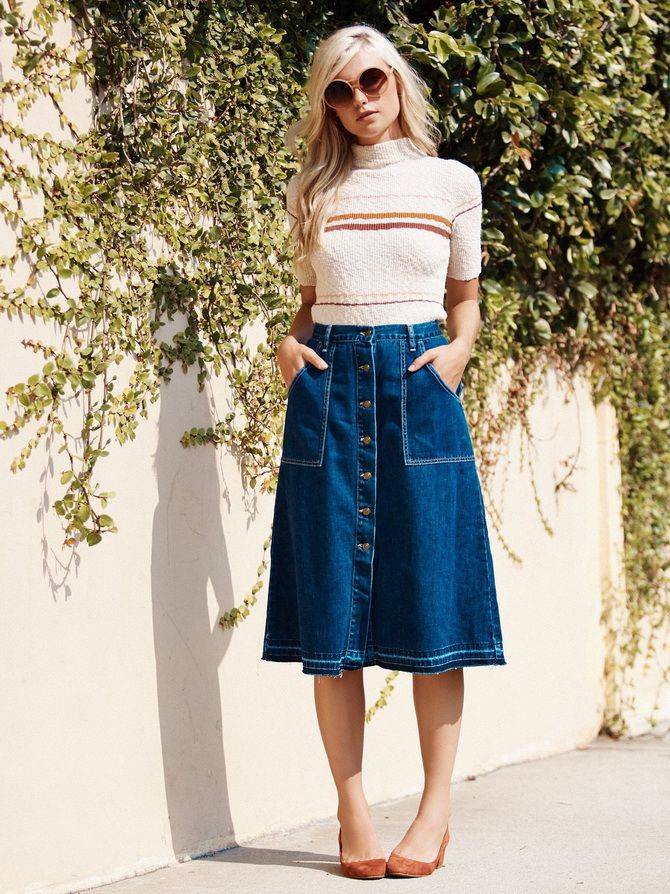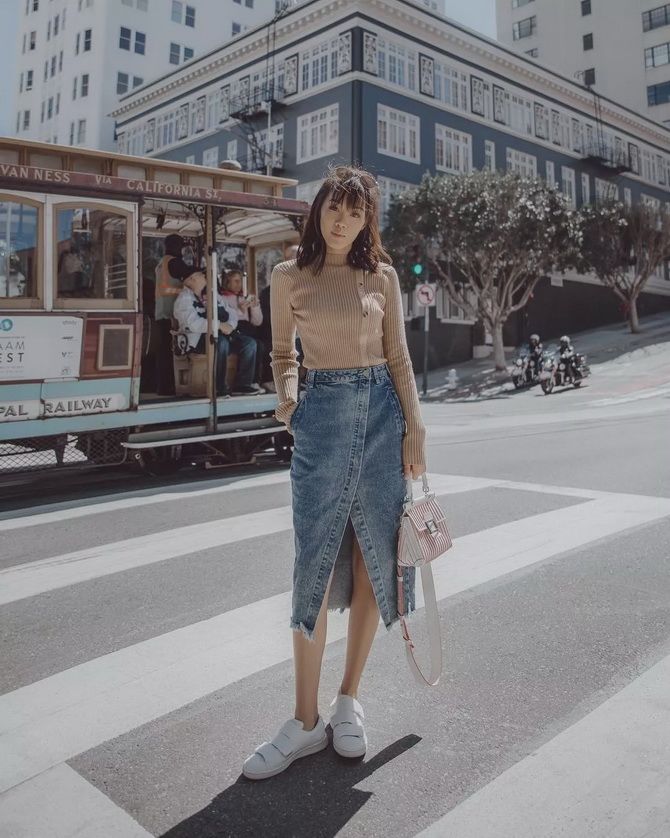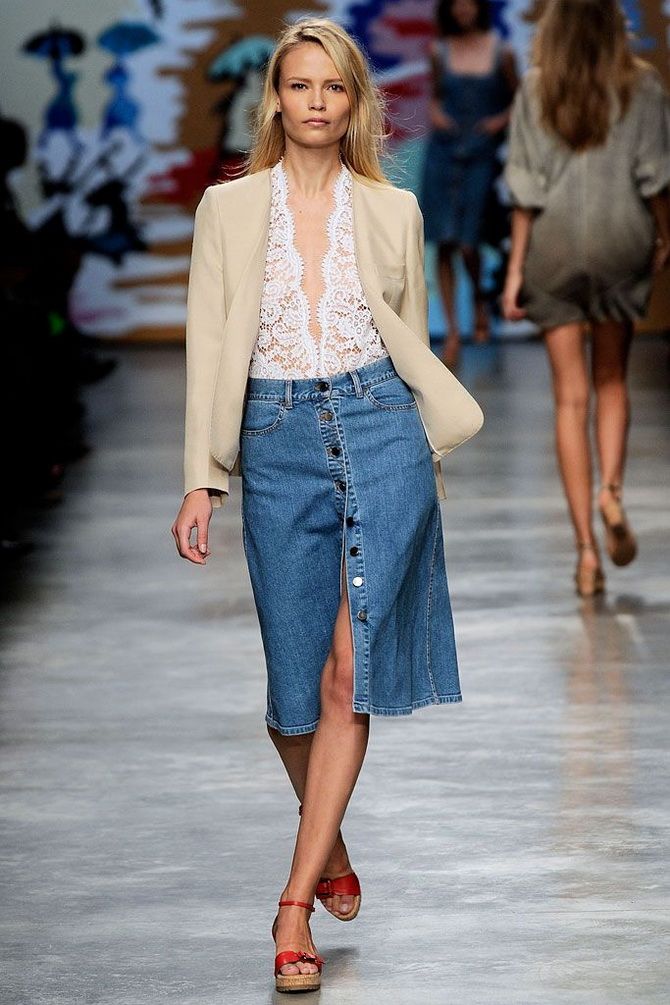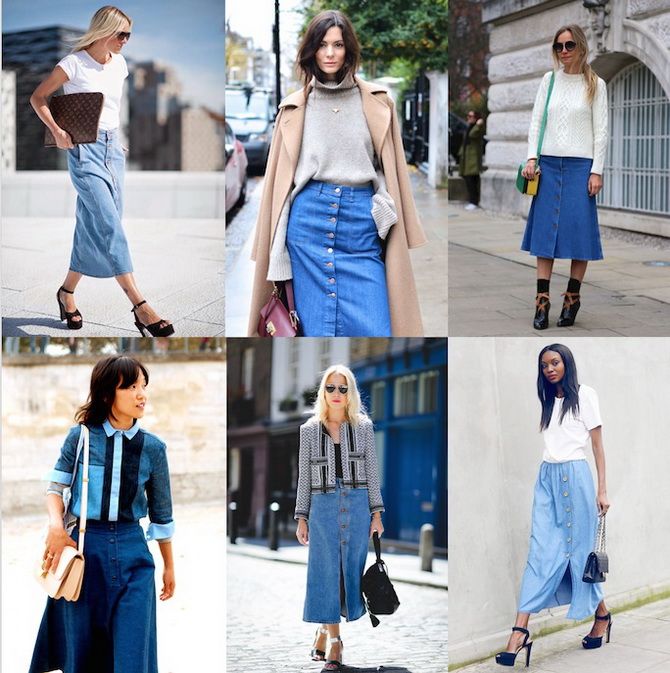 In winter and autumn, a denim skirt is combined with a sweater, polo neck, plain turtleneck or jumper. Fashionistas would like to know what types of clothes will match a denim skirt. Answering their numerous questions, stylists advise not to tighten the waist, shoulders and belly. Choose loose models of shirts and blouses, and, except blue skirts, give a chance to dark gray or black ones.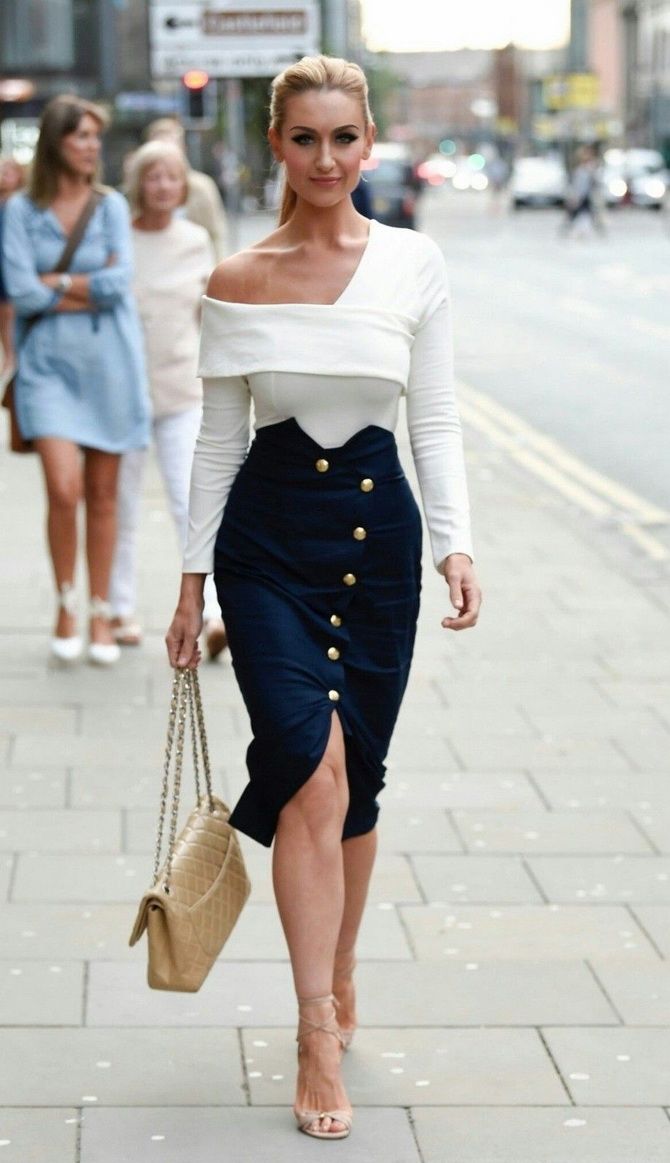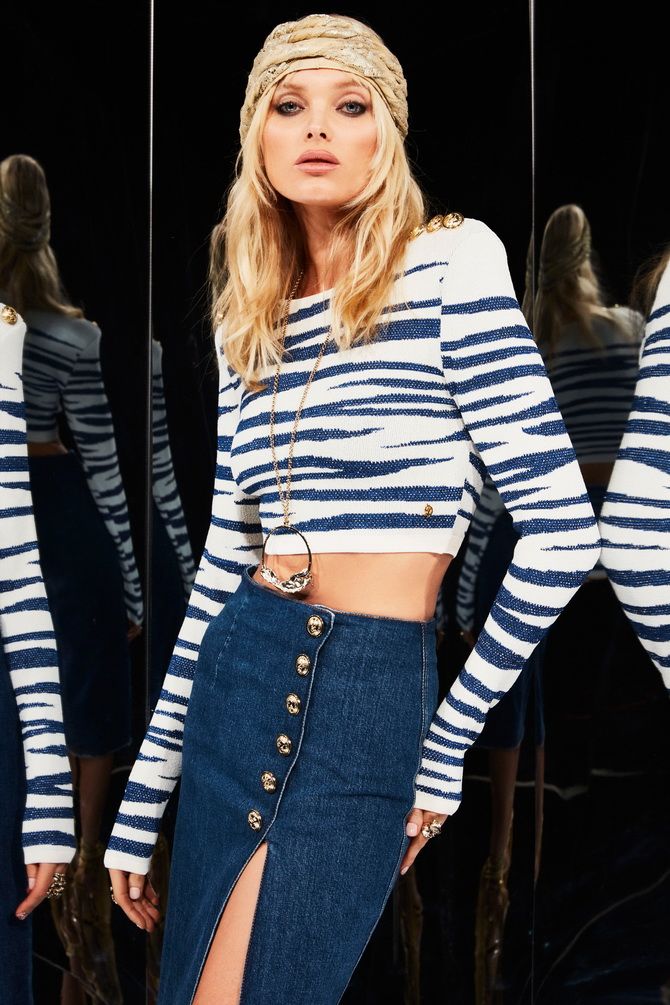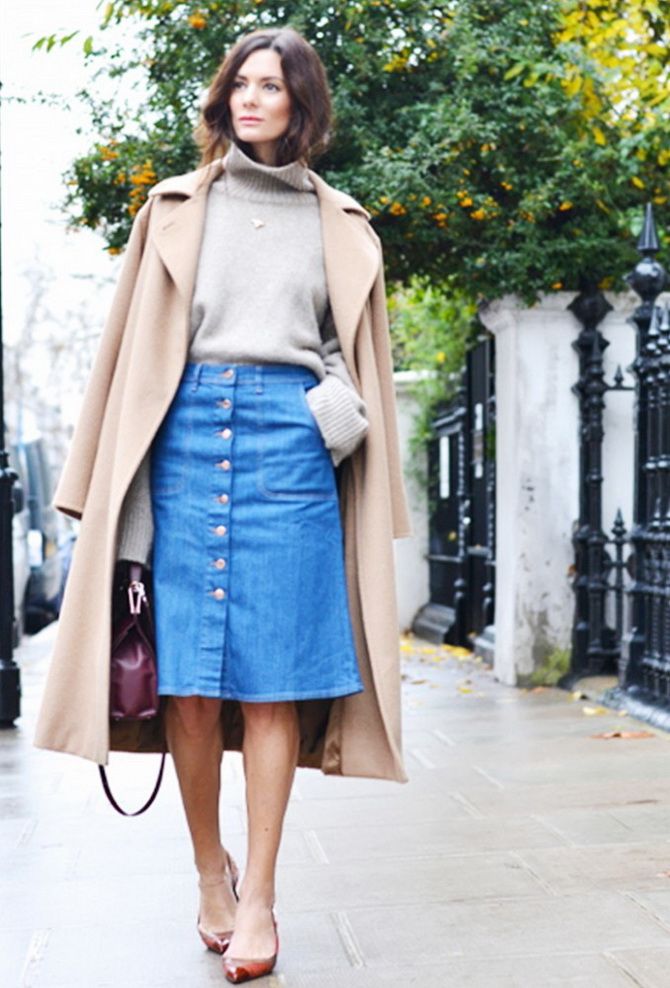 How to wear a denim pencil skirt: options for business and casual looks
The pencil model was and remains the most feminine and attractive. To create a stylish business look you don't need to put on a skirt made of costume cloth. In 2023-2024, there are many classic denim variants of clothing that can be combined with simple jackets, shirts and pumps.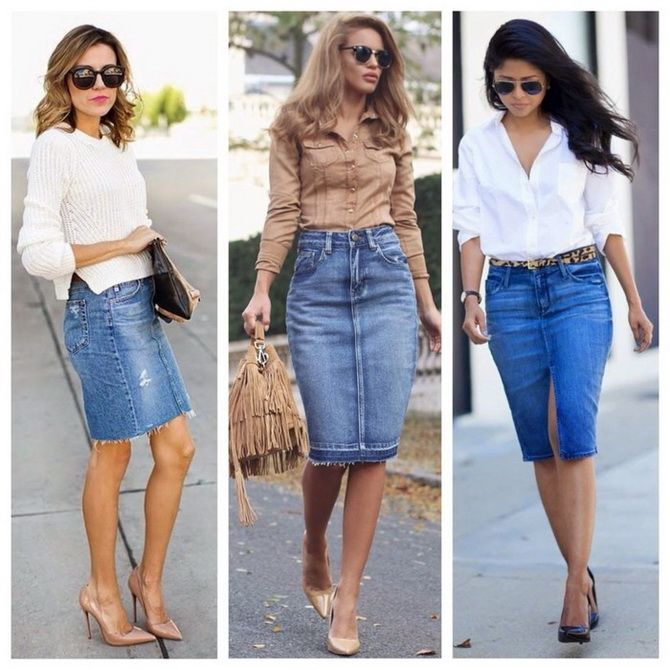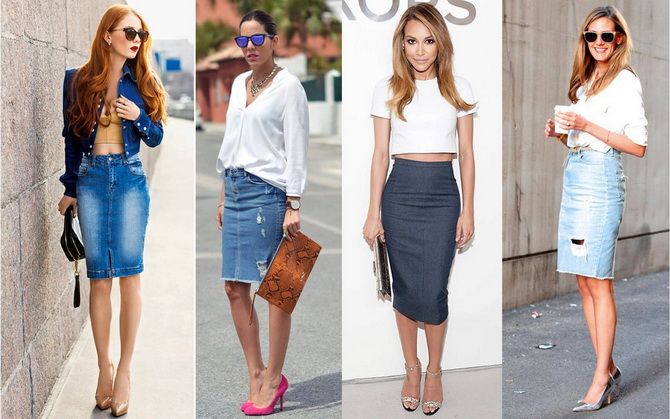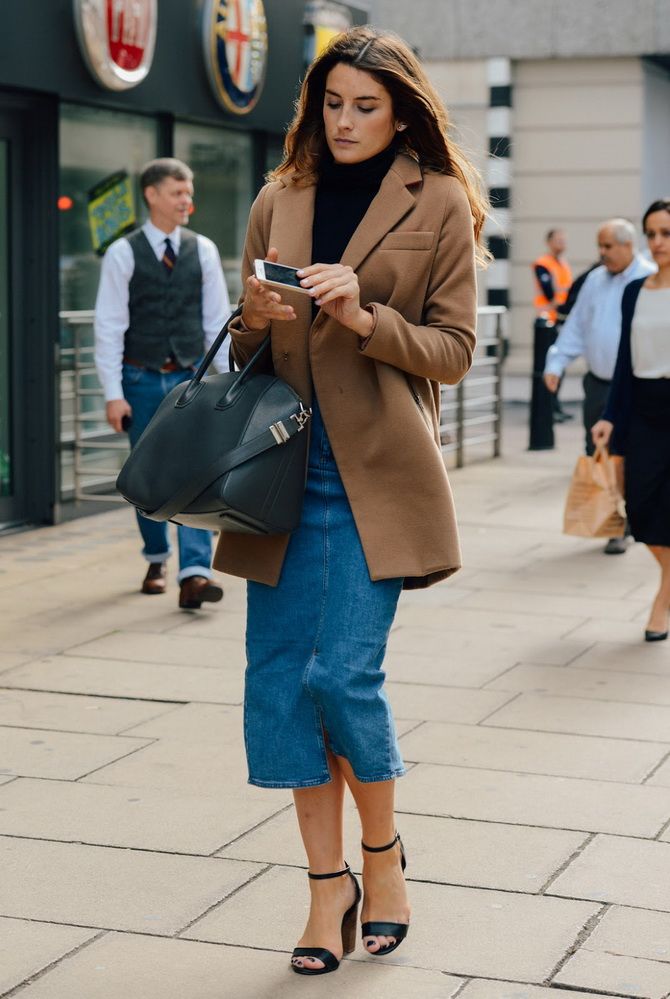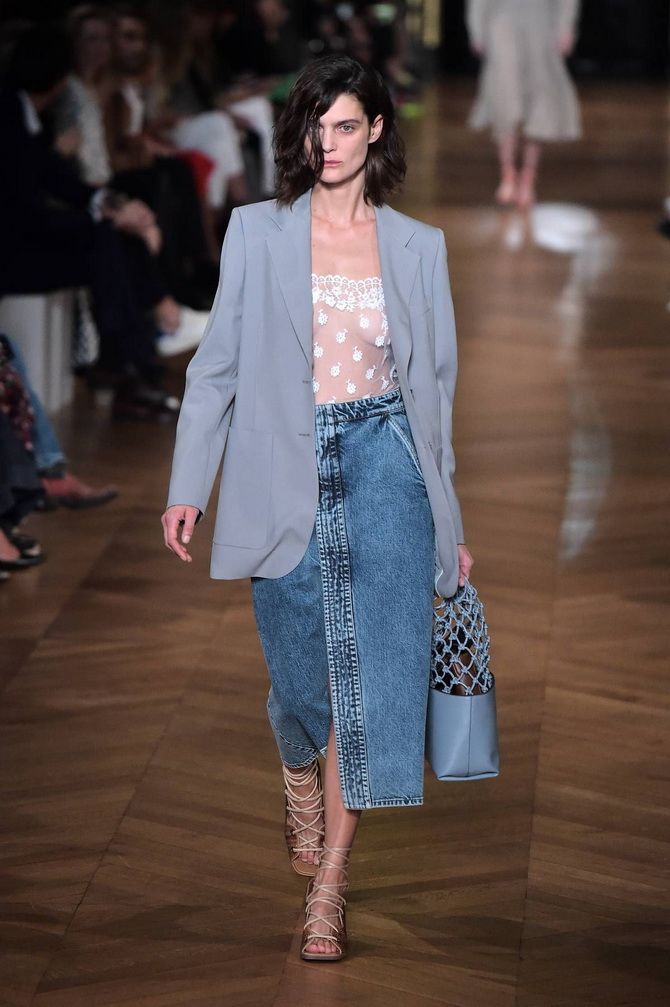 We have prepared high waist denim pencil skirt looks that are suitable for everyday outings. Chose knee length or slightly longer skirts. This model of a denim skirt suits absolutely everyone and matches to any clothing, from a lace top to a knitted sweater.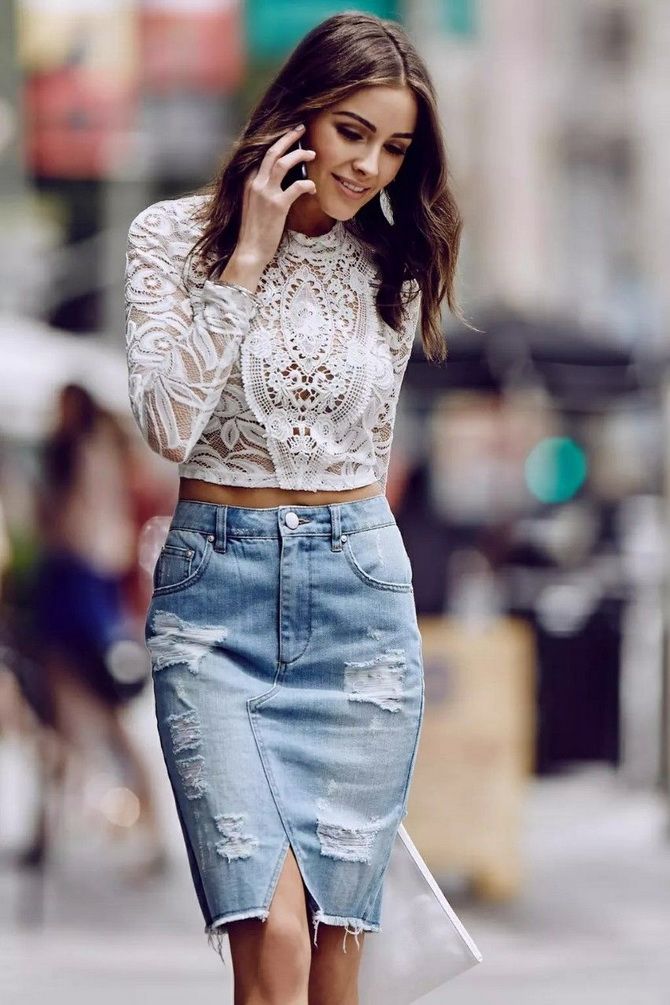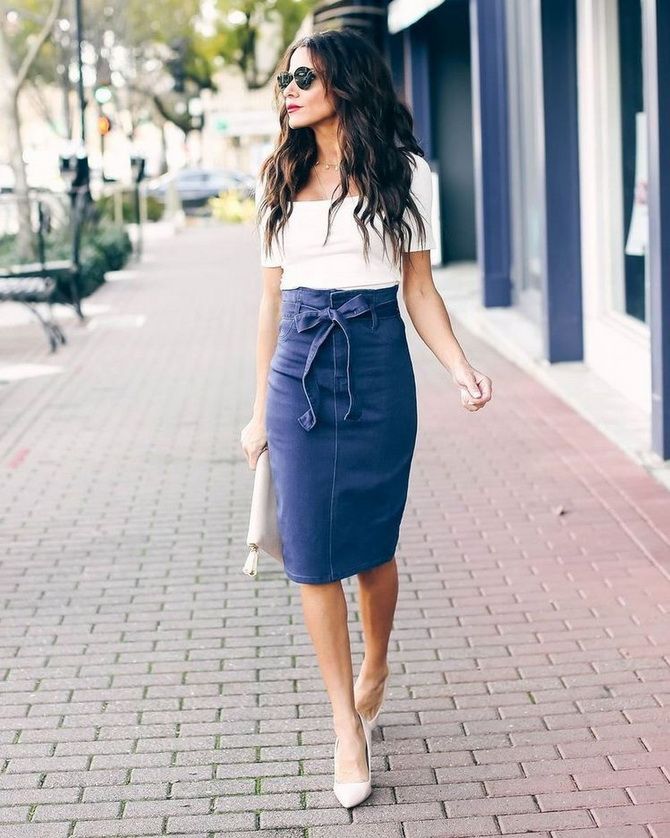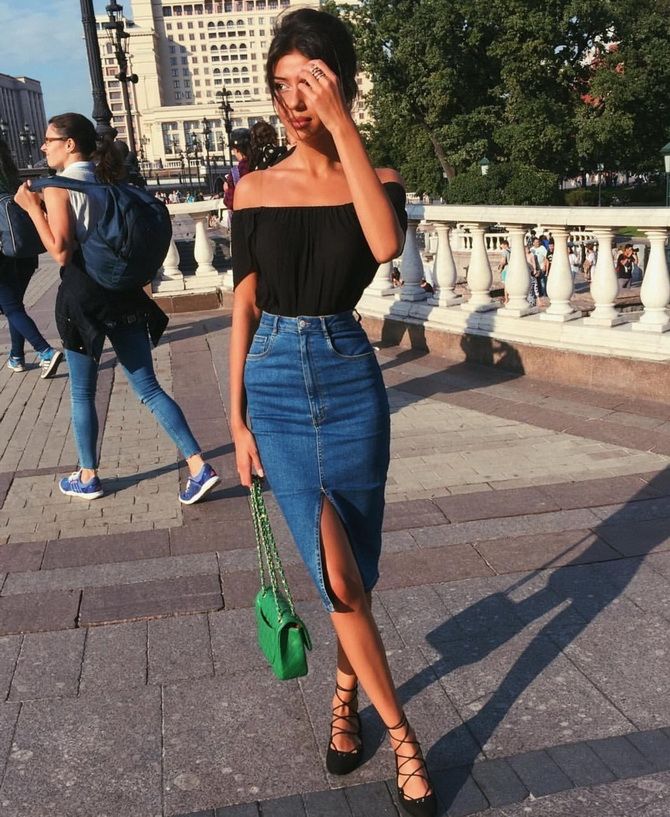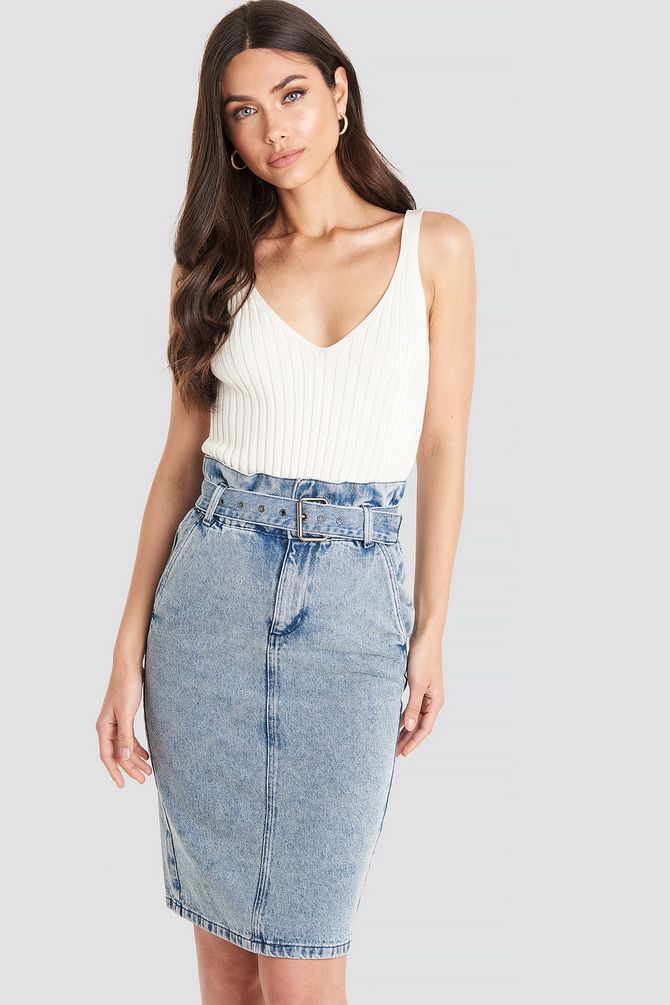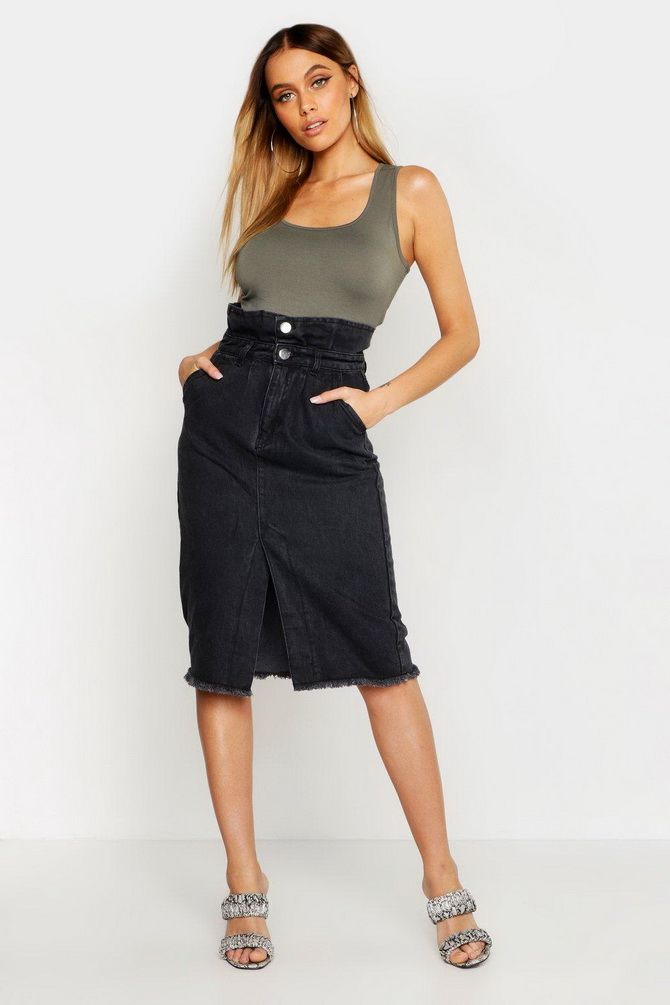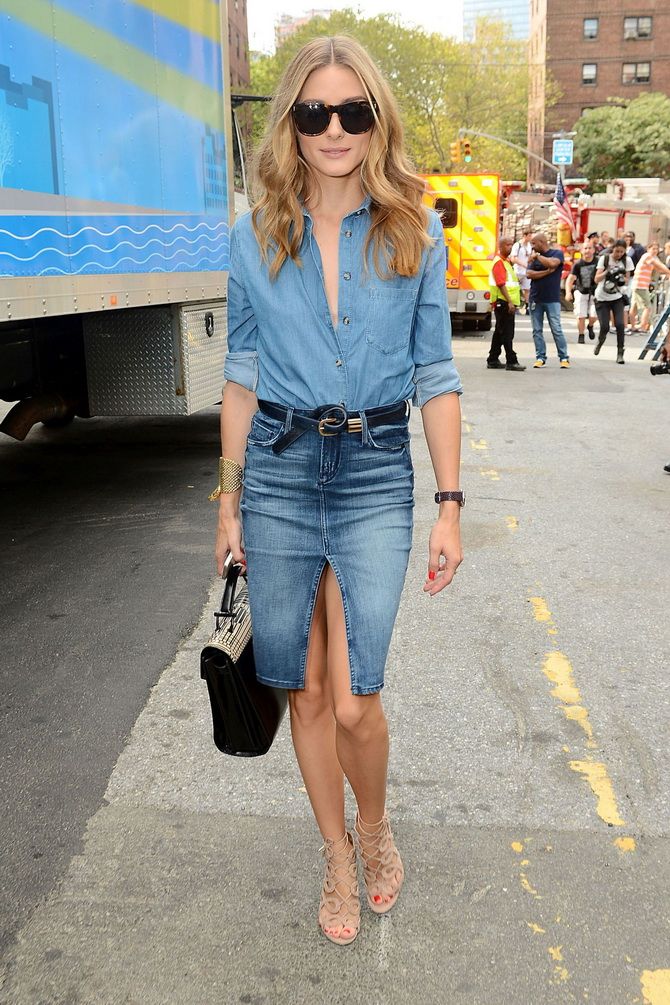 How to wear a denim mini skirt: photos 2023-2024
So we got to the most beautiful (according to men) style of a denim skirt – mini. Ultra-short skirts and shorts became one of the main spring trends of 2023-2024. In addition to classic straight styles, designers suggest to decorate jeans models with interesting details: thrum ends, frills, buttons, asymmetry.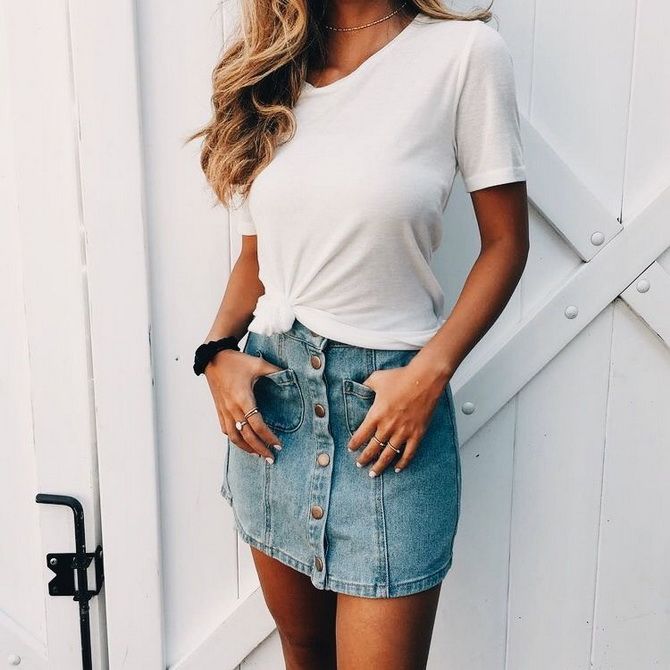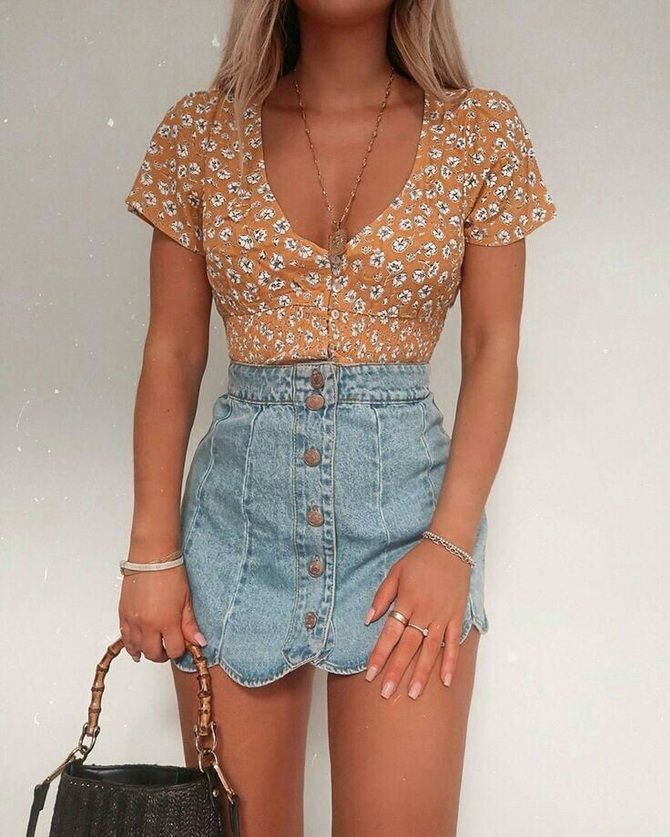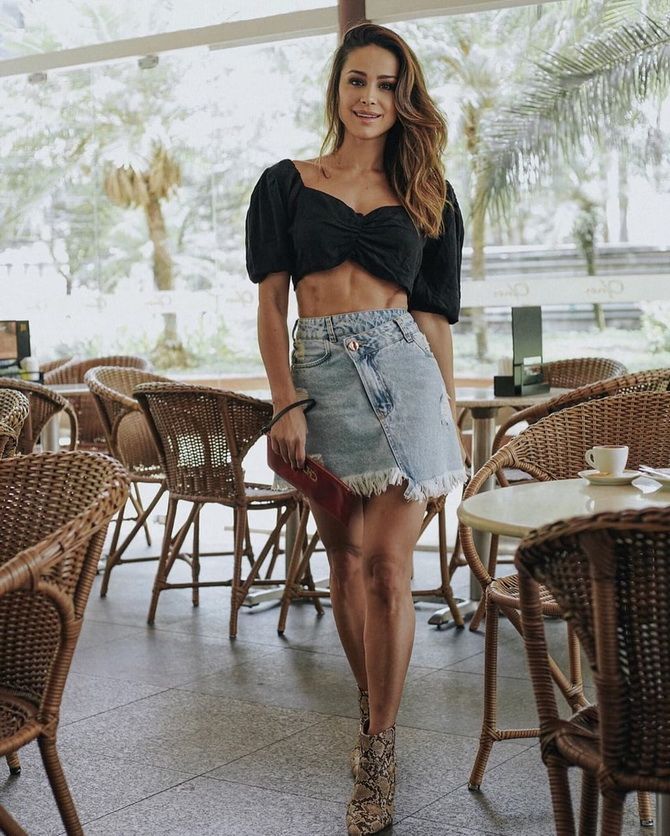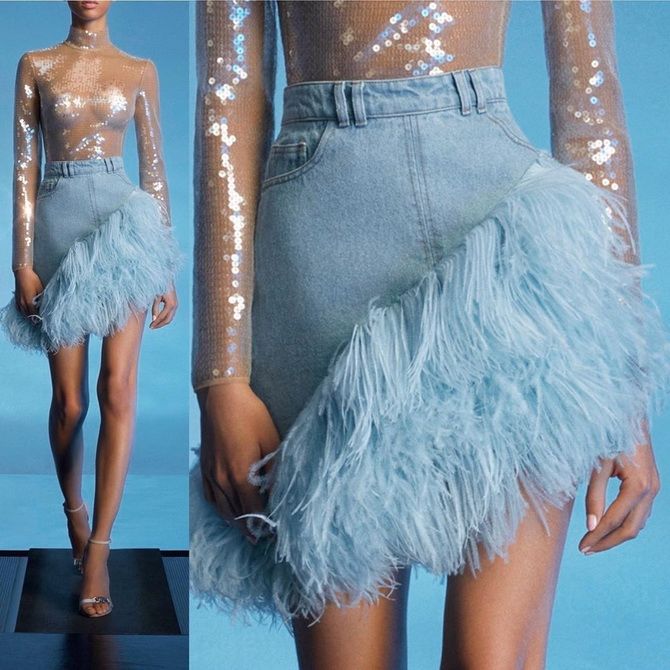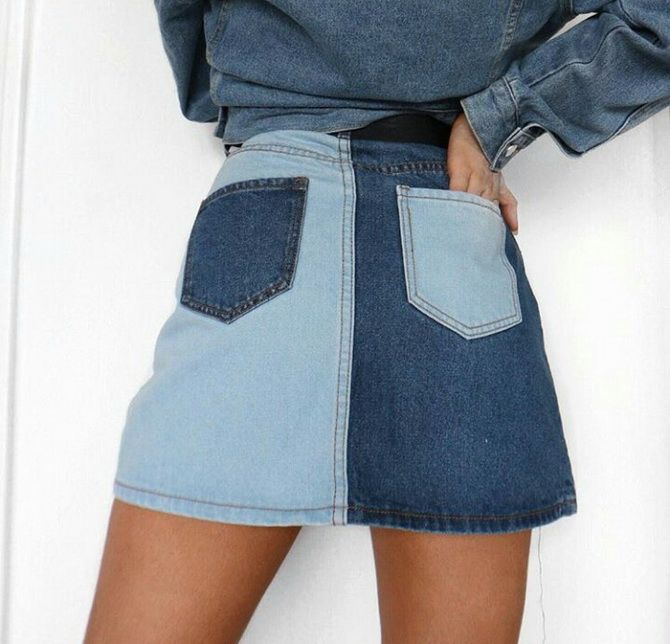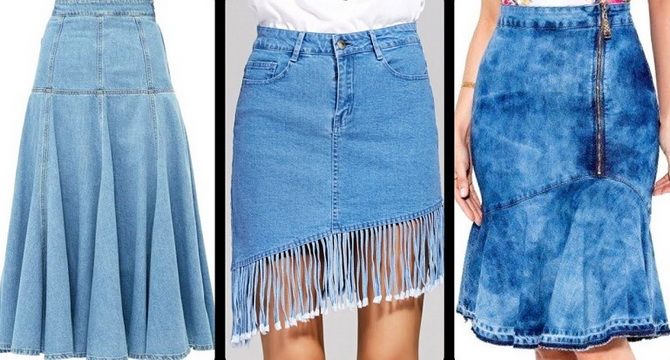 What to combine short denim skirts with? Hot summer outfits 2023-2024 can be created with light translucent tops, stylish T-shirts and shirts. Take a look at the photos to learn how to wear short denim skirts this season.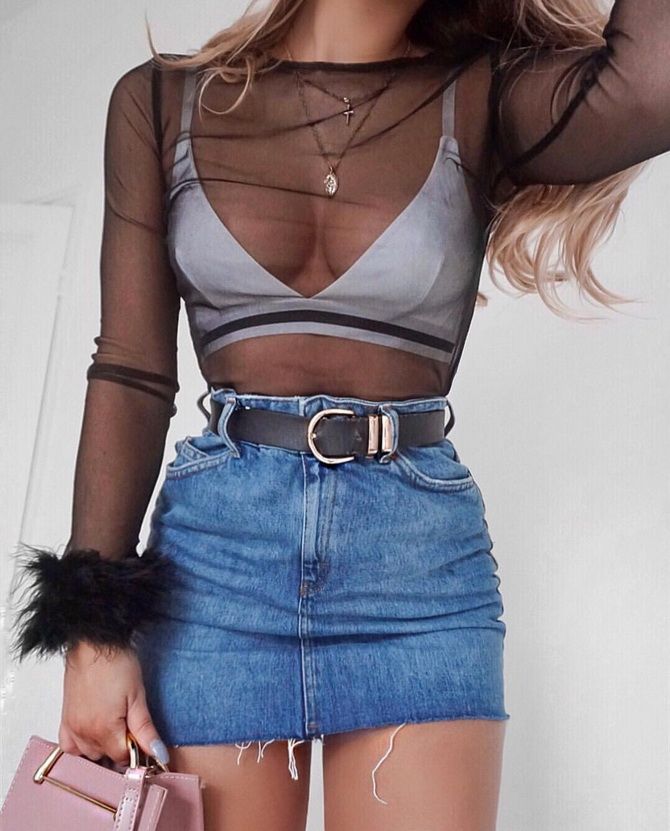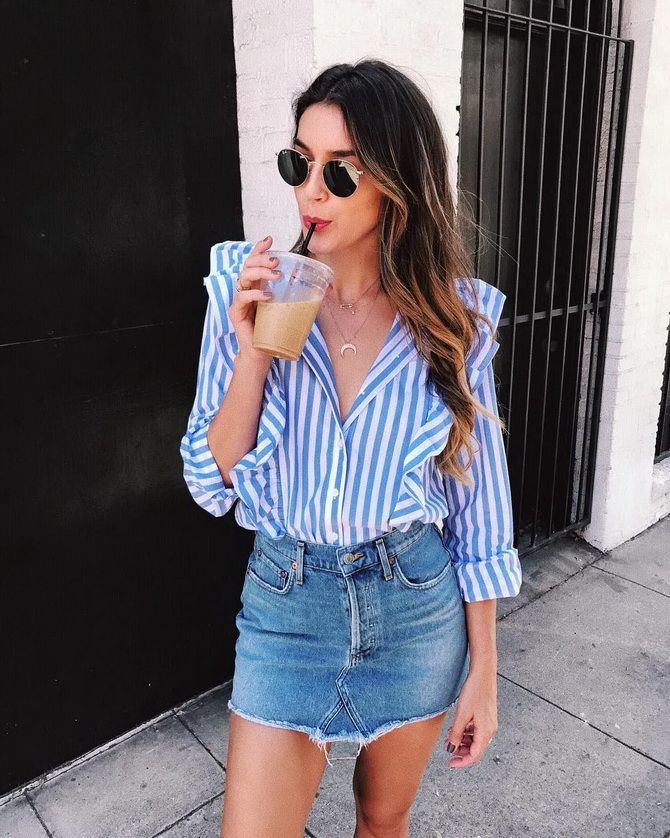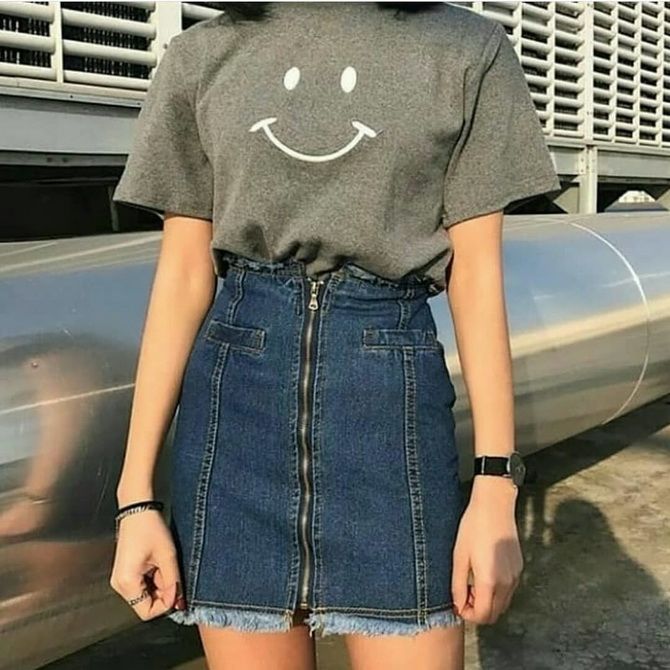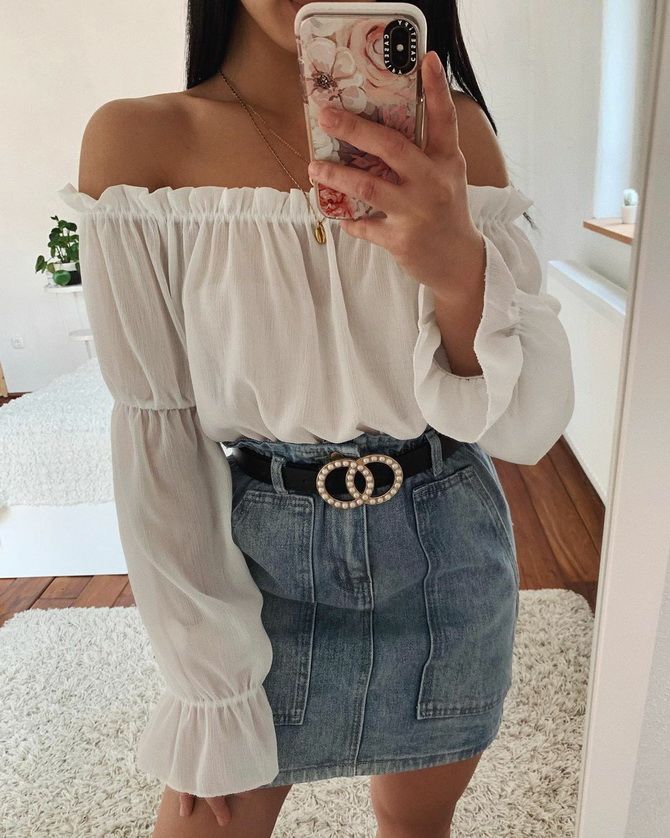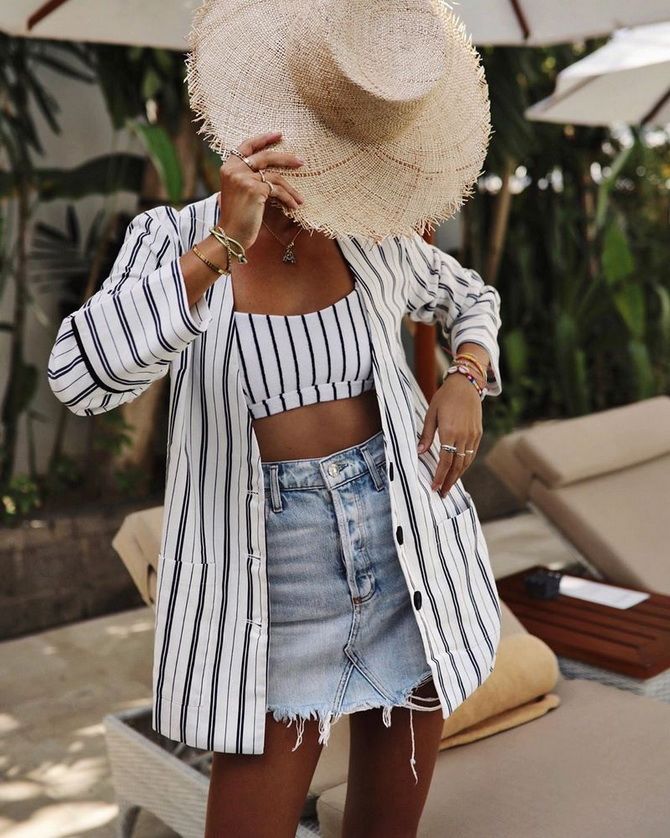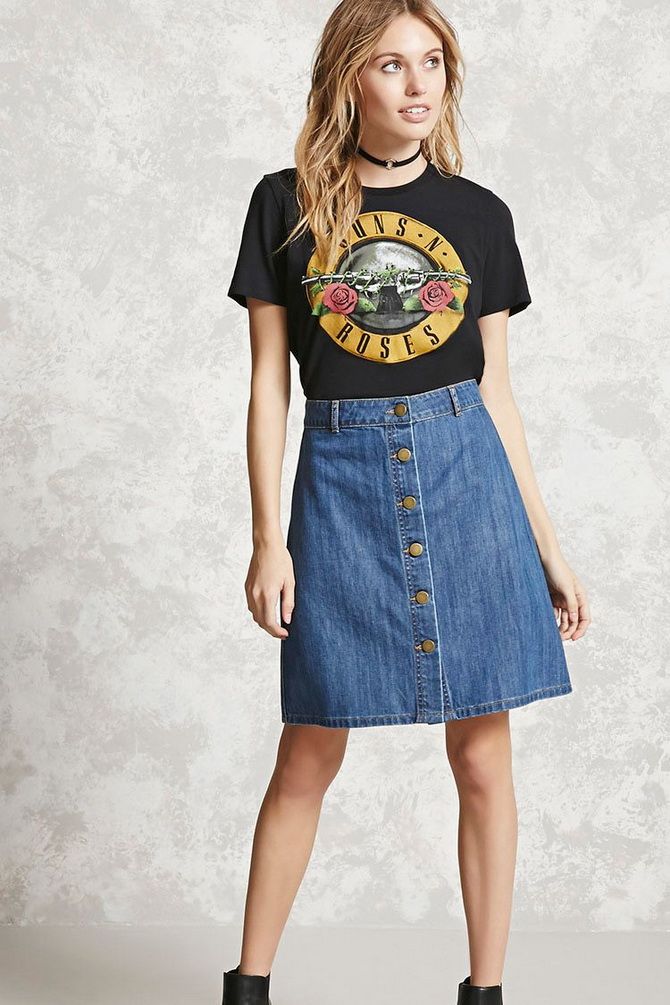 You can play off a black denim mini skirt in many different ways. It all depends on what top and accessories you combine. In combination with a "rocker" T-shirt and chains, a black denim skirt will look bold and in an upbeat fashion. Matching a tight turtleneck, it'll create a gentle and romantic look.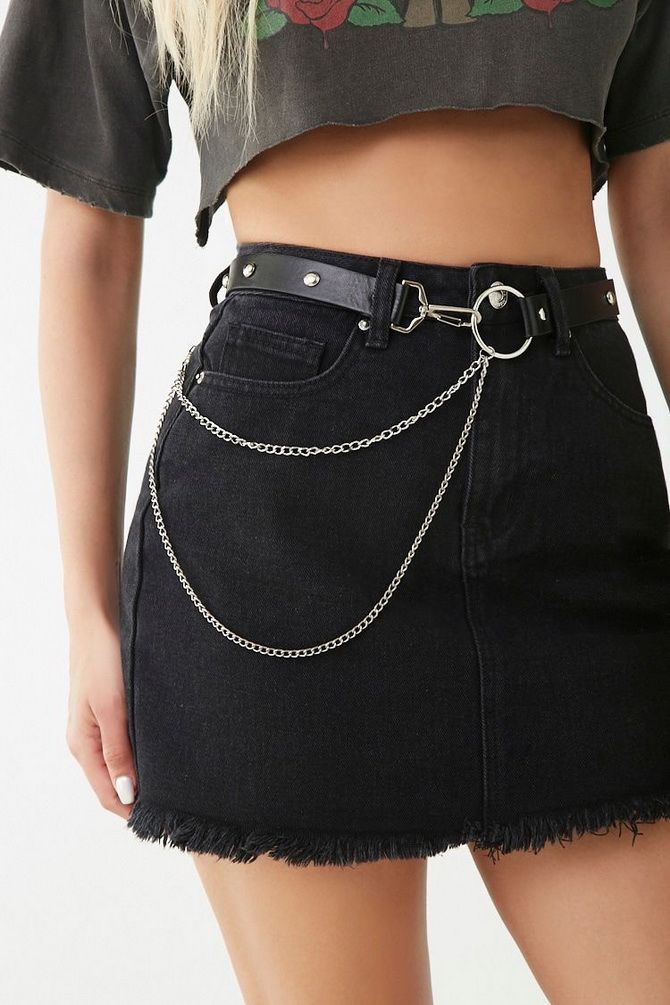 Denim skirts for full-figured girls: novelties of 2023-2024 season
Plus-size girls have plenty to choose from. It's true, because designers prepared various styles of fashionable denim skirts of any length (short, long, midi). The most fitting cut is trapeze or straight skirts with cutouts or wrap-models.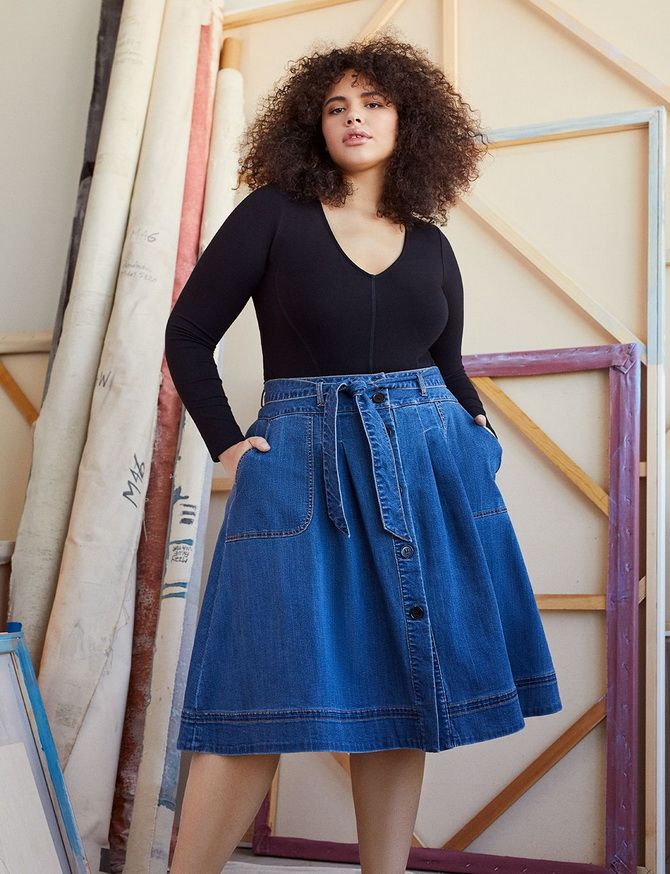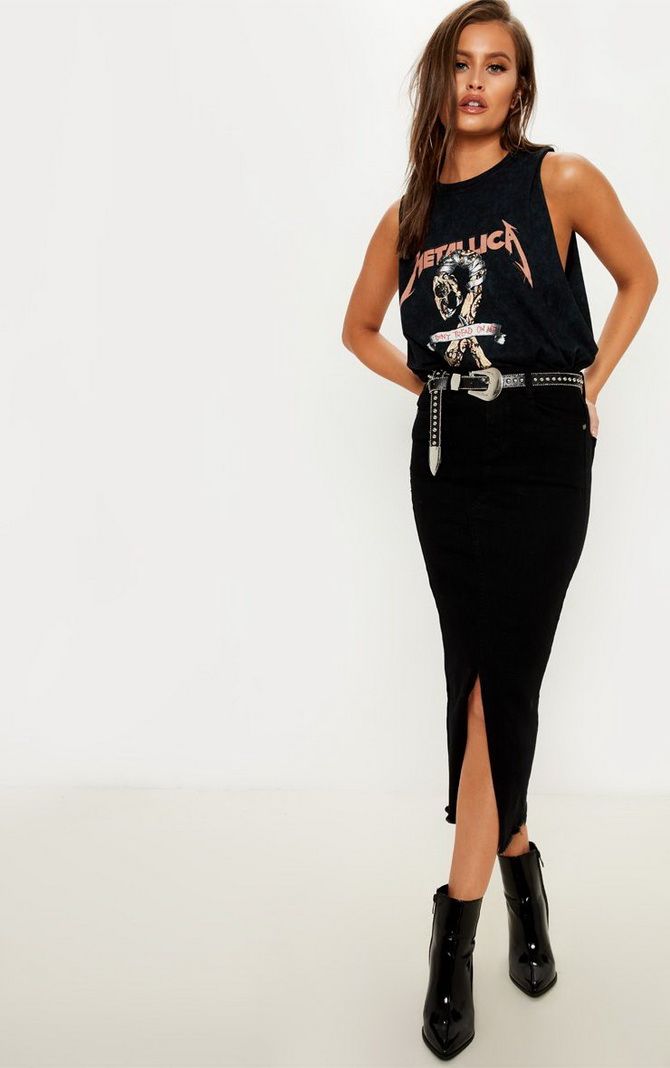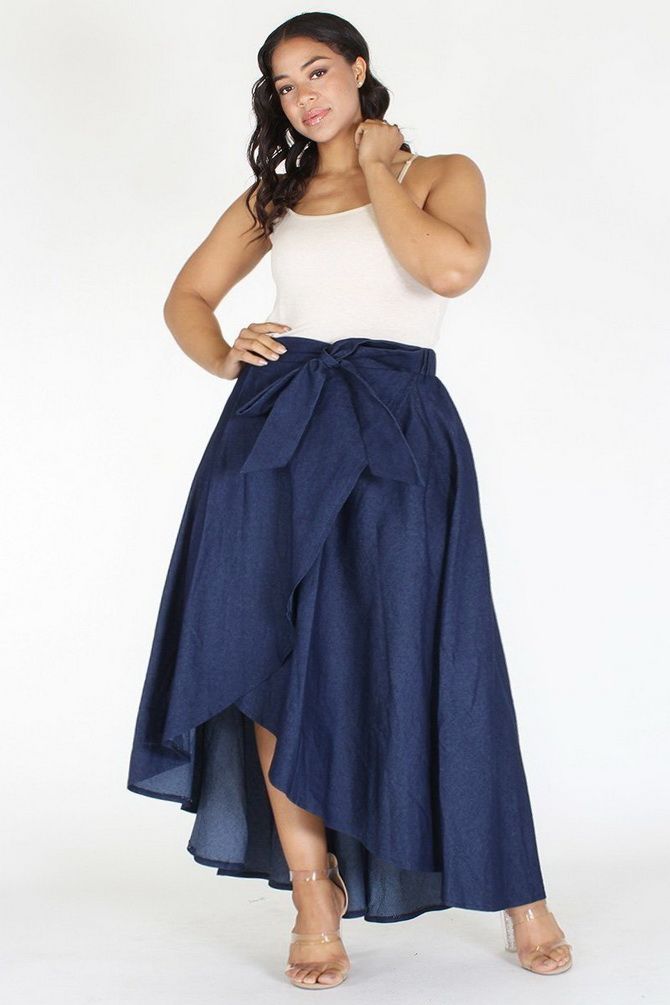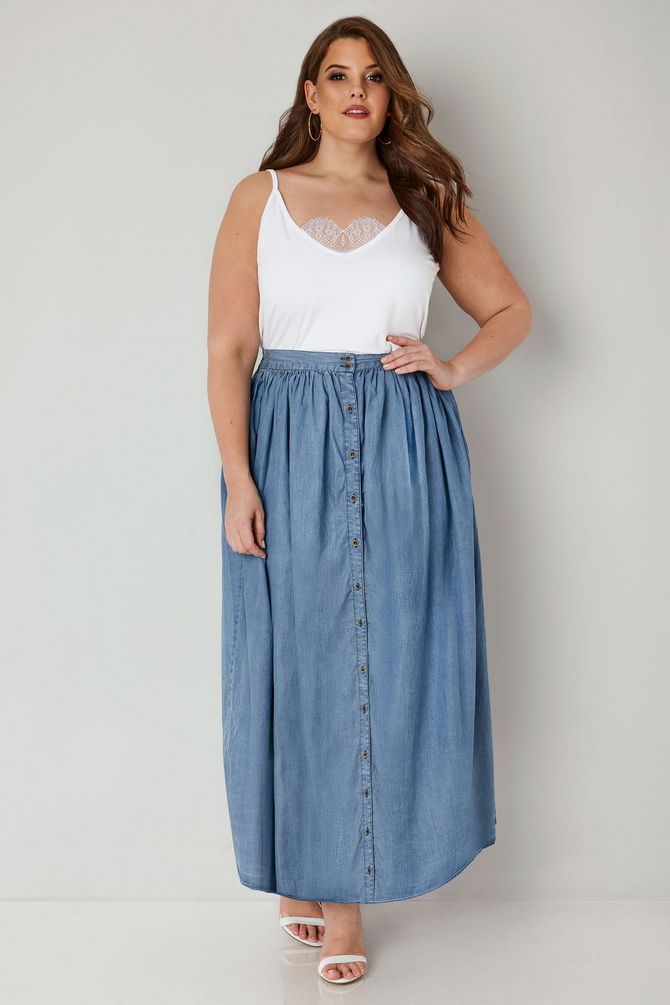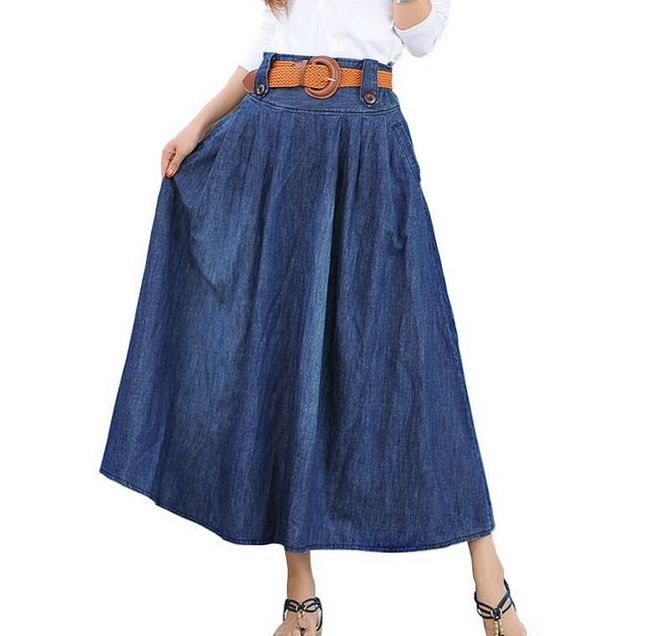 Stylish models of denim knee-length or pencil skirts are also suitable for curvaceous women.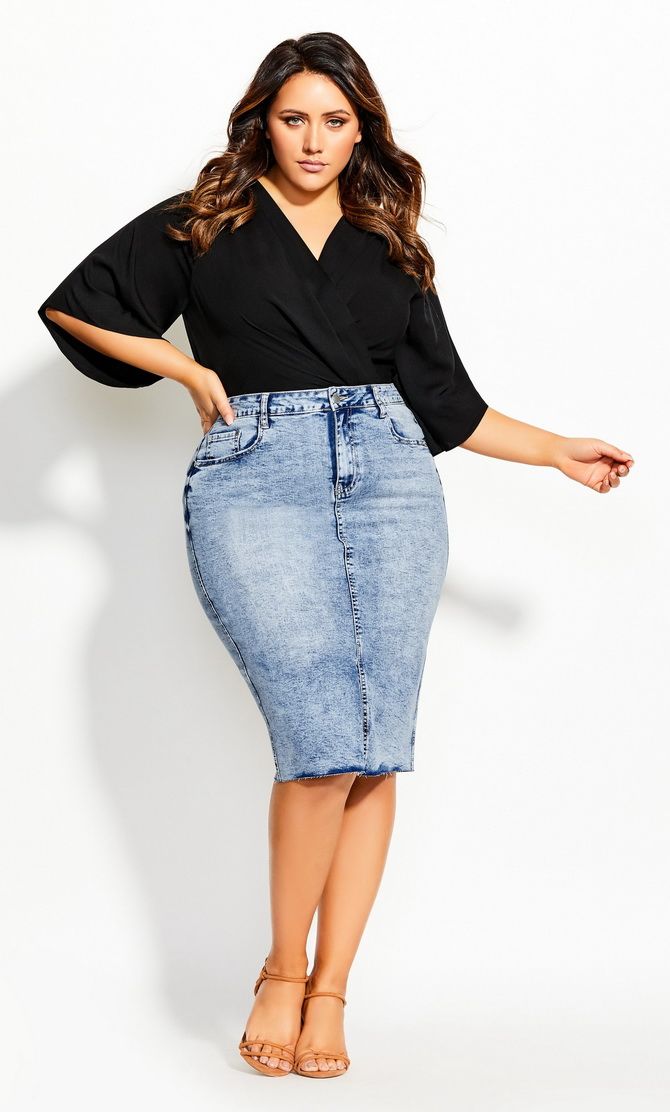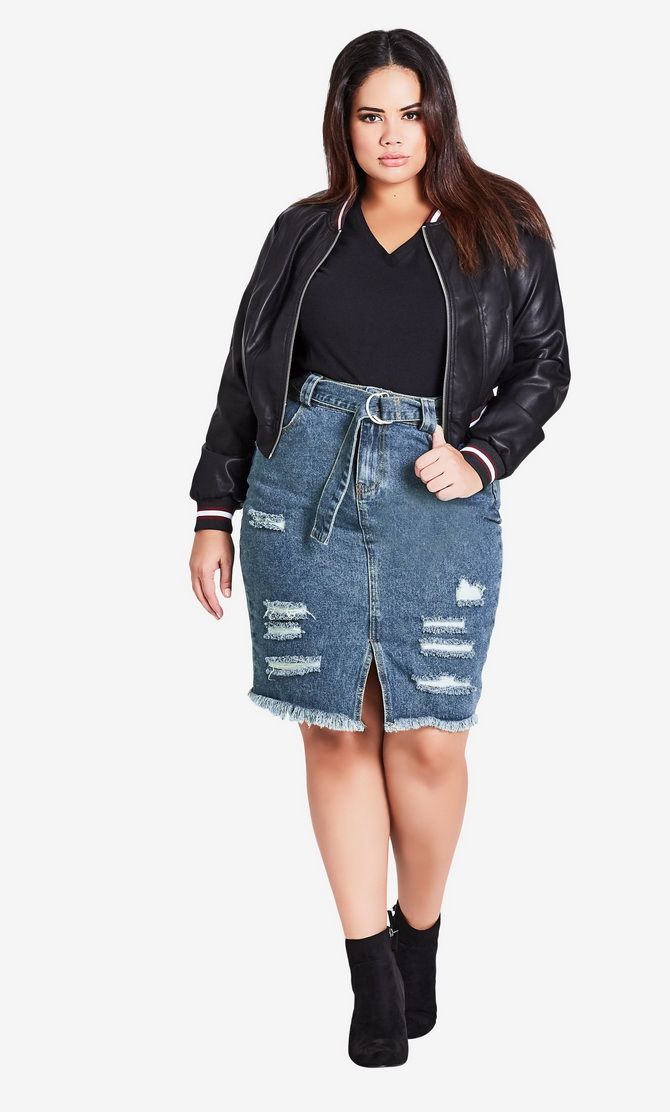 How to wear a long denim skirt
Denim floor-length skirts are decorated with buttons, cutouts, frills and thrum ends. The most trendy long skirts of 2023-2024 are ones with deep front cutouts, plain edges or an asymmetrical cut.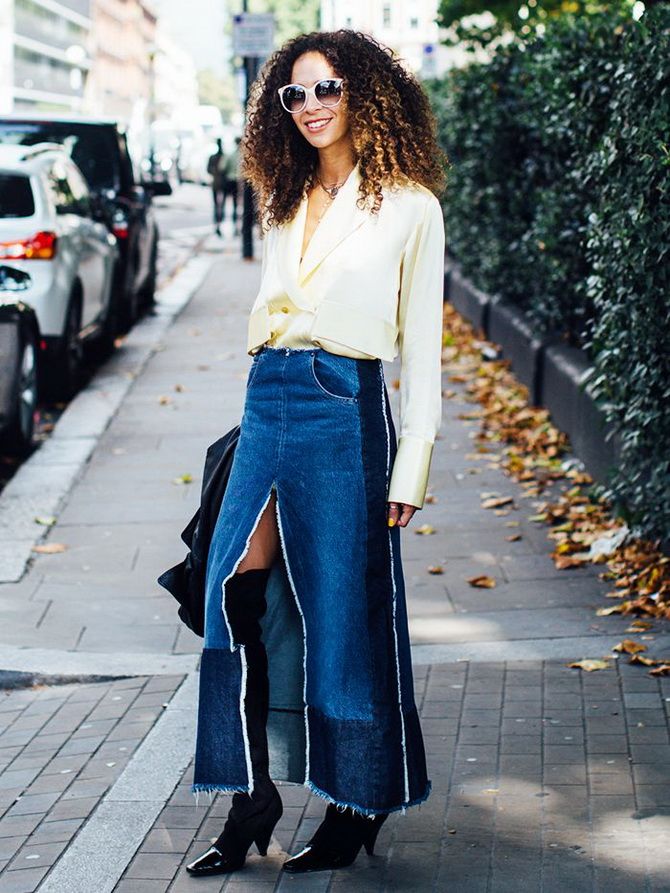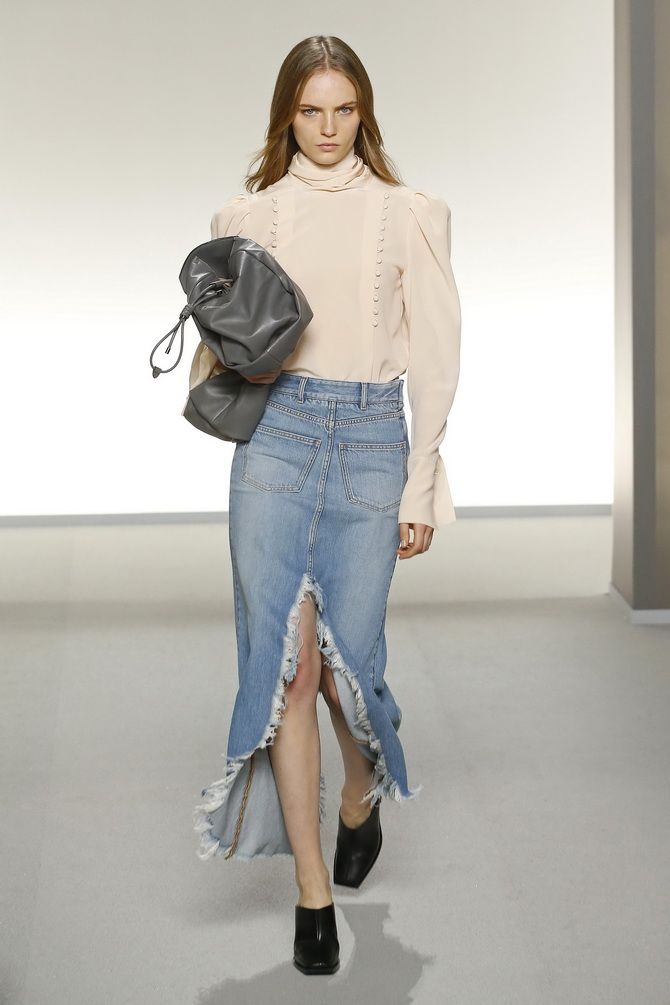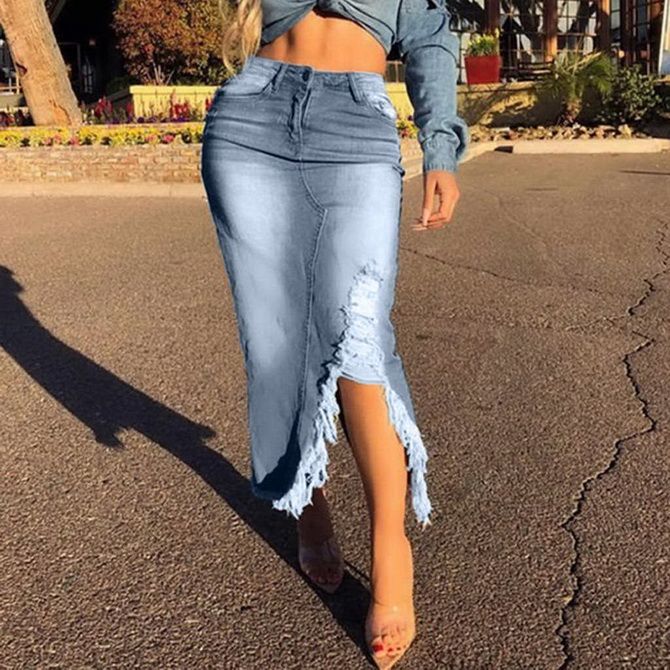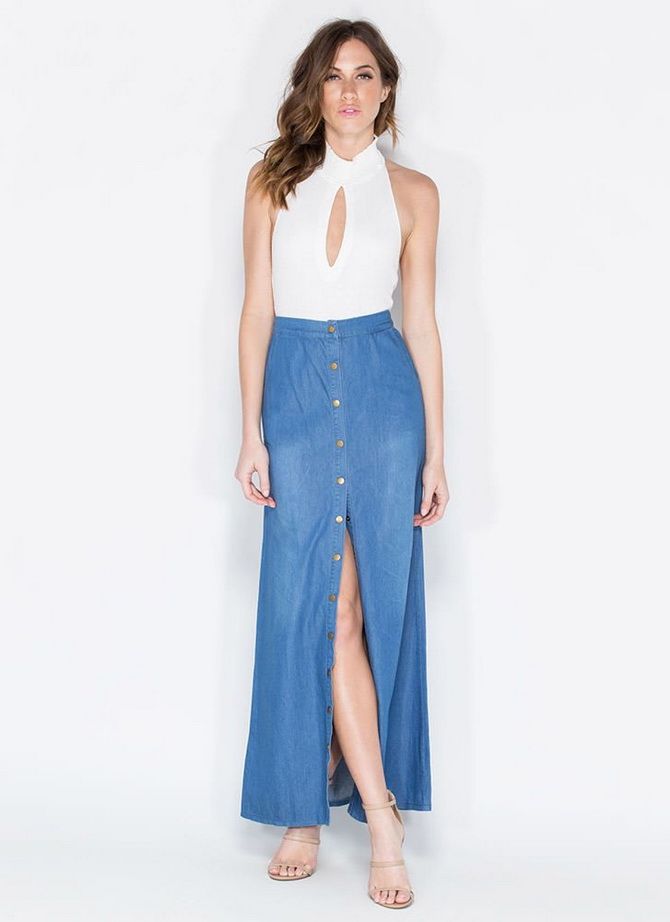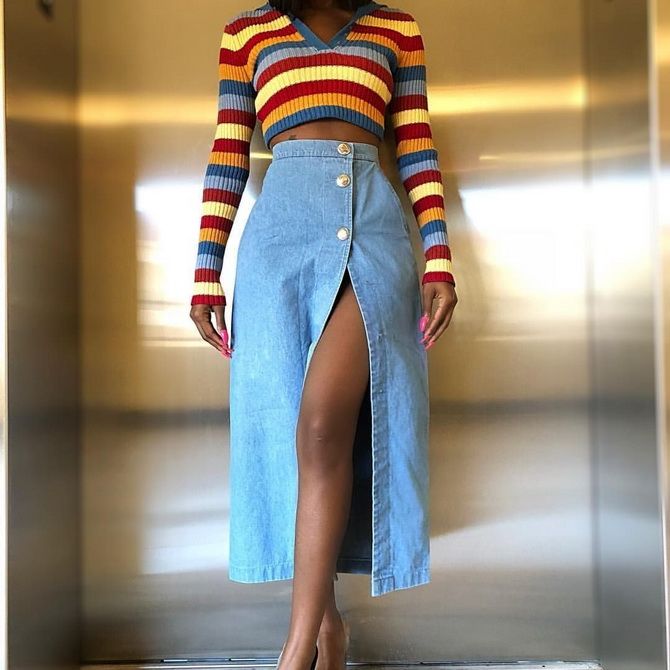 Flared maxi models such as circle, godet, gathered, yoke and A-silhouette are also popular this season.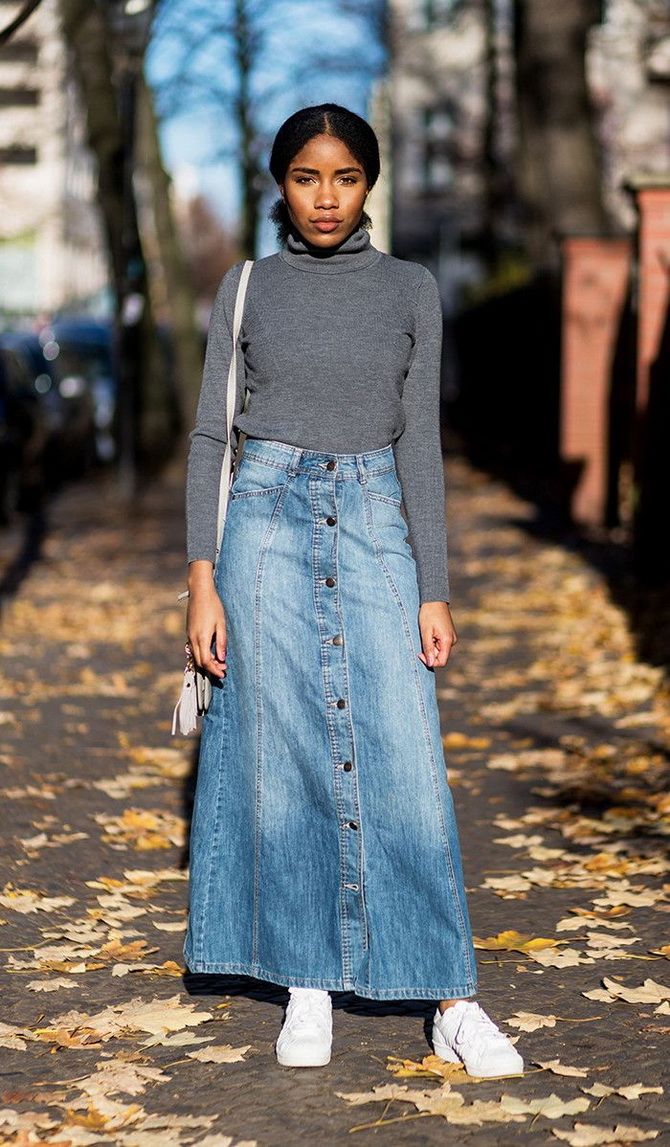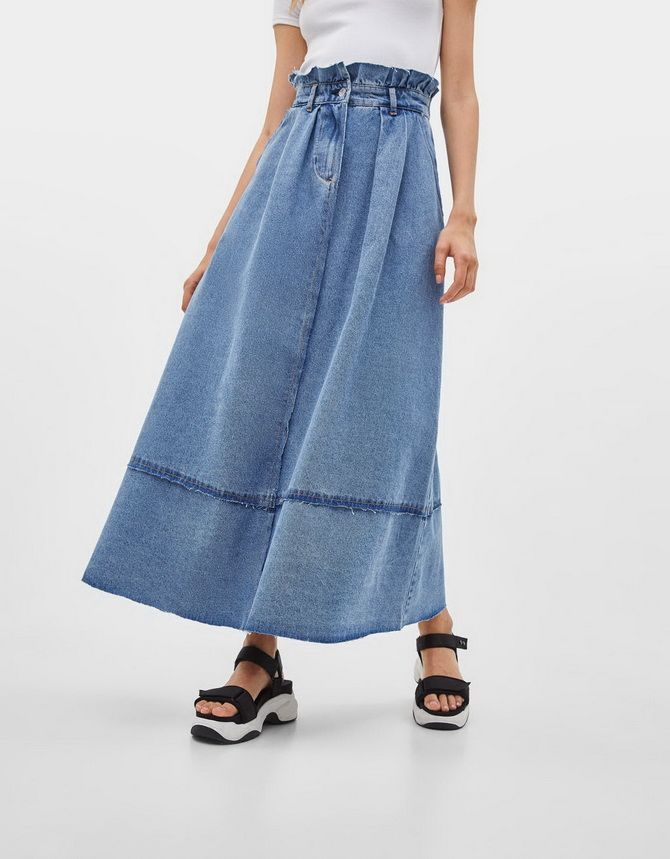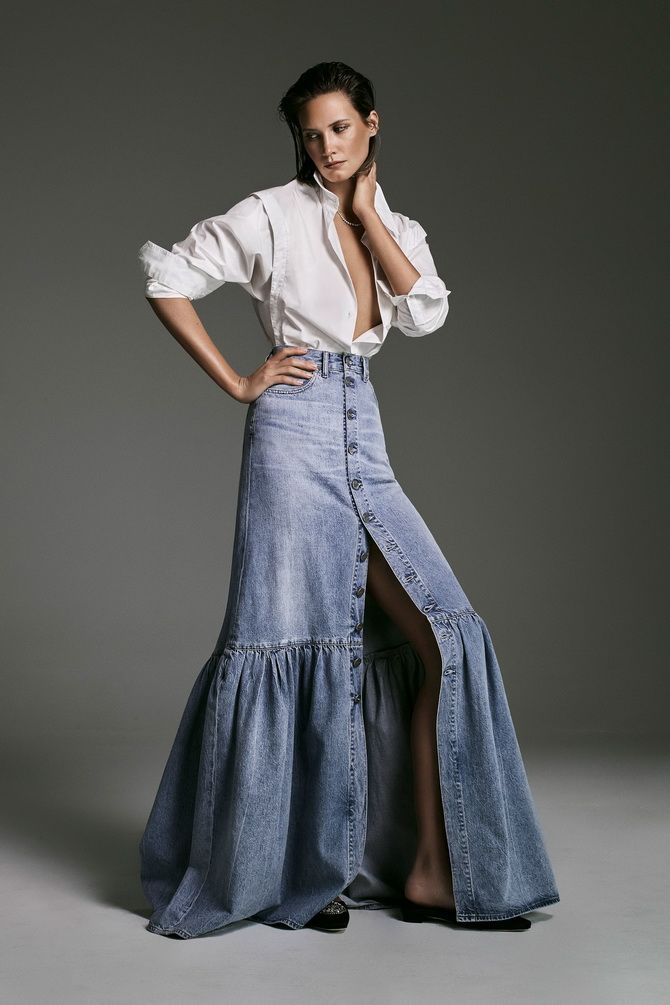 What shoes to wear with a denim skirt
In 2023-2024, denim skirt models are worn with classic high-heeled shoes (shoes, sandals, boots, ankle boots).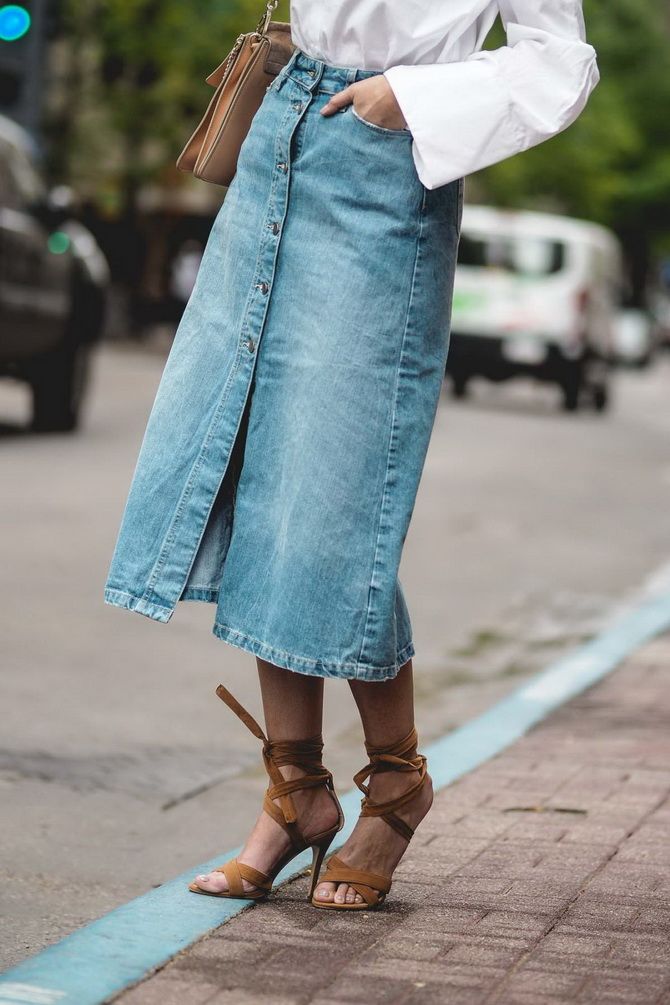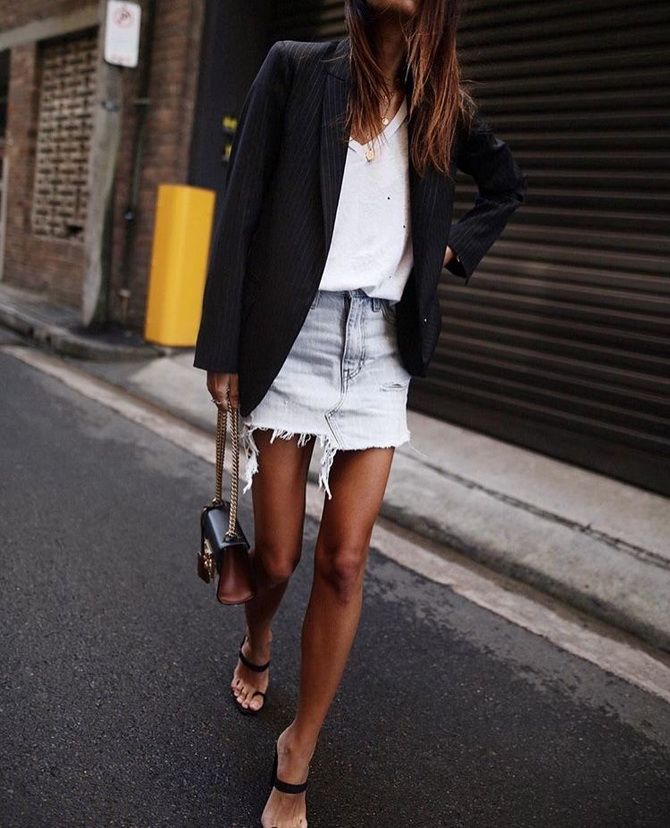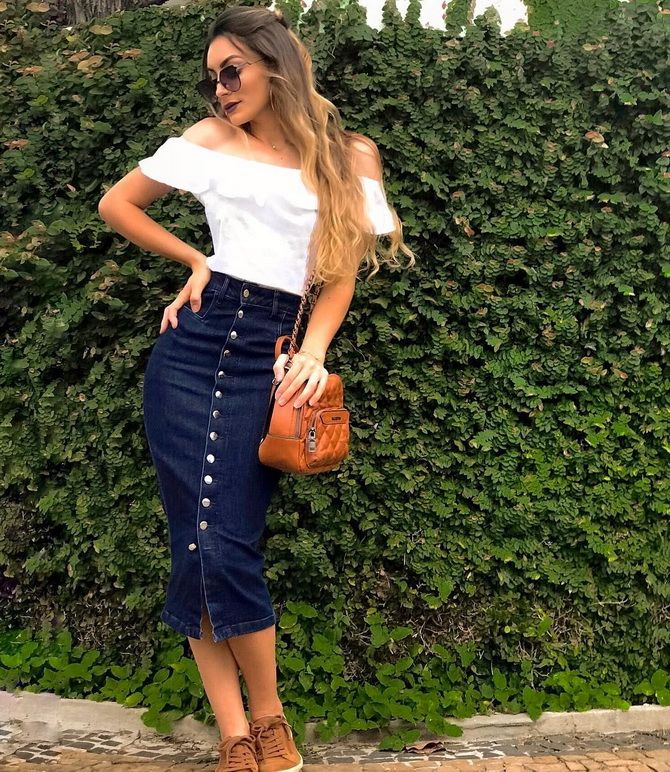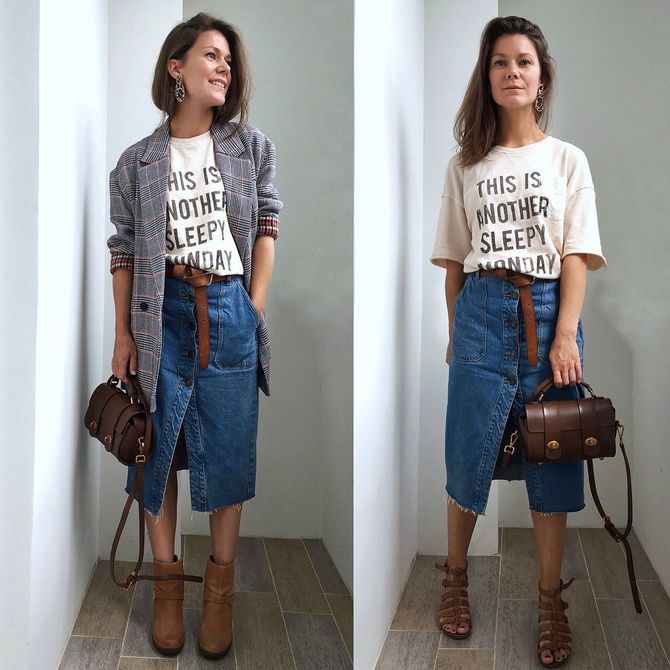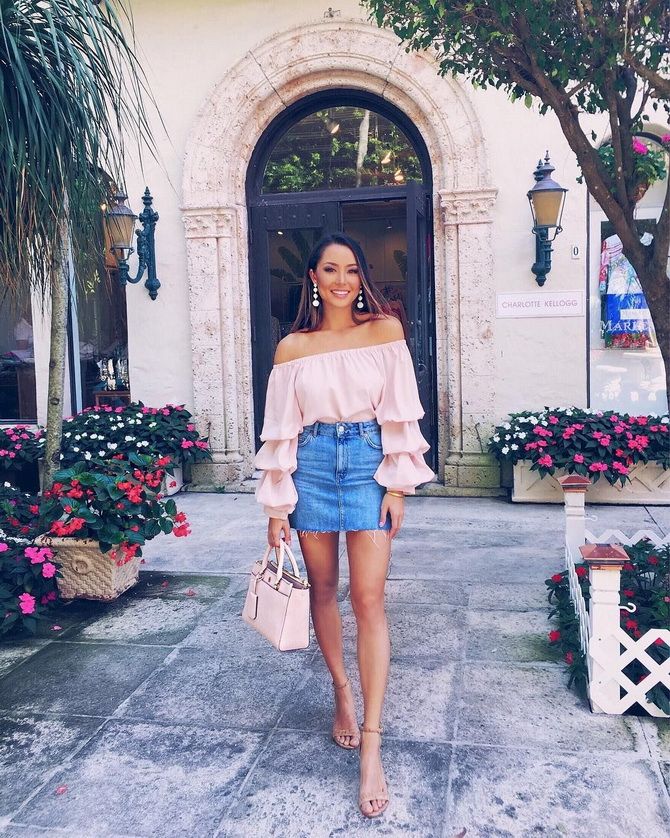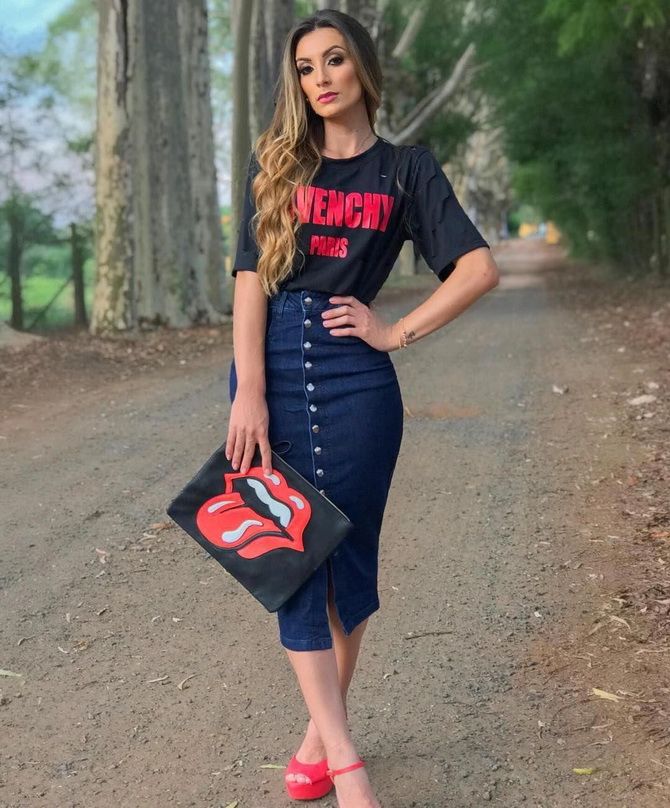 Jeans skirt also looks stylish with flat shoes – sneakers, trainers, sandals and rough boots. Girls often wonder what tights should be worn with a denim skirt. It's best to wear loose natural beige models without lycra and shine.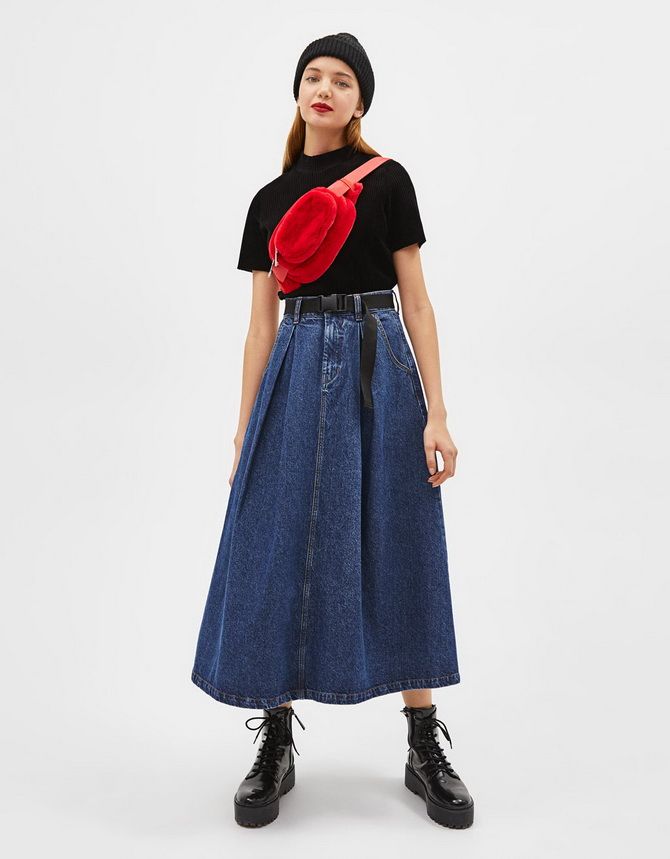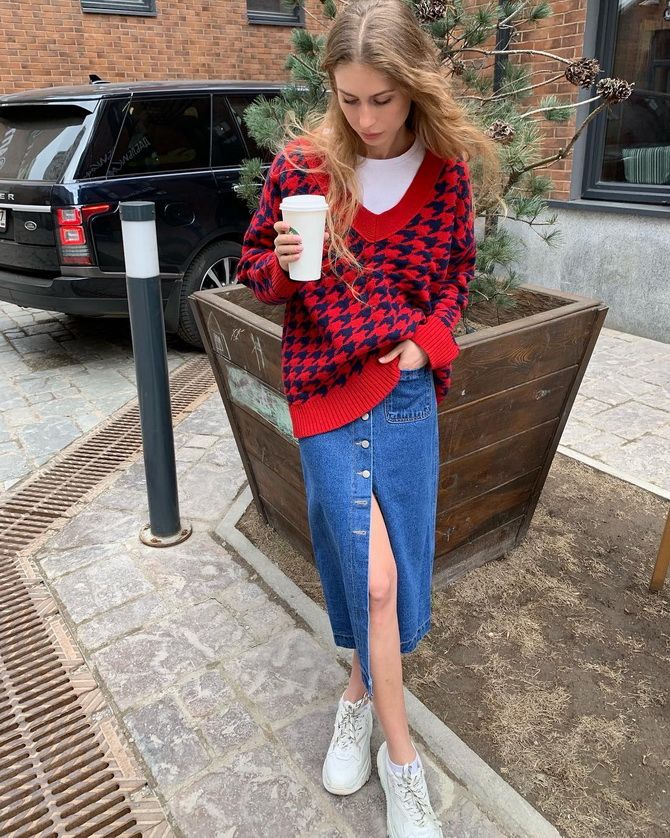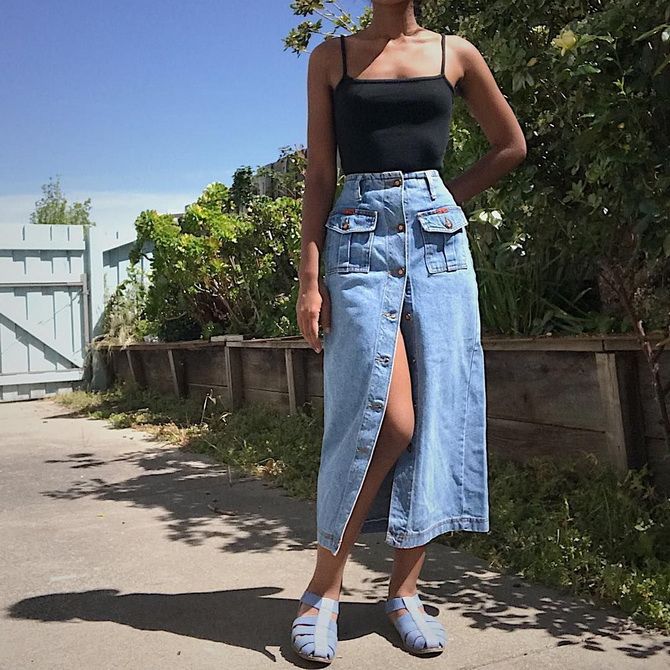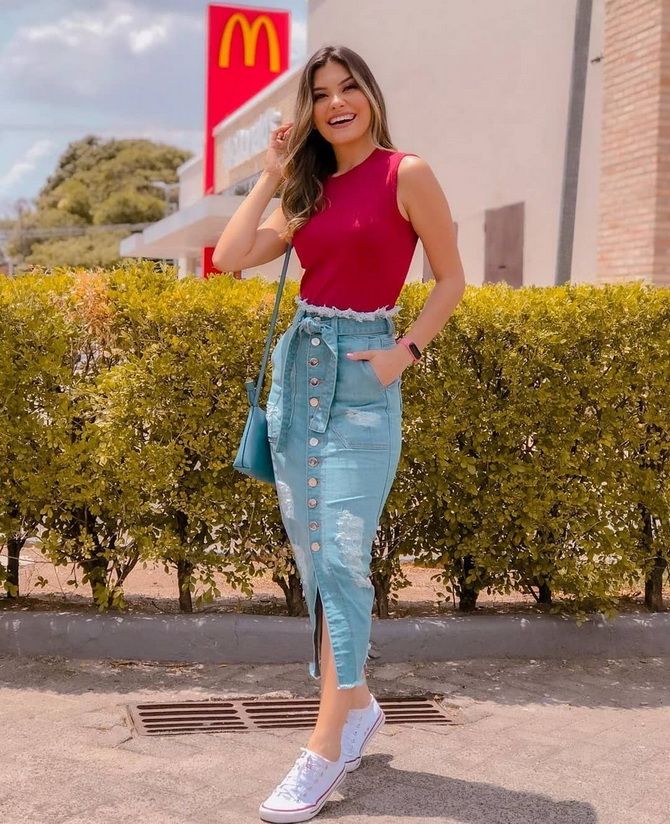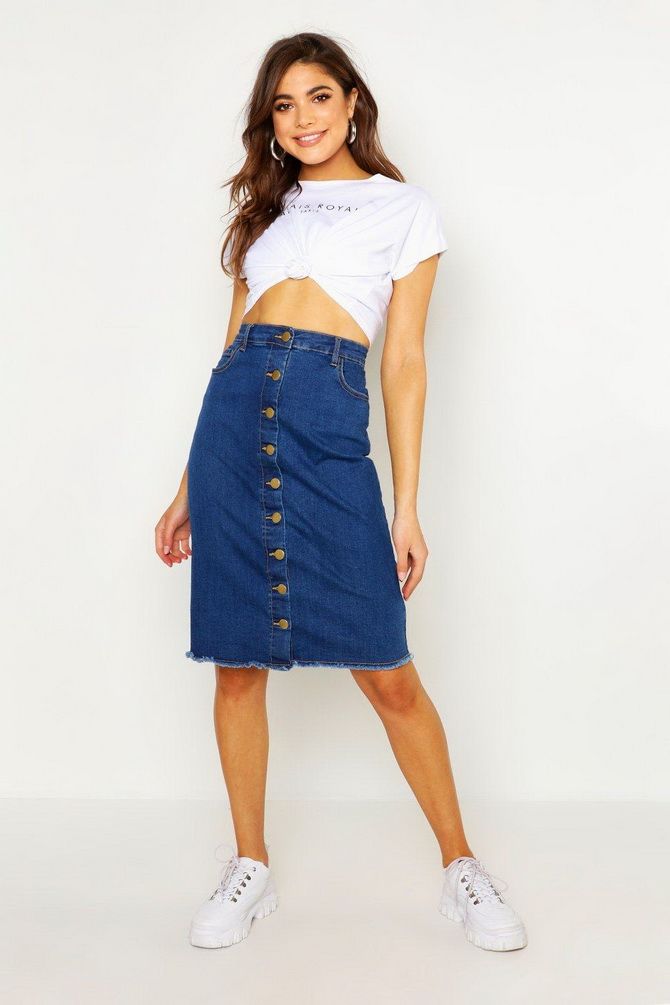 Similar articles / You may like this