Highlighting is a great way to update the appearance without radical changes. Some shades provide brightness and expressiveness, while others create a gentle glow, as if the gentle rays of the sun are reflected on the strands. We at Joy-pup offer inspirational ideas for soft or bright highlights on dark hair.
Platinum highlights for dark hair
The classic and favorite highlighting option for brunettes is platinum shades. They are ideal for women with blue eyes and fair skin. Contrasting silver highlights with a black base are a classic choice for modern hair color. Ash tones, which have become very popular in recent years, can be amazingly combined with dark hair, creating a beautiful contrast.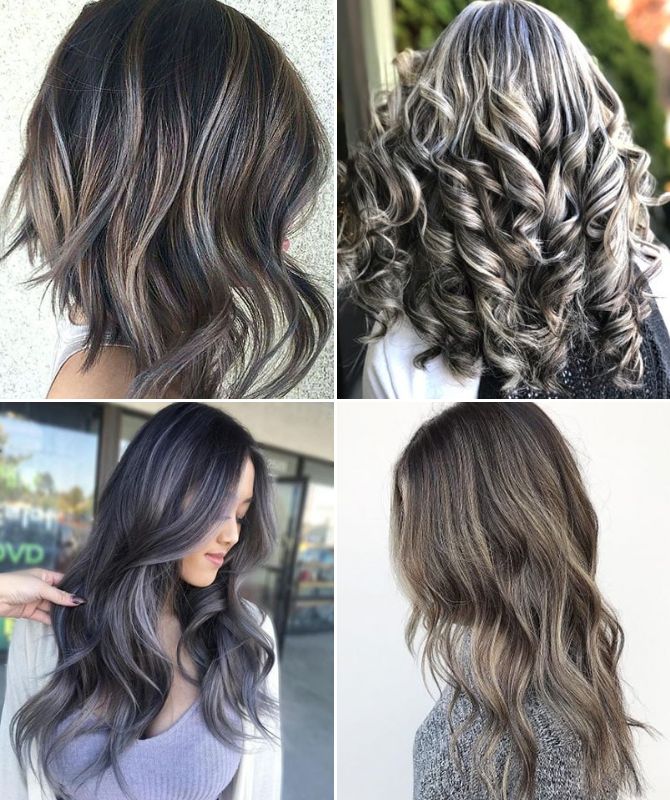 Golden highlights for dark hair
Create a chic look with golden highlights. When using golden shades on dark hair, you can achieve an impressive and stylish update while maintaining dark roots. If you love bright color contrasts, then this glamorous hair coloring technique is highly recommended. This type of highlighting is recommended for short women's haircuts.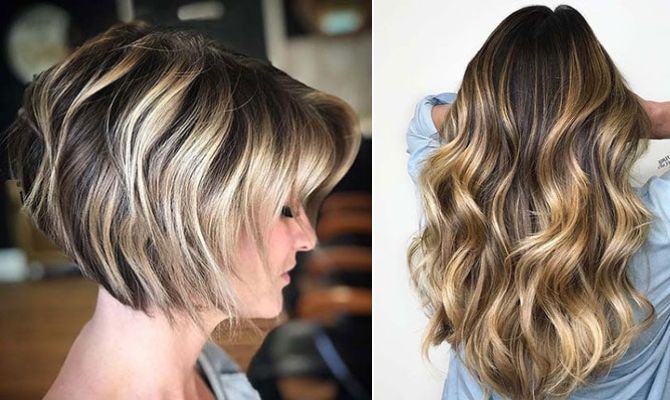 Caramel and copper highlights on dark hair
Create a sweet melted caramel effect on your hair by making subtle highlights with caramel tones. This special combination of shades will beautifully emphasize facial features. The ideal hair color for warm skin and green or brown eyes is copper highlights on dark hair. They give light and very beautifully reveal the color. This is a great choice for highlighting as it doesn't need to be reapplied every 6-8 weeks like the others.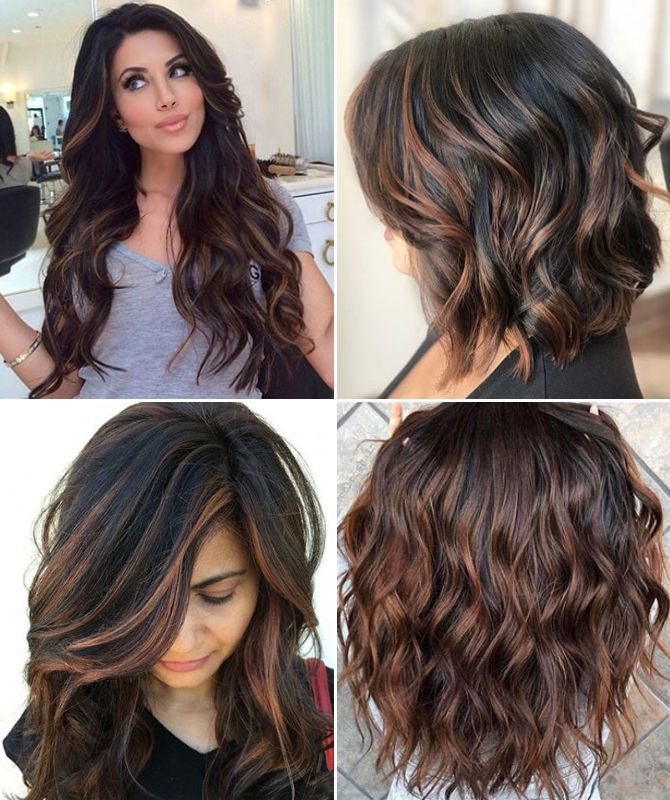 Chocolate highlights for dark hair
Add a sweeter touch of color to your dark black hair with chocolate highlights. This technique creates a natural effect that is reminiscent of the touch of the sun on the hair and gently lightens its shade. If you're looking for a way to add natural blonde highlights to dark hair, then this technique is perfect for you. By using a brown color that is a few shades lighter than your dark base, you can achieve a natural and beautiful shade of hair that will add volume, brightness and light to your hair.
Pink highlights for dark hair
Another original way to lighten your dark hair is pink. The contrast between black and pink gives the hair an expressive and vibrant look. Try a paint that has an attractive rose gold hue that combines pink, peach and brown highlights. This choice will add a sweet glow to your dark base color. Pink highlights on a black base are a bold and playful choice for women who love bold and extreme colors in their hair. They give a fun and elegant accent that draws attention.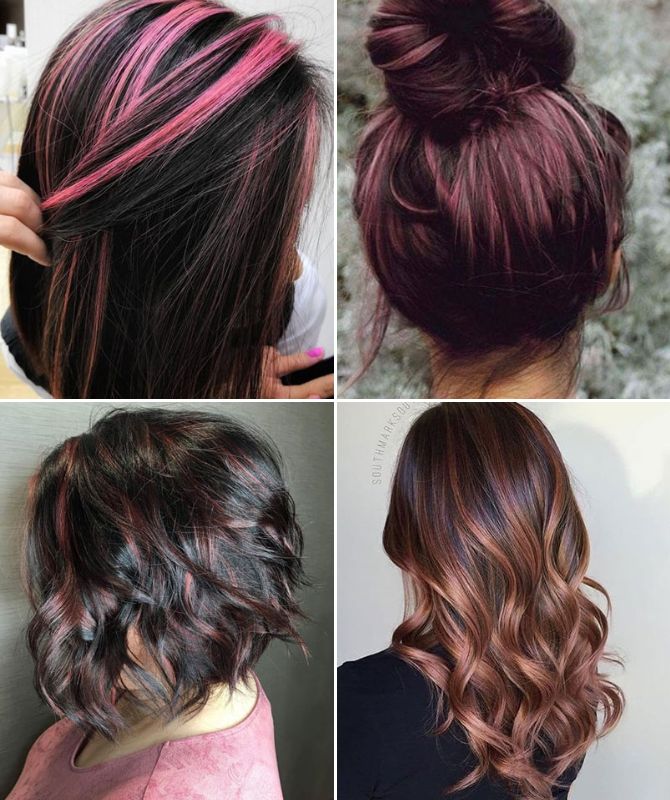 Red highlights for dark hair
Even a few bold red highlights on top of your head can completely transform your look. Create a seductive red hair color on a dark black base. This particular color combination is very popular and makes hair look great no matter how it is styled.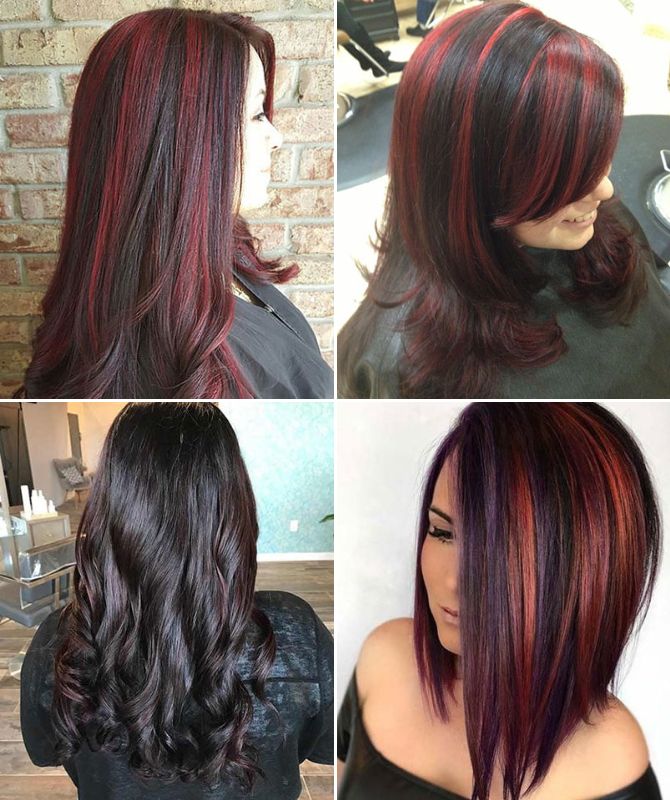 Colored highlights for dark hair
If you like rich colors or just want to stand out in a crowd, try color highlighting in vibrant hues. This is a beautiful combination that creatively brings color and intensity to a dark base hair color. For the most extreme women who dare to go bold, purple, neon green, cobalt blue streaks are the perfect choice to intensify dark black hair.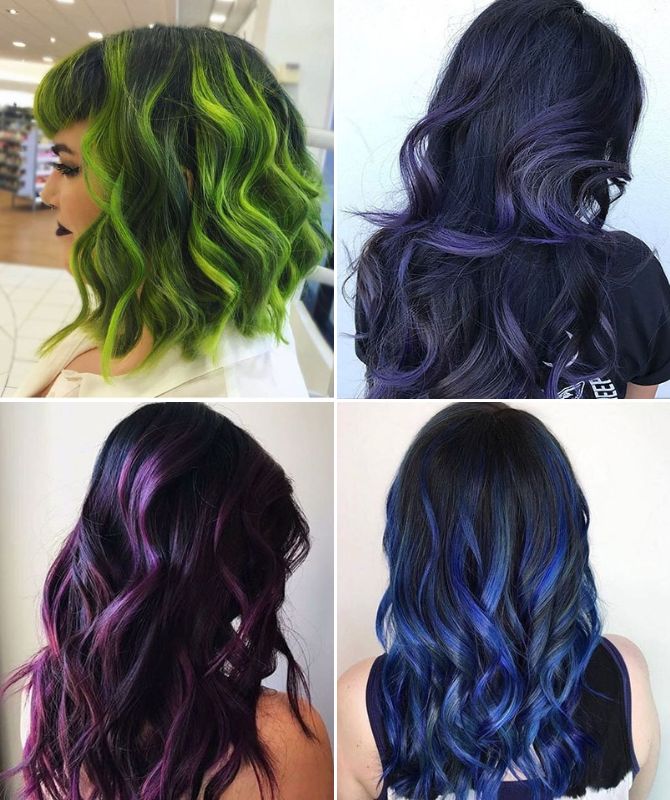 Similar articles / You may like this