Watching a movie in a cinema is always a special atmosphere and complete immersion in the plot. But there are cinema halls in the world, a visit to which can impress you more than the film itself. This article on joy-pup.com is about them and will be discussed.
Floating Cinema "Archipelago", Thailand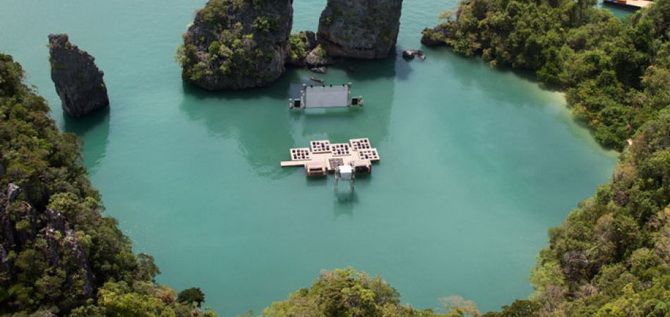 In 2012, German architect Ole Schieren designed an impressive cinema on a raft in one of the lagoons in the middle of the ocean. The opening of this unique floating cinema was dedicated to the day of the film festival "Film on the Rocks". The cinema is a wide screen fifty meters from which there is an auditorium. Visitors get here on special boats and sit on comfortable sofas just under the open sky, and even with a view of the amazing green rocks and cliffs.
Whirlpool cinema, London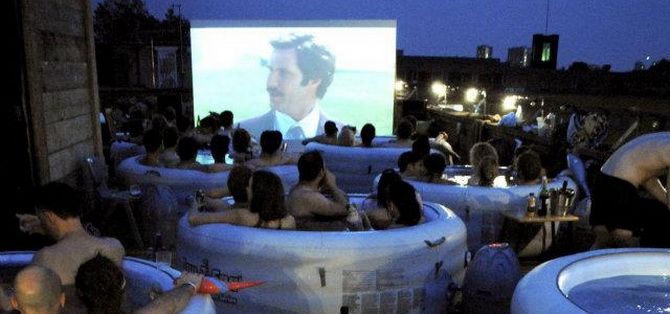 A hot tub and a movie is just such an insane combination offered to moviegoers in London. This unique cinema is located on the roof of one of the capital's buildings. 12 whirlpools, champagne and a stunning view of London – this is how this place is equipped, especially for lovers of new sensations. Agree, a good idea for relaxation.
Boat cinema, Paris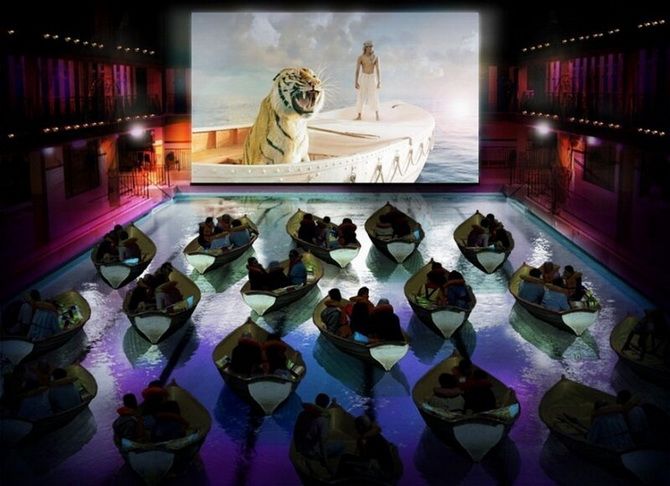 Romantic Paris never ceases to amaze its guests and residents. Here, in an artificial small reservoir, a rather unique institution was opened: a boat cinema. Those who bought a ticket are put into real boats and evenly transported around the pool, in front of which there is a large screen. All this looks quite interesting and unusual. But that's just how to leave the hall during the session remains a mystery. In general, as they say, art requires sacrifice.
Lying cinema, France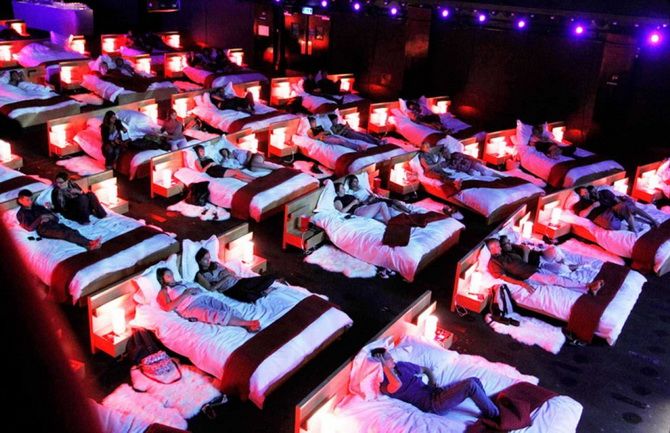 This is perhaps the most original and probably the most comfortable cinema in the world. In it, visitors can comfortably sit on luxurious double beds, instead of standard armchairs, and enjoy a movie. Beds are made with clean, plush linens, next to which are bedside tables with cute lamps. This kind of watching movies, probably everyone will like it.
Cinema in Winter Garden, Canada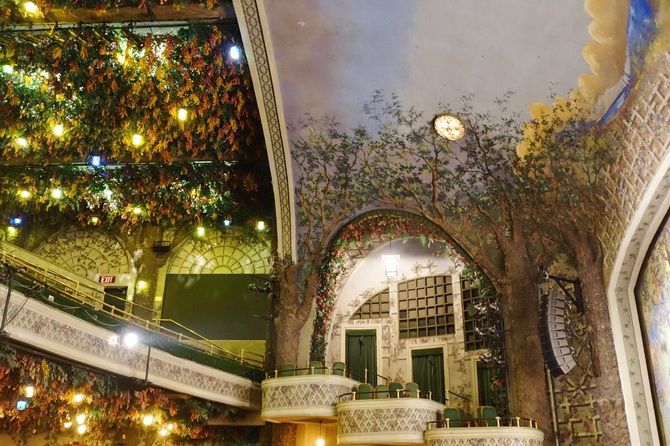 This luxurious building was opened back in 1913, and became the first place in the city where silent films were played for the first time. The cinema is still functioning and gathers a lot of spectators in its halls. Its walls are hand-painted with watercolors, in the refined baroque style of the period. And the ceiling is made of a mass of real beech branches and flickering lanterns. Today it is not only one of the oldest cinema houses in Canada, but also one of the most beautiful in the world.
Similar articles / You may like this