Red beets are available to us all year round. This tuber is not only tasty, but also healthy, and it should be consumed regularly. We at Joy-pup will talk about the benefits of beets and share simple recipes that are original.
The benefits of beets
Beets contain a large amount of important minerals, vitamins and plant substances. The tuber contains calcium, iron, magnesium, nitrates, betaine and other health-promoting ingredients. Its high nitrate content lowers blood pressure and improves circulation, betaine reduces the risk of heart disease, and its anthocyanins, plant pigments that give tubers their intense red color, have anti-cancer effects.
Frequent consumption creates mitochondria in the body, which are energy carriers for all cells – which makes us more efficient and alert. Our metabolism is stimulated by a large number of mitochondria, which burn excess fat. One who regularly consumes beets can counteract many diseases. These include: diabetes, Alzheimer's disease, high blood pressure, heart disease, or joint problems such as arthrosis.
Spread with beets
Ingredients:
200 g feta cheese
3 art. l. olive oil
200 g boiled beets
salt, pepper to taste.
Step by step recipe:
Cut boiled beets into small pieces. Crumble cheese, add olive oil, puree with a blender. Then add the beets and puree all the ingredients again. At the end, season to taste with salt and pepper.
Beetroot carpaccio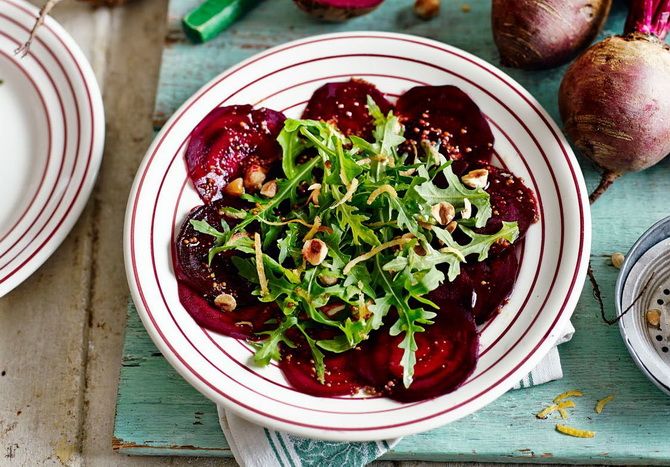 Ingredients:
500 g beets
50 g whole hazelnuts
½ lemon
2 tbsp. l. olive oil
1 tsp mustard
1 tsp honey
70 g arugula
salt, pepper.
Step by step recipe:
Boil the beets for 40 minutes until soft. Drain and leave to cool.
Fry the hazelnut kernels in a skillet or oven for 10 minutes until golden brown. Cool, then chop coarsely.
Peel the beets, cut into thin slices. Lay the beetroot slices overlapping each other on 4 small plates.
Mix lemon juice with olive oil, salt, pepper, mustard and honey, pour dressing to taste on beets. Add a handful of arugula to each plate, top with hazelnuts and lemon zest.
Beet salad with beans and feta cheese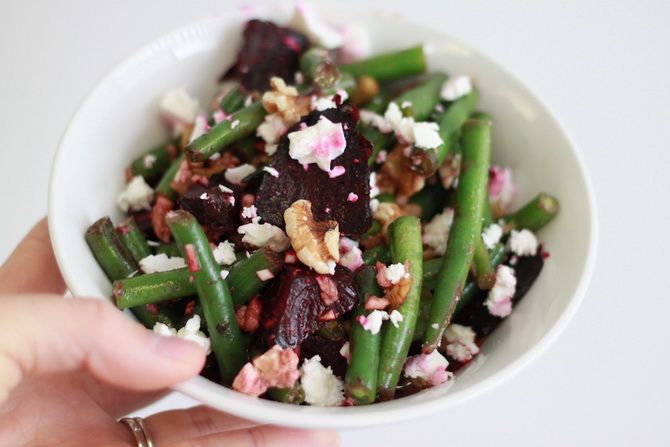 Ingredients:
350 g beets
200 g green beans
40 g walnuts
1 st. l. olive oil
1 st. l. balsamic vinegar
1 garlic clove
60 g feta cheese
salt.
Step by step recipe:
Pour water into a small saucepan, bring to a boil. Add green beans and cook for 2 minutes. Drain water and set aside to cool.
Finely chop the garlic, and chop the walnuts raw.
Boil or bake beets in the oven for 40-50 minutes, cool. Cut the beetroot into wedges (about 8 wedges per beetroot, smaller ones can be cut into 4 or 6 wedges). Transfer to a serving plate.
Add chilled beans, walnuts to the beets and mix gently.
Mix olive oil, balsamic vinegar, garlic and salt, pour the dressing over the dish.
Crumble feta on top and serve salad.
Beet soup with coconut milk and pistachios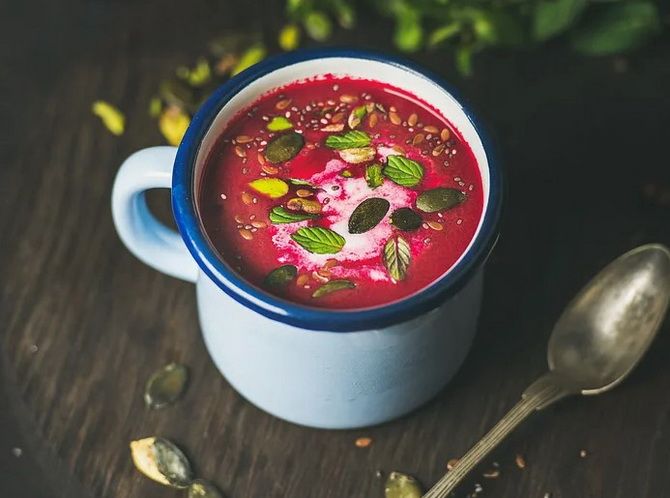 Ingredients:
3 medium beets
1 parsnip
5 garlic cloves
4 tsp coconut oil
3 pcs. shallots
750 ml vegetable broth
400 ml coconut milk
2 tsp fuck
2 tsp lemon juice
2 sprigs of dill
30 g pistachios
salt pepper.
Step by step recipe:
Preheat the oven to 180°C. Wash and cut the beets and parsnips and mix with two teaspoons of coconut oil. Place vegetables with garlic cloves on a baking sheet and bake in the oven for 30 minutes.
Peel shallots, cut into small cubes and fry until translucent in a deep frying pan. Pour vegetable broth and coconut milk into it. Add horseradish, season with salt and pepper and bring to a boil.
Peel and cut vegetables from the oven, mix with lemon juice and puree them with an immersion blender until smooth. Add coconut milk with broth, beat again with a blender.
Serve the soup topped with fresh dill and pistachios.
Similar articles / You may like this