When the temperature outside the window creeps up, we want to freshen up. Fruit sorbets in this case are simply irreplaceable. They can be easily made at home without an ice cream maker and usually require only 2-3 ingredients per recipe. We at joy-pup.com offer sorbet recipes that you can create at home.
Strawberry sorbet
Overripe fruits are great for sorbet. A delicious dessert is light and low-calorie, contains only 108 kcal.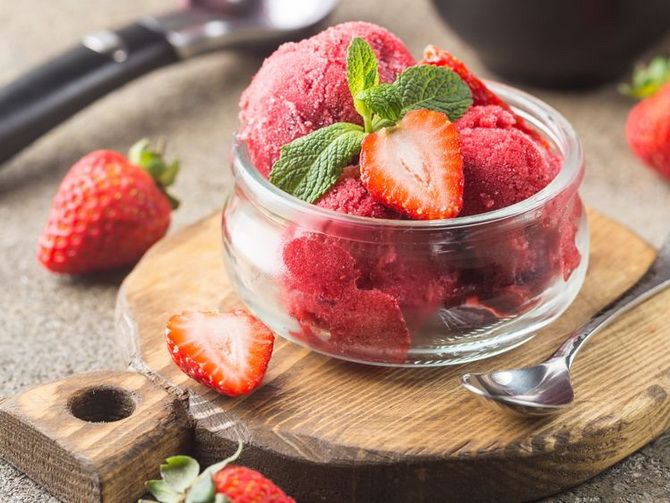 Ingredients:
300 g strawberries;
1 st. l. honey;
150 g yogurt without sugar.
Recipe step by step
My strawberries and remove the stem. Then we shift it into a container, send it to the freezer for 3-4 hours or overnight.
We take out the frozen strawberries, put them in a blender and puree. The consistency should be good, without large parts.
Add yogurt and honey and mix again.
Pour the sorbet on plates, sprinkle with chocolate or cream as desired. Enjoy your meal!
Tip: If you don't have fresh strawberries at home, you can make a recipe with frozen strawberries from the supermarket.
Watermelon sorbet
In the summer we like to eat ice cream and snack on fresh fruit. Watermelon sorbet is the perfect combination of both. It's easy, quick, and the only ingredient needed is watermelon.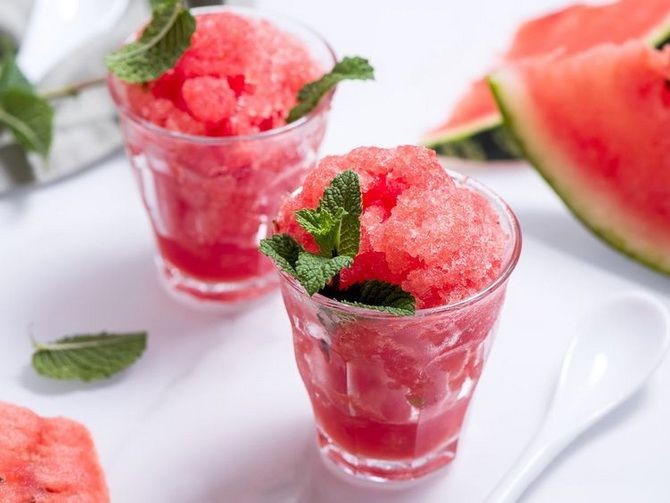 Ingredients:
1 ripe medium sized watermelon
Recipe step by step
Cut into cubes, remove the seeds and remove the core from the watermelon.
Place the diced watermelon in a bowl and place in the freezer for about two hours.
Transfer the frozen watermelon cubes to a blender or food processor and puree until smooth.
Sorbet is placed in any form and placed back in the freezer.
Before serving, take out the frozen mass and use an ice cream spoon to spread it on plates. Fruit sorbet can be garnished with mint.
Champagne sorbet
Another great thing about sorbet is that you can easily turn it into an intoxicating treat. Champagne sorbet is a sparkling dessert for adults with a sweet tooth.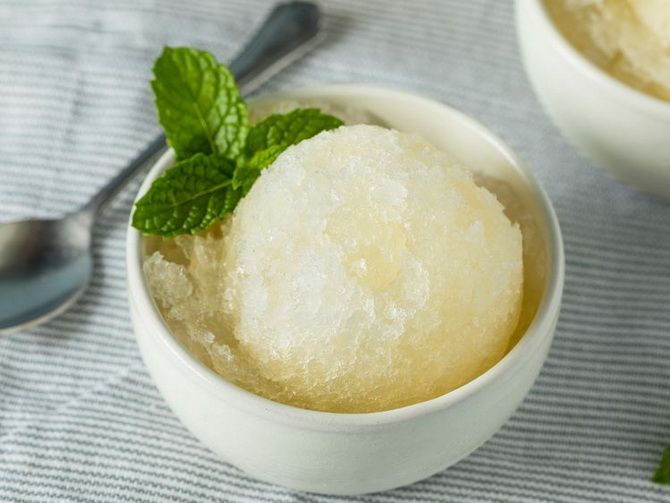 Ingredients for 4-6 people:
250 g sugar;
250 ml of water;
1 lemon;
1 orange;
500 ml of champagne or sparkling wine;
1 egg white;
50 g of powdered sugar.
Recipe step by step
Heat sugar and 250 ml of water in a saucepan, melt the sugar while stirring.
Squeeze citrus juice, pour into a saucepan, boil for 2 minutes.
Strain the resulting liquid through a sieve, mix with champagne, transfer to a freezer bowl and send to the freezer for 1 hour.
Beat egg whites to peaks, add powdered sugar while stirring. Take out the frozen mass, mix it with protein and send it to the freezer for about 4 hours.
Arrange on plates or bowls and enjoy the taste.
Similar articles / You may like this