The barbecue season is in full swing. Meat cooked on the grill is undoubtedly tasty, but do not forget about vegetables, which will be a great addition to the main course. Check out joy-pup.com for delicious barbecue snacks you can make with vegetables or other ingredients. Prepare these delicacies and surprise your family and friends with a unique taste.
Grilled potatoes
Grilled or grilled potatoes are the perfect accompaniment to chicken or sausages. To prepare them, you will need foil, in which it will be easier to bake them.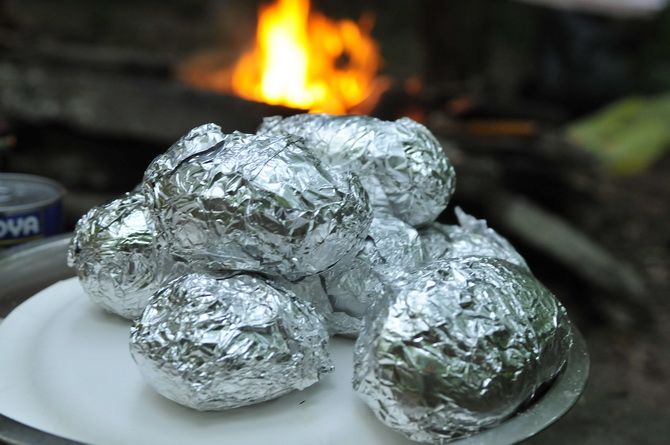 Ingredients:
potatoes 5-7 pieces;
seasoning "Provencal herbs";
vegetable oil 100 g;
garlic 2-3 cloves;
salt.
Recipe
Potatoes need to be peeled, washed, dried and cut into quarters. In the case of young potatoes, you do not need to peel it, you just need to rinse it well. Grate potatoes with oil, spices and garlic passed through a press. Then wrap them in aluminum foil and fry for about an hour, turning occasionally.
Vegetable skewers
When preparing such a dish, you will need special bamboo sticks as skewers.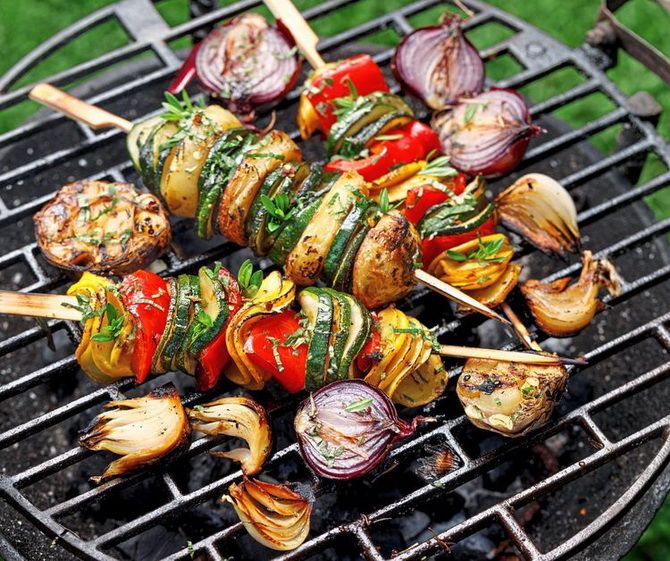 Ingredients:
zucchini – 2 pcs;
large champignons – 10 pcs;
pepper – 2-3 pcs;
salt, pepper – to taste;
vegetable oil 150 g.
Recipe
Peppers, zucchini and mushrooms should be washed and then dried thoroughly. Cut the vegetables into strips and rub them with salt, pepper and vegetable oil. The ingredients prepared in this way should be put on skewers and grilled for about 15 minutes. Don't forget to flip the vegetables while frying.
Garlic bread
The appetizer is prepared quickly, but remove the butter from the refrigerator in advance so that it becomes soft.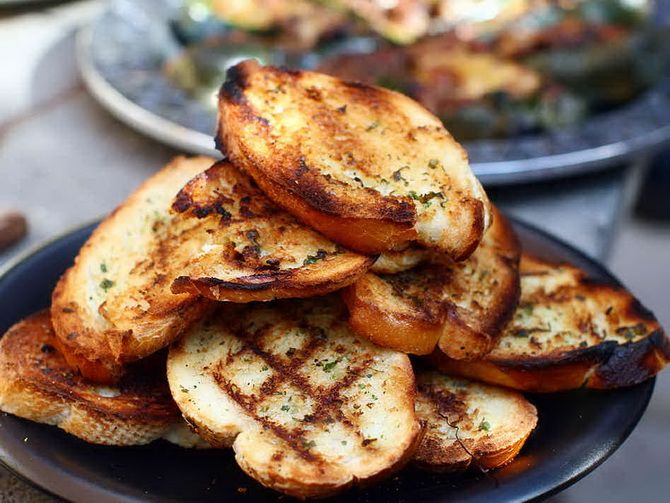 Ingredients:
baguette – 1 pc;
butter – 70 g;
garlic – 5 cloves;
parsley – 3-4 branches;
salt, pepper – to taste.
Recipe
Cut the baguette into portions of the same width. Mix softened butter with salt, pepper, chopped parsley and garlic passed through a press. With the finished mixture, you need to grease the baguette pieces on one side. The appetizer should be fried on the side that was not covered with garlic oil.
How to serve appetizers for barbecue?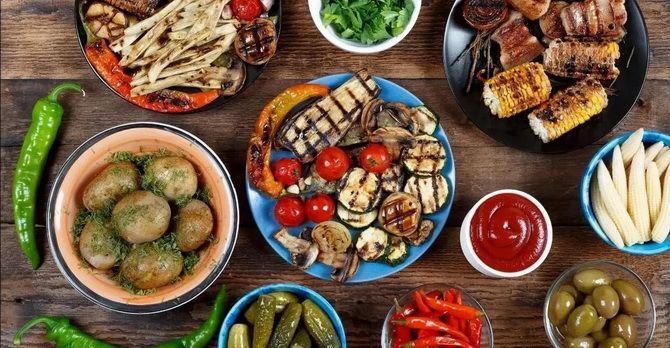 It is worth remembering that proper serving is just as important as its taste. Decorate the prepared dish beautifully with parsley or dill. It is also good to add other additives to grilled snacks, for example, sauce, pickled or pickled cucumbers, baked eggplant, olives, salad.
Read also how to marinate lamb for barbecue.
Similar articles / You may like this