In the summer you want something cold, but nutritious. One option is cold borscht. This dish is very healthy, has a lot of vitamins and will delight you with a special taste. We at joy-pup offer simple recipes for cold borscht.
Classic cold borscht: recipe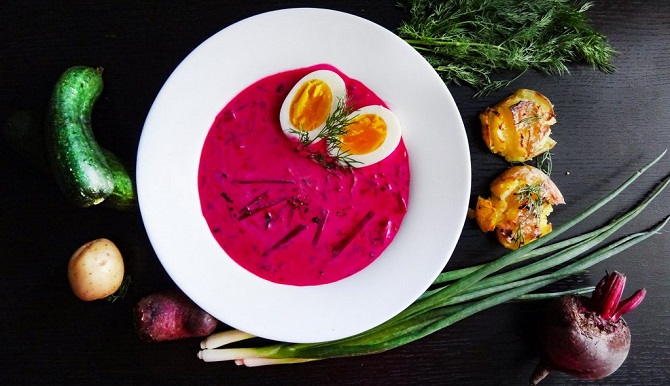 Almost all the ingredients of such a dish correspond to the ingredients of ordinary borscht. But there is more greenery here, which corresponds to the season. To prepare the dish you will need:
two eggs;
three small beets;
apple cider vinegar – 1 tbsp;
potatoes – 5 pieces;
cucumbers – 2 pieces;
green onions;
dill;
salt, pepper, sour cream.
How to cook cold borscht?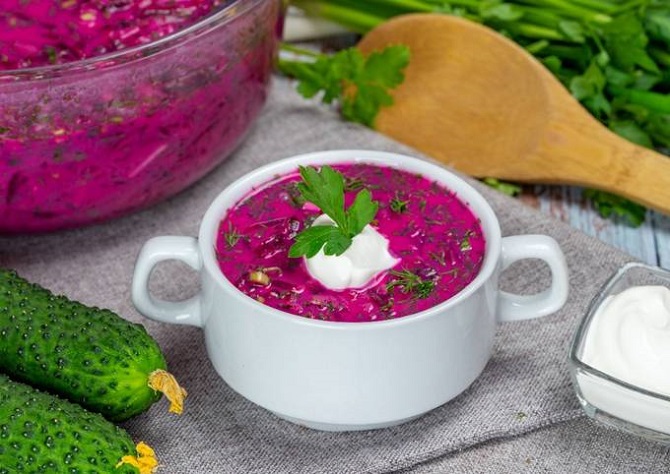 Boil hard-boiled eggs, wash the beets. Peel one tuber, cut into quarters, pour two liters of water and add one tablespoon of vinegar. Boil for forty minutes.
Place the boiled beets on a plate to cool. Cut it into strips. Strain the broth in which the beets were cooked, then add the chopped beets to it and put them in the refrigerator.
Wrap the other two tubers in foil and bake at 180 degrees for 40 minutes. After cooling, cut into strips and add to the broth.
Boil potatoes in cubes, let it cool and add to the broth along with the water in which it was boiled. Also chop eggs, cucumbers, green onions and dill. All ingredients must be added to the broth.
Pepper and salt the dish, put in the refrigerator for an hour.
When serving, add a little sour cream to the plates. Lemon slices can also be added instead.
By the way, you can bake all the beets, and make a decoction on the peel of cooked root vegetables. In this case, your borscht will have a pleasant smoky aroma.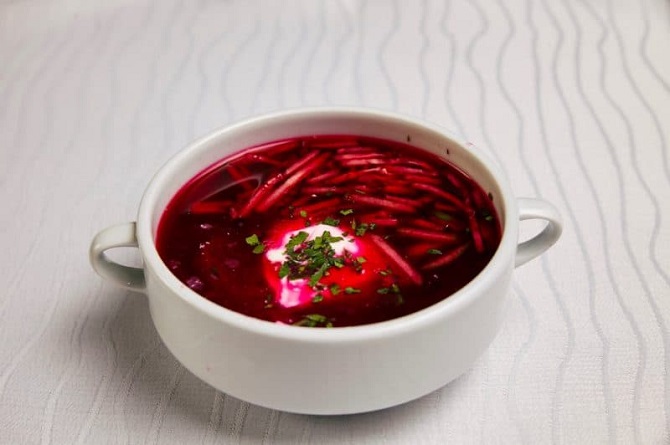 If you like meat dishes, add boiled veal, lamb, pork, chicken to borscht. Choose meat without fat. In addition, you can add sausage instead of meat, so that the borscht will have an original taste.
Similar articles / You may like this