Winter is over and human bodies feel the lack of vitamins more vividly. Some people have hair problems, others face the problem of layered nails or flaky skin. Basically, our immunity is weak. Therefore, it's very important to provide yourselves with as many healthy dishes on the table during seasonal colds as possible.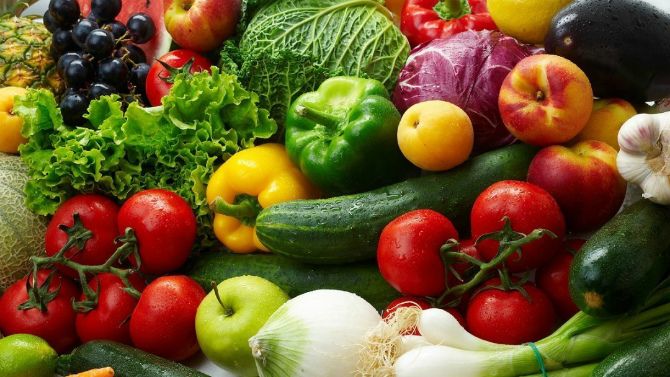 Carrot and apple vitamin salad
Lots of people think that it's especially difficult to get vitamins in winter, but, in fact, they are always available. Preference should be given to the most common products that grow in our latitudes. They retain much more vitamins compared to citrus fruits.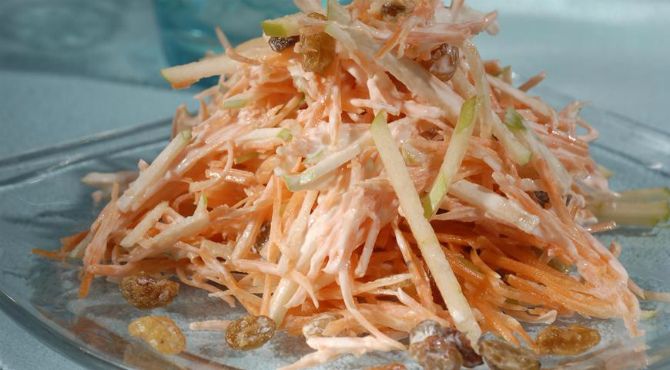 Let's try to make a delicious salad using basic products, such as carrots and apples.
You will need:
apple – 1-2 pcs.
mayonnaise or yoghurt sauce – 4 tbsp.
raisins – 0.5 tbsp.
carrots – 3 pcs.
sugar – 1 tsp.
Step 1
You don't need to cook anything for this salad, so it can be ready very quickly. Rinse the raisins and pour boiling water over them to cover them for 10 minutes. Then drain and dry.
Step 2
Grate the apple and carrots on the large holes of a grater. Add raisins and mix.
Step 3
If calories aren't important to you, add mayonnaise. If you prefer to monitor this moment or children will eat salad, take the effort and make some yoghurt dressing.
There are many options on how to cook it.
You can use:
unsweetened yoghurt (maybe "Greek") – 200 ml
olive oil – 2 tbsp.
vinegar – 1 tsp. or lemon juice – 1 tbsp.
garlic – 1 clove;
ground black pepper – 1 tsp.
If you are not a fan of savoury tastes, don't put garlic and pepper.
Fresh beef and ginger salad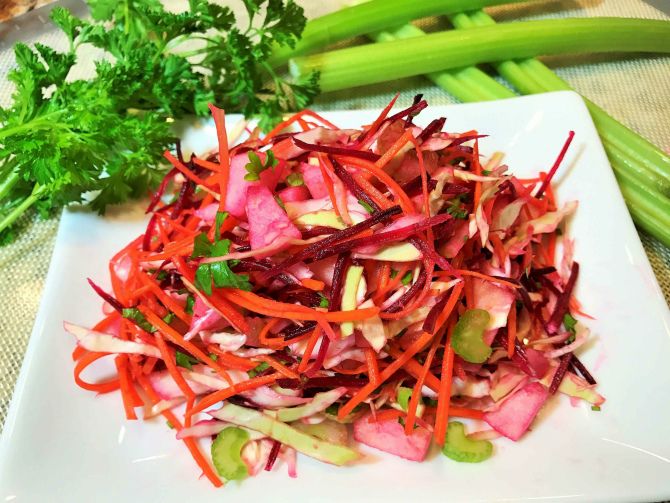 This salad will be especially useful for those who keep the figure and count each calorie. The salad includes ginger, which is famous not only for its rich vitamin-mineral composition but also improves digestion, boosts immunity, removes toxins and promotes weight loss.
You kill two birds with one stone: burn calories and replenish a loss of vitamins.
The recipe includes the following ingredients:
beet – 1 pc.
carrot – 1 pc.
petiole celery stalk – 3 pcs.
grated ginger – 1 tsp.
garlic – 1-2 cloves
lemon juice – 1 tbsp.
olive oil – 1 tbsp.
salt and black pepper – to your taste.
The process of making this salad won't take much time
First, make the dressing. Grate ginger and garlic on a fine grater and mix with lemon juice, olive oil, pepper and salt. Shake and let it stand in the refrigerator for 10-15 minutes.
Then take celery. Rinse the stalks, dry them and cut thin. Put them on the plate, salt a little and trample with your hands to make them softer and let the juice appear.
Grate carrots and beets on a coarse side of a grater. Mix with celery and seasoning.
Vegetable salad with garlic and ginger sauce is ready.
Sweet pepper and cucumber vitamin salad
This vegetable salad will be a bit more expensive in winter, but the necessary products are easy to find in every supermarket. The salad smells like spring and looks very bright. Take paprica of different colours to make it look even more delicious.
Ingredients:
red and yellow sweet pepper – 0.5 pcs.
onions – 0.5 pcs.
fresh cucumber – 1 pc.
garlic – 1 clove
lemon juice – 1 tsp.
olive oil – 1 tbsp.
honey – 1 tsp.
French mustard (grainy) – 1 tsp.
parsley greens
salt, ground pepper – to your taste.
How to cook:

Clear the pepper out of seeds and cut into sticks.
Cut onions into half rings. You can put it in a salad right away or you can get rid of the smell and bitter taste of onions. To achieve this, pour boiling water over it for 2 minutes, and then marinate for about 5 minutes in a solution of water with vinegar (mix a spoonful of vinegar and 100 g of water). Rinse through a sieve with clean water.
Cut fresh cucumbers into sticks.
Prepare the salad dressing: mix lemon juice, honey, olive (or vegetable) oil, French mustard, and finely chopped garlic. Rub everything thoroughly. Add chopped parsley, salt and pepper.
Light and insanely delicious salad is ready.
Cabbage vitamin salad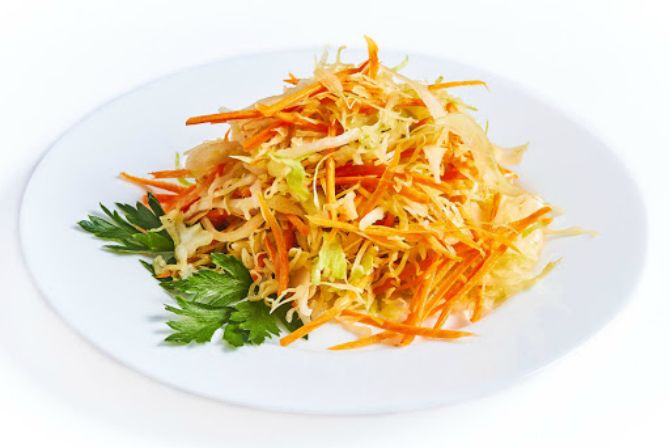 It doesn't matter how you cook the cabbage salad, it will still be delicious. Many people love it exactly as it's served in the dining room. But not all know how to make it. Before revealing the secret, it's worth pointing out the benefits of this vegetable.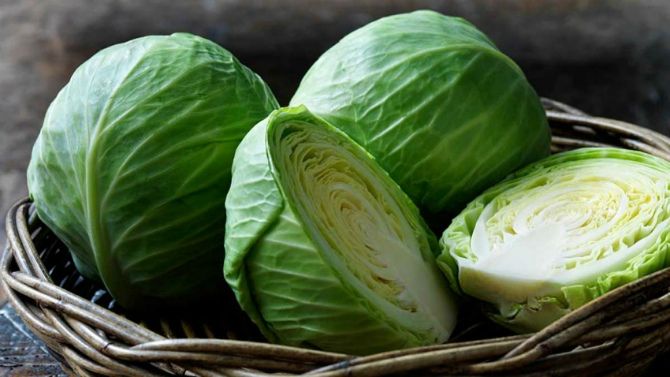 Calorific capacity of cabbage is very low and makes 27 kcal per 100 grams. 100 grams of cabbage contain the recommended daily intake of vitamins K and C, a lot of folic acid, as well as the most important omega-3 acids. In addition, cabbage promotes brain function. Therefore, this product must always be in your diet.
So let's get started. To prepare a vitamin salad, as in a dining room, you will need:
cabbage – 600 g
carrots – 100 g
sugar – 1 tbsp.
vinegar 9% – 1.5 tbsp.
sunflower oil – 2-3 tbsp.
salt – 0.5 tsp.
Step 1
Finely chop the cabbage, add salt and rub it with your hands.
Step 2
Grate carrots and mix with cabbage. Cover and let stand for 10 minutes for vegetable juice to drain.
Step 3
Add sunflower oil, mix again and refrigerate for 30 minutes.
Winter salad made of red cabbage and cranberries (step by step photo recipe)
We offer another way to fill your plate with vitamins. Make red cabbage salad. This type of cabbage has a rich biochemical composition. It contains much more vitamin C than white cabbage. It is believed that the substances that are contained in cabbage prevent the origin and growth of cancer cells.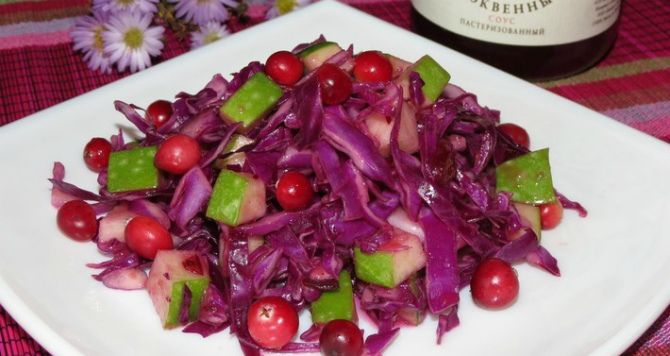 Ingredients:
red cabbage – 500 g
apples – 2 pcs.
cranberries – 0.5 tbsp.
sugar – 1 tbsp.
apple vinegar – 2 tbsp.
olive oil – 3 tbsp.
caraway seeds – 0.5 tsp.
Directions:
Cut think the cabbage, salt it and rub with your hands. Leave for 10 minutes to make it softer.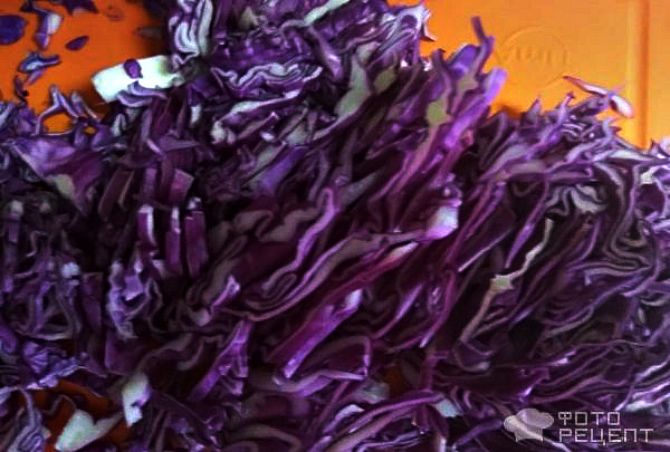 Tip:
Red cabbage contains a lot of fiber, so it is much harder than usual. To soften it, you can apply this method: pour boiling water over shredded cabbage for 1 minute, then rinse with cold water and let drain.
Grate apples on a coarse grater or cut into cubes, mix with cabbage.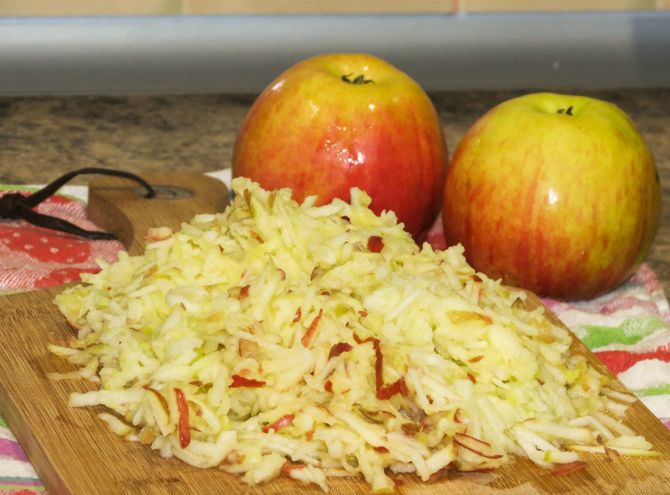 To soften it, grind caraway seeds and add to the salad.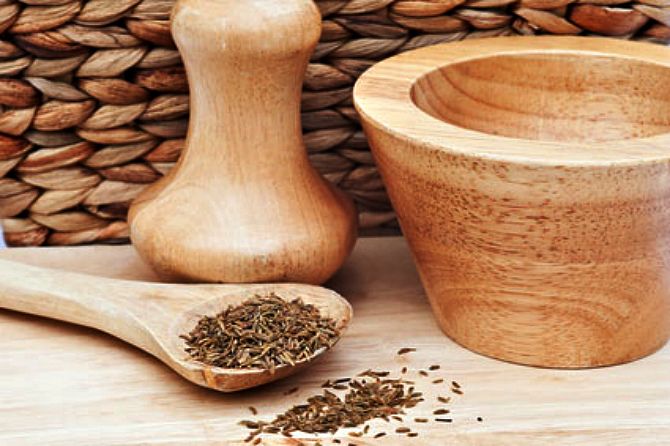 Mix butter, sugar, vinegar and season the salad.
Add cranberries and stir carefully, trying not to crush the berries.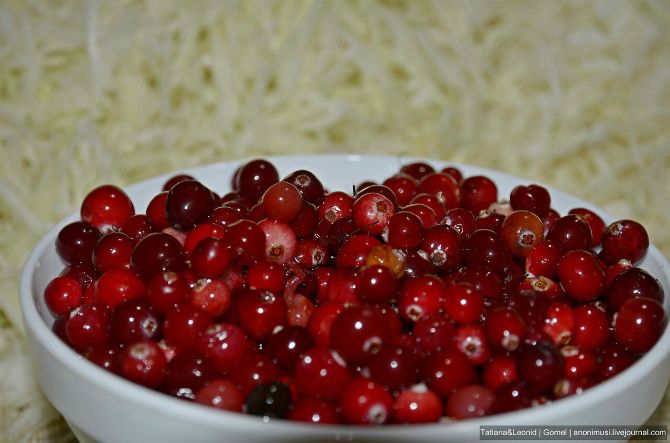 Enjoy the tastes of healthy salads, fill your body with vitamins and don't get sick. But if you want to treat yourself to calories, you can pick up original recipes for salads with pineapples.
Similar articles / You may like this