If your little ones love animals and visit the zoo, make these fun crafts with them. Balloons are perfect for crafts that you will have fun making. Check out joy-pup for easy balloon animal craft ideas for kids of all ages to play with or decorate their room with.
Flying chickens
Create your own chicken and chick farm with balloons. You can do this with the youngest children who will enjoy the process and then play with them.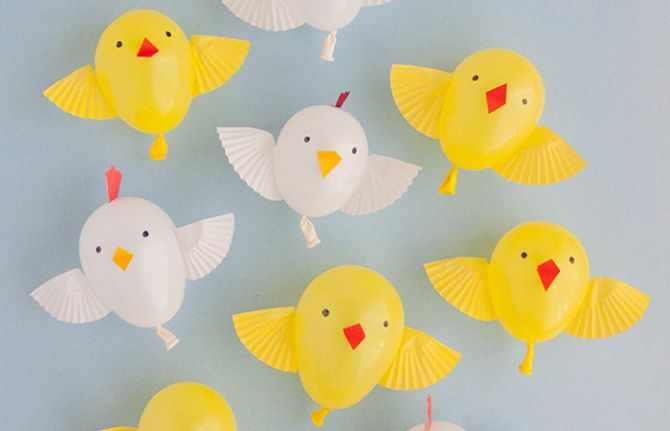 Materials:
white and yellow balloons
white, yellow and red paper cupcake tins
colored paper – yellow and red
scissors
glue
black marker.
Execution technique
Blow up balloons and tie them up.
Cut the cupcake mold into 4 pieces and glue 2 pieces on the sides of the balloon. The result is chicken wings.
Make a beak out of a sheet of red paper. Draw and cut out a diamond, then fold in half. Glue the piece to the ball.
For white balls, make scallops. Cut out a triangular piece in the shape of a comb and glue on top of the balloon.
At the end, dot with a black marker in place of the eyes.
Bonus video: how to make a balloon helicopter
Fire llama
Turn a balloon into a cute llama. This attractive craft is easy to make with young children.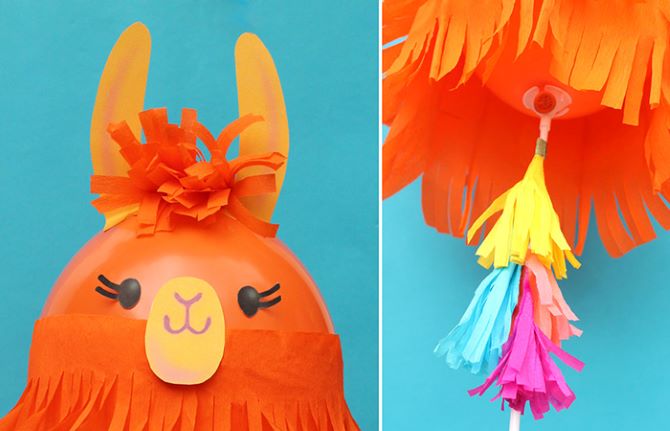 Materials:
orange balloon
balloon holder
multi-colored thin corrugated paper or tissue paper
sheet of yellow cardboard
black marker
pink wax pencil
scissors
glue.
Execution technique
Inflate the balloon, tie a knot and put it on a stick.
Cut out three strips of tissue paper the same color as the balloon. Make a fringe with scissors.
On a sheet of cardboard, draw a muzzle and two pointed ears. Cut out the details with scissors.
Color the inside of the ears with a pinkish wax crayon.
Draw a nose and mouth on the muzzle and add volume to the detail with a wax pencil.
With a black marker on a balloon, draw eyes with long eyelashes.
Glue strips of orange fringe around the circumference of the balloon like a skirt. glue one part of the fringe on top of the ball.
Glue on the muzzle and horns.
From multi-colored thin paper, make several pompoms, stick them on a stick that holds the ball.
Penguin
The inhabitants of Antarctica are one of the favorite sources of inspiration for crafts. A funny penguin can be the focus of winter children's birthdays and parties.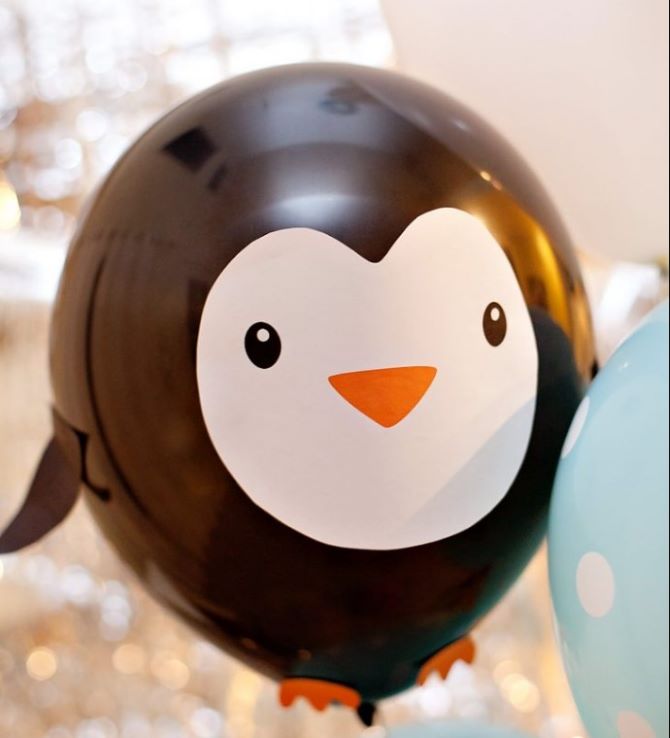 Materials:
black balloon
colored paper white, black, orange
double sided tape
black marker
glue
scissors.
Execution technique
From orange paper, cut out 2 paws and 1 triangle for the penguin's beak.
On a white sheet, draw a heart-shaped figure with a rounded bottom – the face of a penguin. Glue an orange triangle on it in the center and draw eyes with a black marker.
Glue the paws to the bottom of the balloon.
On a sheet of black paper, draw and cut out 2 wings and glue on the sides.
Glue the penguin's face to the balloon and let it dry for a few hours.
Similar articles / You may like this