Even the most ordinary bottle of champagne can be a bright and original gift if you know how to present it. We at Joy-pup offer beautiful decor ideas, after which an ordinary bottle will look like a work of art.
Decor with ribbons
Decorating a bottle with ribbons is an easy and effective way to give it a touch of elegance and originality. Ribbons come in a variety of colors, textures, and widths, allowing you to create a variety of decorative pieces. To decorate the bottle with ribbons, just wrap them around the neck or body of the bottle, tying an elegant bow or knot. This decoration is suitable for various occasions and events, adding sophistication and festivity.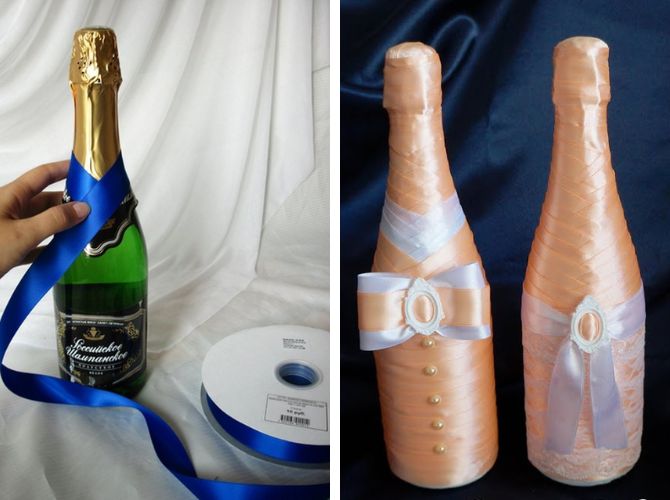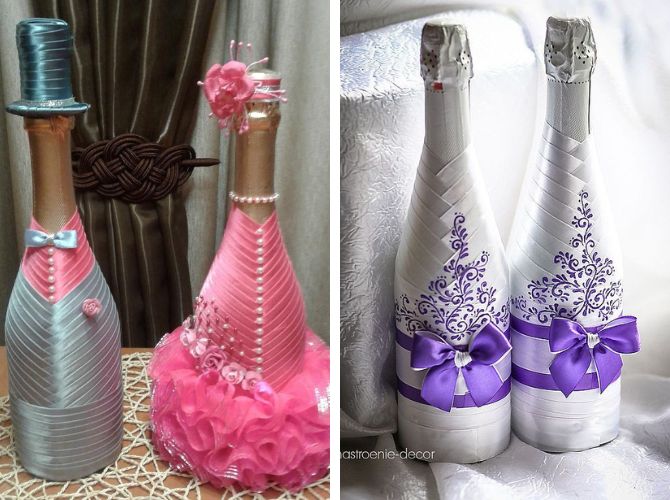 Candy decoration
Decorating champagne with chocolates will make the bottle more attractive. The candy comes in a variety of sizes, shapes and colors to create a unique style. To decorate the bottle with sweets, you can use double-sided tape or glue to attach the sweets to the glass surface. You can also add a bow or ribbon for an added effect. This decoration is ideal for festive occasions or as an original gift.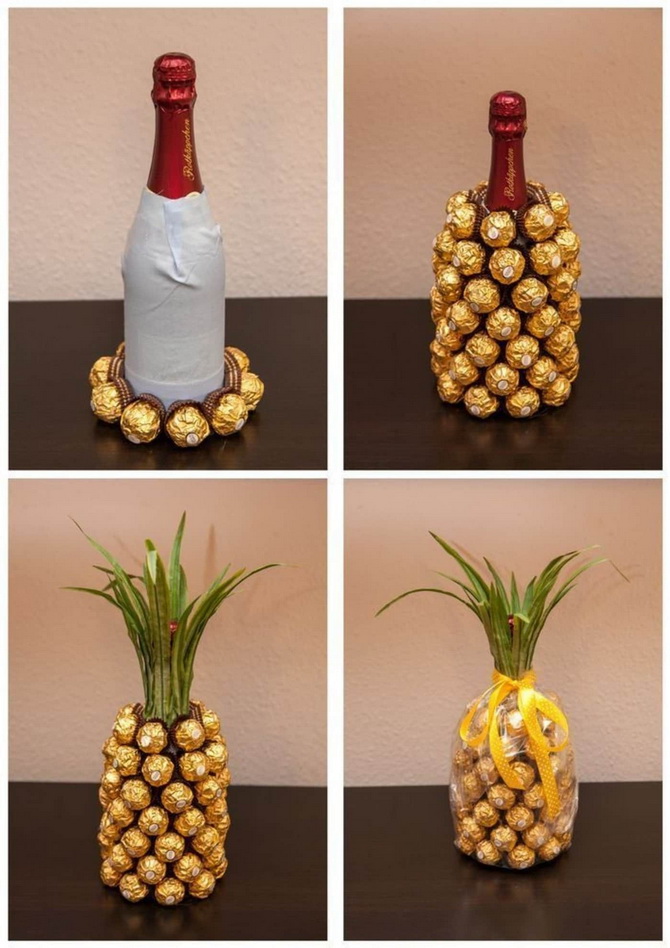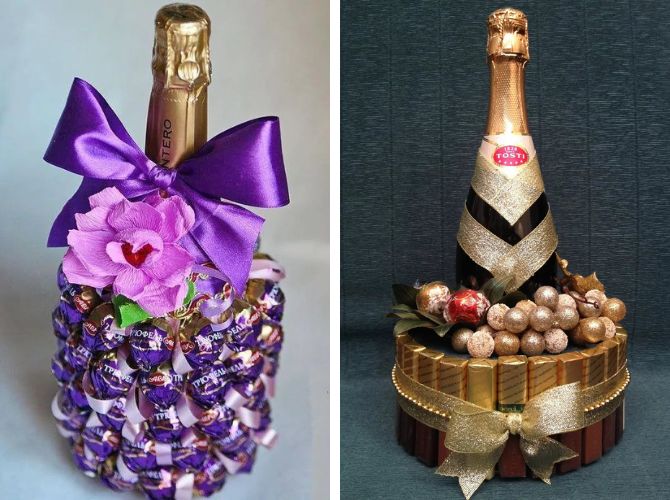 Decoupage
Decoupage will turn an ordinary bottle into a work of art. It is a technique of gluing images to a surface, followed by coating with a protective layer. To decorate the bottle with decoupage, you can use a variety of materials such as napkins, fabric or stickers. Images can be anything from flowers and animals to abstract patterns. After applying images to the bottle, it can be varnished or with a special glossy finish to preserve and protect the decor.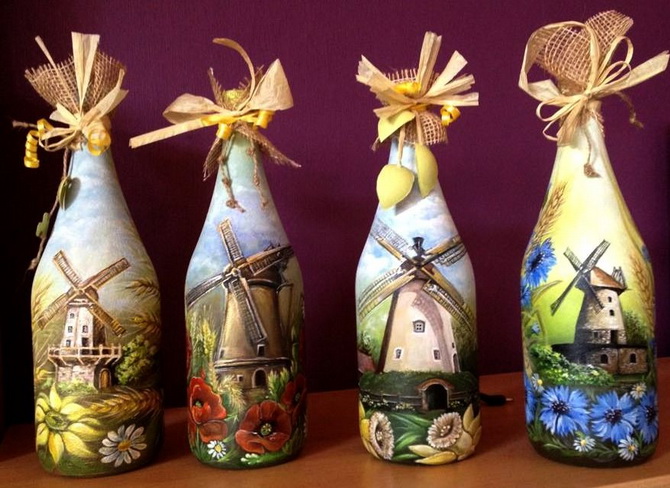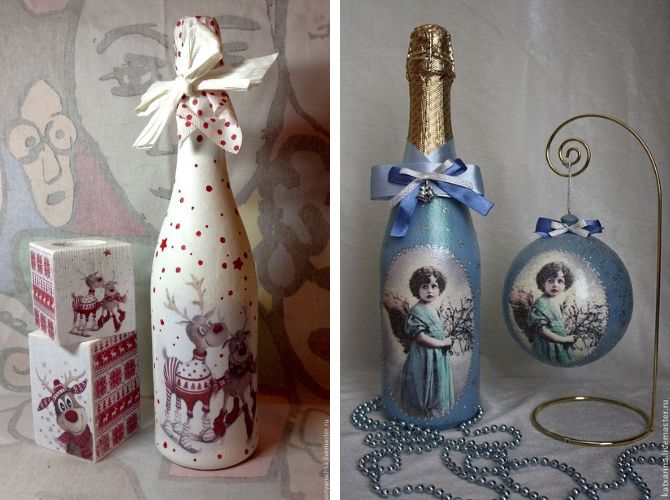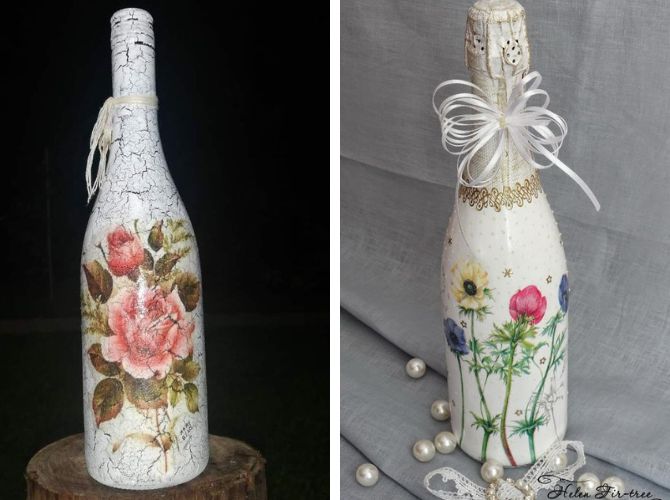 Bottle decor for the New Year
Decorating a bottle for the New Year will add New Year's mood and festive charm to your gift. For decoration, you can use a variety of elements, such as sparkles, stars, artificial snowflakes, Christmas balls, ribbons and Christmas tree decorations. One popular way is to wrap the bottle in gold ribbon for a festive glow. You can also use decorative stickers or drawings with symbols of the New Year, such as Santa Claus, deer or Christmas trees. The creativity in decorating a bottle for the New Year knows no bounds, and it's a great way to show off your holiday cheer and joy at this special time of the year.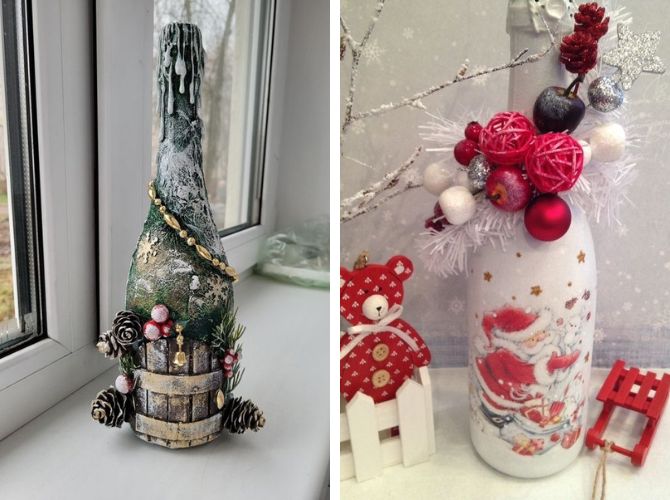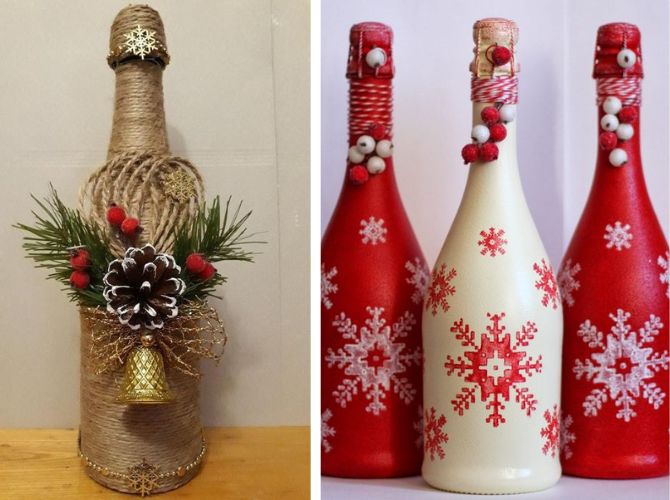 Champagne wedding decoration
Decorating a bottle for a wedding is a great way to add elegance and romance to your wedding table or create a special gift for the newlyweds. For decoration, you can use various elements that match the theme of the wedding and the style of the couple. It can be satin ribbons, floral arrangements, beads, rhinestones, feathers or personalized labels with the names of the newlyweds and the wedding date. One of the popular ideas is to decorate the bottle with a delicate lace ribbon or an intertwining of white and colored ribbons, creating a romantic and sophisticated look. A themed wedding champagne bottle will add personality to the wedding décor, making that special day even more memorable and beautiful.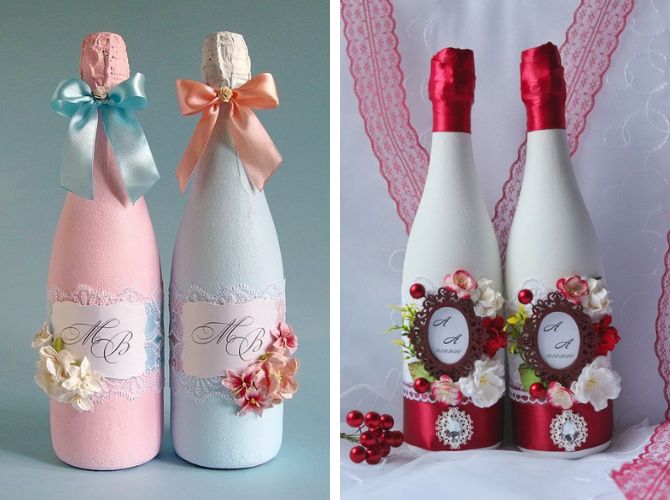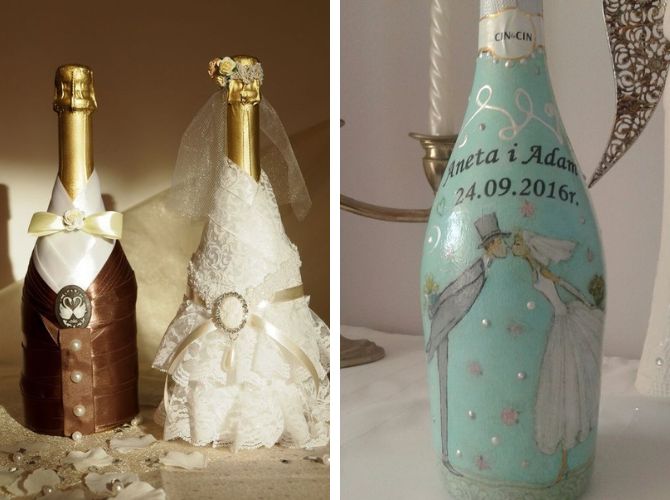 Similar articles / You may like this