Just like a light dress or comfortable sandals, good denim shorts are essential for the summer. Fashion bloggers call them a spectacular example of a non-trend, but if they walk in the streets, they will understand that girls and women aren't really ready to give up on this comfortable clothing.
This article at joy-pup.com is to help all fashionistas look stylish and trendy in denim shorts. Learn how to combine different styles of shorts with other items of clothing.
Boy shorts 2021-2022
If you are going on holiday, to a music festival or just want to show nifty legs this summer, you can't do without denim shorts. The main thing is to find the perfect fit.
Tip: don't choose low rise and ultra-short shorts as they're clearly not in fashion and don't make your figure look better.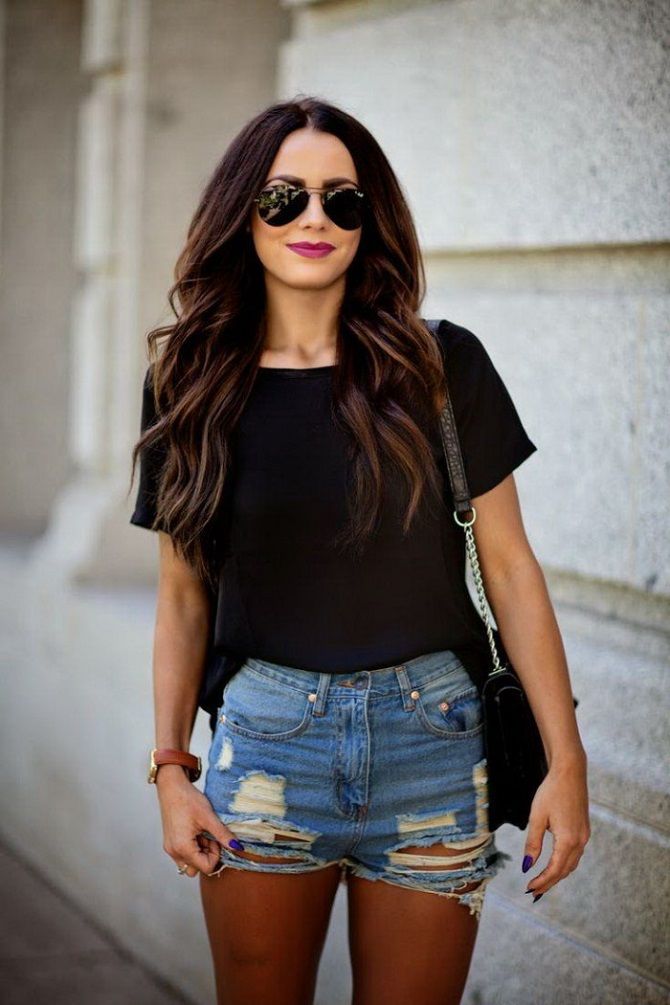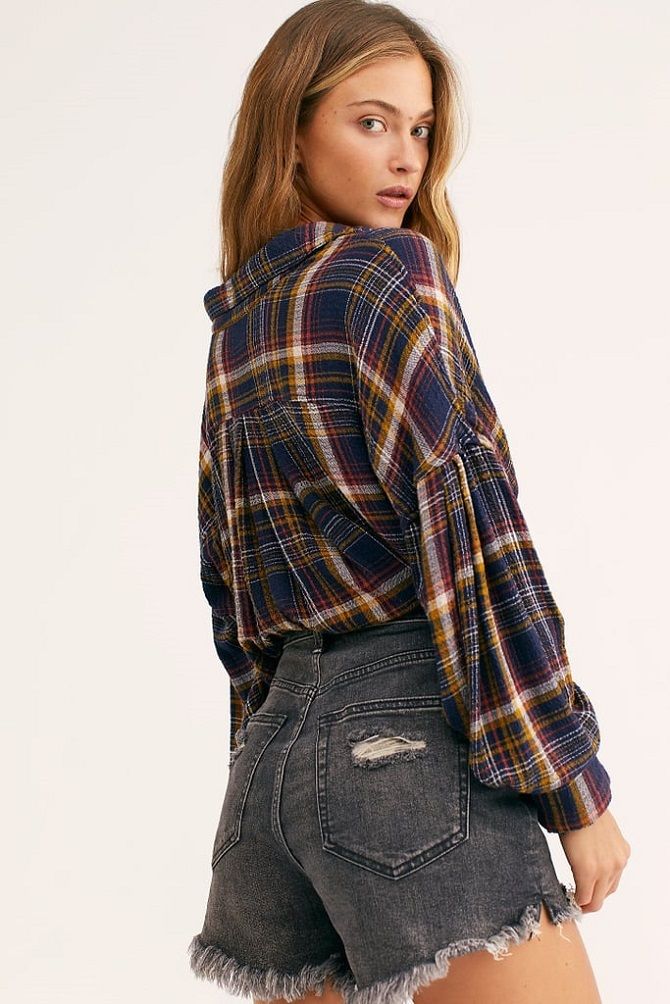 You can choose ripped sexy models or nice shorts without buffies. It's up to you.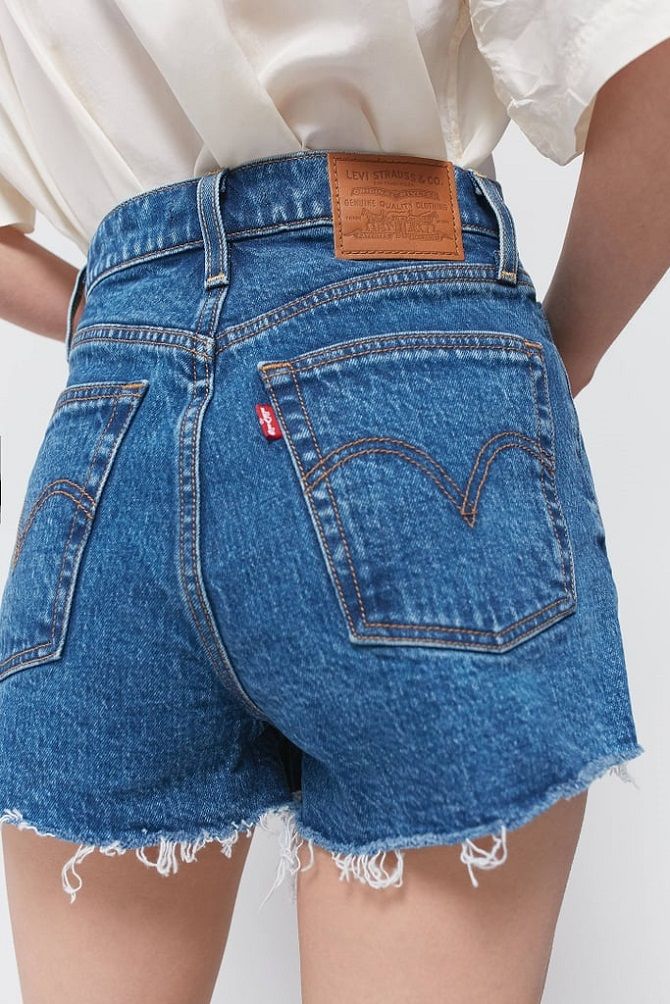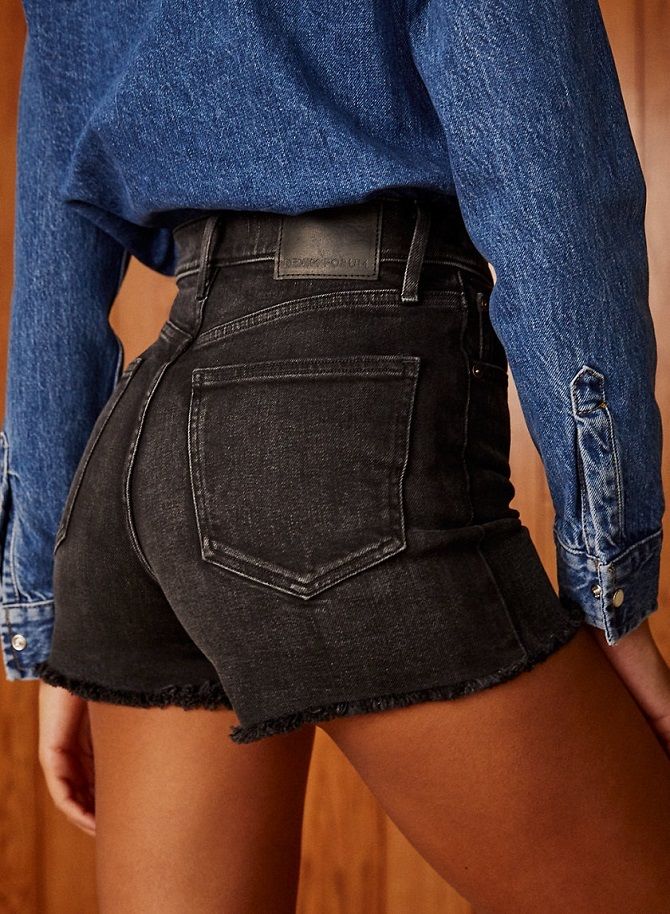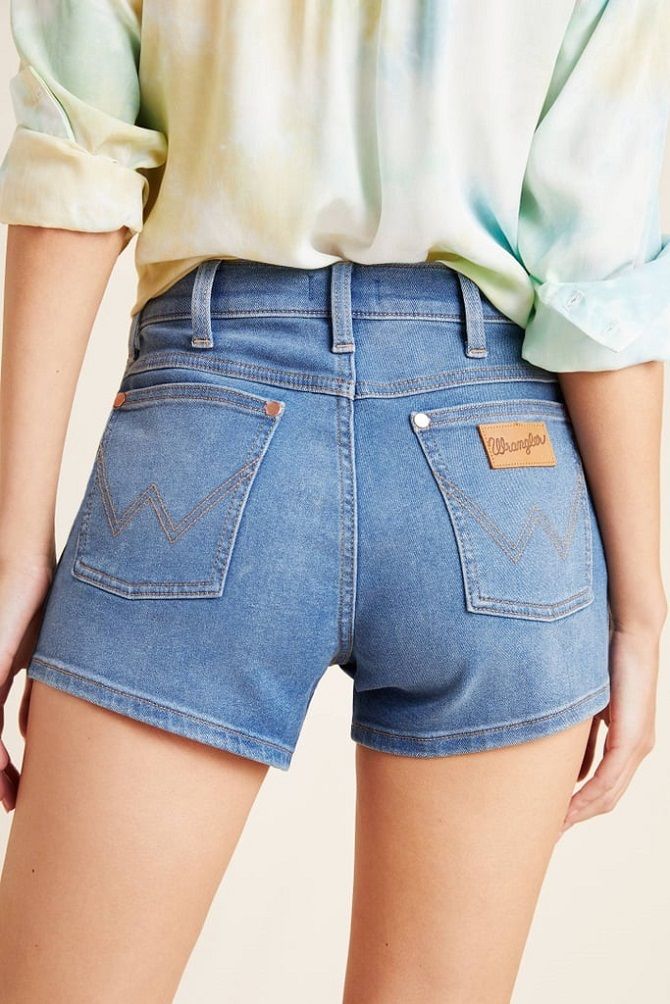 Short but loose
For most of us, this is the clothes that we take out of the closet after work or for the weekend without a moment's hesitation.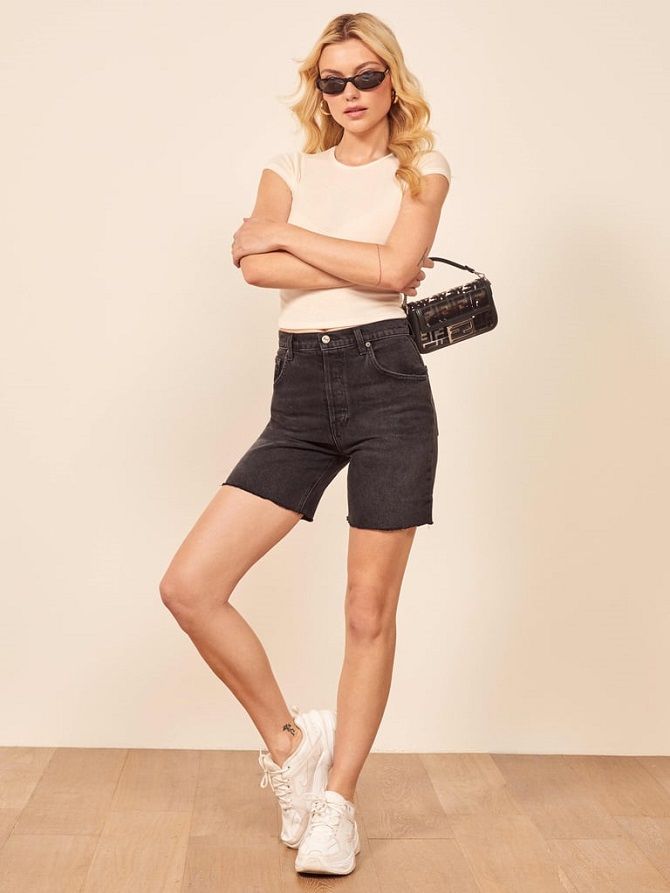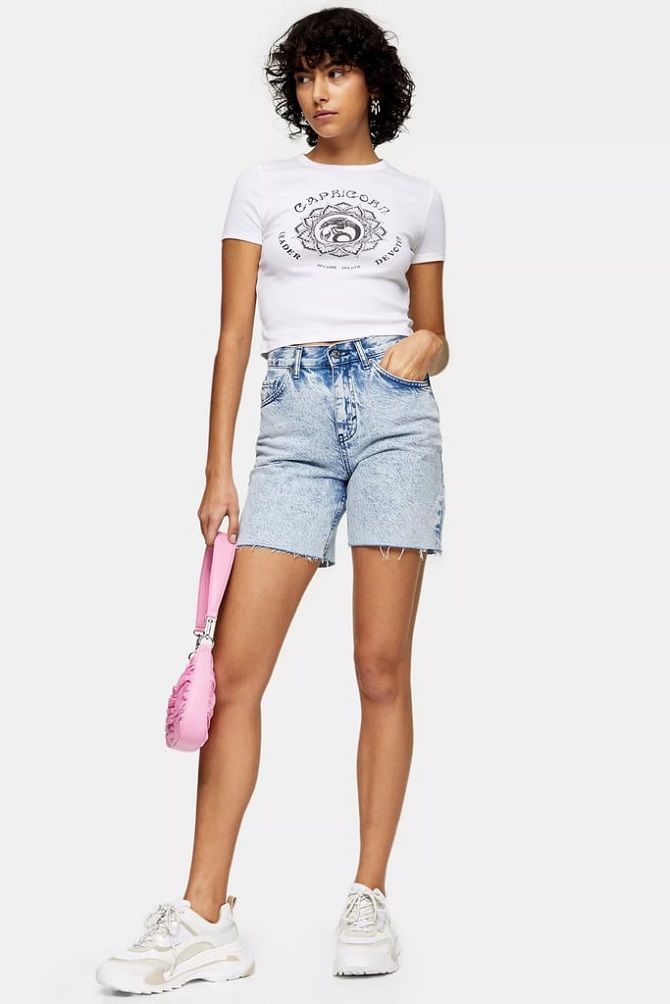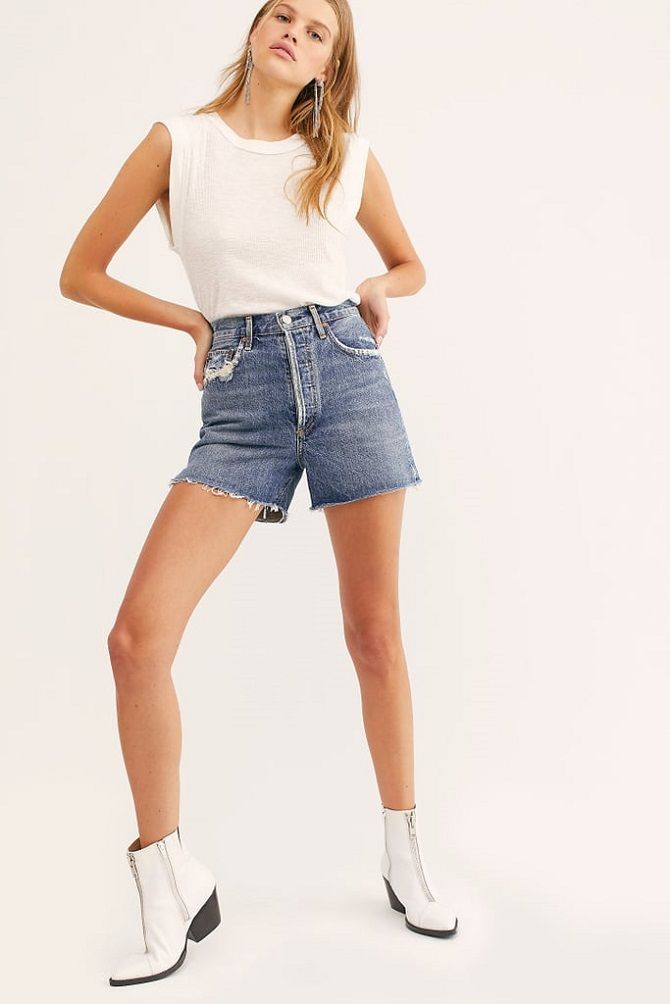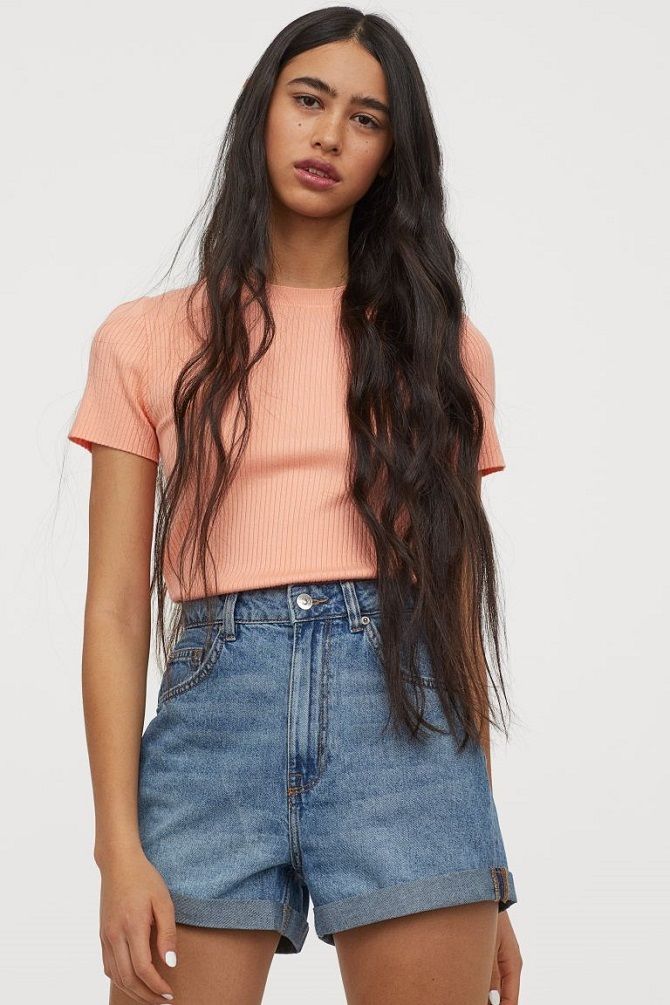 Tip: most people like interesting details on shorts (buffies, rips), but they should be avoided if you want to create an elegant look. Small damages on denim shorts turn your look into a casual outfit. Black denim looks simple but always stylish.
Bike and Bermuda shorts
Such shorts can end from the middle of the thigh to about 1 inch below the knee. Bik,e shorts are tight, and Bermuda denim is slightly baggy. We recommend wearing currently more popular denim Bermuda shorts ending just above the knee. They should be nether tight-fitting, nor loose.
Bermudas are a top choice if you want to add sophistication and style to your summer outfit, They certainly look neater than shorts that cover the minimum modesty.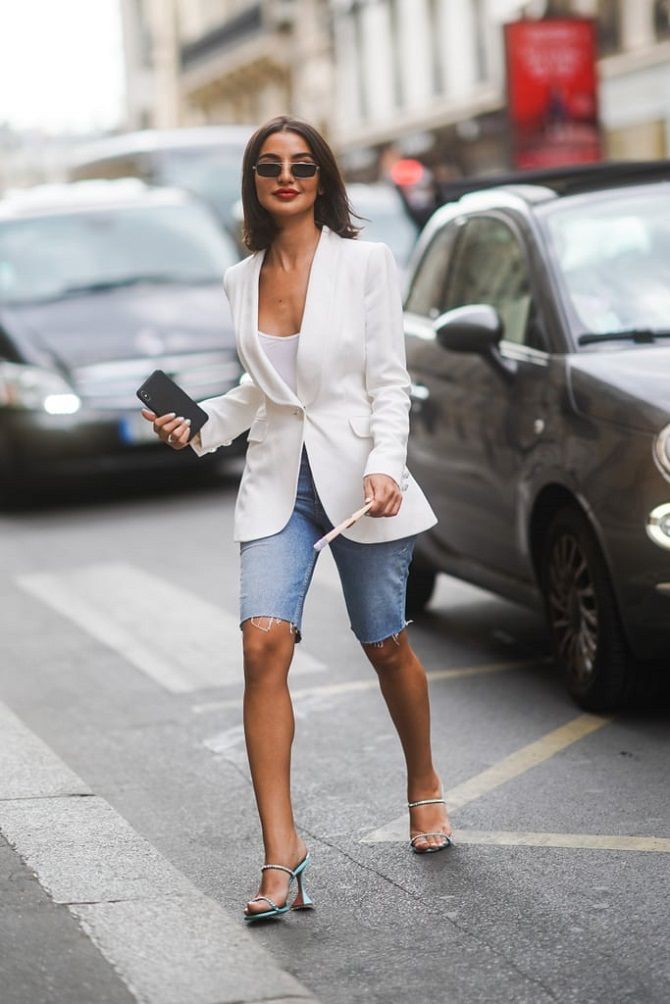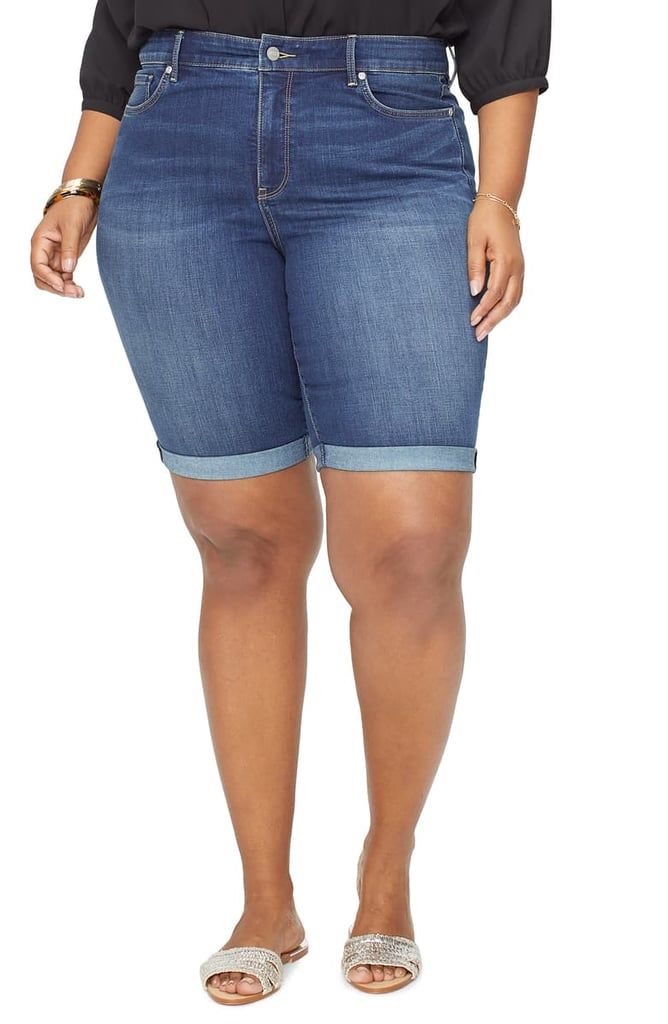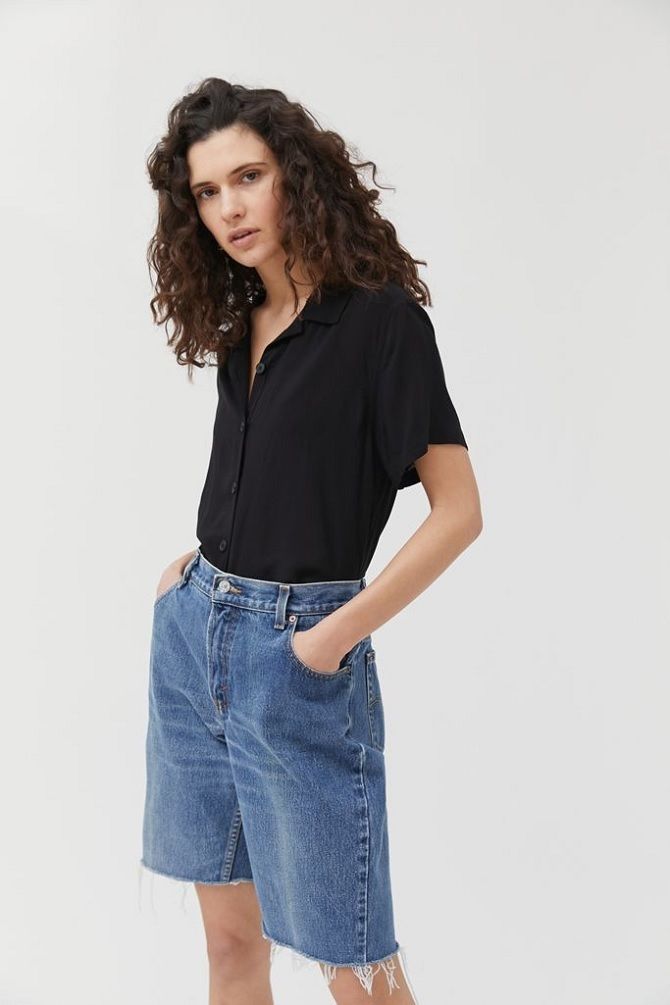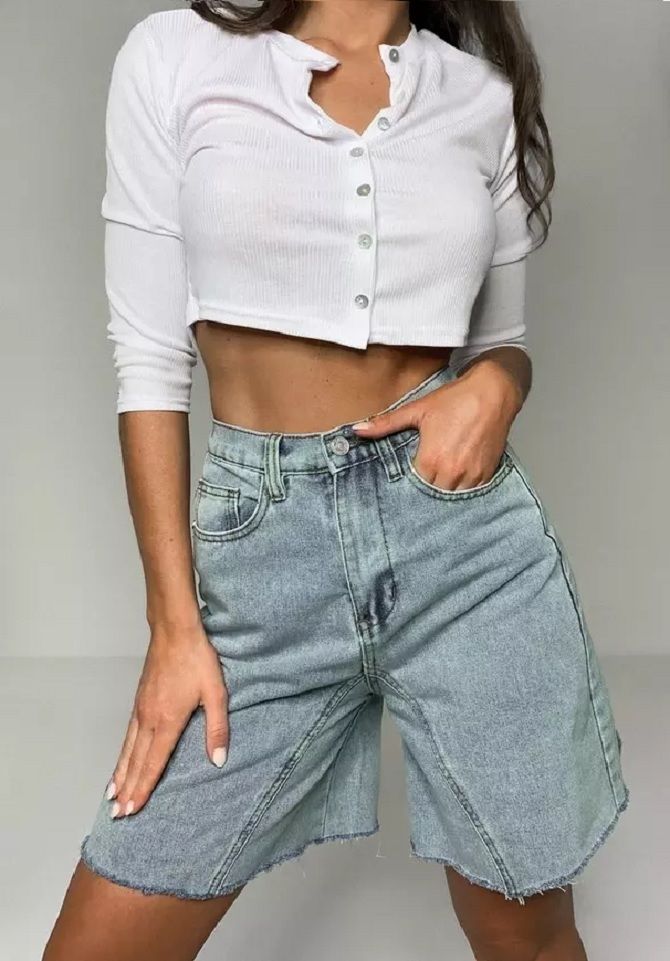 Black and white
The majority of women are most likely to have classic dark blue or blue shorts. A combination of white shorts with a white shirt will create a festive outfit! Think about it. Ripped shorts look bolder, but it depends on how they're combined with other clothes. In combination with a black top, a jacket and neat mules denim shorts with lots of rips will create an understated look.
Black or acid washed dark gray jeans are one of the favourite among short clothes' fans. We don't recommend very short shorts for urban outfit. But for a vacation, when you can relax and forget about everything, ripped short models will be the best for you.
Paperbag Denim Shorts
We're talking about an original and trendy model which perfectly goes with a tight-fitting knitted shirt. Note that you'll have to tuck in all the tops and T-shirts.
Such loose shorts of an unusual design with a high waist and pintucks will accentuate your waistline even more if you find a matching top with narrow straps.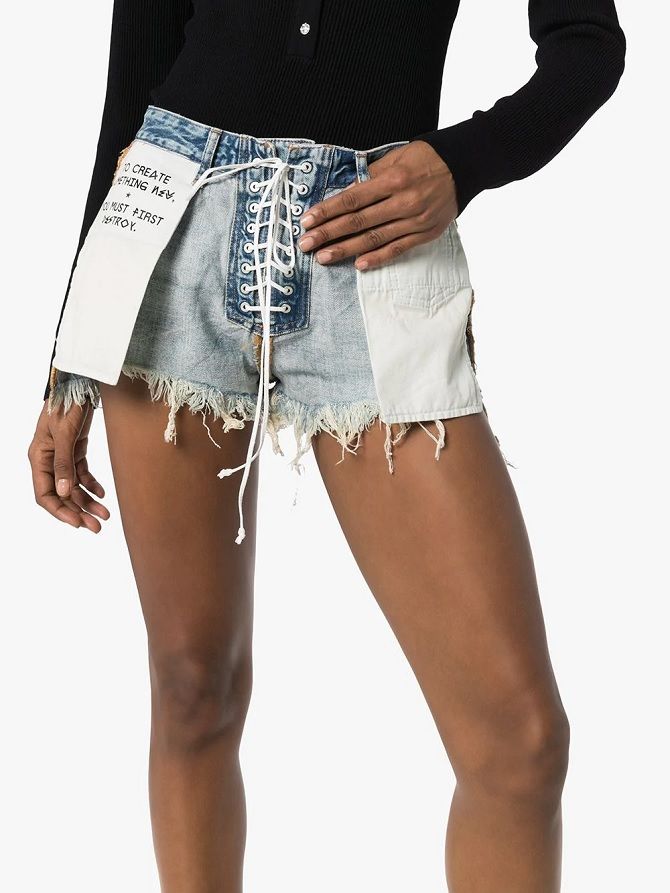 And wearing such shorts you're risking to sweep men off their feet.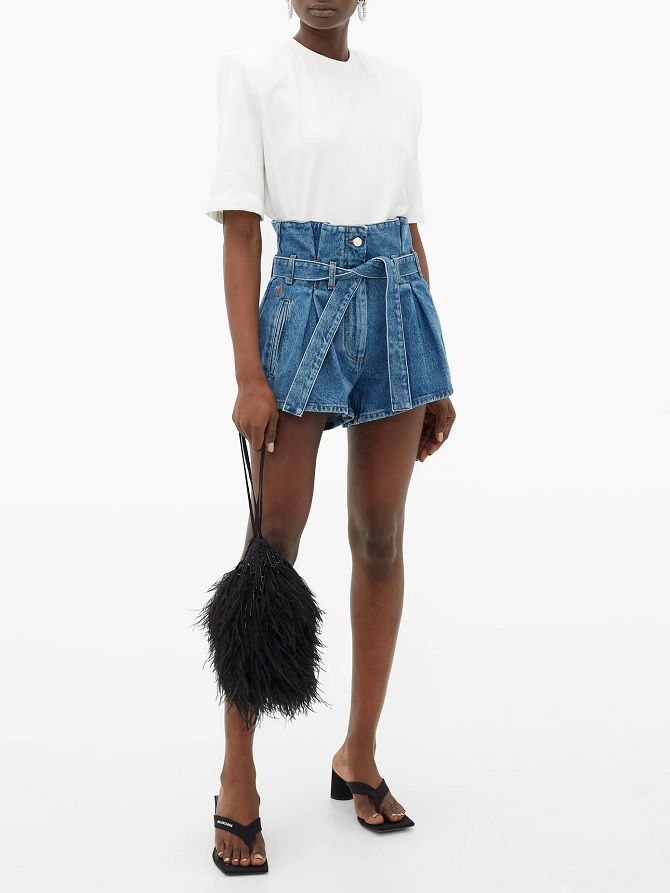 Creating stylish looks with denim shorts 2021
We continue observing a favorite item of women's wardrobe in summer, which is denim shorts. How to give them a fresh and relevant look? One of the main tricks is the white top. A tucked-in T-shirt, shirt, top (alone or with a blazer), a belt and trendy shoes work like magic. We have checked!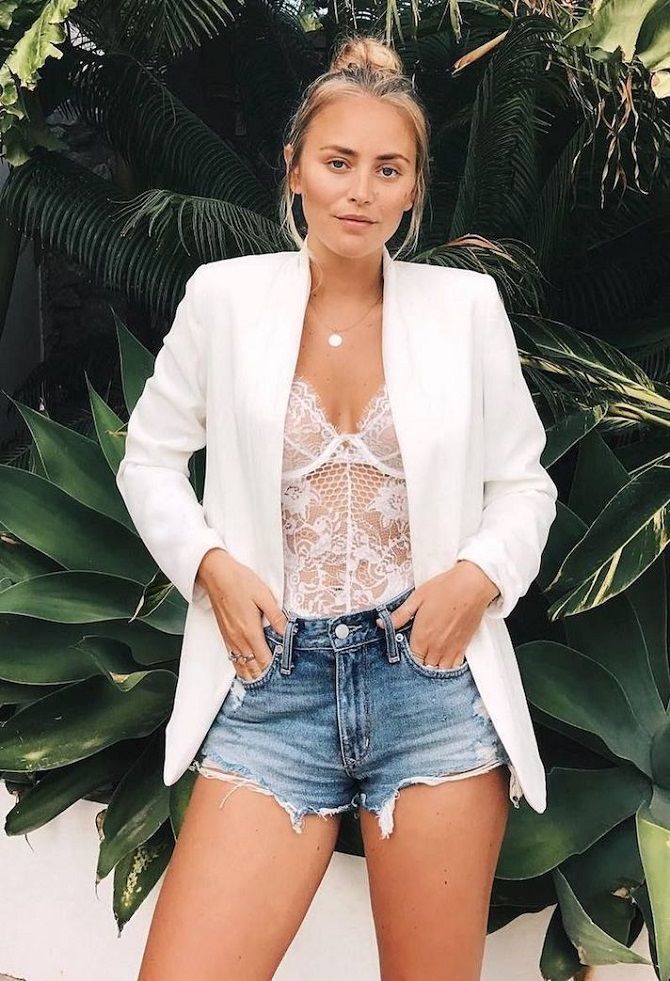 While rescuing the non-trend let's look what fashion stylists will advise us.
Relevant tops and blouses. It can be a top bustier, a blouse with flounces, puff sleeves, fashionable collars and even a basque, but modern. You will look romantic and cocky at the same time.
A-shirt. Shorts in pale blue shades, washed out ones with raw edges and frayed details, give the image a rocker look, but a simple shirt balances everything.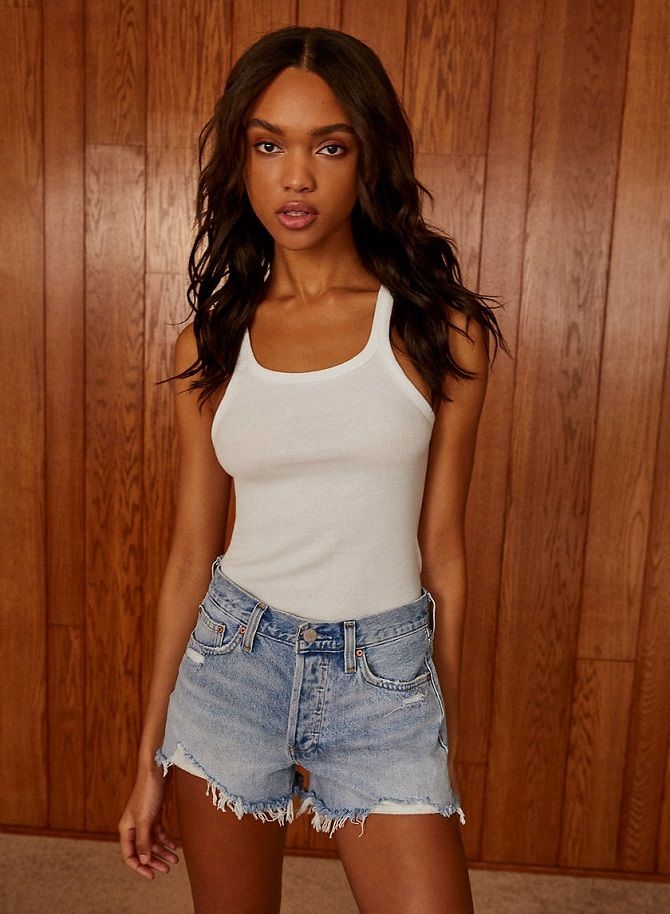 Total denim looks great in most cases. Сhoose different short tops to match a denim jacket and create a variety of outfits.
Fashionable open back top. It's beyond dispute eye-catchingly and feminine, but you should have a beautiful tan and back without pimples. If you have problems with the second item, don't take it so hard! You can choose a great variety of other options from the today's assortment..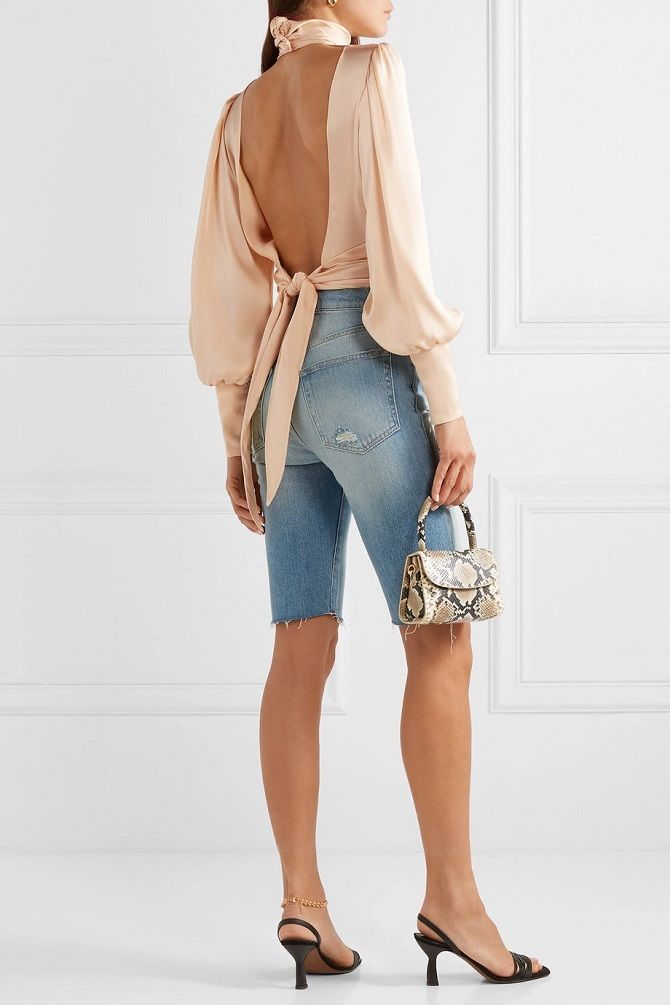 A shirt. Put the fitted silhouette aside and allow yourself more freedom and relaxation. Choose a boyfriend shirt, tuck it in shorts, add a belt to it. A more understated look can be created with the help of a modern shirt with the average sleeve length. Try to tuck the shirt differently: the entire hem, only the left or right side, just the front. The main thing is that you don't feel a knot when moving and don't constantly have a desire to change something.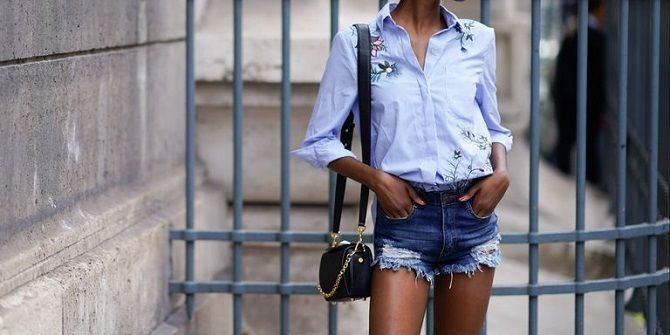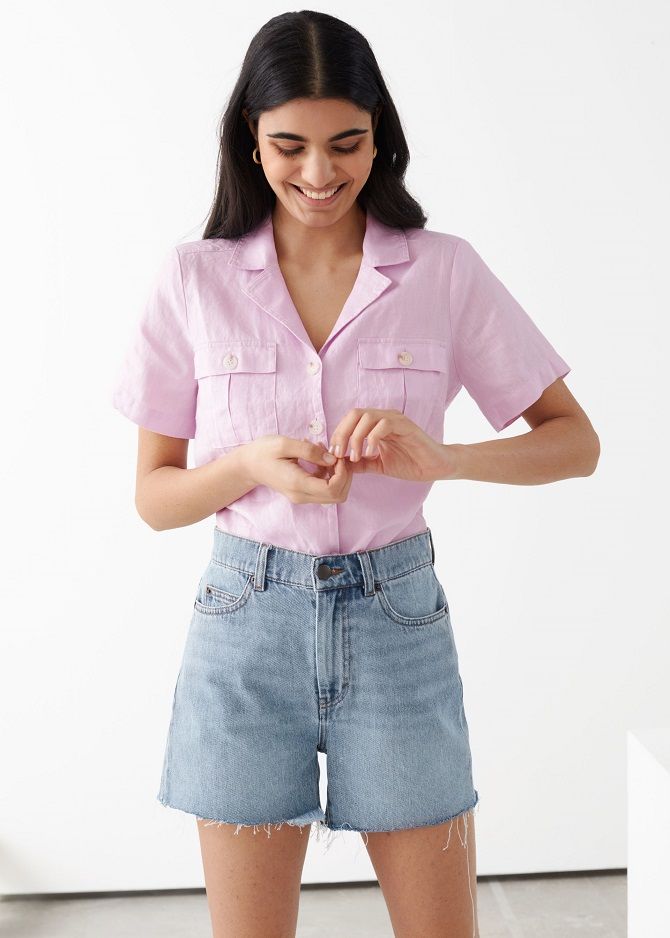 Choosing a jacket. A fitted jacket will look tolerable if it is lying around, but don't count to get a modern and stylish look. Oversized or elongated jacket will immediately add 100 points to your outfit. Heels or platform shoes are suitable here: sneakers, sandals or slippers, choose any as the occasion requires. We advise you to choose a light jacket made of natural fabrics so as not to run hot. As for colors: white, black, gray, nude, lime and sandy are among the most popular.
Relevant basic T-shirts 2021. It is almost impossible to back the wrong horse here. Choose any basic T-shirt to create a trendy outfit except T-shirts with too cute cats or lots of rhinestones. Make combinations with basic plain T-shirts, T-shirts with laconic sayings, brutal patterns; tuck them and don't forget to wear a belt sometime.
Light sweaters and knitted longsleeves. Such an outfit looks interesting, but strange. Where can you wear shorts and a sweatshirt? Firstly, there are girls whose legs don't get cold; secondly, it is seductive. So why don't you try, what if you like it?
Corset top. In this case, tops with prints and fashionable jewelry look even more original and romantic. Try a high waist shorts with such a top for a harmonious summer outfit.
You should give up on something
In 2021 season you should definitely give up on booty shorts, on low-waisted models decorated with stones, spikes, lace and fancy embroidery. No matter how much you try to combine them with fashionable details, you still get an outfit from the long past.
Outdated cut. Don't cover shorts with a baggy or fitted top made of thin knitwear. An untucked T-shirt shows a lack of style. Just tuck it and you'll see the result right away.
About shoes
No way: flat, slip-ons, Grecian slippers, high wedges. There types of shoes won't give zest to your outfit. They immediately make your outfit with denim shorts 10 years older.
Excellent choice: Espadrilles, step-in loafers, laconic slippers, trainers, white sneakers, rough boots, woven sandals on a small platform.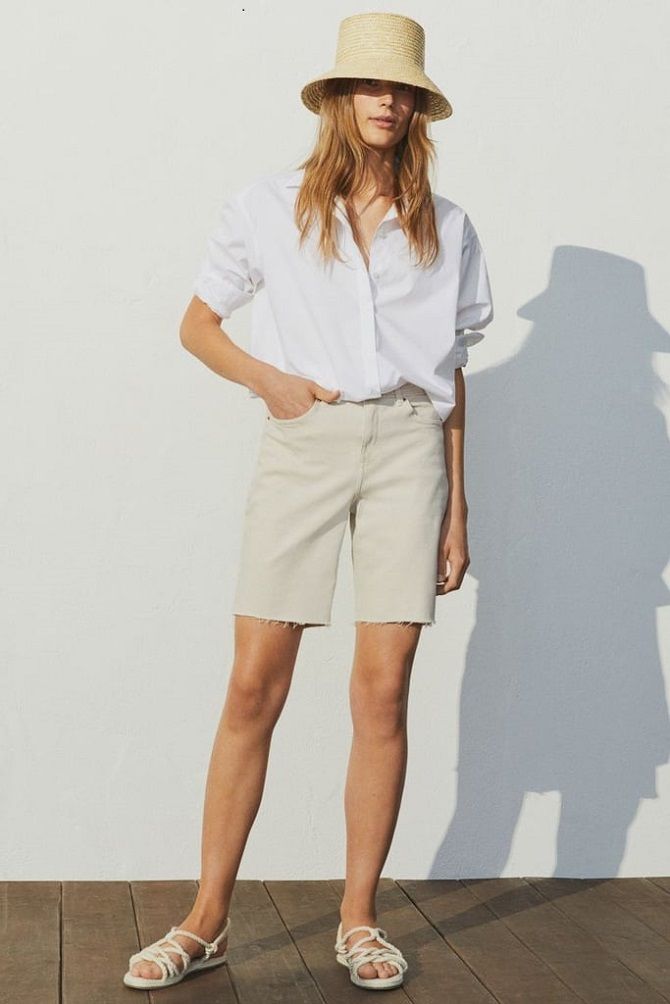 What about heels? A medium heel with thin straps, neat high heel mules are very good variants, but you won't go far in them.
We want to be noticed!
Unfortunately, or fortunately, minimalism is not enough for our women. Therefore, take a look at photos of brighter options.
Do not forget about accessories, as they are important for demonstrating your personality.
We hope that this photo selection will inspire you to buy something cool this summer. Get to know what swimwear is relevant in the 2021 season.
Similar articles / You may like this