Gray trousers can be a stylish and versatile piece of clothing that can be worn for both formal and informal occasions. They can be classic, elegant and sporty. There are several things to consider when choosing the right combination. We at Joy-pup have collected the most important tips for matching gray trousers.
Bonus video House of Byfield at New York Fashion Week Powered By Art Hearts Fashion February 2023
What goes with gray dress pants?
Gray dress pants are versatile, they can be worn both in everyday life and on festive occasions. They can be combined with many shades to spice up an outfit. An image with gray trousers and muted colors does not get bored so quickly. It is important to choose the right fit and length for your pants so that they fit perfectly and are not too short or too long. Gray trousers also pair well with a variety of accessories such as watches, leather belts and bags, allowing you to create different styles depending on the situation and mood.
Trousers in gray fabric are a real classic that is easy to combine.
For business meetings: pair gray trousers with a white shirt and black shoes. Add a black blazer or cardigan for a more formal look.
For casual outings, wear gray trousers with a white t-shirt and sneakers for a fresh and easy look.
For warm weather: Pair gray pants with a bright blouse or top and sandals.
For cold weather: Pair gray trousers with a dark sweater or shirt and boots.
For formal events: pair gray pants with a white or light blue shirt, tie and black shoes. Add a black jacket or blazer to complete the look.
For a trendy look: Pair gray pants with a leather jacket and sneakers for a stylish yet comfortable look.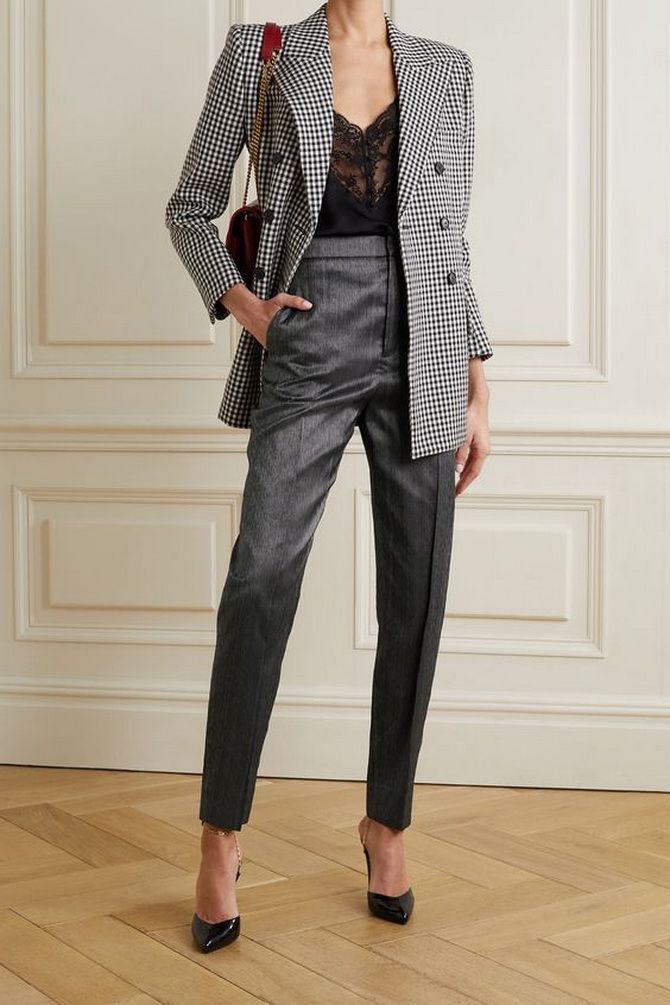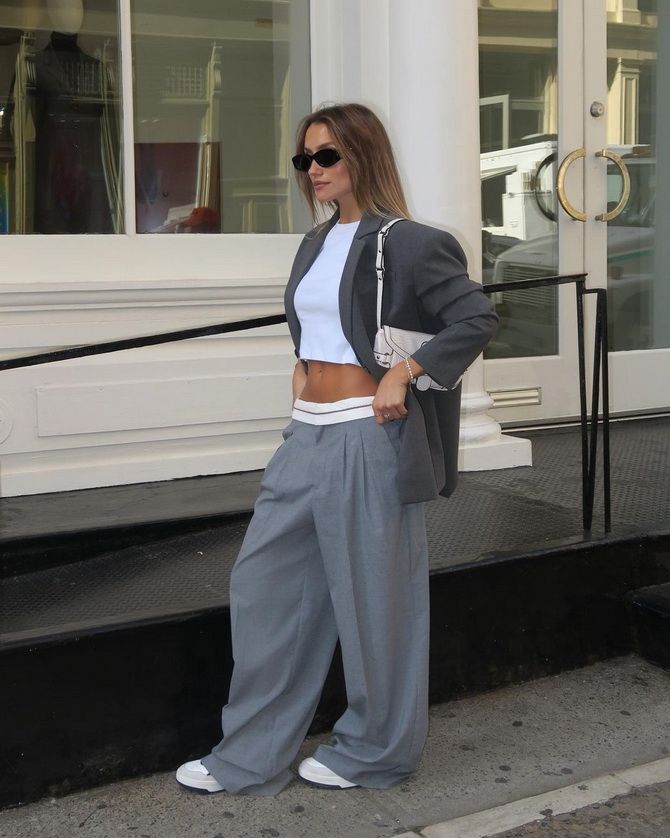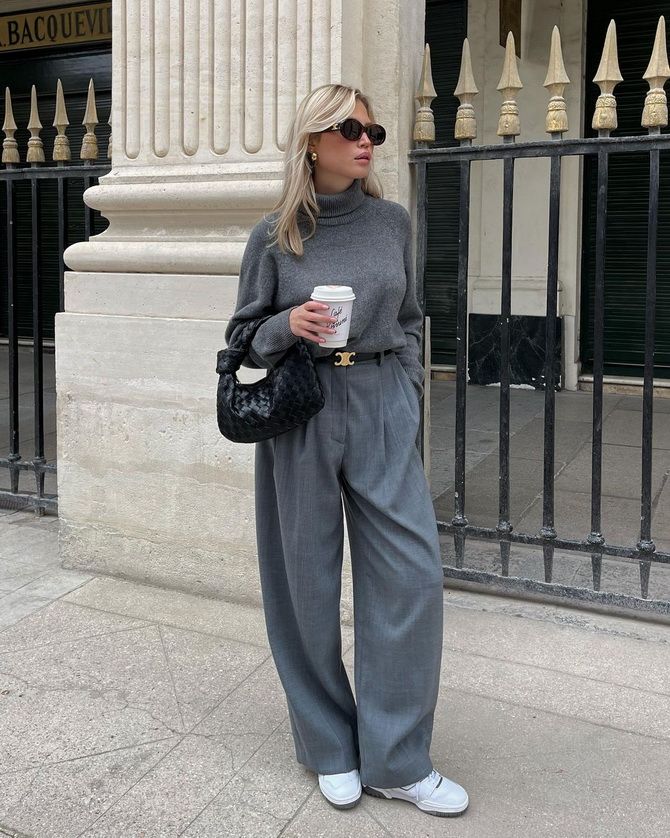 What colors go with gray pants?
Gray pants pair best with neutrals like black, white, brown, or beige. Bright colors can also go well with them, but color depth and midtones should be taken into account. For example, dark shades are a much better choice than a bright color. A dark red, dark green or dark yellow top brightens up the outfit without looking boring.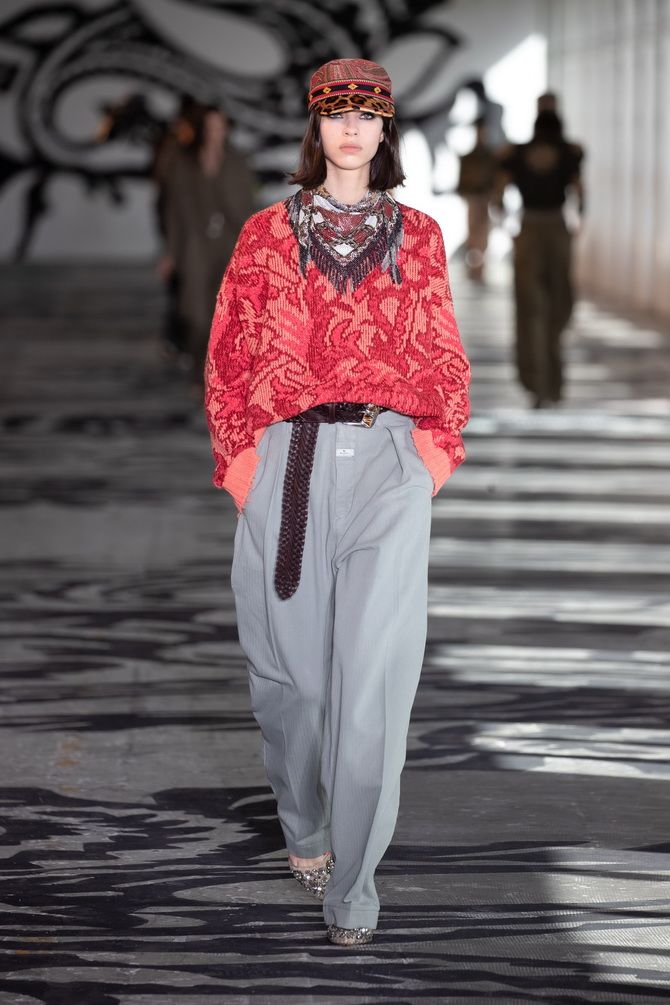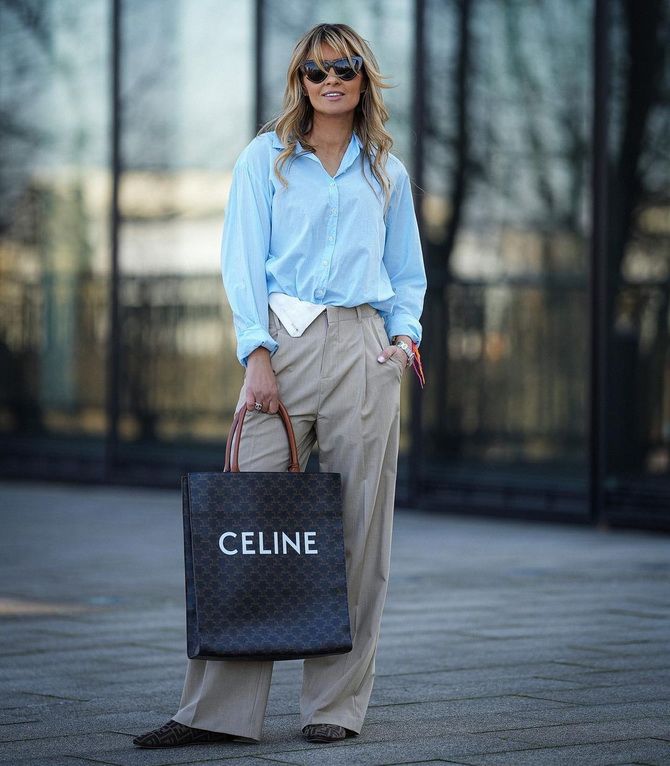 How to wear printed gray trousers
Printed trousers are a multifunctional element of the wardrobe and can become the main accent of your look. A striped, plaid, polka dot outfit can be combined with a variety of outerwear and shoes, depending on the outlet and style you want to create.
With a white shirt: Printed gray trousers go well with a white shirt. This outfit can be worn in the office or at a business meeting.
With a blue blouse: blue goes well with gray trousers. You can wear a blue blouse and pair it with heels for an elegant look.
With a black sweater: black goes well with gray. Wear printed gray trousers with a black sweater for a casual look.
With a bright t-shirt: If you want to create a bright and cheerful look, you can combine printed gray trousers with a bright t-shirt.
With a beige coat: If you're looking for the perfect outerwear for your gray trousers, try a beige coat. This combination is perfect for cool weather.
With heeled sandals: Wear printed gray trousers with heeled sandals for an elegant and feminine look.
With sneakers: For a sportier look, wear gray printed trousers with sneakers and a t-shirt.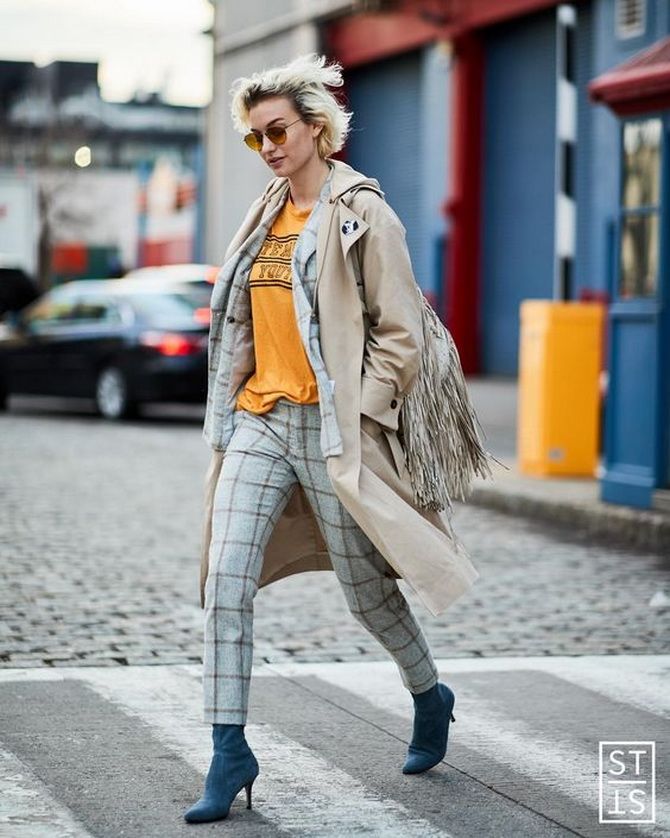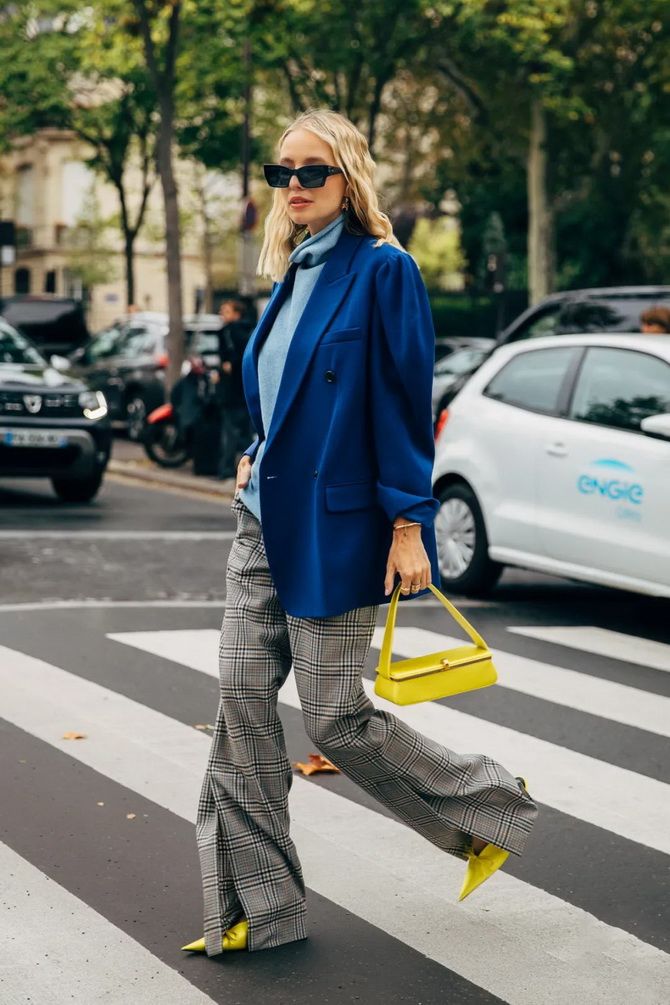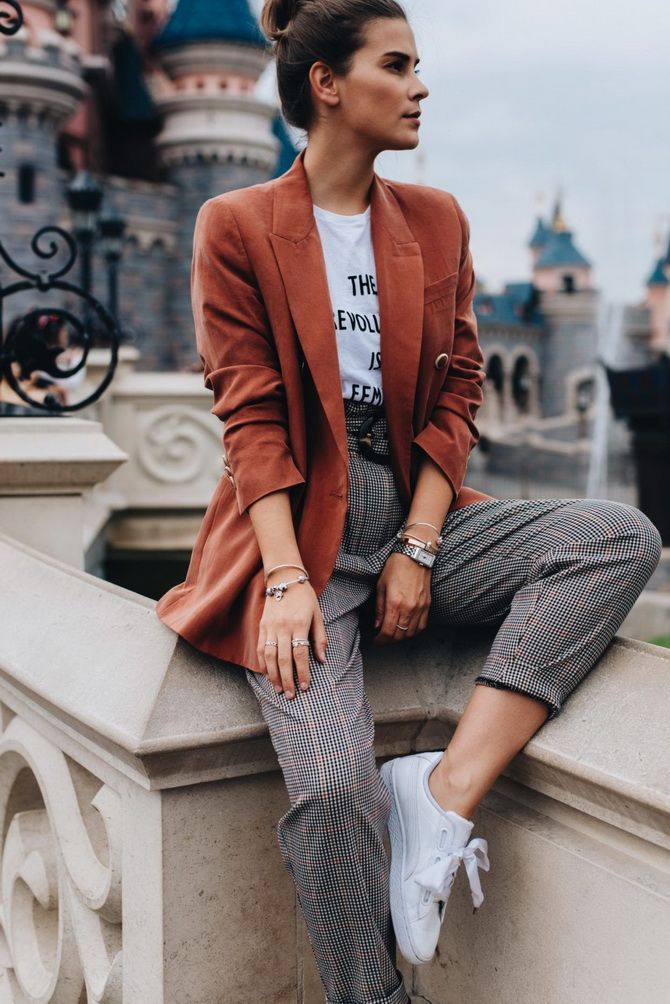 What shoes to wear with gray pants?
The right choice of shoes can be a decisive factor in the success of the entire outfit. The right model can skillfully complement gray trousers and get the most out of her look. Stylish pumps or ballet flats go well with elegant gray trousers. For a sporty look, you can wear sneakers or loafers. Fashionable boots or ankle boots are suitable for creating casual bows. When choosing the color of your shoes, make sure they match with the rest of your outfit. Brown, white or black – neutral shades are the best choice.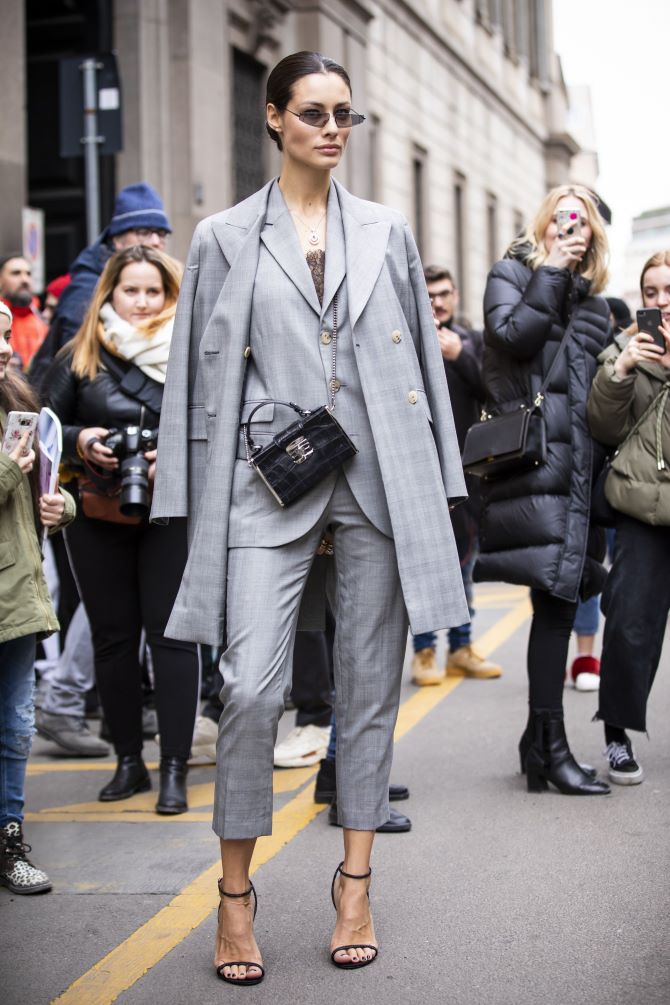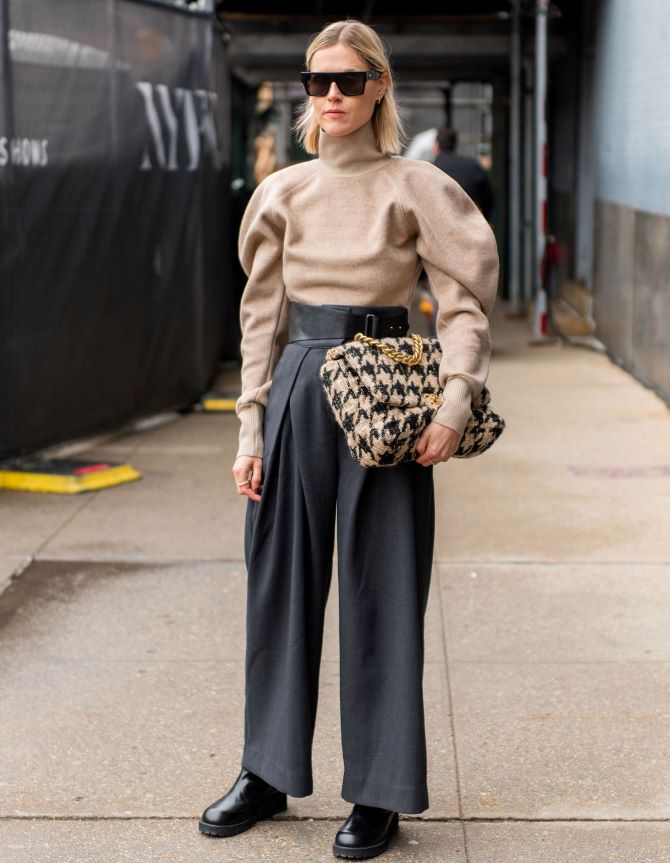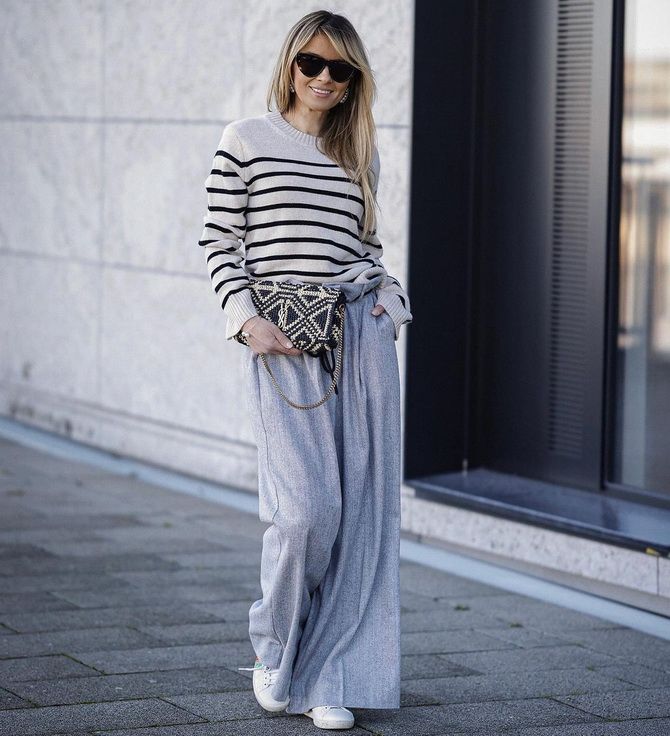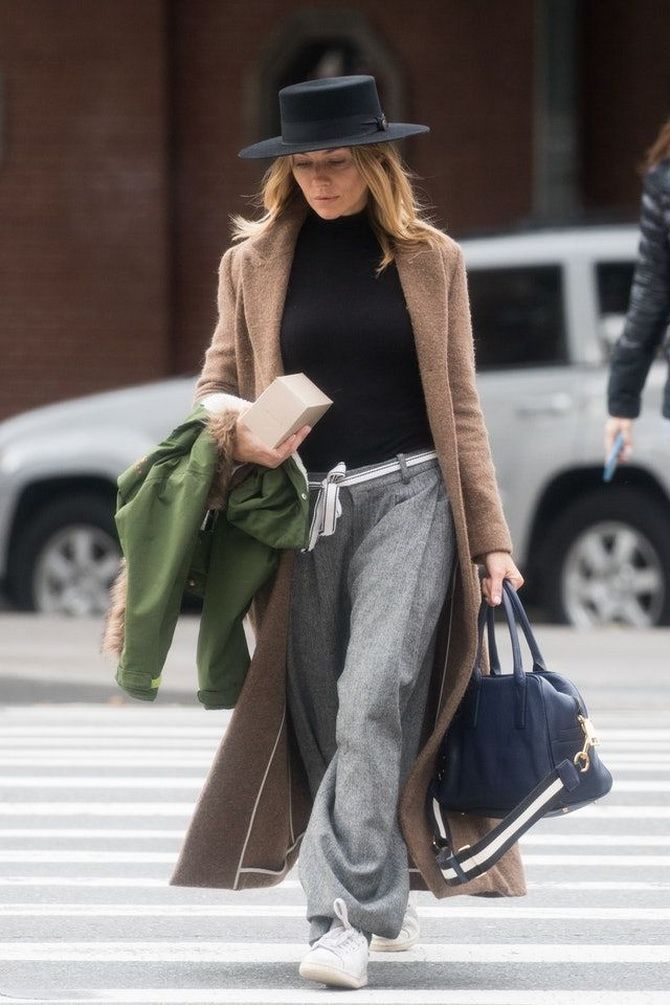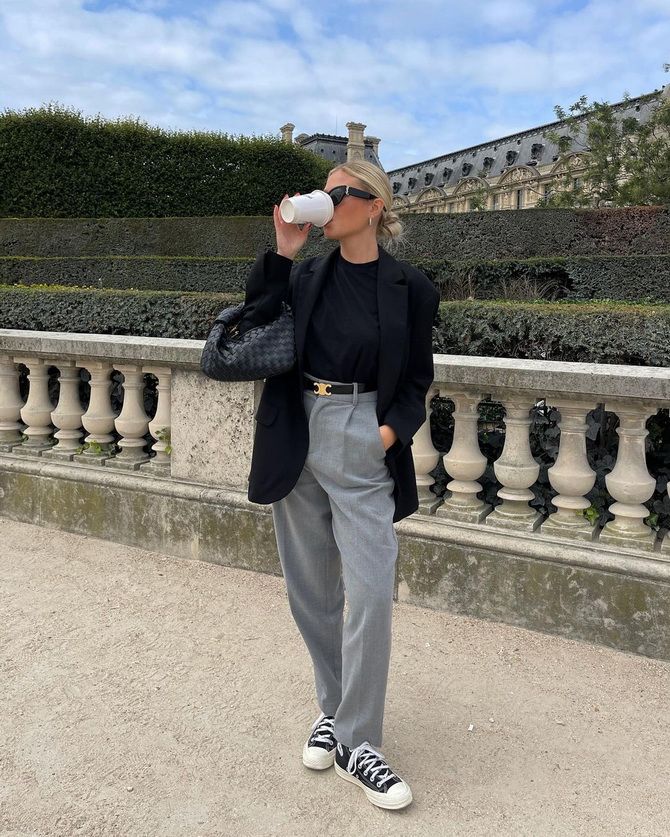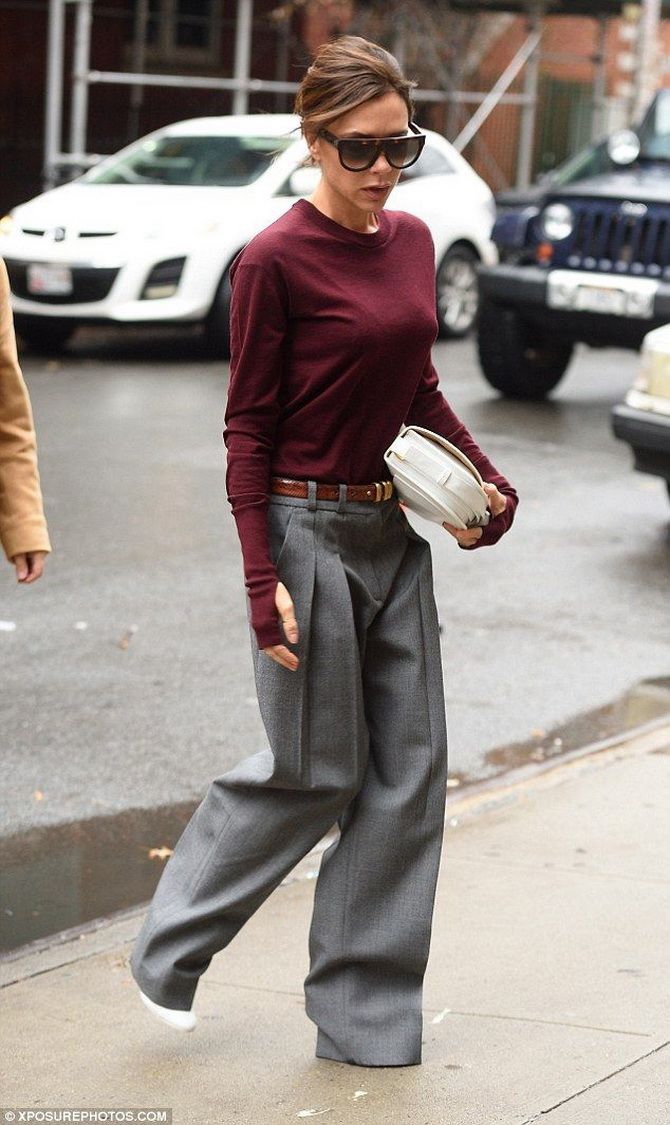 Similar articles / You may like this