The wedding day for every woman is the most important moment in her life. Therefore, everything must be perfect and the bride must look dazzling to leave her guests speechless. The wedding dress can be a key part of the look, but it's the perfect bridal makeup and the right hairstyle that completes it. To choose the perfect make-up, you need to take into account skin tone, eye color and, of course, hair shade. Look for joy-pup wedding makeup options to match the bride's hair color.
Bonus Video Soft Glitter Eye Makeup for Wedding
Wedding makeup for brunettes and brown-haired women
Dark-haired brides can use a variety of shades in their wedding makeup to highlight their eyes and lips. But only one of these parts of the face can be distinguished more intensively. For example, emphasize the eyes and leave soft tones on the lips, or vice versa. In any case, the result will be impressive.
Eye shadow should highlight the color of the eyes. Brown and gray shades look beautiful on dark skin. For bridal eye makeup, choose colors such as mocha, bronze, and chocolate. Iridescent shades of earthy tones will add more depth to the look. For a more spectacular make-up, shades such as plum, navy blue, green, rose gold are ideal.
Brides with swarthy skin and dark brown hair are suitable for dark red, burgundy and wine-colored lipsticks. For owners of fair skin and dark hair, it is better to choose peach and pale brown lipstick colors. If you have light brown hair and warm skin tones, try dark lipstick so your skin color doesn't contrast with your hair.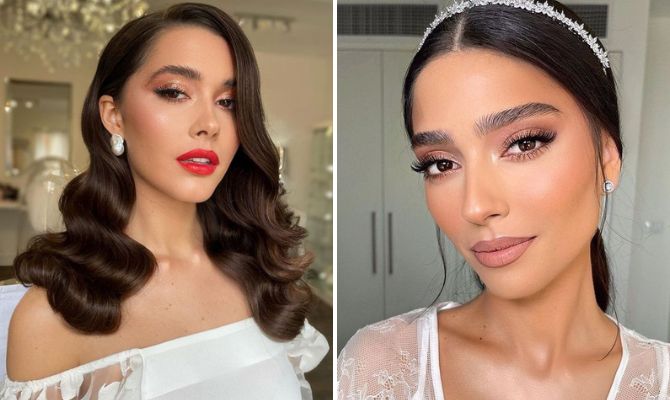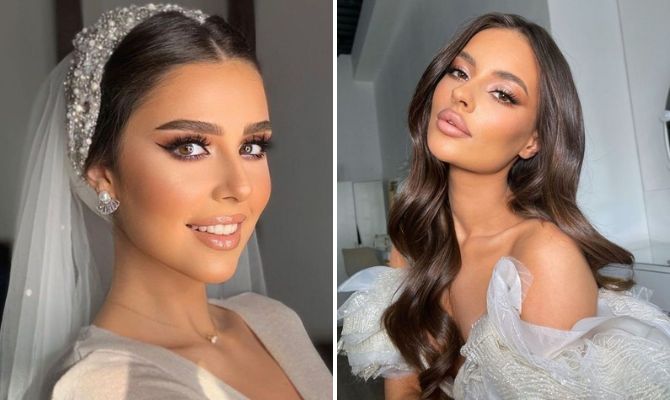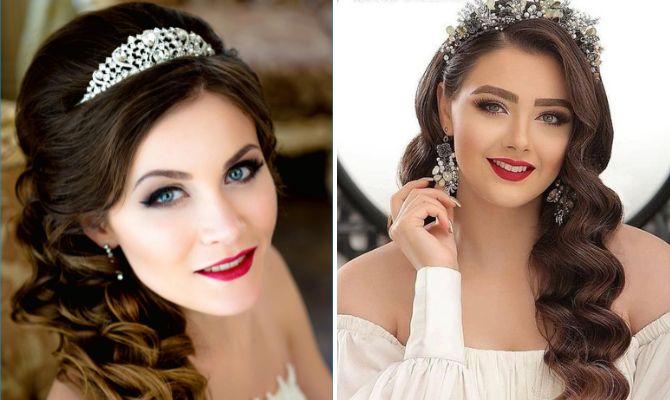 Wedding makeup for blondes
Blond hair makes the face radiant and warm. Therefore, the ideal wedding makeup for a blonde bride is one that will naturally accentuate her features and give her a sweet and romantic effect, such as earthy pinks. Ideal eyeshadow colors for blonde hair brides are peach, pale pink, bronze, champagne, and earthy tones.
On the lips, stick to soft, nude lipstick colors. Of course, that doesn't rule out choosing a more special red-tinted bridal makeup that will go with your skin tone. The ideal shade of blush is one that will create a soft tan effect.
If you're looking for something special, red lipstick and black eyeliner are a great idea for a bridal makeup look. This is a retro style bridal makeup that has become a favorite among brides in recent years.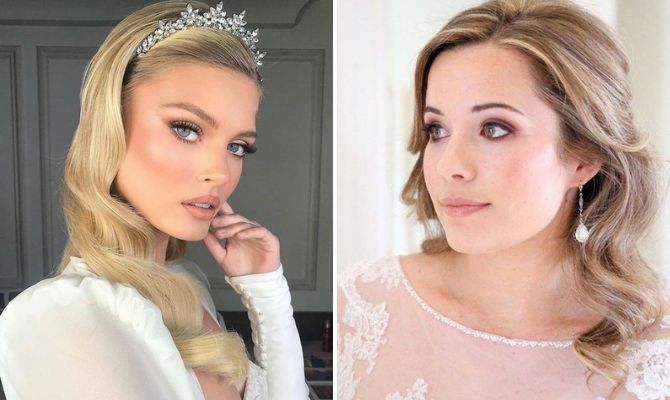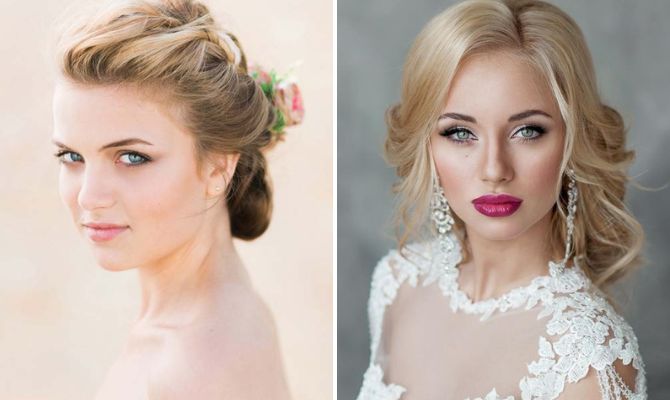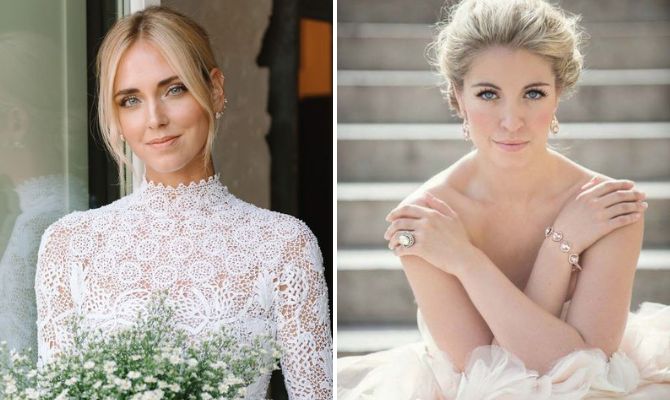 Wedding makeup for redheads
An ideal eye makeup option for redheads with green eyes will be purple, gold and brown eyeshadow, for blue eyes – gold, copper, bronze. For owners of red hair and brown eyes, a good eyeshadow color is purple and earthy. When choosing a lipstick color, give preference to soft pink, nude or peach shade.
For more intense eye makeup, create smoky eyes in brown, bronze or pink tones, with soft lipstick tones. Brightly colored lashes are a must for the perfect red-haired bride's make-up. So take black or brown mascara and paint your lashes to give them a dazzling look. Ideal shades of blush for redheads are light brown, peach or coral. These are the colors that add a warm glow to the wedding look.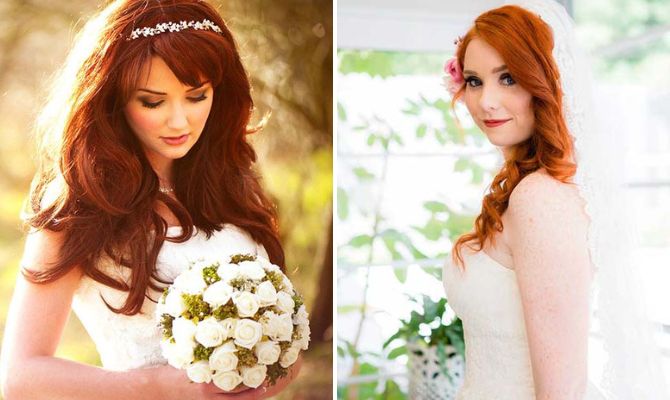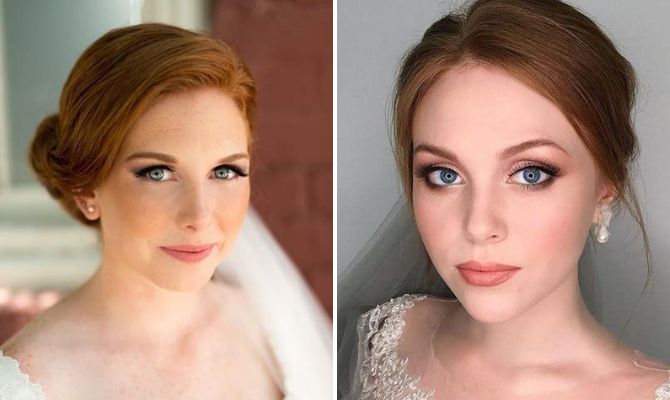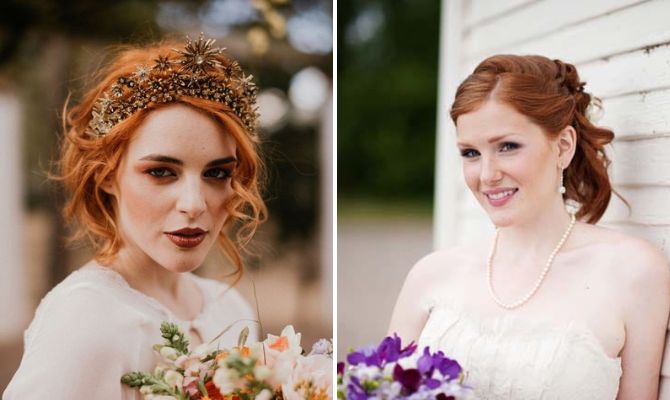 Similar articles / You may like this