bonus video Fantastic but real life hacks for gardeners and summer residents – you won't be bored!
Life hack56. Flower bed in an old enamel bath
An enamel bath can serve as an excellent material for creating a unique floral ensemble. To do this, it must be put in a suitable place and filled with nutrient soil. In such a bath, you can plant a wide variety of annual flowers, as well as plants with a shallow surface root system, such as lawn grasses. If desired, you can add small shrubs to the mix of flowers to create a deeper and more voluminous look. This is a great way to give your garden a unique and original look.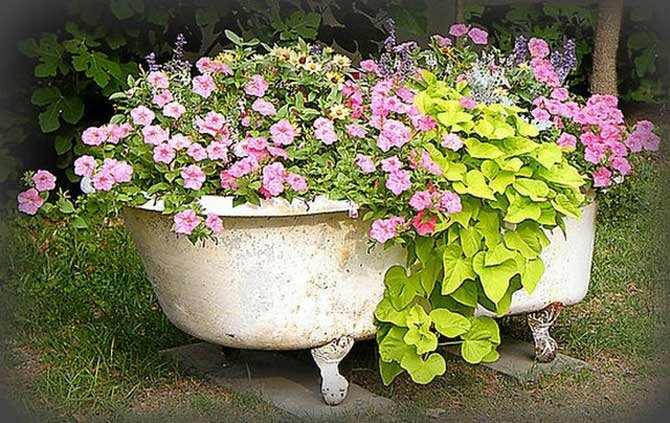 Life hack57. Sprouting onions at home in a plastic bottle
Growing green onion feathers for winter and early spring use is a great idea, and here's how to implement it in a convenient and efficient way:
Take a 5 liter plastic bottle and make holes all the way up. Fill the bottle with garden soil. In this way, several benefits can be obtained:
This method of growing does not take up much space, but provides a high yield of greenery.
Onions will eat fully and grow in the ground, and not in plain water. Thanks to this, the greens will be more fragrant and tasty.
Grown onions are easy to move, and there will be no dirt left on the windowsill.
Onion bulbs in the ground do not deplete and do not require replacement until ground greens appear.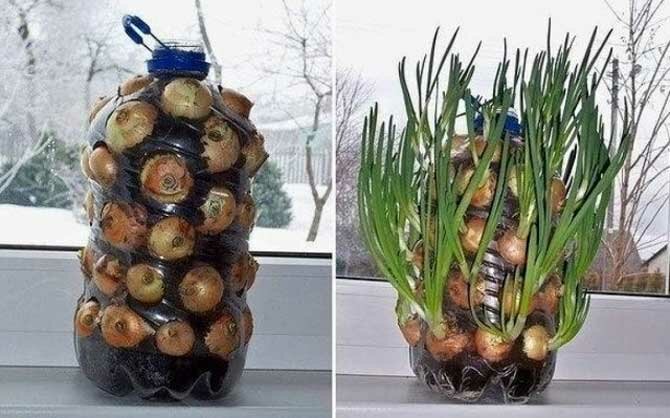 To be continued…
Read also: garden life hacks and useful tips Part 19 + bonus video.
Similar articles / You may like this