The travel horoscope for 2023 favors all those who crave adventure. Many signs of the zodiac will enjoy trips to exotic countries, get acquainted with interesting places. The horoscope on Joy-pup will give you an idea of where to go on vacation and recommend destinations where you might really like it.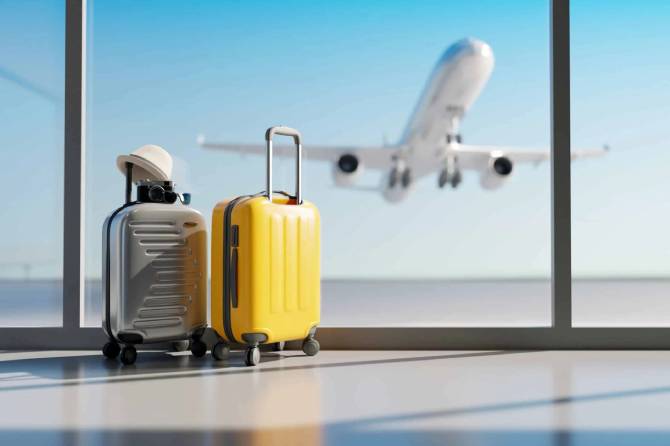 Aries
In the first half of 2023, your chances of traveling are low. But already in early June, the situation begins to change – you will feel the desire to go somewhere. Up to this point, a business trip to a city that you have long dreamed of visiting is possible. Be sure to accept the offer, unforgettable emotions await you ahead. However, avoid traveling at the end of the year when there is a risk of accidents and inconvenience along the way.
Where to go? First of all, the stars draw you to the mountains. You must get to know places you have never been before.
Taurus
The travel horoscope for 2023 in the first half of the year will tempt you to go abroad for business and work. However, it is worth devoting time to these business trips only until July. In the second half of the year, it is better to stay put and not go anywhere. If you are planning a vacation in the fall, most likely, plans will fail or the trip will be very short.
Where to go? In sparse places. Pilgrimage along the most popular tourist routes, in any case, will not do you any good. Choose directions where there are the least crowds of strangers.
Gemini
Travel-friendly planets – the Moon, Saturn and Venus – are in good positions for you this year. If you are a student, then you will have the opportunity to go abroad for an internship. Businessmen will travel a lot, mainly to conclude new contracts and deals. The stars are advised to spend their holidays with their loved ones. The voyage will pass without any problems or accidents.
Where to go? The best place to relax is your home country. It's time to sit down at the map and plan the places where you will spend your vacation.
Cancer
In 2023, the stars will support you in the most exotic requests – you will find yourself in hard-to-reach places that you never dreamed of. During the holidays in 2023, something will change in your life and your new chapter of destiny will begin to be written. Enjoy the beautiful scenery and be careful – beware of losing money and credit cards.
Where to go? Where does the heart lead? These should be places where you have never been or mysterious points of the planet that have been beckoning you for a long time.
Leo
Any journey can pose some danger for you in 2023. If you are going on a short trip, then in no case should you go alone, but only in the company of other people. But long trips will be profitable and desirable, if such an opportunity presents itself, it definitely should not be missed. You should spend your vacation this year at home, at best, plan trips to familiar lands. In the period from August to October it will be possible to go on vacation abroad.
Where to go? If you are going to spend your vacation at home, then go to familiar favorite places. And if you want to go on vacation abroad, then it must be exotic.
Virgo
The travel horoscope predicts that Virgos will travel frequently in the 2nd quarter of 2023. And we will talk not only about work, but also about personal trips. Traveling during this period will bring happiness and prosperity into your life. The only thing you need to be careful about is health. First of all, keep track of what and where you eat abroad. Interesting travel opportunities will appear in September.
Where to go? You need water and warmth. How about Turkey, Portugal or Thailand? If you are surrounded by your loved ones, you will be fine almost anywhere.
Libra
For Libra students, study abroad opportunities will open this year. You should definitely take advantage of this offer. It is better for Libra to make all trips abroad for family holidays in the second half of 2023, but no later than November. The last two months of the year are not suitable for travel.
Where to go? You must go on a family vacation no later than September. Try the thermal baths in Hungary, the beach resorts in Spain, or take a trip to the mountains.
Scorpio
The travel horoscope indicates that Scorpios will travel a lot for work this year. However, these trips will also be associated with various excursions and interesting tours. You will have the opportunity to learn a lot of new things. On some trips, you can even take one of your family members with you.
Where to go? If you are thinking about a family vacation in your country, then try to explore the places suitable for swimming. Abroad, it is better to focus on routes where there is not much tourist flow.
Sagittarius
The planet Jupiter will take care of you on your travels so that nothing happens to you. Just keep in mind that you should not get behind the wheel and drive in September. There may be some inconvenience. Never, under any circumstances, forget about quality travel insurance. This year you should plan your summer holidays. You will have time and money, so you will not have to save anywhere and on anything.
Where to go? Ideally, spend a holiday in the Mediterranean in 2023. This will be the most suitable holiday for Sagittarius.
Capricorn
Capricorns this year, most likely, will not get out of the borders of their country or their city. The stars strongly warn you against traveling long distances unless absolutely necessary.
Where to go? You need people around you, so camping might be a good option. A more adventurous holiday will not hurt either. How about rafting or hiking in the mountains?
Aquarius
Aquarians will travel a lot, especially in the first quarter of this year, but mostly private trips. This year they will cover especially long distances for work, they will be supported in this by the planets Saturn and Jupiter. The advantage of such a trip will be that you do not have to think about the costs associated with the road.
Where to go? This year, Aquarians are most likely to travel to Europe. It will be especially good for you in the northern countries.
Pisces
According to the travel horoscope for 2023, Pisces will have many chances to travel the world this year. Fish that live not in their homeland, but elsewhere, will return to their roots this year. There are many interesting opportunities waiting for them. If you are single, you can even meet your life partner here. Be sure to plan your trips in the second half of the year, the most suitable time is August or September.
Where to go? Choose a vacation in the regions where there is a lot of sun and sea. Bulgaria, France or Greece would be great options.
Similar articles / You may like this