Many of us dream of moving to another reality or opening a hidden portal and walking through parallel universes. But since this is impossible in reality, it is the world of cinema that provides such an opportunity. Walk through alternative worlds with blockbuster heroes. Check out Joy-pup for a list of films about parallel worlds and life in other dimensions that have been released or are about to be released.
Avatar: The Way of Water
Cast: Zoe Saldana, Kate Winslet, Michelle Yeoh, Sigourney Weaver, Sam Worthington, Jemaine Clement, Stephen Lang, Giovanni Ribisi.
In the sequel, we will see the new world of Pandora, which will now move under water. In the story, a new clan Metkayina will appear, who live on a sea reef and lead an underwater lifestyle. Most of the tape will take place under water, in the ocean of Pandora. The story takes place 8 years after the events in the first part. Jake Sully stayed on Pandora and started a family with Neytiri. Now he is the leader of the Omaticaya clan, and his beloved Neytiri is the high priestess. They have three children of their own and one adopted – a young earthling who was born on the Hell Gate human base and could not go to Earth. But the earthlings do not leave attempts to capture Pandora and the main characters are forced to leave their place and go to explore previously unknown regions.
Everything Everywhere All At Once
Cast: Michelle Yeoh, Jonathan Ke Kwan, Stephanie Hsu, Jenny Slate, Harry Shum Jr., James Hong, Jamie Lee Curtis.
"Everything Everywhere All At Once" is a fitting title for a film that represents the existence of thousands of alternate timelines featuring many alternate versions of the main character. This film will take viewers on a journey through many endless worlds. Evelyn Wang, the owner of a small laundry, suddenly develops the ability to jump between parallel universes and live the lives she could have. In real life, Evelyn is in trouble with the IRS, has a bad relationship with her grumbling father Gong Gong, the daughter who is about to come out and introduce her to her girlfriend, and on top of that, her husband has proposed a divorce. Evelyn may think she knows her life story, but she doesn't know half of it. She is the only person who can save the entire multiverse from being destroyed by an evil force that has taken possession of her daughter Joy. To defeat evil, Evelyn must jump between her universe and others, and gain important knowledge from another version of herself.
Doctor Strange in the Multiverse of Madness
Cast: Benedict Cumberbatch, Elizabeth Olsen, Chiwetel Ejiofor, Benedict Wong, Sochil Gomez, Michael Stuhlbarg, Rachel McAdams, Patrick Stewart, John Krasinski, Hayley Atwell.
The film opens with Strange rescuing a teenager named America Chavez from an octopus monster. The girl has superhero abilities to create portals to the multiverse, but this ability wants to be taken away by Wanda, who transformed into the Scarlet Witch. Wanda's goal is to be able to travel the multiverse with the goal of reuniting with her children.
Fantastic Beasts: The Secrets Of Dumbledore
Cast: Eddie Redmayne, Jude Law, Ezra Miller, Dan Fogler, Alison Sudol, Callum Turner, Jessica Williams, Katherine Waterston, Mads Mikkelsen.
Gellert Grindelwald decides to seize power over the magical world and enslave its inhabitants. But this cannot be allowed by his former friend Albus Dumbledore. To resist evil, he assembles a team, which included the magozologist Newt Scamander, his assistant, a school teacher, the heir to an old magical family, and Muggle confectioner Jacob Kowalski. The heroes will have a whirlpool of adventures, battles with fantastic monsters, teleportation between the ordinary and magical worlds and prevent the dark plans of the black magician.
Moonshot
Cast: Cole Sprouse, Lana Condor, Mason Gooding, Emily Rudd, Christine Adams, Michelle Buteau, Zach Braff, Cameron Esposito, Sunita Deshpande, Peter Woodward.
The film takes place in 2049. In the future, the planet Mars is colonized by people who have created an environment suitable for living on it. Selected representatives of humanity settled on the red planet, pure in soul and body. Two college students from Earth – Walt and Sophie go to Mars on a spaceship, but only the girl is there legally, as part of the expedition, and the guy got there by cunning. Now Sophie has to cover for Walt by calling him her boyfriend.
The Adam Project
Cast: Ryan Reynolds, Mark Ruffalo, Jennifer Garner, Walker Scobell, Catherine Keener, Zoe Saldana, Ellie Harvey, Lucy Guest, Melanie Hubert, Alex Mallari Jr.
Adventure comedy about time travel. Adam Reed, an Air Force pilot, traveled from 2050 to 2018 in a time fighter. He is looking for his wife Laura, who is lost in the space-time continuum. But along the way it crashes and lands in 2022. There he met his childhood version – a 12-year-old asthmatic boy who mourns for his dead father. In the turbulent present, which is the adult Adam's past, he must change the course of future events. He will have to prevent the discovery, which will allow time travel, because this will lead to the death of mankind.
65
Cast: Adam Driver, Chloe Coleman, Ariana Greenblatt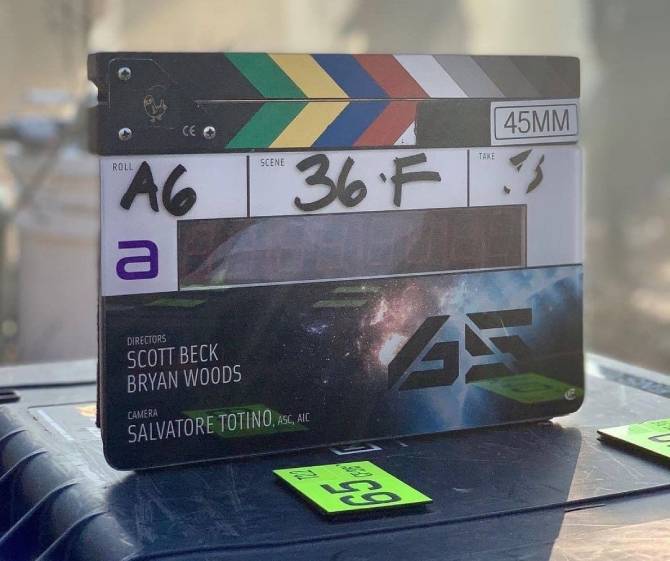 The plot of the sci-fi thriller revolves around astronaut Adam, who is sent by NASA to explore the unexplored corners of the galaxy. But on the way, his ship crashes and makes an emergency landing on a mysterious planet, which is located thousands of light years from Earth. One day, wandering through the forest, he saw a girl Ariana from Earth. The most amazing thing is that he knew her before and was the culprit of the tragic incident when the girl almost died through his fault.
The Flash
Cast: Ezra Miller, Ben Affleck, Michael Keaton, Michael Shannon, Temuera Morrison, Antje Traue, Ron Livingston, Saoirse Monica Jackson, Kiersey Clemons.
The brilliant nuclear physicist Barry Allen, after an accident when he was in a laboratory during a storm, gained the ability to reach supersonic speed. This gives him the ability to travel through time. He decides to take the opportunity and protect his city from crime, whose inhabitants call him The Flash. But his most important task is to return to the past and prevent his father from being imprisoned behind bars.
Similar articles / You may like this