Crab sticks are considered one of the most popular components of delicious, satisfying and healthy dishes. And all because these ingredients can be combined with almost any vegetable. We at joy-pup have collected for you 5 of the most delicious and simple salads with crab sticks, which are suitable not only for a holiday, but also for a daily table.
Salad crab sticks and corn – step by step cooking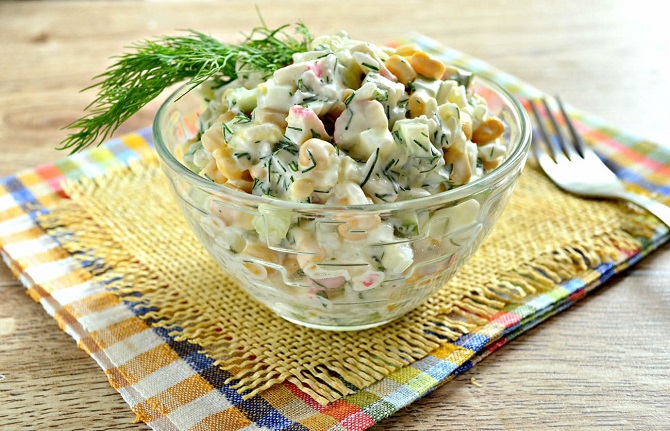 This is a very light and simple dish that you can combine with any side dish. It does not require a lot of ingredients, and even five minutes is enough for cooking. You will need these ingredients:
Crab sticks
One small corn
1 small onion
2 tablespoons of any mayonnaise
1 tablespoon any sweet sauce
some greenery
Cooking:
First, cut the onion into small pieces.
In a bowl, add mayonnaise, sweet sauce and onion, these components must be mixed well.
Add crab sticks and corn and stir.
Sprinkle with herbs to taste.
Serve garnished with parsley or dill leaves.
Salad with crab sticks, corn and rice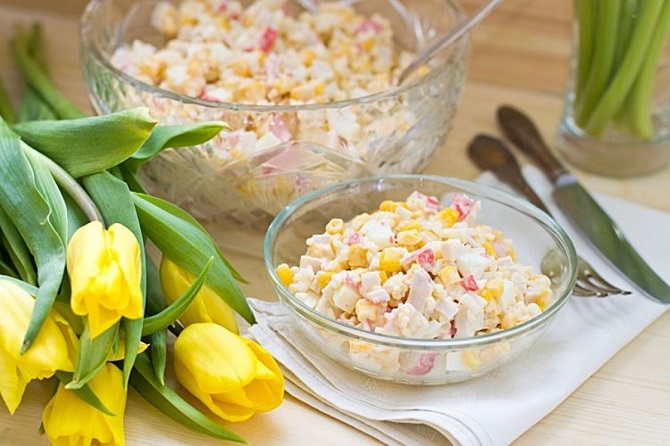 This is a great hearty dish that you can eat on its own or, for example, with meat. It is often served for a holiday, but it is also suitable if you want to feed your family a healthy dinner. You need these components:
Crab sticks
½ cup pickled or fresh corn
Olive oil
A little lemon juice
Fresh rice, to taste
How to cook:
Boil the rice until it is slightly firm, not overcooked. Cool it down.
Heat the oil in a saucepan and fry the crab sticks over low heat until golden brown.
Add the corn and continue to fry them together for a couple more minutes.
Add lemon juice and rice, salt and stir.
Ready! Enjoy! Salad is served hot.
Salad with crab sticks, fresh cucumber, lemon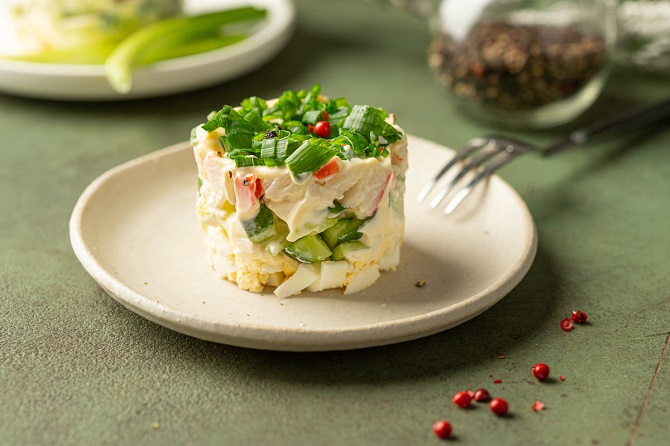 This is a great fresh dish that is suitable even for a diet table. It's incredibly easy to prepare. You will need:
Crab sticks
Fresh cucumber – 2 pcs.
Lemon juice – 3 tbsp. l.
Low-fat mayonnaise – 4 tbsp. l.
Any greens
Salt and pepper
How to cook:
Cut cucumbers and herbs into small cubes.
Add heated crab sticks, lemon juice, mayonnaise and seasonings to a salad bowl.
Stir and serve ready salad. If desired, you can add croutons to it, but without seasonings.
Salad with crab sticks, cheese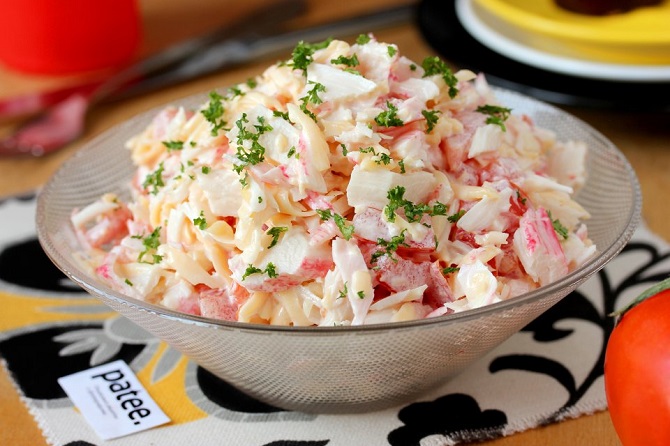 Do you like everything unusual and very tasty? Even gourmets will love this simple salad. You need these ingredients:
1 pack of crab sticks
1 cup pickled vegetables
1/2 cup cheese (optional)
2-3 tbsp. spoons of soy sauce
2-3 tbsp. butter spoons
1 teaspoon of vinegar
1 teaspoon mustard sauce
1 teaspoon citrus juice
1 teaspoon horseradish juice
Salt and freshly ground black pepper to taste
Step by step preparation:
Cut the crab sticks into small pieces.
Toss the pickled vegetables, cheese, and crab sticks in a large bowl.
To make the dressing, combine soy sauce, sunflower oil, vinegar, mustard sauce, citrus juice, and horseradish juice in a separate bowl.
Add the dressing to the bowl with the ingredients and stir. Add salt and black pepper to taste.
Transfer the salad to a pre-cooked serving dish and serve fresh.
Ready! Delicious appetite!
Salad with crab sticks and tomato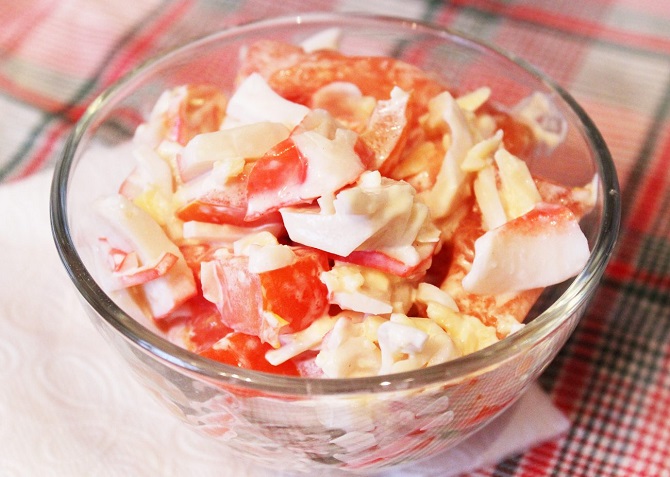 This dish will come out fresh, with a spicy sourness. See step by step recipe.
Ingredients:
1 cup crab sticks
1 large tomato
1 garlic clove
1 pinch of salt
1 pinch of pepper
1 spoon of olive oil
2-3 frozen leafy greens
Meal preparation:
Put crab sticks in a bowl and pour boiling water over it. Let them stand and then pour off the excess liquid.
Coarsely chop the tomato and herbs. In a small bowl, add the garlic, salt, pepper and olive oil. Stir all the ingredients until smooth and pour the crab sticks with this mixture.
Place chopped tomatoes, herbs and crab sticks in a large bowl. Season with the rest of the ingredients and mix.
Serve warm or at room temperature. Enjoy your meal!
Of course, there are other food options as well. You can easily experiment, add any ingredients, creating author's salads. You will be delighted with them.
Similar articles / You may like this