Bananas are considered one of the healthiest fruits. They are enjoyed by both children and adults. And you can cook a variety of dishes from them. We at joy-pup tell you what to cook from bananas for every day.
Watch the banana recipe bonus video
Banana pancakes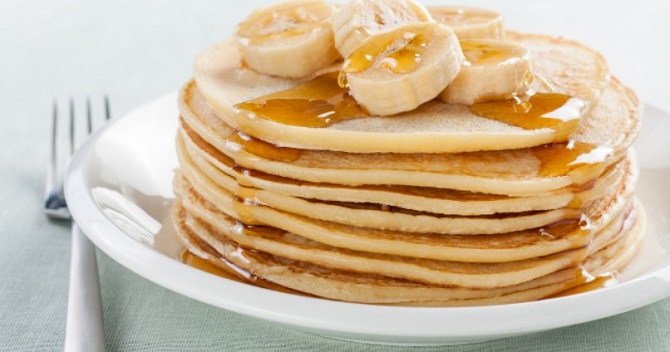 Ingredients:
2 ripe bananas
2 eggs
1/2 teaspoon baking powder
200 g flour
Optional: a little milk to adjust the consistency of the dough
Cooking:
In a bowl, mash bananas with a fork until mashed.
Crack the eggs into the banana puree and mix well.
Add baking powder, flour and mix thoroughly.
If desired, add a little milk to achieve the desired consistency.
Heat a skillet with a little oil over medium heat.
Pour the batter into the pan to create pancakes of the desired size.
Fry pancakes on both sides until golden brown.
Serve with honey, berries, nuts or yogurt.
Banana muffins with walnuts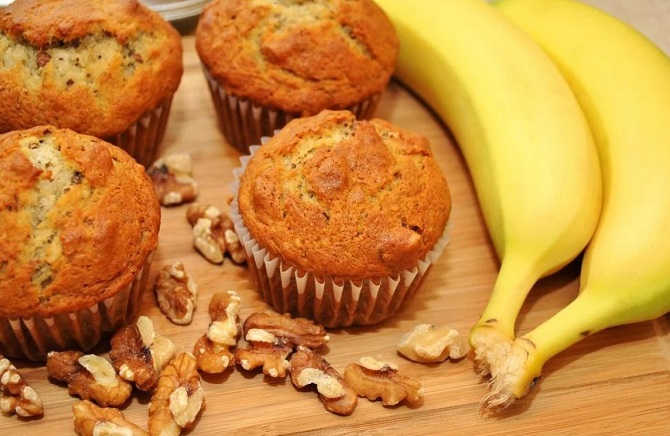 Ingredients:
2 ripe bananas
1/3 cup vegetable oil
1 teaspoon vanilla extract
1 egg
1/2 cup sugar
Half a glass of flour
1 teaspoon baking powder
A pinch of salt
1/2 cup walnuts (can be chopped)
Cooking:
Preheat oven to 180°C and prepare muffin tins (or use paper tins).
In a bowl, mash bananas with a fork until mashed.
Add butter, vanilla extract, egg and sugar. Mix well.
In another bowl, mix flour, baking powder and salt.
Gradually add dry ingredients to banana mixture, mixing thoroughly.
Stir in the chopped walnuts completely.
Divide batter between muffin tins, filling them 2/3 full.
Bake the muffins in the oven for about 20-25 minutes, or until they are golden and pass a toothpick test.
Grilled Caramel Bananas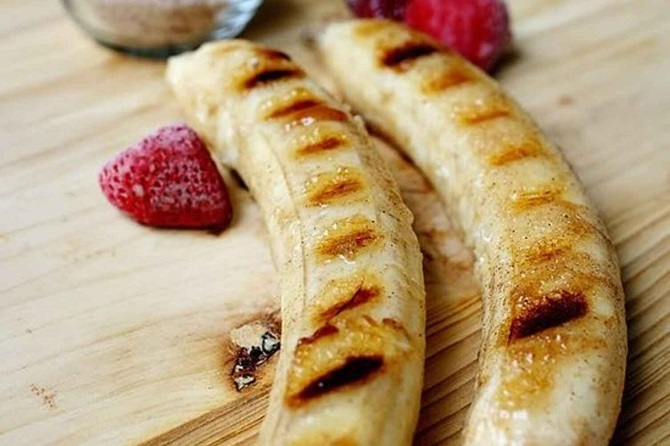 Ingredients:
4 ripe but firm bananas
1/4 cup brown sugar
1 teaspoon cinnamon
Vanilla ice cream scoops (optional)
Cooking:
Preheat the grill or grill pan.
Cut the bananas lengthwise without removing the peel.
Mix brown sugar and cinnamon in a small bowl.
Roll the bananas in the brown sugar and cinnamon mixture to coat evenly.
Place the bananas on the grill and cook for about 2-3 minutes on each side until golden brown.
Serve grilled caramelized bananas hot with scoops of vanilla ice cream, if desired.
To be continued…
Similar articles / You may like this