Eggplants, like zucchini, are very tasty seasonal vegetables, from which you can cook a variety of dishes. They are not only baked, but when combined with certain products, they can become kings of the table. We at joy-pup offer the best easy eggplant recipes.
Eggplant rolls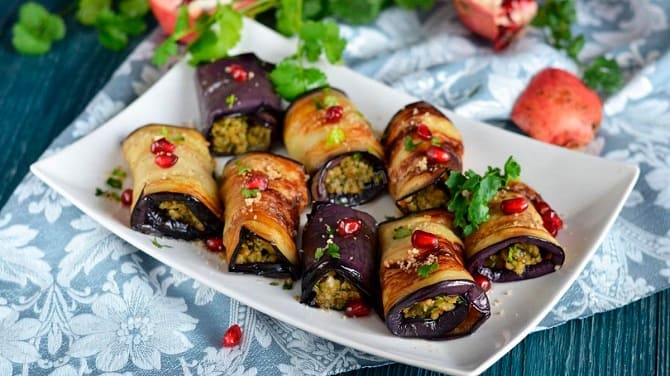 This is one of the most popular and simple eggplant dishes. You can vary the filling as you wish by adding minced meat, cheese, nuts and more. We offer the easiest way to make rolls. You will need:
eggplant;
cream cheese;
garlic;
herbs, salt, pepper.
Step by step cooking
Cut off the tops of the eggplants and cut them into thin slices.
Fry such plates in sunflower oil, put them on a paper towel so that it absorbs excess fat.
Prepare the filling by passing the garlic through a press and finely chopping the herbs. Mix ingredients with butter, salt and pepper.
Spread the filling in a thin layer on the eggplants and wrap them with a roll. Fasten with a toothpick.
The cheese filling with the addition of nuts and pomegranate will be very tasty. You can also prepare meat filling using minced meat.
Remember, eggplants have bitterness. It needs to be removed, for which the cut pieces are soaked for half an hour in salt water. Then they need to be washed.
Eggplant salad with pepper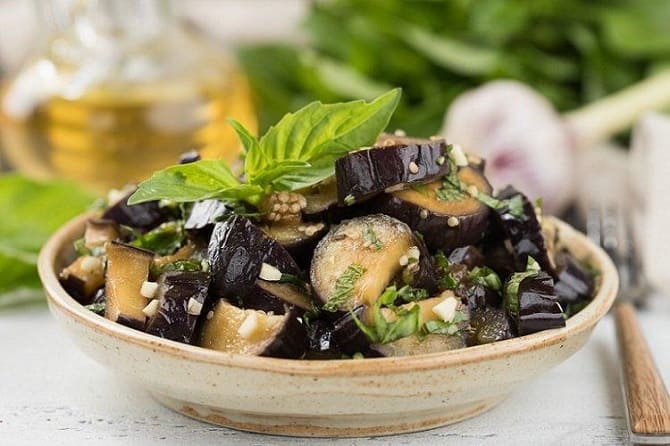 For this simple dish you will need:
3 small eggplants;
2 bell peppers;
olives;
small bulb;
garlic to taste;
cilantro;
0.25 tsp Sahara;
1.5 st. l. vinegar;
6 art. l. olive oil;
black ground pepper and salt.
How to cook?
Cut the eggplant into half rings. After the bitterness is removed from them, fry in a pan.
Cut the onion into cubes, fry in olive oil.
Bulgarian pepper cut into half rings, mix it with eggplant and onions.
Chop the olives, chop the cilantro and garlic, add to the rest of the ingredients.
Vinegar, salt, sugar, ground black pepper, mix, preparing dressing. Pour it over the salad.
Eggplant boats
This is an excellent hot dish that even gourmets will like. As a filling, you can choose according to your taste. We offer a simple recipe. You will need:
small eggplants;
chopped meat;
onion;
bell pepper;
tomatoes;
garlic;
hard cheese;
parsley, basil, ground pepper, salt;
vegetable oil.
Step by step cooking
Cut the eggplant in half lengthwise, remove the pulp with a spoon, forming boats.
Cut the eggplant pulp into cubes. Also dice the onion and garlic.
Remove the seeds from the pepper, cut it into small cubes.
Pour boiling water over the tomatoes, remove the skin, cut them into cubes.
Sauté the onion in a skillet over low heat. When it becomes soft, add minced meat and fry for 10 minutes.
Add the eggplant pulp and fry the ingredients for 5 minutes.
Then add pepper, tomatoes, garlic, herbs, salt and pepper. Fry the filling for another 10 minutes, stirring occasionally.
Fill the boats with stuffing, top it with grated cheese. Bake in the oven for 25-30 minutes at 180 degrees.
You can also use eggplant in other dishes as well. They can be simply fried or baked with other vegetables, and the stew from them is very nutritious.
Similar articles / You may like this