Depending on the variety, pears ripen between August and October. Autumn brings an abundance of these fragrant fruits and the possibilities of cooking with them are endless. Delicious fruits can be baked, boiled, caramelized, made into drinks and cooked in many other ways. We at Joy-pup will share interesting recipes for what dishes can be prepared from pears
Pear fritters
This dish combines the delicious warm taste of cinnamon and caramelized pears. They are perfect for Sunday mornings on cold autumn or winter days.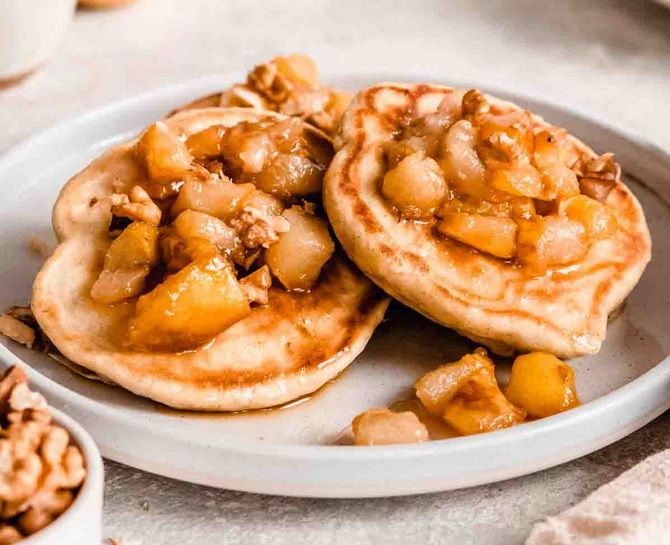 Ingredients:
flour – 200 g
egg – 1 pc.
pears – 2 pcs.
sugar – 2 tbsp. l.
milk – 1 cup
baking powder – 1 tsp
cinnamon – 1 tsp
vegetable oil for frying.
Step by step recipe
To make this recipe, start by caramelizing the pears. Cut the fruit into small pieces, place in a medium-sized saucepan, add a little water. Boil until the pear pieces are soft and caramelized.
Mix all dry ingredients – flour, cinnamon, baking powder, sugar in a large bowl.
Pour milk into a separate container, add caramelized pears and an egg. Stir until smooth.
Combine the two masses – add the wet mixture to the dry. Stir with a spatula until the dough is smooth.
Heat some oil in a skillet over medium heat. Spoon the batter into the hot skillet and cook until small holes appear on the surface of the pancake. Then turn over and fry on the other side until golden brown.
Serve with ripe pear slices.
Pears in puff pastry
Ingredients: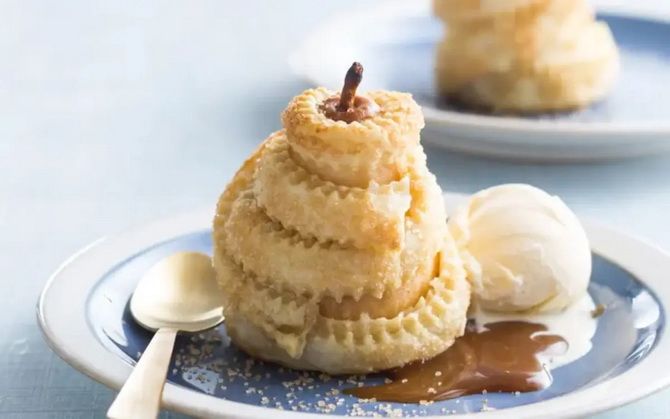 Ingredients:
water – 3 glasses
sugar – 120 g
lemon – 1 pc.
orange peel
cinnamon – 1 stick
ginger – 1-2 pieces
pear – 4 pcs.
frozen puff pastry – 1 sheet
butter – 2 tsp
For submission:
caramel sauce
vanilla ice cream
Step by step recipe
Cooking syrup. Combine 3 cups water and sugar in a saucepan. Bring to a boil, stirring to dissolve sugar, then reduce heat. Add juice of 1 lemon, orange zest, cinnamon stick and ginger.
Trim the bottom of the pears so they stand upright. Core them from the bottom with an apple corer.
Put the pears in the saucepan with the syrup, simmer for 8-10 minutes, turning occasionally, or until they are soft enough. Take the fruits out of the pan, let them cool.
Preheat oven to 190°C.
Cut the thawed puff pastry into 16 strips. Starting from the bottom, roll 4 strips around the fruit, moistening the end with water and pinching the top of the dough to secure. Treat all pears in this way.
Lay the pears upright on a baking sheet lined with parchment. Bake for 25-30 minutes until the dough has risen and is golden. Serve with caramel sauce and ice cream, if desired.
Pear cider
Pear cider is a warm, tasty interpretation of an old classic and a great fall soft drink. Store in an airtight container in the refrigerator for up to 1 week. You can cook cider in a slow cooker.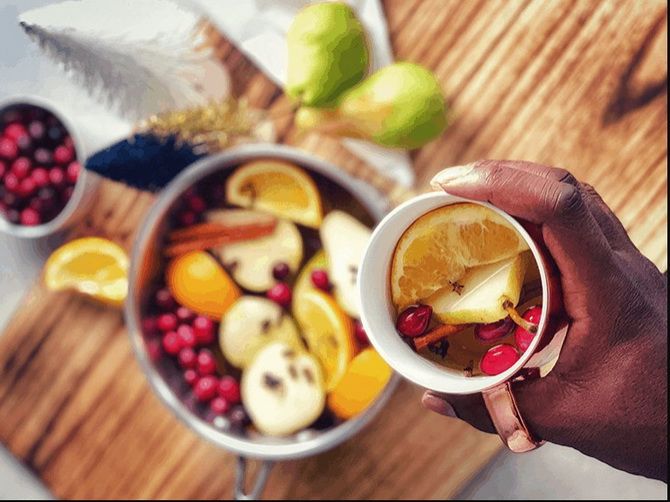 Ingredients:
pears – 6 pcs.
apple juice – 2 l
sugar – 150 g
cranberries – 1 cup
cinnamon – 3 sticks
orange – 0.5 pcs.
cloves – 1 tsp
Step by step recipe
Place the pears, sugar, cloves and apple juice in a large saucepan. The liquid should be about 2 cm higher than the pears.
Bring the mixture to a boil and simmer uncovered for 1 hour.
After 1 hour, mash the pears. Add cinnamon sticks and cranberries. Cover the pot and cook for another hour.
Let the mixture cool for 30 minutes.
Strain it through a fine sieve to remove solids.
Serve warm with cinnamon sticks.
Garnish with cinnamon, pear and orange slices before serving.
Pear sorbet
Silky sorbet with a wonderful aroma and bright fruity taste.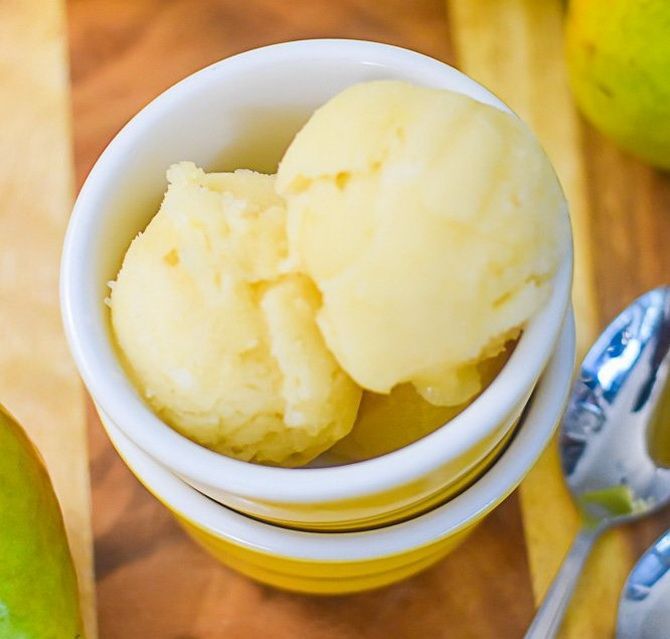 Ingredients:
pears – 3-4 pcs.
honey – ½ cup
juice of one lemon
Riesling wine – ⅔ cup.
Step by step recipe
Peel the pears, remove the core, cut into slices.
Add the pears, honey, lemon, and wine to a small saucepan, stir, and place over medium heat. Bring the mixture to a boil.
Reduce heat and simmer for 8-10 minutes, then remove mixture from heat and let cool.
Pour the contents of the saucepan into a blender and blend until smooth.
Pour the resulting mixture into an airtight container and place in the freezer for 4 hours.
Remove from the freezer and thaw the sorbet for a few minutes to make it easy to scoop.
Puff pies with pear and cheese
Spicy cheese and juicy pear chunks create a symphony in these perfect little puffs.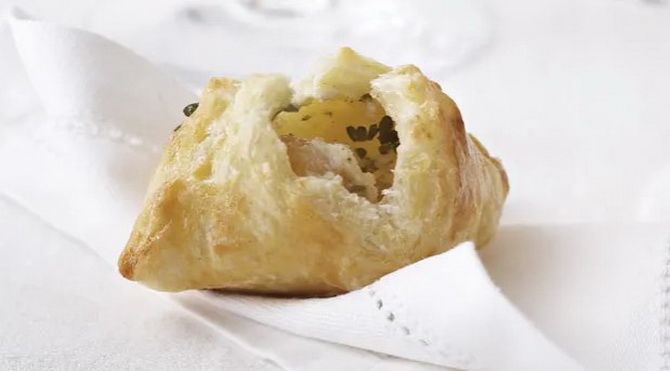 Ingredients:
egg – 1 pc.
1 sheet frozen puff pastry
pears – 3 pcs.
semi-soft cheese with garlic and herbs – 210 g.
Step by step recipe
Defrost the dough, preheat the oven to 200°C. Line 2 baking sheets with parchment paper and set aside. Lightly beat eggs and 1 teaspoon water.
Roll out a sheet of puff pastry on a lightly floured surface into a 35cm x 25cm rectangle. Cut into sixteen rectangular pieces.
Place 1 teaspoon semi-soft cheese in the middle of the pastry rectangle. Place 2 pear slices on top.
With a pastry brush, brush the perimeter of the puff pastry rectangle with the egg mixture. Bring the corners of the dough to the center and pinch the seams. Repeat this for the rest of the test.
Lay the puff pastry seam side up on the prepared baking sheets and let rest for 15 minutes.
Bake for 20 to 25 minutes until they are puffed up and golden brown. Remove from oven and cool for 5 minutes. Serve puffs warm.
Salad with pear and goat cheese
This fall pear and goat cheese salad takes just 15 minutes to make, making it a great weekday dinner option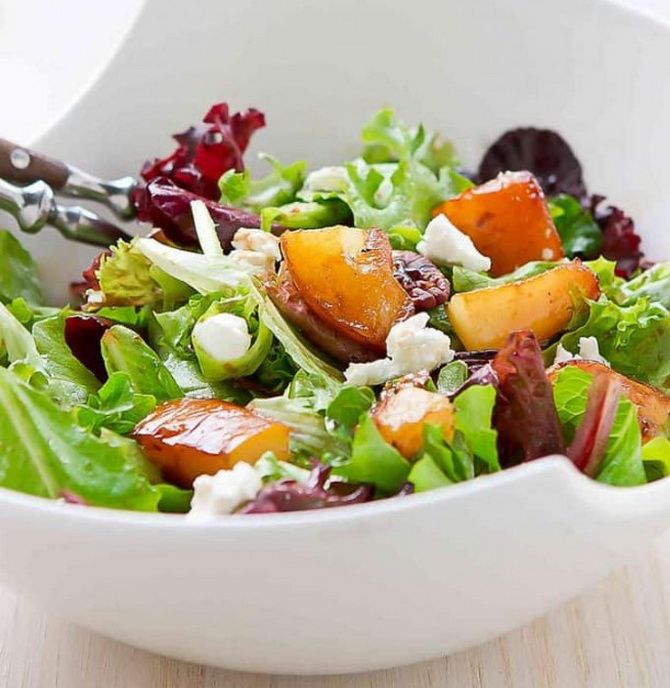 Ingredients:
dijon mustard – 2 tsp
balsamic vinegar – 1 tbsp. l.
honey – 1 tsp
lemon juice – 1 tbsp. l.
goat cheese – 50 g
olive oil – 2 tbsp. l.
beijing cabbage – ½ head
radicchio – 1 small head
celery with leaves – 3 pcs.
arugula – 150 g
pear – 2 pcs.
walnuts or pecans – ½ cup
salt, pepper – to taste.
Step by step recipe
Cut the pears into quarters, mix with honey, salt and pepper.
Heat up 1 tbsp. l. olive oil in a non-stick skillet over medium heat. Add the pears cut side down and cook until browned, about 3 minutes. Carefully flip the pears over and cook for 2 more minutes. Add balsamic vinegar and stir.
Remove from heat, let cool, then cut the pears into thin slices.
Whisk the mustard, lemon juice, salt and pepper in a small bowl. Pour in the olive oil in a thin stream until the dressing is combined.
Using a sharp knife, cut the cabbage and radicchio crosswise into thin strips. Cut the celery into thin slices.
Put the vegetables in a salad bowl, add arugula leaves.
Drizzle dressing over salad 1 hour before serving. Just before serving, garnish the salad with pear slices, walnuts, and crumbled goat cheese.
Similar articles / You may like this