You can vary home-baked products by changing the filling in the usual sweet dough. Are you tired of eating sweet cakes fruits, jams, and cottage cheese? Then try salty pies with a wide variety of savory filling: meat, potatoes, cheese, eggs, greens, and much more. A huge plus is that to bake such simple pies you will need not more than 30 minutes.
Tart with onion, egg, and cheese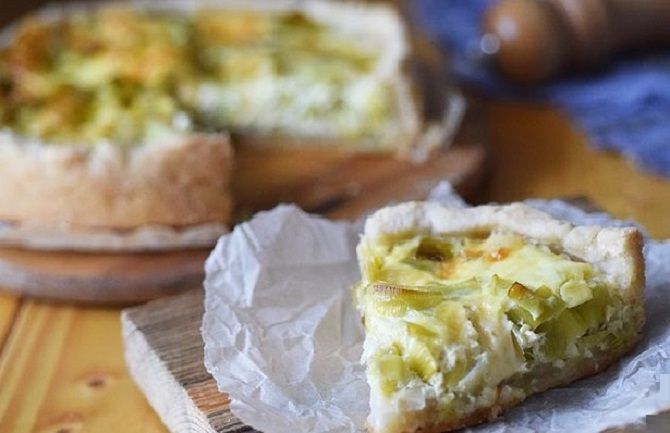 A simple and tasty pie filled with eggs and cheese, which are decorated with onion. Tarts are also dietary because to make them you don't need much dough.  
Ingredients:
green onions – half a bunch
leek – 1 pc.
sunflower oil – 3 tbsp.
butter – 50 g
ground black pepper – 2 pinches
salt – half a teaspoon
cheese – 200 g
puff yeast dough – 500 g
chicken eggs – 4 pcs.
Directions
Step 1. Prepare the ingredients: grate the cheese, cut the leek into rings, chop the green onions.
Step 2. Grease a frying pan with oil and fry leeks. Take a bowl and mix the lightly fried leek with green onions. Then add cheese and raw eggs. Mix everything, salt, and pepper.
Step 3. Make the dough. Take a sheet of puff pastry, defrost it, roll out and put into a pie tin. You can make small holes with a fork and put the pastry into the oven. Bake it at a temperature of 180 degrees for 20 minutes until it's half-cooked.
Step 4. We take out the tin, spread the filling and send the meal to cook in the oven at 190 degrees for half an hour.
Lavash pie with peas and cheese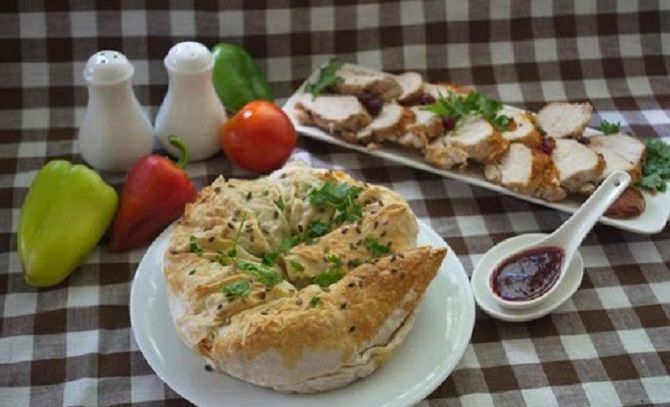 To cook this unusual dish we need thin Armenian pita bread. Of course, the filling can be changed for every taste and color. But we strongly recommend you to try a combination of peas and cheese. It's very tasty.
Ingredients:
Canned peas – 3 tbsp.
Thin pita bread – 2 pcs.
Flax seeds – 2 g
Sweet pepper – 2 pcs.
Ground black pepper – 1 pinch
Fresh parsley – 1 bunch
Tomatoes – 3 pcs.
Sour cream – 100 g
Salt – 1 pinch
Cheese – 200 g
Fresh dill – 1 bunch
Chicken eggs – 1 pc.
Directions:
Step 1. Roll out 1 sheet of pita bread, grease it with sour cream. Cut the pepper into small slices, evenly spread over the pita bread together with peas.
Step 2. Cut the tomato into cubes, grate the cheese and add these ingredients to the filling. Salt and pepper at option.
Step 3. Collar the pita bread into a roll, and then into the shape of a kalach. Сover it with beaten-up egg and sprinkle with flax seeds. After that, preheat the oven to 200 ° C and bake the roll for 10 to 15 minutes until the lavash will get brown.
Cheese and potato pie
This recipe is perfect for situations when the leftovers of cheese have stored in the refrigerator and you don't know what to do with them. Use different types of cheese to vary your gustatory sensations. By the way, you can cook this pie not only in the oven but also in a multicooker.
Ingredients
Bryndza – 100 g
Potato – 4 pcs.
Butter – 50 g
Salt – 1 tsp.
Different types of cheese – 300 g
Cottage cheese – 100 g
Puff yeast dough – 500 g
Fresh dill – 1 bunch
Directions
Step 1. Cook potatoes, salt at option. Drain the water, then mash potatoes with butter and the puree cool.
Step 2. Grate the cheese, then add cottage cheese and chopped dill.
Step 3. Mix cold potatoes with the cheese mass.
Step 4. Defrost the puff pastry, roll it out to make several sheets. Then put the first layer into the pie tin. Spread the filling over the dough. Cover with a second sheet of dough and put another layer of filling. Continue until the ingredients run out. The dough must be on top of the pie. Cover with a beaten-up egg and put the pie into the oven (180 degrees and 30 minutes).
Done!
Similar articles / You may like this