When summer comes and flowers begin to bloom around, we look for ways to capture and embody this beauty. Crafts from cotton pads are ideal for this, with this material you can show unlimited imagination. Create a beautiful and simple flower craft with your kids, check out the step by step tutorials at joy-pup.com.
Craft "Calla" from cotton pads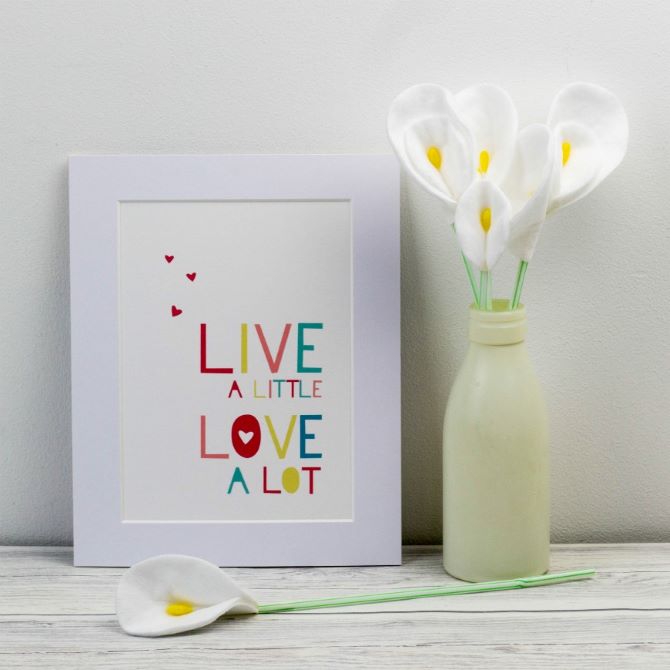 Materials you will need:
cotton pads;
yellow paint or felt-tip pen;
green cocktail straw;
ear stick;
glue.
Execution technique
Step 1. We will use a cotton swab as a stamen. Color one end of the Q-tip yellow to represent the calla stamen.
Step 2. Insert the unpainted end of the cotton swab into the cocktail straw, which is used as a stem.
Step 3. Take one cotton pad and gently twist it into a petal shape. Wrap it around the base so that the yellow stamen is visible. Fasten the ends of the petal with glue.
Step 4. Optionally, you can make a calla from two petals and add leaves.
Craft "Roses" from cotton pads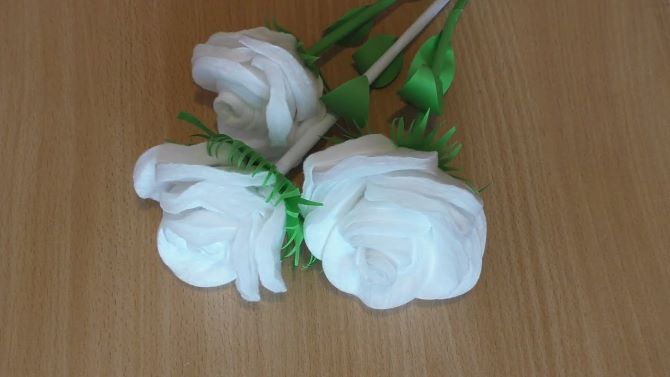 Materials you will need
cotton pads;
thermal gun;
wooden skewer for the stem;
corrugated paper in green tones;
green gouache or acrylic paint.
Step 1. Paint a wooden skewer green, let it dry.
Step 2. Take a cotton pad, apply glue from a heat gun on one edge and wrap it around the end of the skewer.
Step 4. On the second disk, apply glue to a third of the circumference and wrap the first petal with it.
Step 5. Place the third petal from the cotton pad and glue it opposite the other one to form a beautiful bud.
Step 6. Glue the next petals in the same way until you get a bud of the size you need.
Step 7. Cut out the base and rose petals from corrugated paper, then glue them to the stem.
Step 8. You can apply paint or shiny nail polish on the edge of the petals for realism.
Bonus Video Super Easy Rose Tutorial
Tulips from cotton pads
Materials you will need:
cotton pads;
acrylic or watercolor paint;
pipette;
white A4 paper;
scissors;
glue.
Execution technique
Step 1. Prepare materials for needlework.
Step 2. Cut out cotton pads in the shape of a tulip, as in the picture above.
Step 3. Color the cotton pads with paint. Dilute the acrylic paint with water and use pipettes to apply the paint onto the cotton pads. Water-based tempera paint will also work, or you can use watercolor and a brush.
Step 4. Place the colored cotton pads on a plate, tray, or tablecloth to prevent liquid paint from spilling onto the table.
Step 5 Let the cotton pads dry completely.
Step 6. When the cotton pads are dry, carefully lay them out on white paper. Draw stems and leaves of tulips.
Step 7. Glue tulips from cotton pads to paper with glue.
Do-it-yourself snowdrops from cotton pads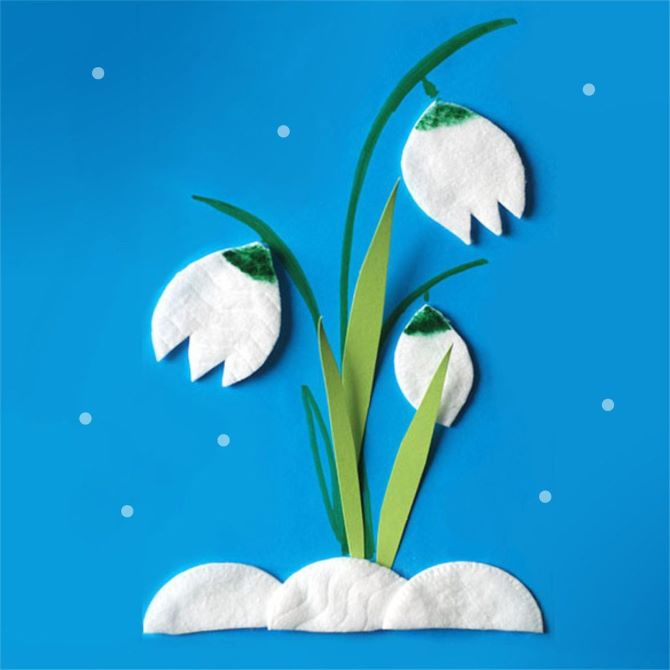 Materials you will need:
cotton pads;
colored paper;
glue;
green marker;
scissors.
Execution technique
Step 1. On a cotton pad, draw the shape of a bell with three teeth, cut it out. Make two of these. On the other disk, draw an unblown drop-shaped bud and cut it out.
Step 2. Use a green felt-tip pen to draw the base of the flower.
Step 3 On colored paper, randomly draw stems for flowers.
Step 4. Cut 2-3 thin long leaves from green paper and glue them to the drawn stems.
Step 5. Glue the flower buds to the stems.
Step 6. Take two disks and cut them in half – these will be snowdrifts. Glue them at the bottom of the composition.
Similar articles / You may like this