A one-piece swimsuit is a type of clothing that works like a classic black dress. Such a model was a forgotten item for a long time and was little used by young girls. But the popularity of this bathing suit is starting to come back, and deservedly so. A one-piece swimsuit is ideal for any age and body type, especially black models. Find out on Joy-pup which style of black one-piece swimsuit is right for you.
Black one piece swimsuit – choice of style
Not only the color determines this type of swimsuit – the variety of styles and models will allow you to make the right choice. In order to present your figure favorably and demonstrate a successful image on the beach, you need to choose the perfect model for your body type.
Wide hips. For women with wide hips, closed options without cutouts on the hips are recommended. This makes the swimsuit more comfortable and at the same time disguises massive hips. Ideal styles are mayo, tank, swim-dress.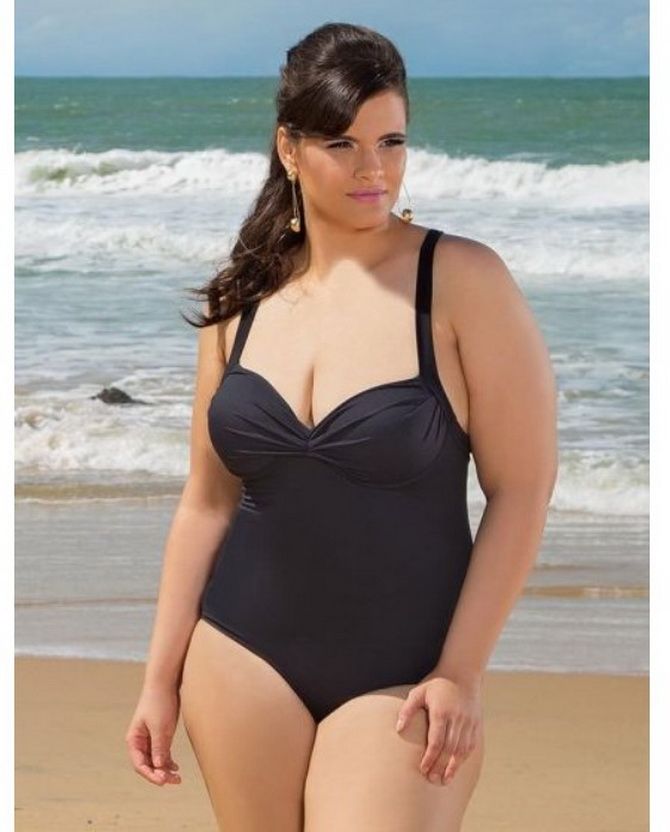 Big chest. For women with full breasts, models with straps are the best option for comfortable swimming. Choose thick straps and avoid halter-style cuts that can overload the neck with the weight of the chest.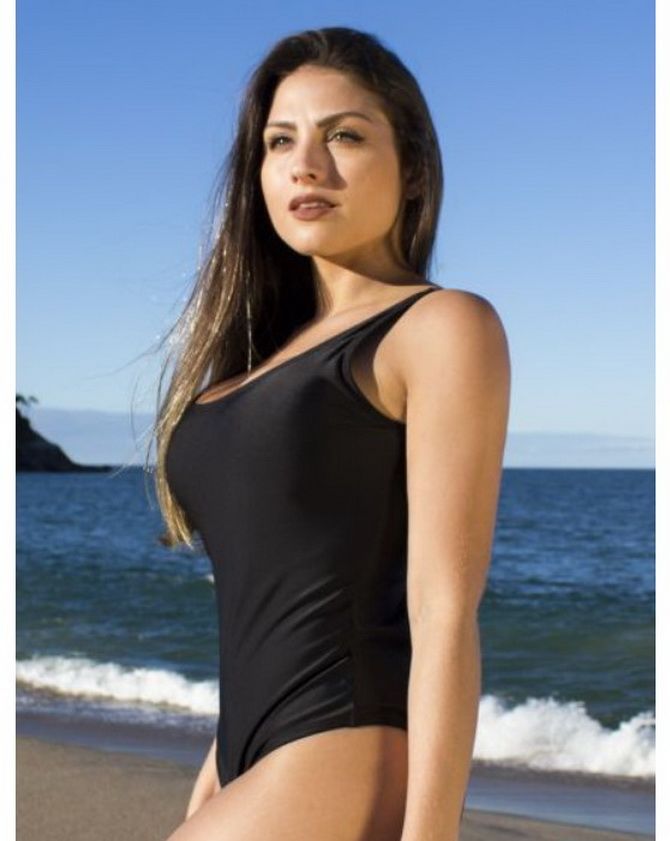 Small bust. For girls with small breasts, the Mayo swimsuit model can be an ally to give this area a little more volume. In this case, bet on models with cups, neckline or ruffles on the chest.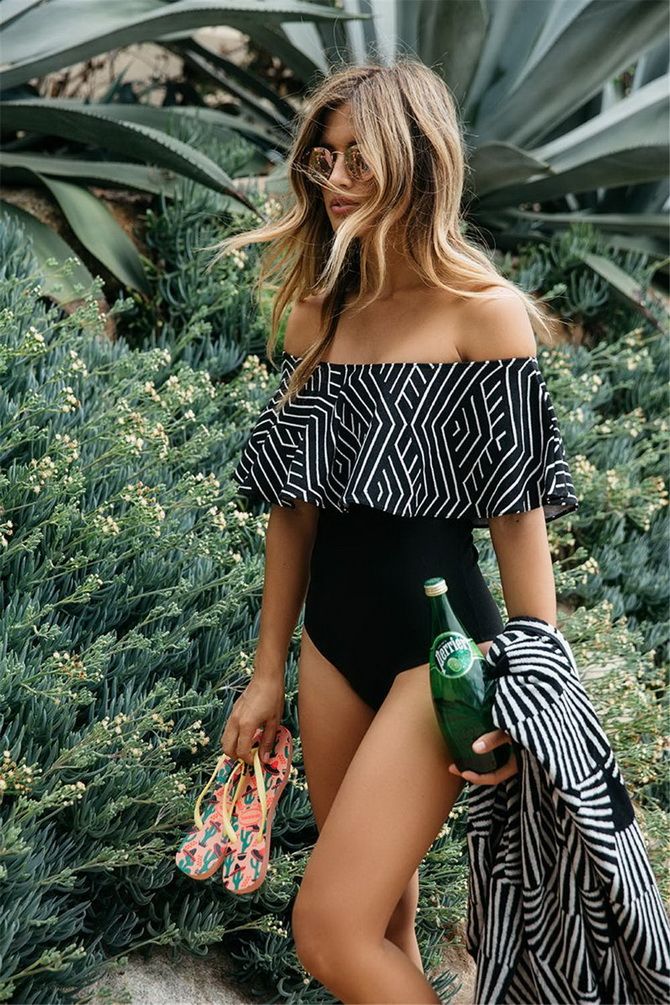 Broad shoulders. If you have an inverted triangle figure, where the shoulders are wider than the waist, bet on models that will help hide proportions and balance them. In this case, one-shoulder models are ideal to draw attention to only one side. Avoid off-the-shoulder styles that elongate and widen this area.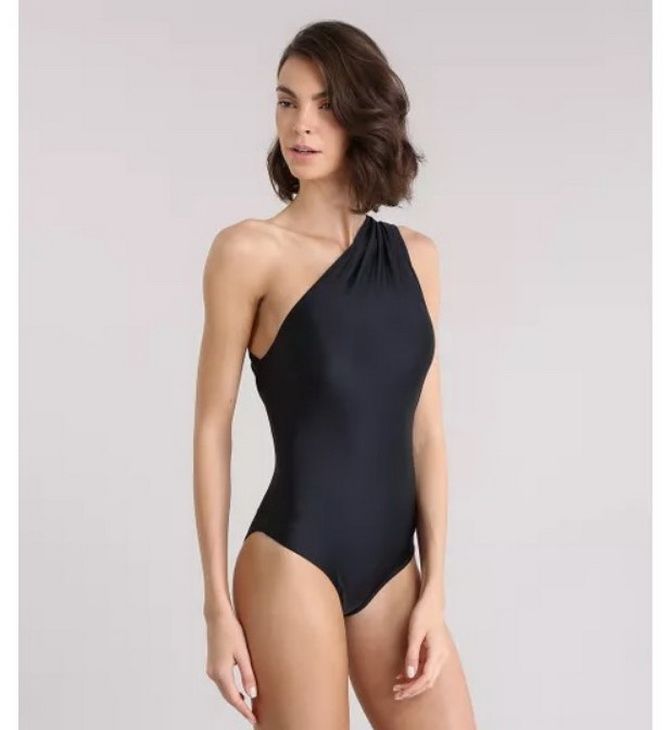 Black one-piece swimsuit – types of styles and models
Mayo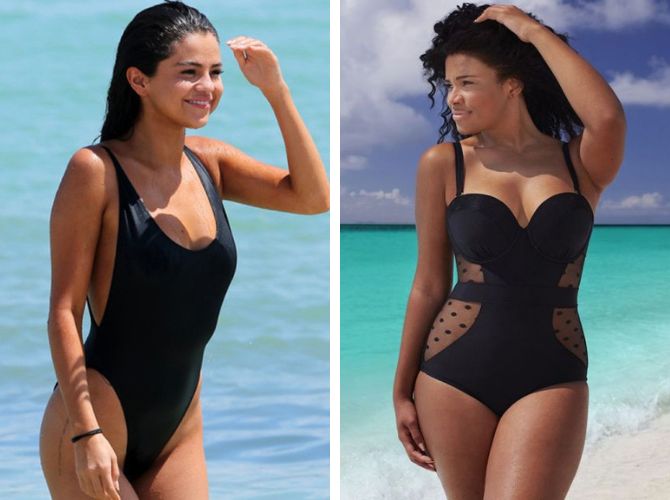 This type of swimsuit is ideal for short-legged girls who want to elongate their bodies, but also a great option for those with narrow hips. The model has a closed front, V-shaped or round neckline and straps, which can be one-piece or sewn on. Young girls prefer a black swimsuit with a high cut on the hips, which shows feminine curves. Another feature of this model is that it is smooth, without decor, leaving an emphasis only on the cutouts of the neckline or hips.
Plunge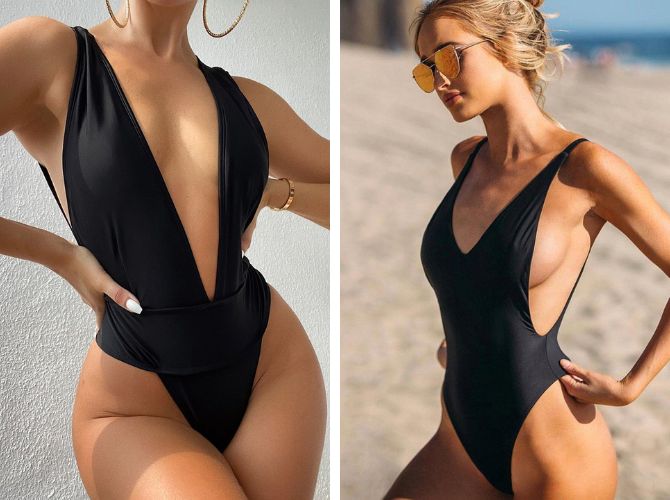 Plunge style is frank and sexy, despite the fact that it is one-piece. It features a deep cut on the chest and on the back. There are many options for the neckline, which range from discreet – to the chest or more provocative and end at the navel. When choosing this model, it is important to make sure that it is comfortable, safe and does not show more than necessary. If there is a risk that the chest will slip out of a narrow part, you should choose a model with an invisible tulle or braided neckline, which makes the black swimsuit more comfortable. The big advantage of a plunge swimsuit is the neckline itself, which increases the bust and can elongate the body and neck. If you wear it with a skirt or trousers, then this look is suitable for going to a restaurant after the beach.
Black one-piece crochet swimsuit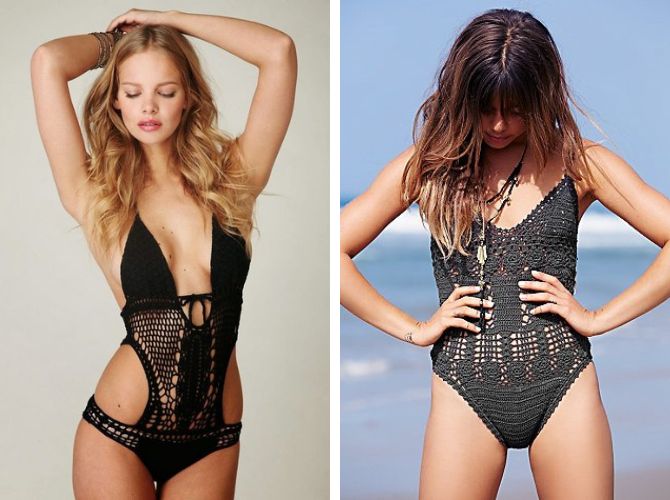 This model is made with openwork weaving using the crochet technique, through which the body can be seen through. A knitted swimsuit is suitable for owners of curvy shapes, it will hide the stomach and focus on the chest. The crocheted model has side cutouts and a central strip that connects the top and bottom of the swimsuit. It is not suitable for lovers of sunbathing, because traces of open points on the body are far from fashion trends. If you want to showcase a modern look in a knitted swimsuit, an important tip is to apply sunscreen frequently.
Monokini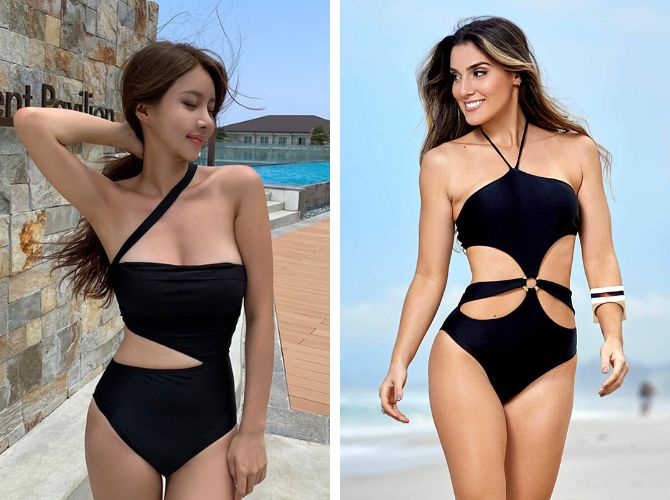 A monokini swimsuit is something between an open and one-piece model. This is a swimsuit with deep cutouts on the sides, which can be asymmetrical. The upper and lower parts of the swimsuit are connected by a thin strip or decorative elements.
Black and white one piece swimsuit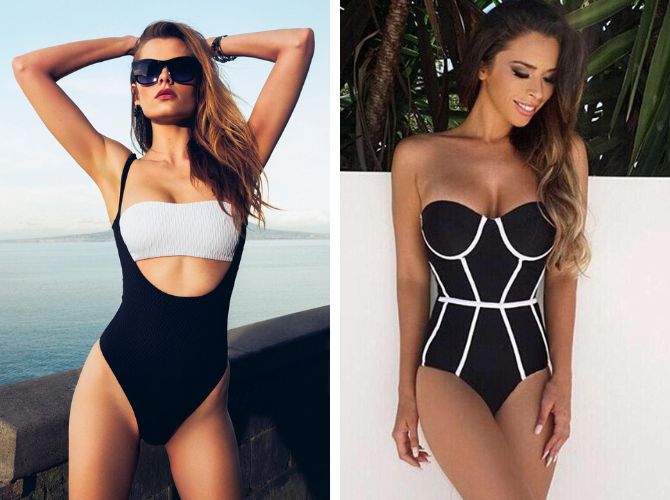 A mix of black and white in a bathing suit that combines two classic colors looks very elegant. Since the light color creates the impression of more volume, choose swimwear in which white details will not draw attention to the problem areas of the figure. A black one-piece swimsuit with white contours looks great, which highlights the curves of the female body.
Halter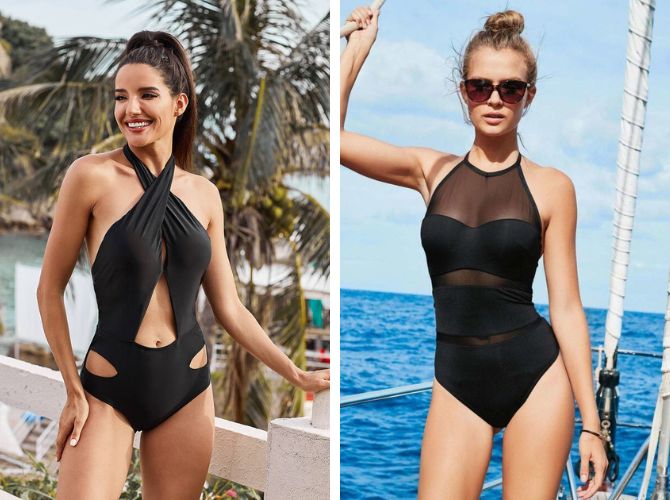 Among the styles of black swimsuits, one of the best is the halter model, the straps of which are tied around the neck. This type of swimsuit, especially those with thin strings, is great for those who like to sunbathe. The model can have thick or thin straps, but this is not the best option for those who have very full breasts. The weight of the chest will be strongly concentrated on the neck, which can cause discomfort and pain.
For fat girls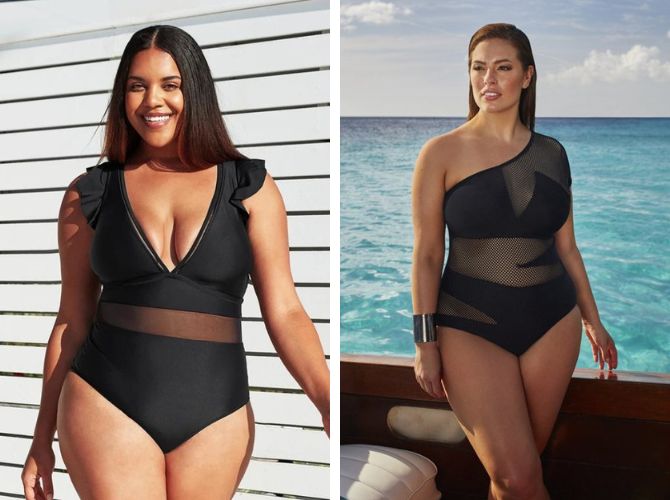 Overweight girls choose closed black models of plus size swimsuits without decorative details to hide their belly and extra pounds. You can also bet on modern models with details that improve the figure and make the image balanced and harmonious. Choose from wide-leg bottoms that hide your hips, a strapless neckline and sheer details for a modern and beautiful look.
See also: beach dresses for elegant outings.
Similar articles / You may like this