Usually in the women's wardrobe there are several pairs of swimsuits – for different occasions and for a certain mood. Swimwear with a print that looks catchy and beautiful has a special place. The catwalks showed what prints and color schemes designers are ready to bet on. We at Joy-pup will showcase the main print trends in beachwear.
Animalistic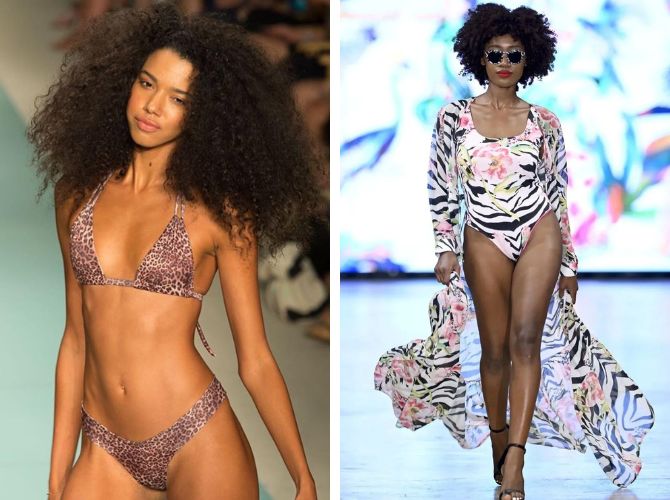 The summer season is dominated by jaguar, snake, leopard and zebra prints. Animal pattern adds a glamorous touch to your beach look. There are several animal print designs for summer 2023-2024. The pattern can completely cover the product, appear only in details, be accented on the top or panties, have a color base or be combined with other prints such as floral and geometric.
Floral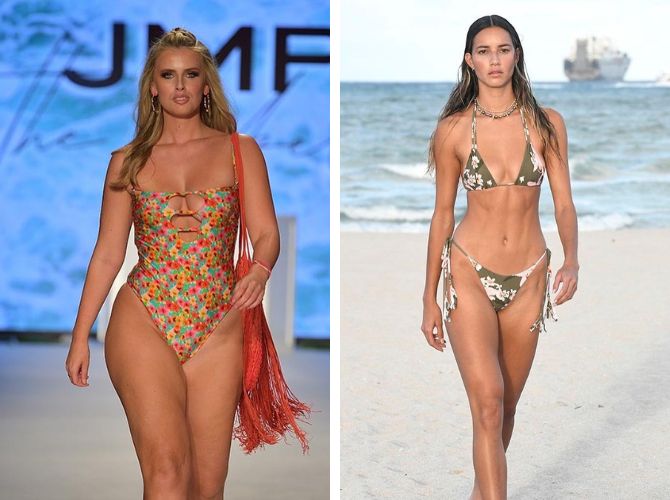 The floral print swimsuit is a summer vibe. The background for the picture is usually bright, colorful and with neon hues. Flowers can be small or large, abstract, minimalistic, in pastel colors and on a black background. Modern versions of the floral print reduce their romantic appeal, but will fit into any style.
Foliage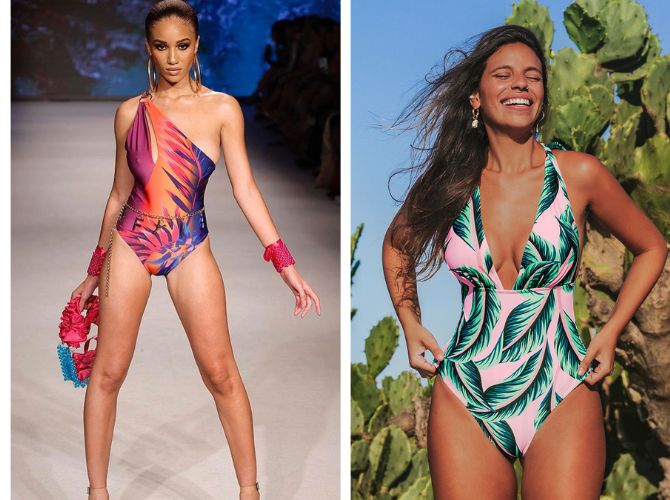 Following the tropical wave, foliage appears in the swimsuit print trend. Floral patterns create very refreshing looks. Leaf patterns are usually of exotic species such as palms, plane trees, monsteras, ferns. On a bathing suit, they can be combined with floral, animalistic and geometric prints.
Tie-dye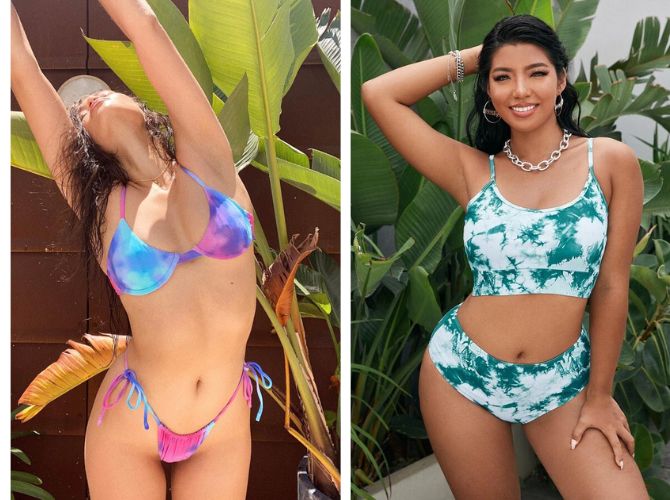 The highlight of the season will be tie-dye in a new interpretation of the print, characteristic of the fashion of the 70s. An exact reference to the past – abstract patterns in bright colors. Tie-dye swimsuits in neutral tones give the piece a sophisticated look. In modern styles, designers have reproduced the ancient technique of artisanal dyeing. Spiral and circle shapes are still a signature of the beach line, but now share the spotlight with stripes and pastel ombre.
Fruit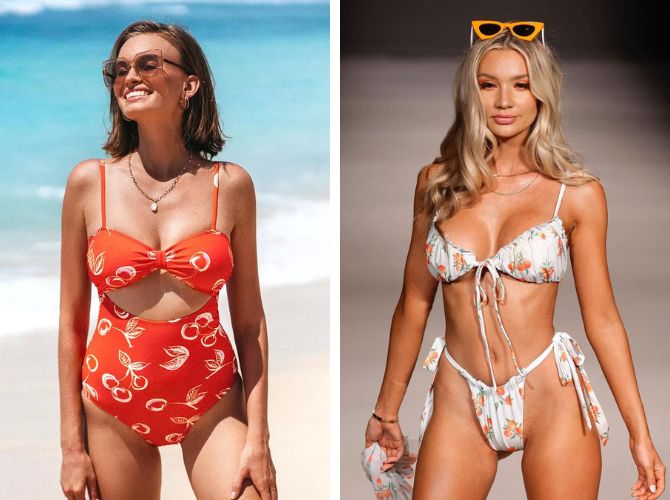 Fruit images will become another strong trend. The pineapple print, which has been a hit for many seasons, will become one of the most popular in beach fashion. The beach line will also include other tropical fruits: banana, watermelon, orange, lemon and kiwi.
Geometric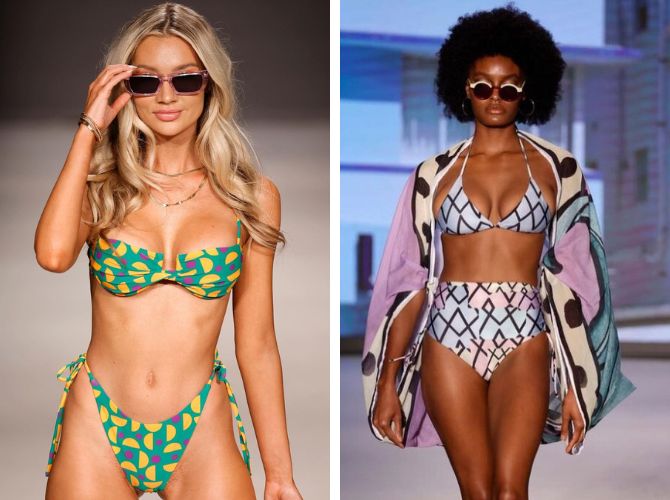 Graphic print swimwear and bikinis bring a modern touch to beachwear 2023-2024. Geometric shapes work on their own or combine prints with floral, tie-dye and tropical motifs. Geometric elements give beachwear a more urban feel with straight lines and solid colors.
Sea bottom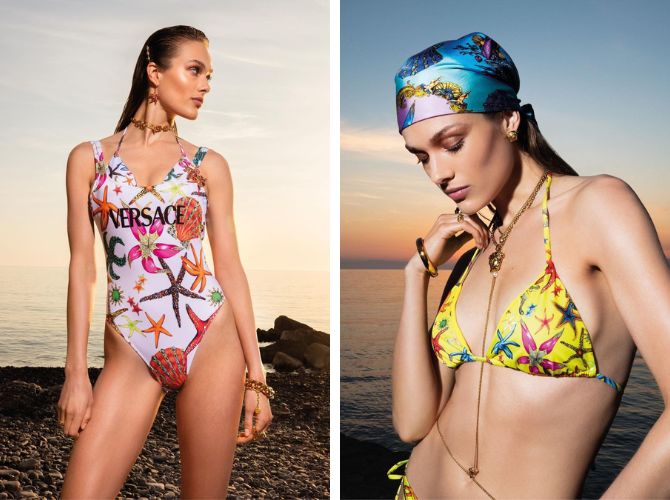 There is nothing more natural than the sea as a guide for beachwear. In a modern interpretation, swimwear prints mix blue, green, turquoise shades with the addition of shells, corals, marine animals.
Abstraction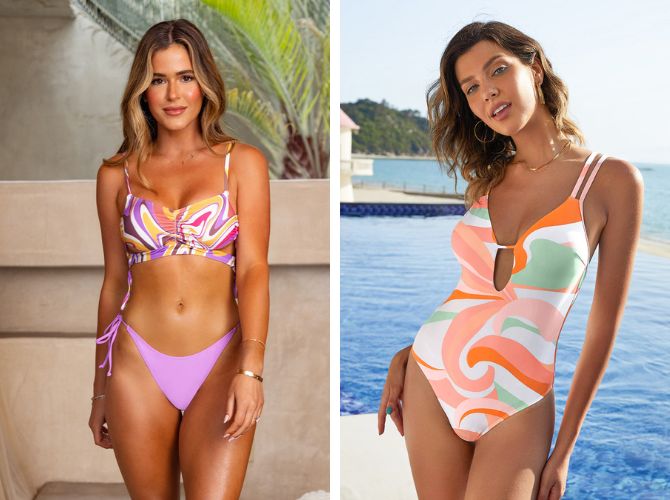 Timelessness is the most striking feature of abstract prints. Without a specific shape, it is suitable for all styles of swimwear. In the beach line, both bright and neutral colors will be in trend, often combined with a tie-dye print.
Similar articles / You may like this