Mojito is a classic cocktail that originated in Cuba. No wonder it uses local ingredients. The perfect sparkling cocktail remains one of the most popular to this day, and its recipe is known all over the world. The combination of mint, tart lime and sparkling water is very refreshing on hot days. We at Joy-pup will describe a homemade mojito recipe that is easy to make yourself.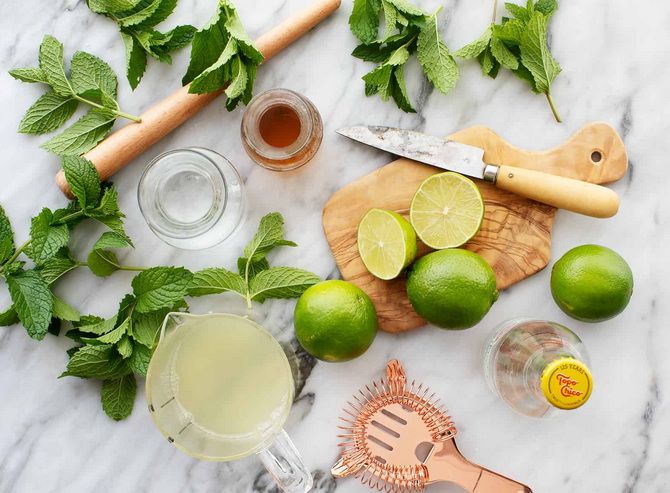 Devices for preparing and decorating drinks
As with most cocktails, making a mojito requires a few special tools.
Shaker.
Muddler or regular pestle, you can also use a wooden spoon.
Tall glasses.
Straws.
Classic mojito recipe at home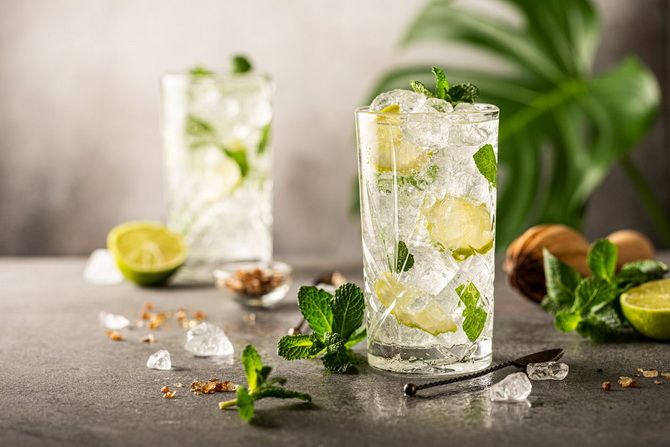 Mojito is not a complex drink that requires a long list of ingredients or special prep work to make. This recipe will make two servings of your favorite cocktail.
Ingredients:
lime – 1 pc.;
mint leaves – 20 g + sprig for decoration;
ice – 8 cubes;
cane sugar – 1 tsp;
sprite or other drink with citrus flavor – 500 ml.
Making Mojito
Step 1. Rinse and dry the mint and lime thoroughly. Cut the lime into slices or slices. Set aside a sprig of mint and 1-2 lime slices to garnish the cocktail.
Step 2. Place the mint, lime and cane sugar in a glass or mortar. Muddle the ingredients to release the mint oil and lime juice.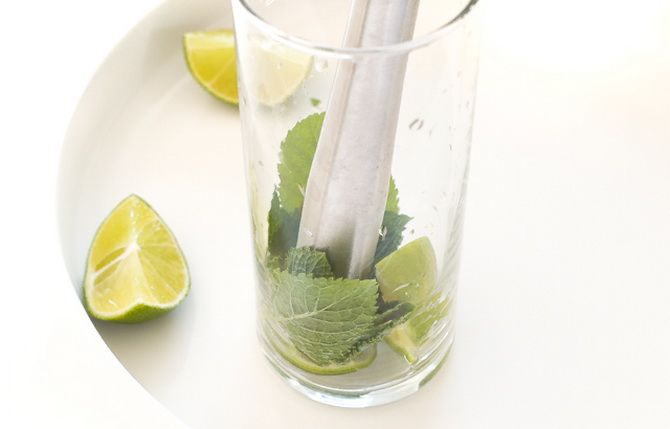 Step 3. Transfer the resulting mixture to a shaker, add a few ice cubes, shake for several minutes until the ingredients are completely mixed and cool. If there is no shaker, you can beat everything in a blender.
Step 4. Pour into a tall glass, add ice and sprite. If desired, you can replace the sprite with mineral water.
Step 5. Garnish the cocktail with mint and a lime wedge.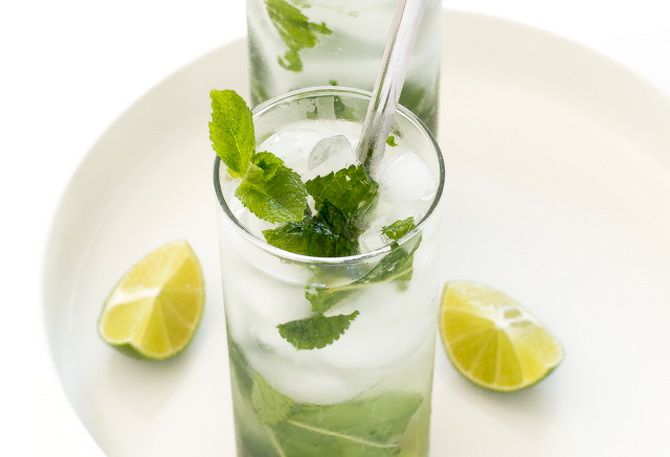 If you want to make a non-alcoholic mojito an "adult" drink, pour in 60 ml of white rum when adding the sprite.
Tip: you can not crush the mint for a long time, this will make it bitter and slimy. A few seconds is enough to release the peppermint oils.
Homemade mojito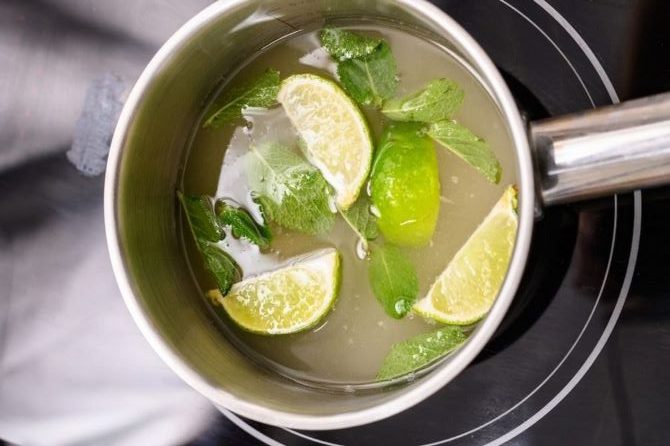 Homemade mojito syrup can be made ahead of time and stored in the refrigerator for a quick and easy cocktail. Add the syrup to a glass of sprite or mineral water.
Ingredients:
1 cup of sugar;
1 glass of water;
10 mint leaves;
1 lime, cut into quarters.
Add all ingredients to a medium sized saucepan and bring to a boil. Remove from heat and let cool. Cover the pot with a lid and let it sit for about 10 minutes. Strain syrup through a sieve to remove mint leaves and lime wedges. Store in the refrigerator in an airtight container for up to a week.
Mojito options: how to diversify the recipe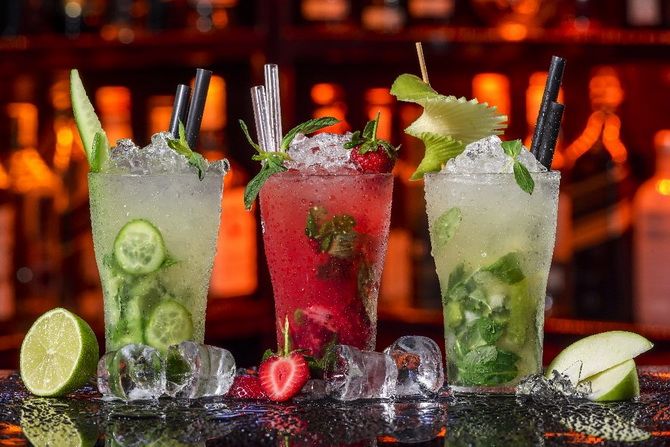 If you want to change something up in the classic mint mojito recipe, try experimenting with other ingredients.
Cucumber Mojito: Add slices of fresh cucumber to refresh.
Coconut Mojito: Add some coconut milk or coconut water.
Citrus mojito: Replace the lime with a lemon, grapefruit, or other citrus.
Fruit Mojito: Add some fresh berries or fruits (pineapple, berries, orange, mango, watermelon) for a fruity twist.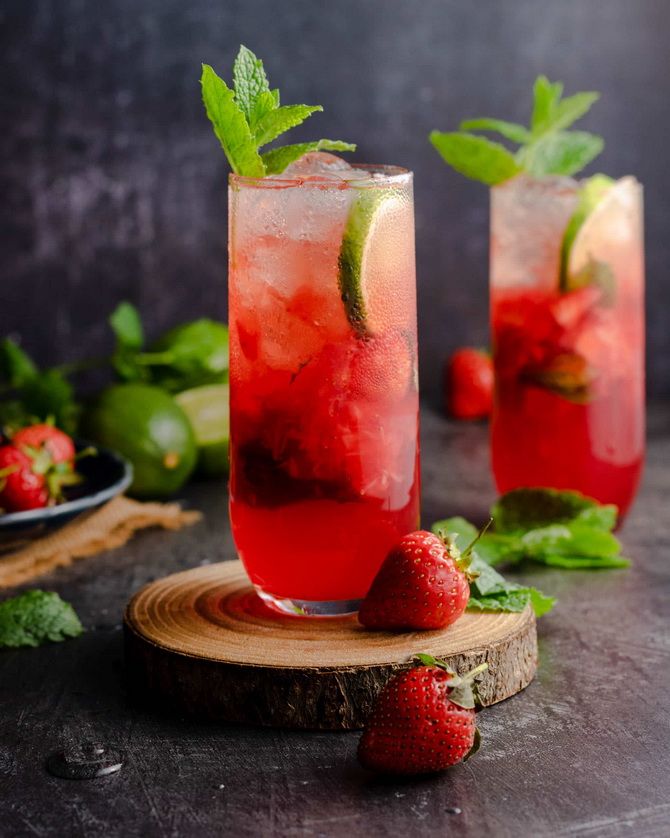 Spicy Mojito: Add a few slices of fresh jalapeños or serrano peppers for a spicy twist.
Mojito Smoothie: Blend the ingredients in a blender for a thick smoothie. You can add other products to lime and mint: pineapple, cucumber, apple, banana.
Basil Mojito: Replace the mint with fresh basil leaves in this recipe.
Similar articles / You may like this