Raspberries can be an excellent ingredient for many dishes. It is used not only to create delicious jams. We at joy-pup tell you what to cook with raspberries and offer several step-by-step recipes.
Watch the video recipe for raspberry macaroons:
Raspberry tart with protein layer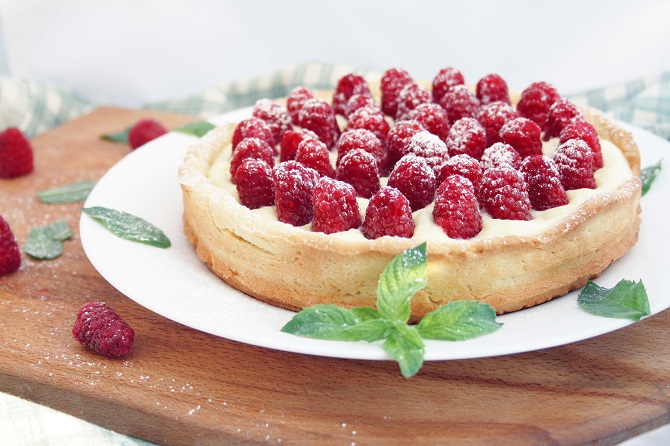 If you want to diversify your homemade diet, try this raspberry pie. It cooks very quickly and you will like its taste. You will need the following ingredients:
250 g raspberries
3 eggs
150 g sugar
150 g flour
1 teaspoon baking powder
a pinch of salt
150 g low-fat yogurt
1 teaspoon vanilla extract
Step by step preparation:
Preheat oven to 180 degrees.
Beat eggs with sugar until fluffy.
Sift flour, baking powder and salt, add them to the egg-sugar mixture and mix gently.
Add yogurt and vanilla extract, mix again until you get a smooth dough.
Pour half of the dough into a baking dish.
Spread the raspberries evenly over the dough.
Then lay the remaining half of the dough on top.
Place the pie in the preheated oven and bake for about 35-40 minutes or until golden brown.
Refrigerate before serving and enjoy the juicy raspberry tart.
Raspberry smoothie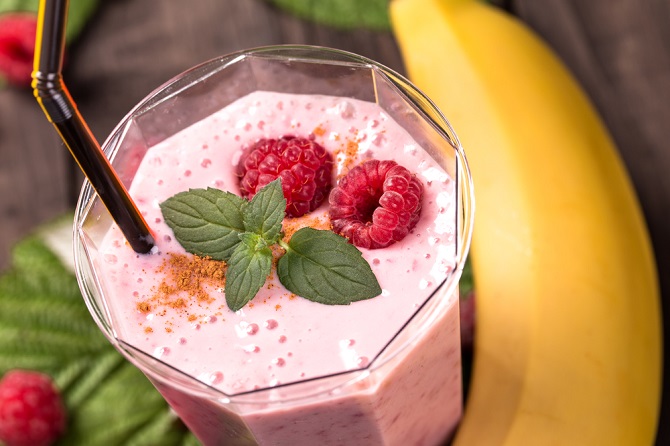 Try this treat, which is a great alternative to ice cream on hot days. Ingredients:
1 ice cube
150 g fresh raspberries
1 ripe banana
200 ml low-fat yogurt
1 tablespoon honey (optional)
Step by step preparation:
Put all ingredients into a blender.
Turn on the blender and mix all the ingredients until a homogeneous texture is obtained.
If you want the smoothie to be sweet, add honey and beat again in a blender.
Pour smoothie into a tall glass, garnish with fresh raspberries and serve immediately.
Raspberry sauce for meat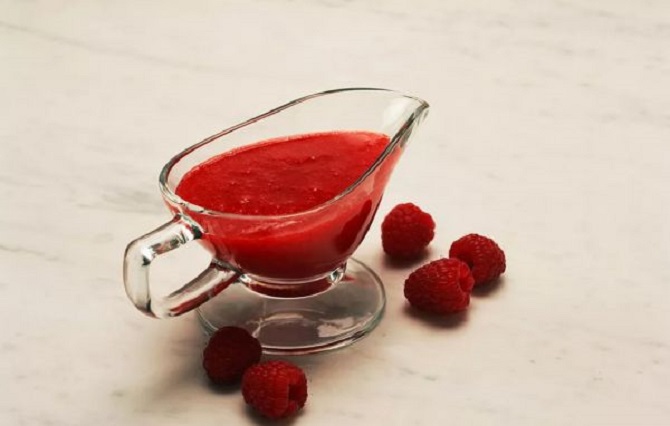 If you are cooking a juicy steak, top it with raspberry sauce. It will please you with a slight sourness and excellent aroma. To prepare it, use the following ingredients:
200 g raspberries
2 tablespoons honey
1 tablespoon soy sauce
1 tablespoon starch
100 ml water
Step by step preparation:
Puree raspberries in a blender until smooth.
In a small saucepan, combine raspberry puree, honey, soy sauce and water.
Add starch and stir well to avoid lumps.
Place the saucepan over medium heat and heat, stirring constantly, until the sauce thickens.
Once the sauce thickens, remove from heat and refrigerate.
This delicious raspberry sauce goes great with grilled meat or poultry.
To be continued…
Similar articles / You may like this