Canvas shoes are the favorite shoes for many women, regardless of age, bodily constitution or social status. They look harmoniously as a part of any outfit, are modern and fashionable. In 2023-2024, it's OK to wear gumshoes not only with jeans and sweatshirts. These super-comfortable shoes are worn with classic suits, skirts and even evening dresses. Find examples of such extraordinary outfits with gumshoes in a fashion review from Joy-pup. Read the useful tips from stylists and learn what to combine sneakers with in 2023-2024 season.
Why do we love sneakers?
Sneakers first appeared at tennis and basketball courts and only then got to the women's wardrobe. In the 50s of the last century, representatives of youth movements began to wear them in a big way, and by the end of the 60s it was simply impossible to imagine a stylish "teenage" look without sneakers or canvas shoes. Today, sneakers are worn by men and women of any age and sufficiency level, and are combined with clothes of different styles – from sport chic style to classics.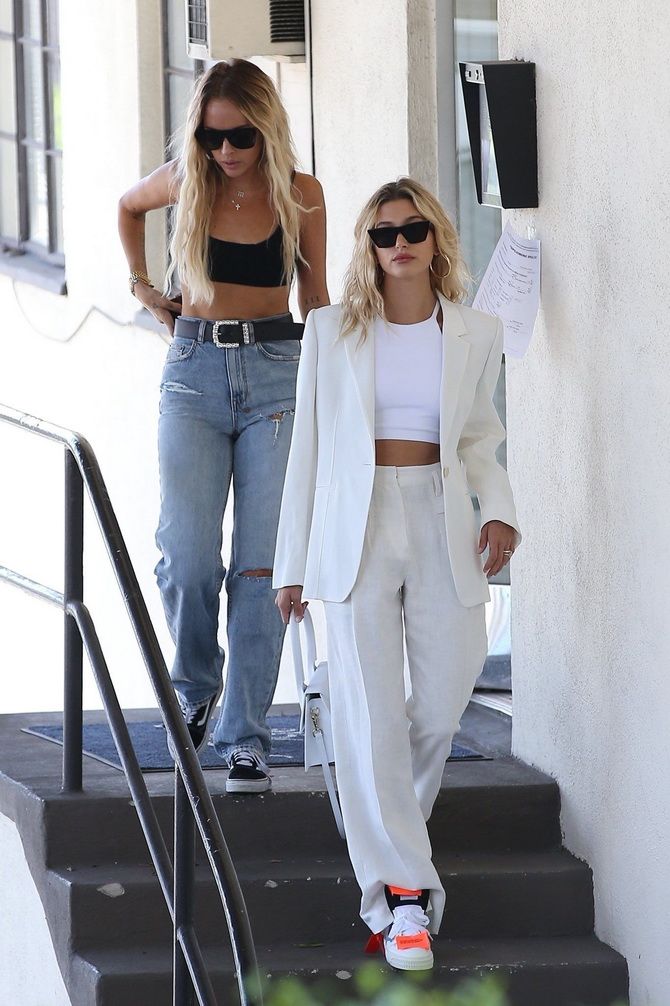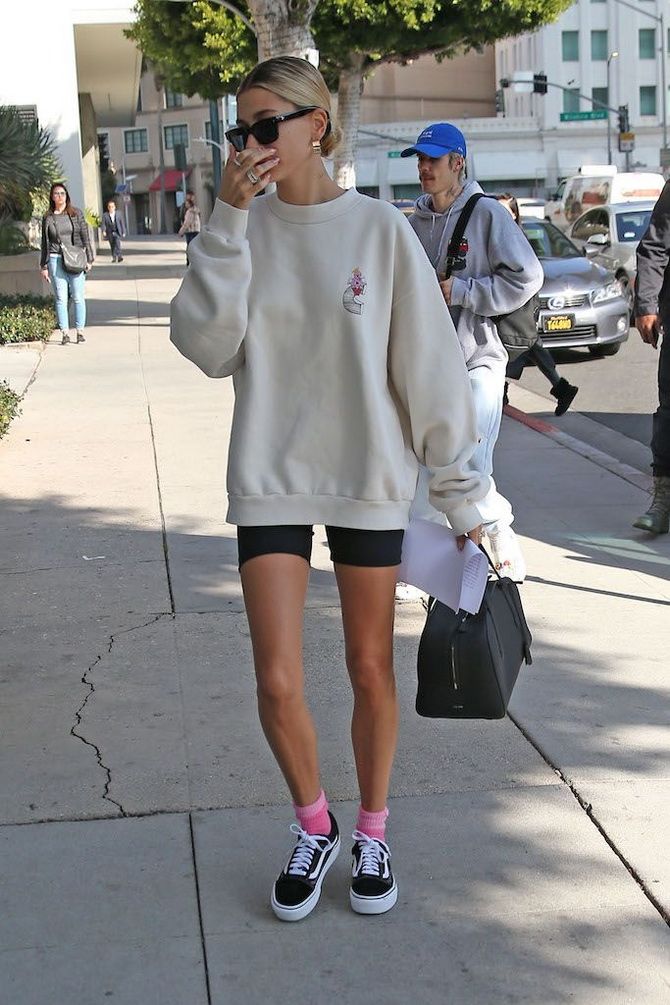 Multipurposeness. Canvas shoes are completely democratic shoes worn by either ordinary women or world-famous celebrities. Supermodels Haley Bieberand Kaia Gerber, actresses Zendaya and Cara Delevingne, as well as Rihanna, Kendall Jenner, Bella and Gigi Hadid were repeatedly "noticed" in sneakers. And it's great!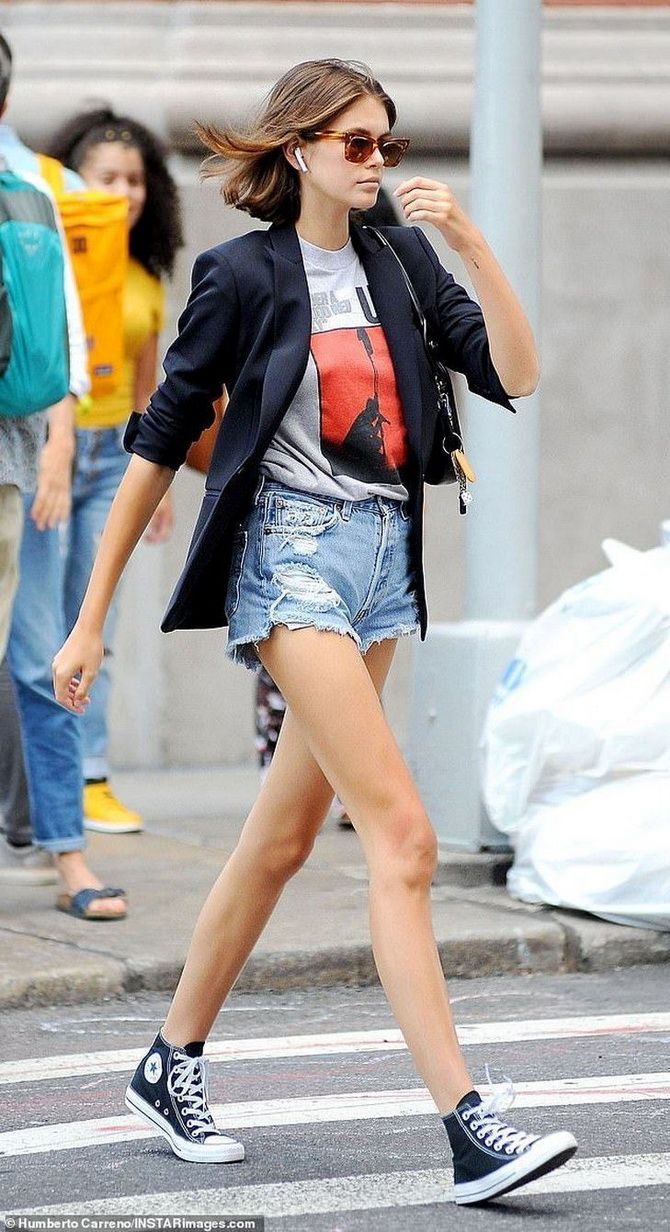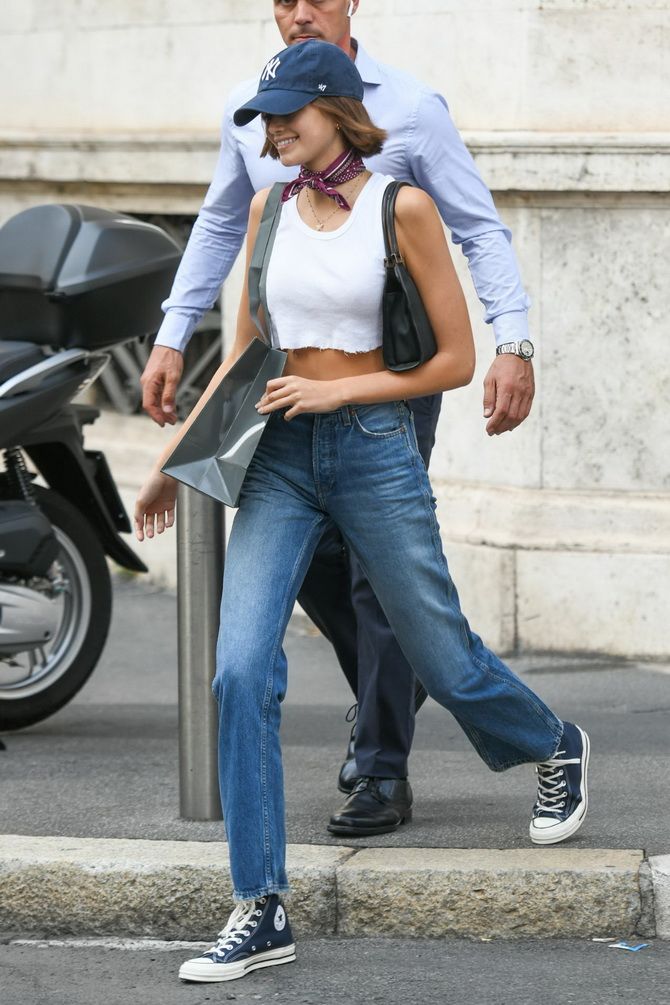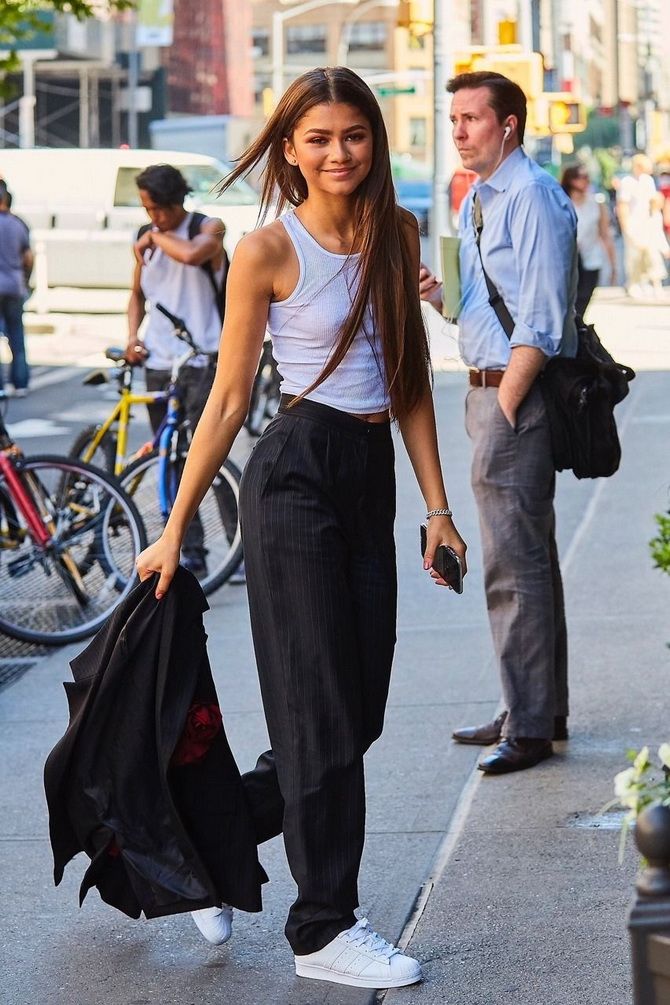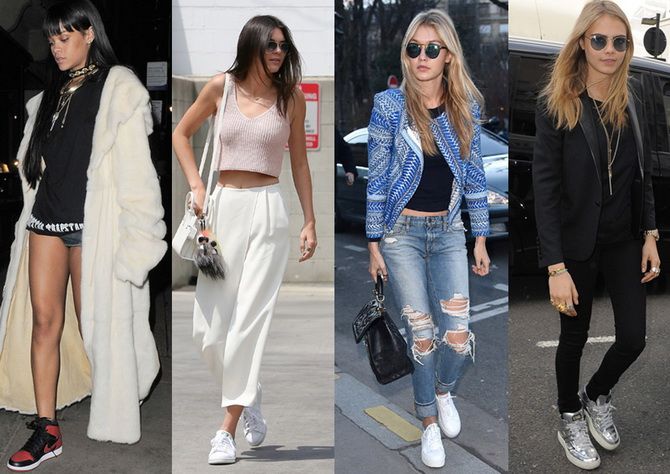 Comfort. Sneakers or canvas shoes are convenient! We doubt that anyone will have the heart to argue with this fact. Today, a popular question "is it OK to wear sneakers with a dress?" is rhetorical. Without any hesitations they combine these 2 items of the basic women's wardrobe.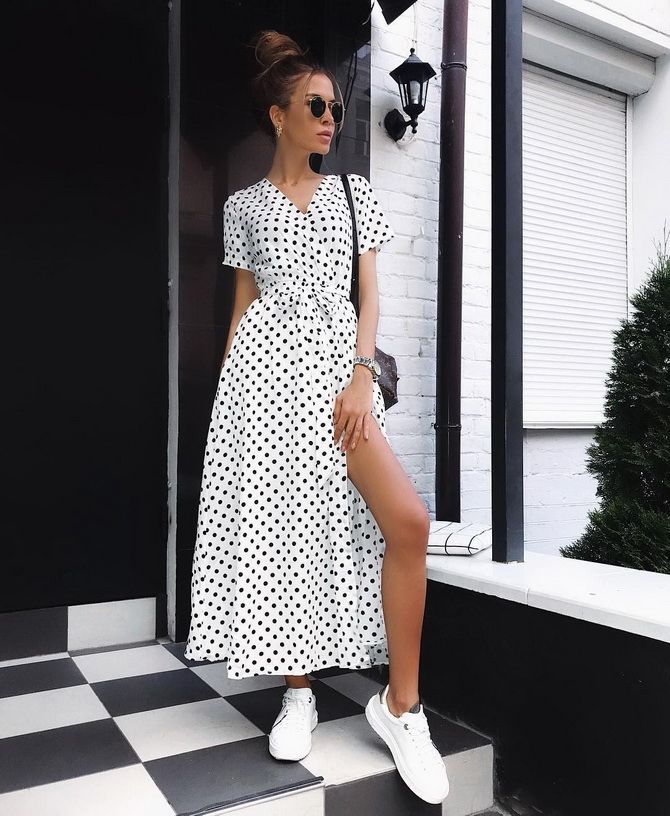 Environmental friendliness. The American brand Converse introduced a collection of Renew Cotton canvas shoes from recycled material. 40% of these shoes are made of cotton canvas cuts, which used to be considered production waste. The laces of the new Chuck Taylor and Chuck 70 Converse models are made of recycled polyester.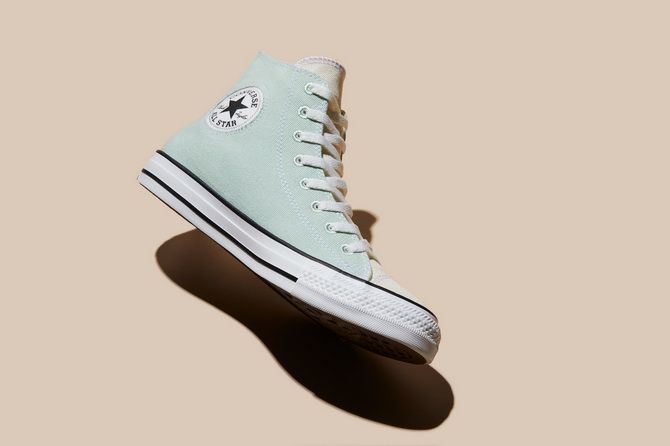 How to wear white canvas shoes: a selection of fashionable ideas 2023-2024
Trendy jeans create the most popular combination with white canvas sneakers in 2023-2024. Choose baggy models of trousers: banana, slouch, flare, mom jeans and wear them with sneakers. A nude jacket and a stylish bag will complete your stylish look.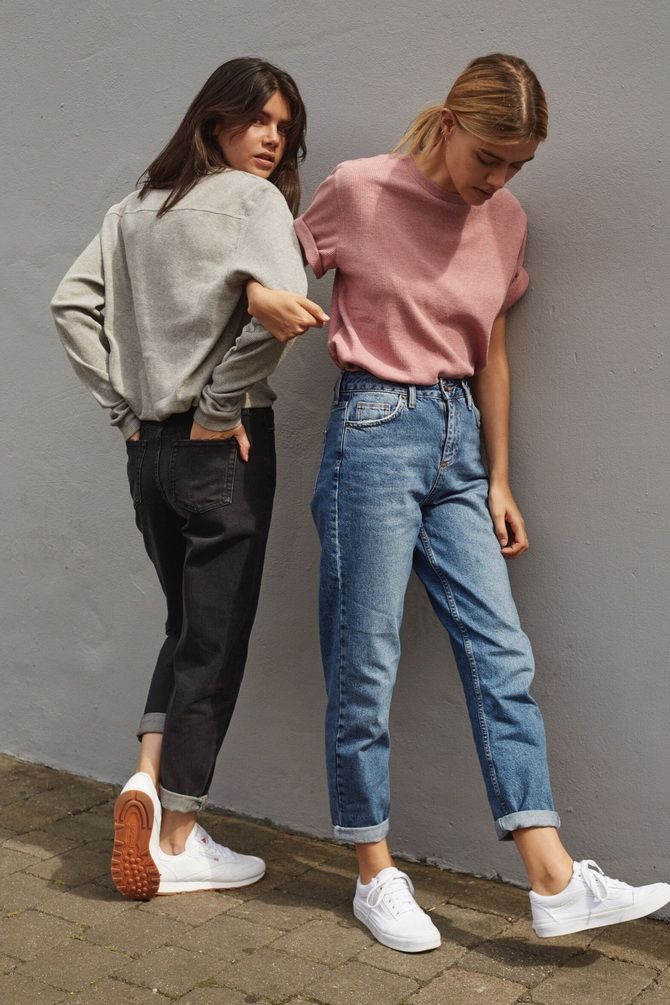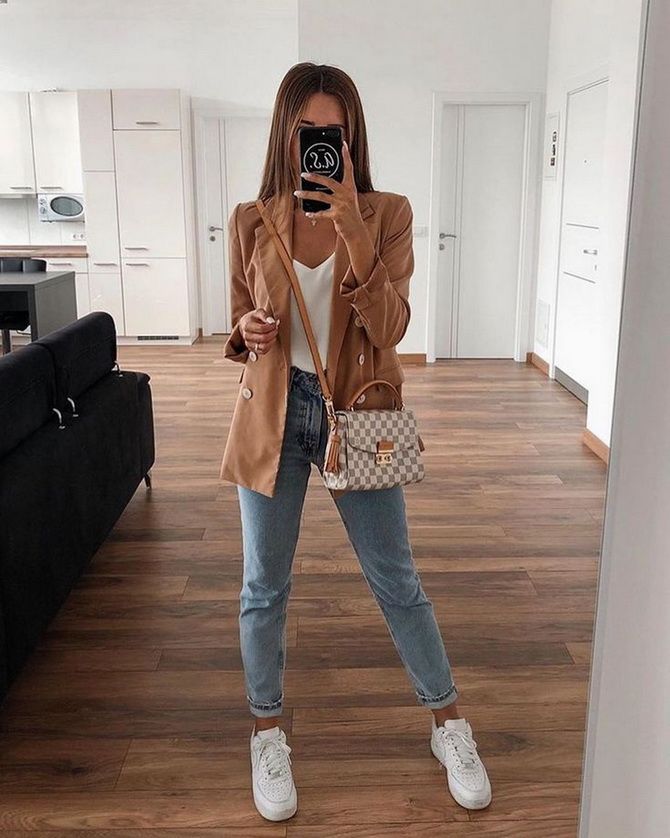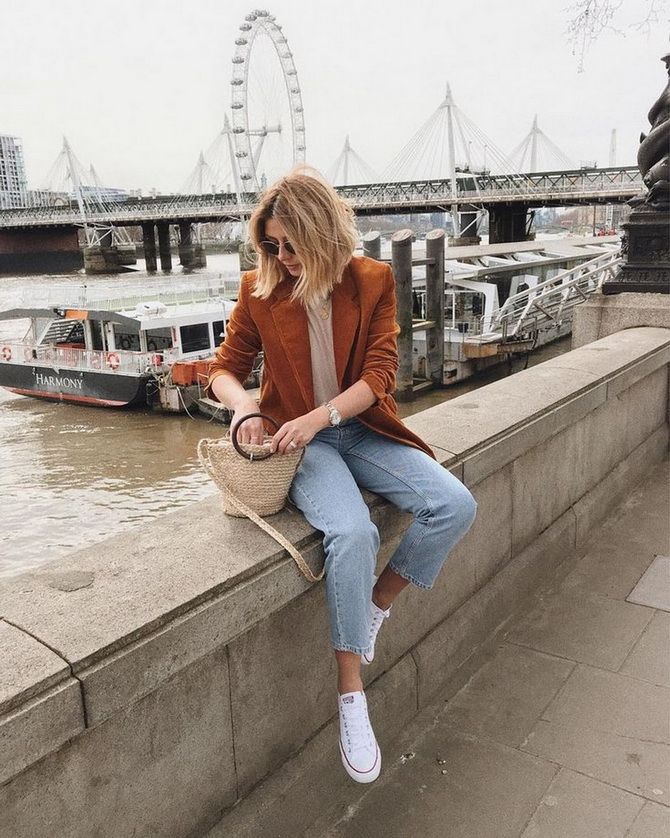 Another classic option to wear with women's white sneakers is a light midi skirt and a black turtleneck.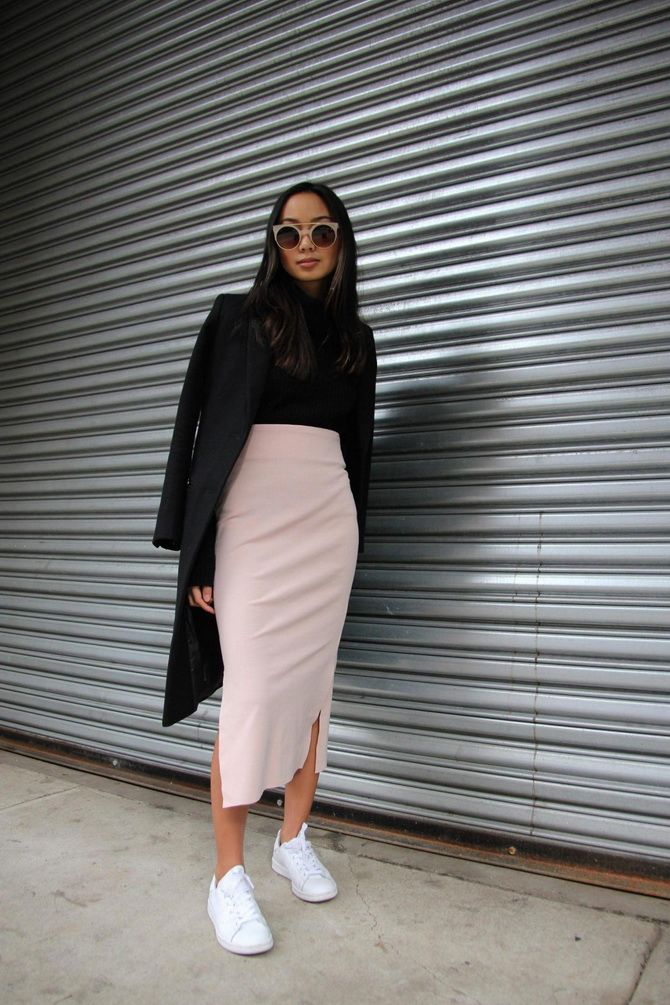 When creating everyday summer looks 2023-2024, choose elegant items to match white sneakers, for example, bright culottes or a short jumpsuit.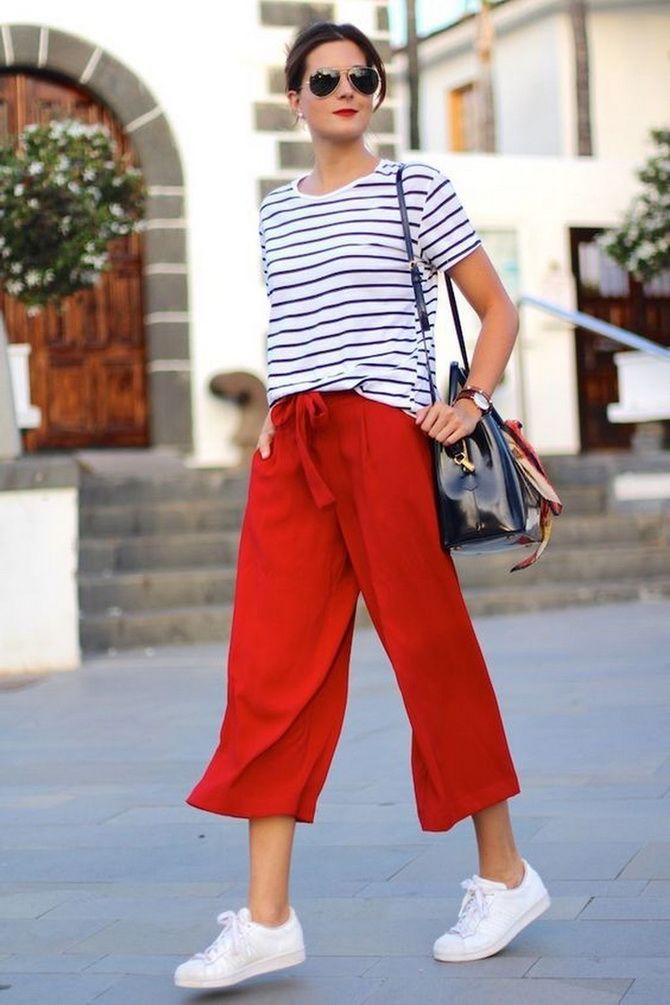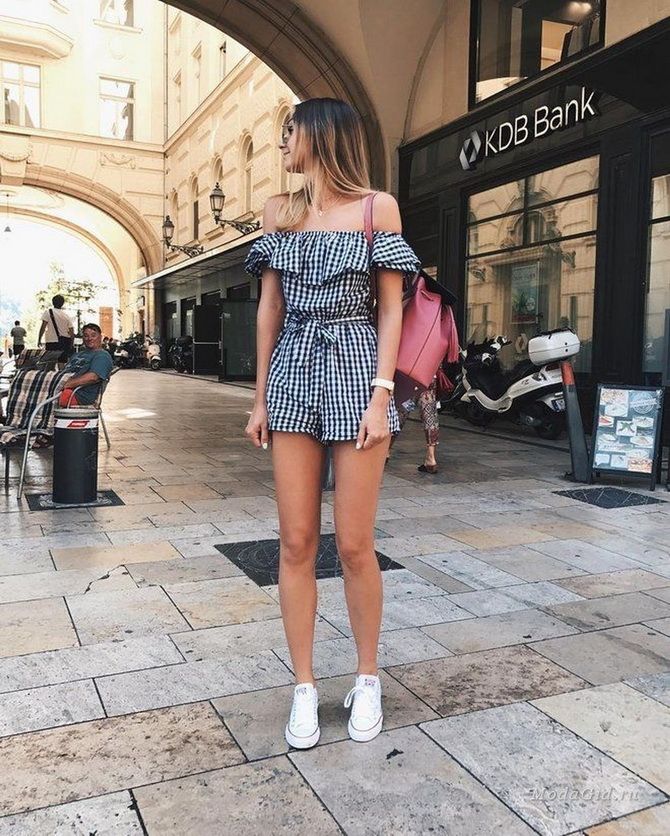 In the wardrobe of women over 50 white sneakers remain a stylish and appropriate thing. Combine them with light trousers, a white shirt and an ivory cardigan. Restrained nude and white total looks are in the fashion trends of 2023-2024.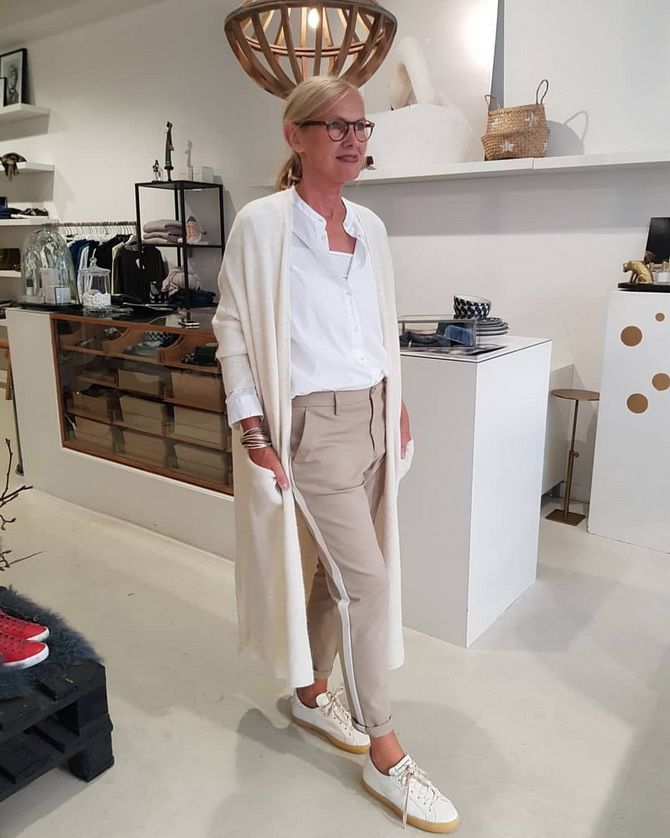 Dress and canvas shoes: how to combine in 2023-2024
Looking for tips on what types of dresses to wear with sneakers? In 2023-2024, any model of dresses is combined with this shoes, from romantic to wedding ones!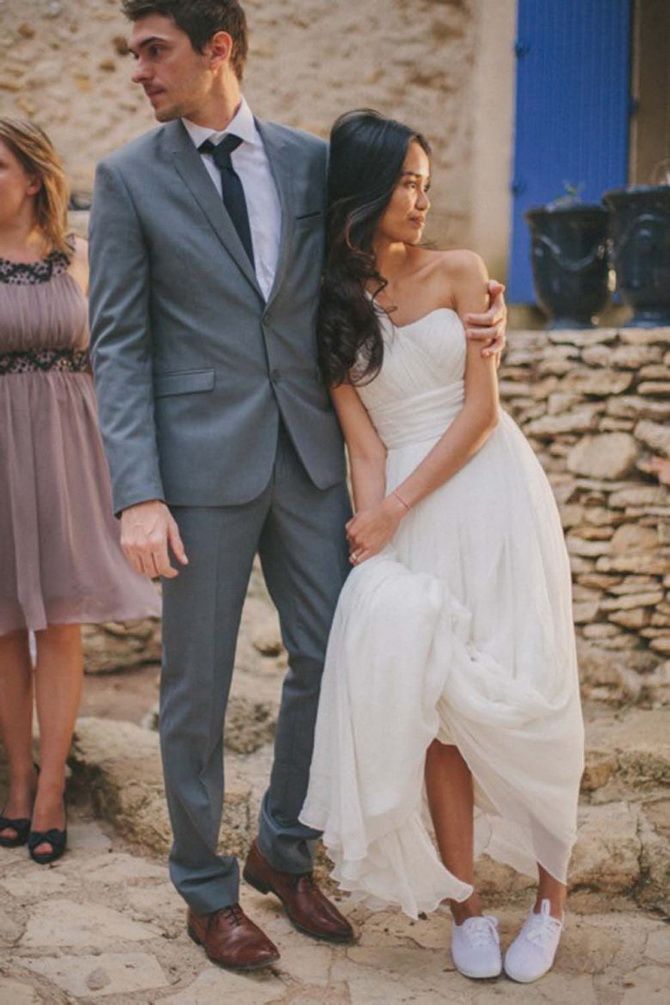 Currently popular dresses with balloon sleeves look stylish and harmonious with white women's canvas shoes.
A cool fashion idea is to combine high soles sneakers with a silk slip dress and a leather biker jacket.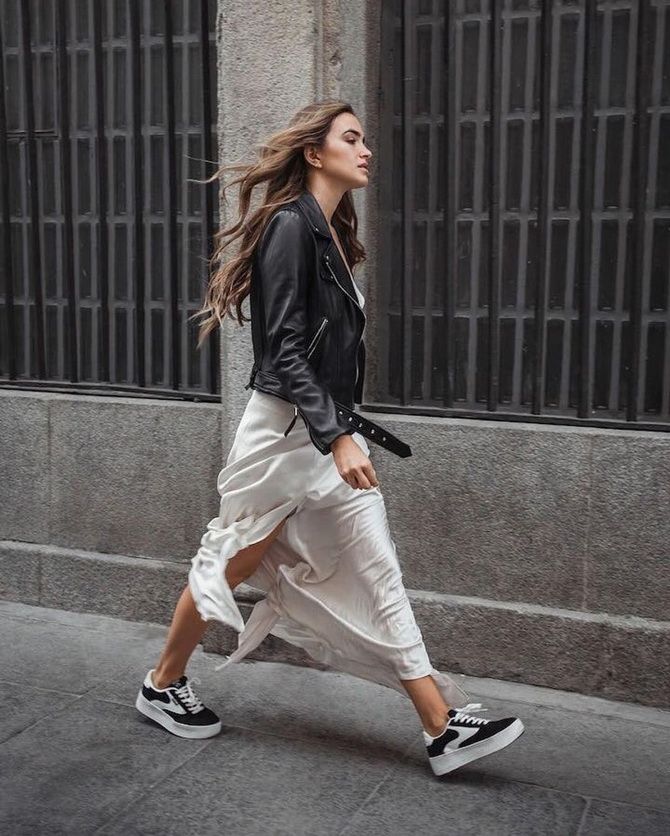 Trendy autumn look 2023-2024 consists of a knitted dress, an elongated blazer and black Converse sneakers.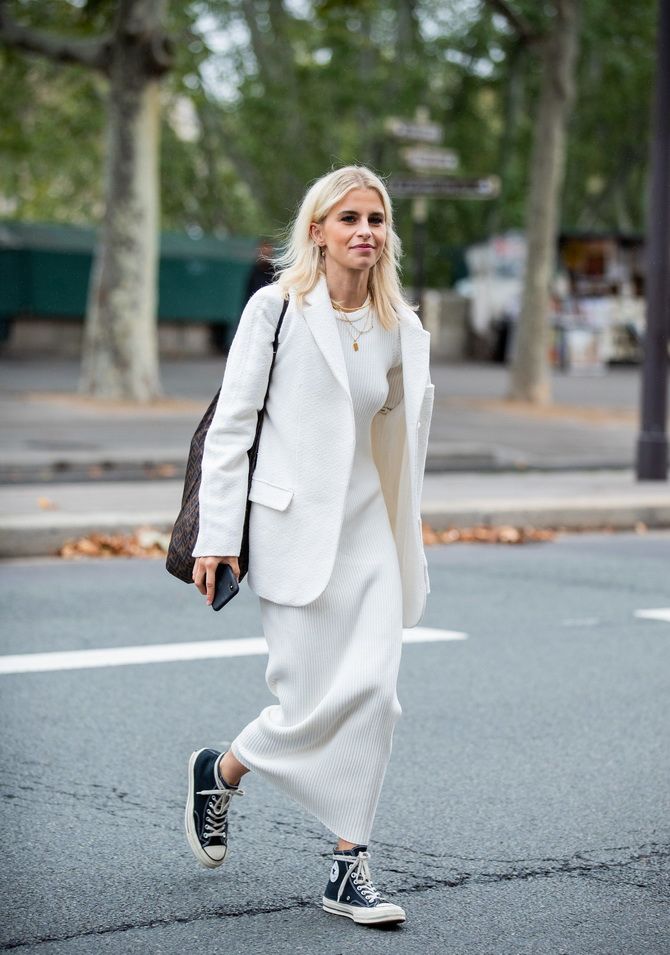 Let's take a look at some more elegant options with sneakers: mini polka dot models, shirt dresses for the summer or midi styles with a leopard print.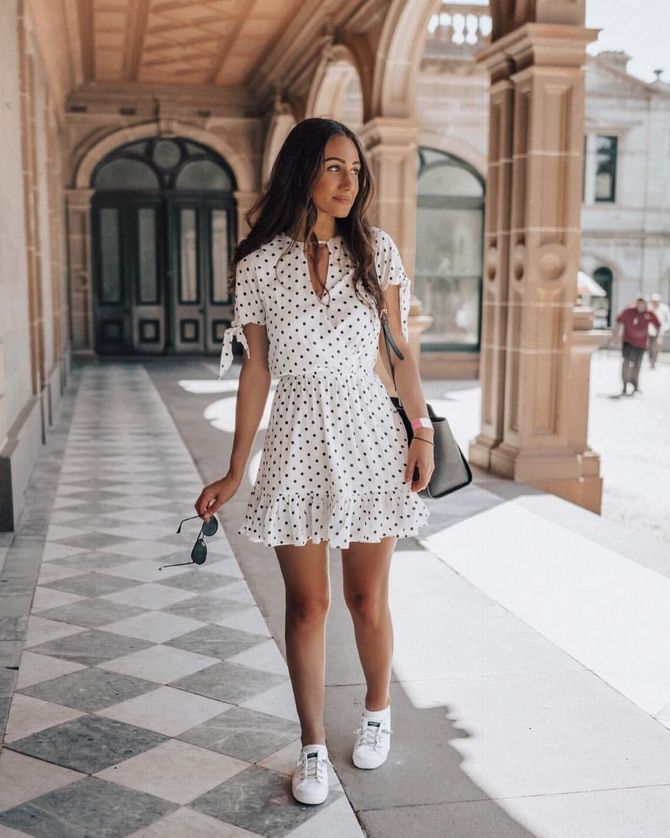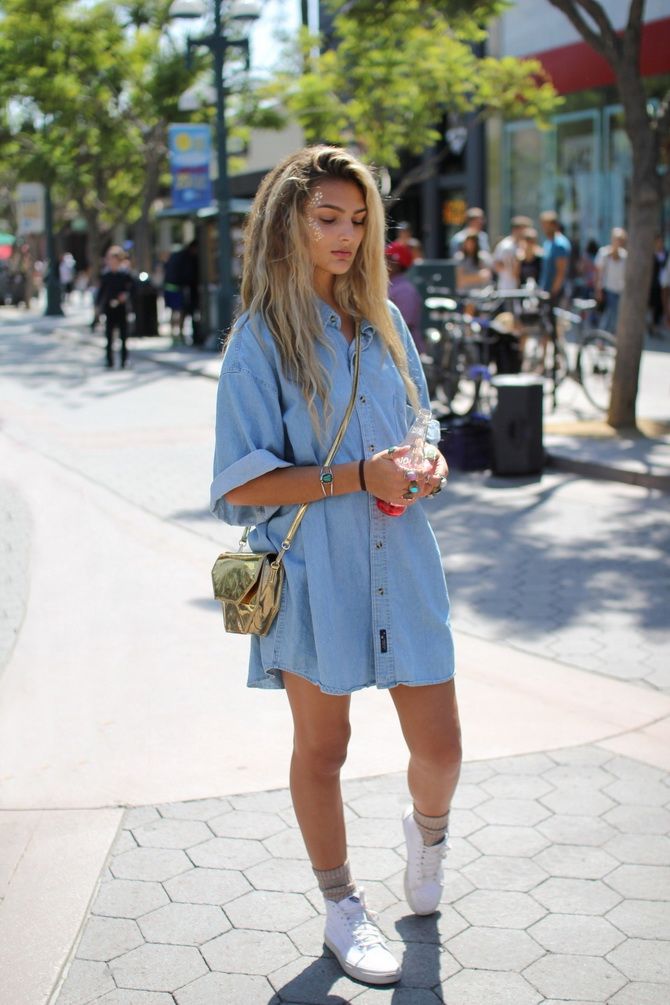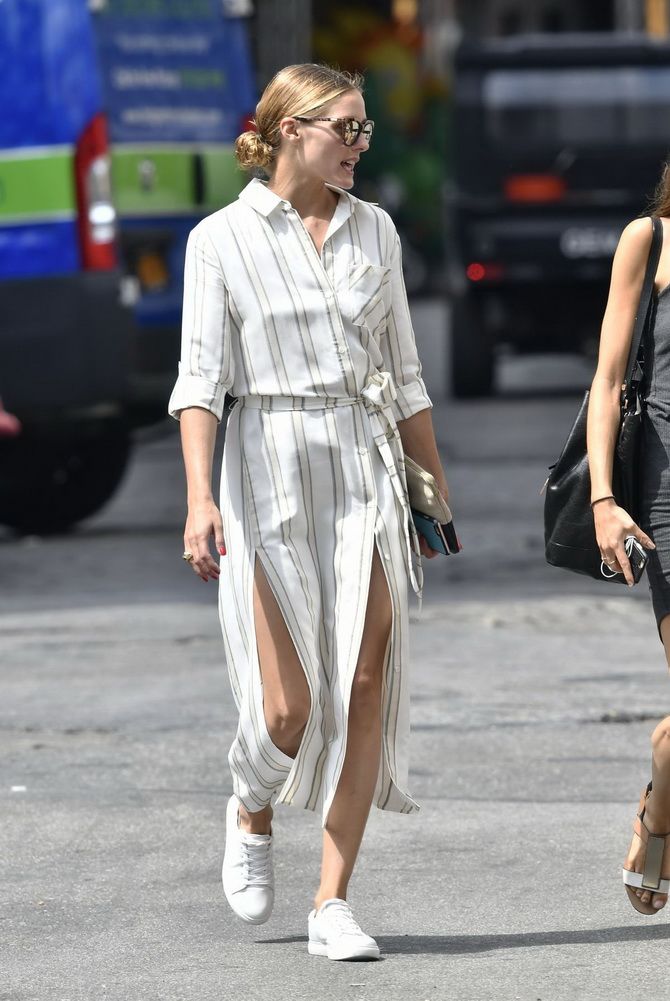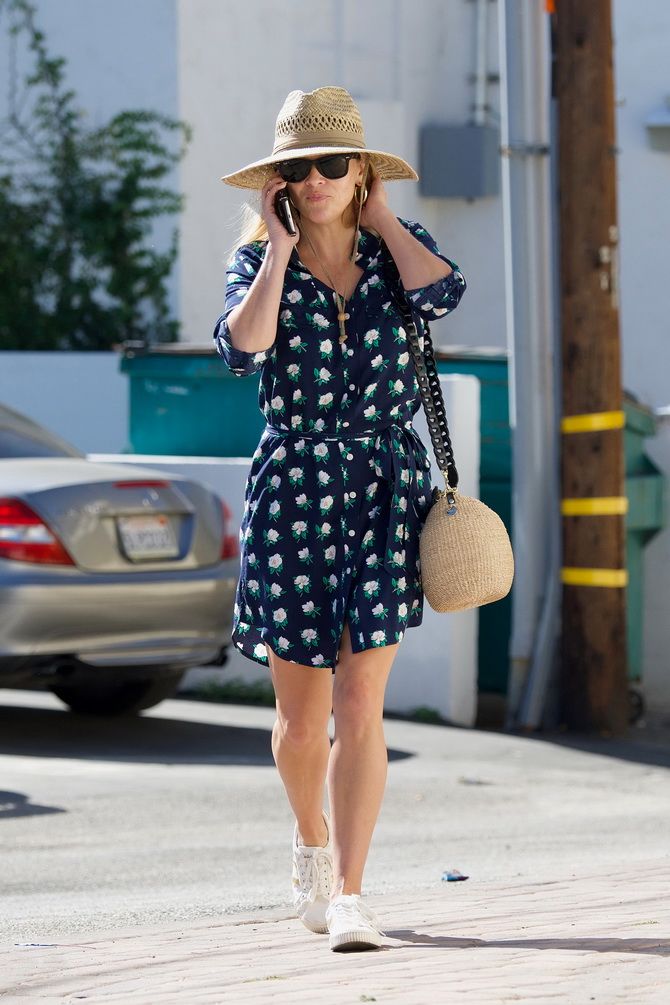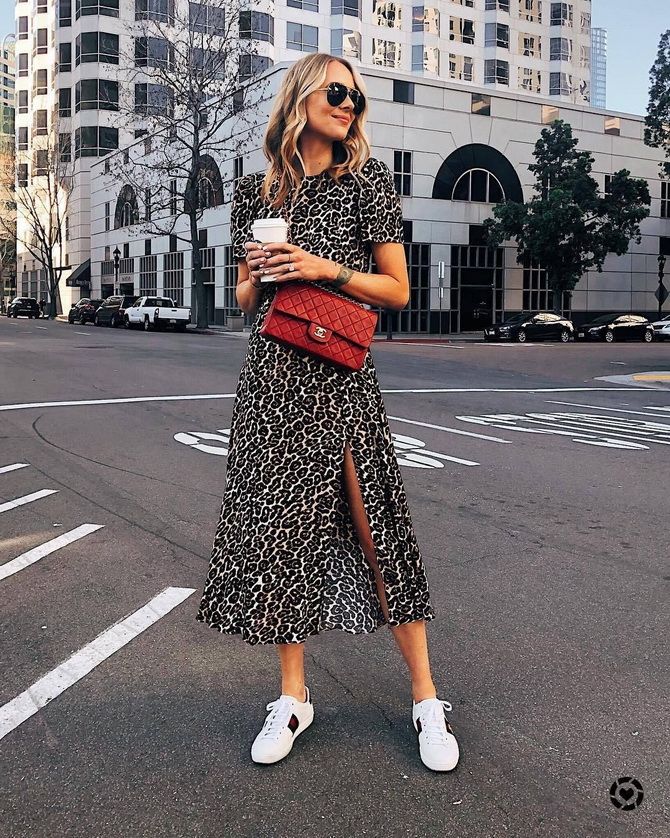 Elegant dresses with draperies, cutouts or a flared A-silhouette are suitable for full-figured girls, plus look good with fashionable canvas shoes and sneakers. Look at the photos!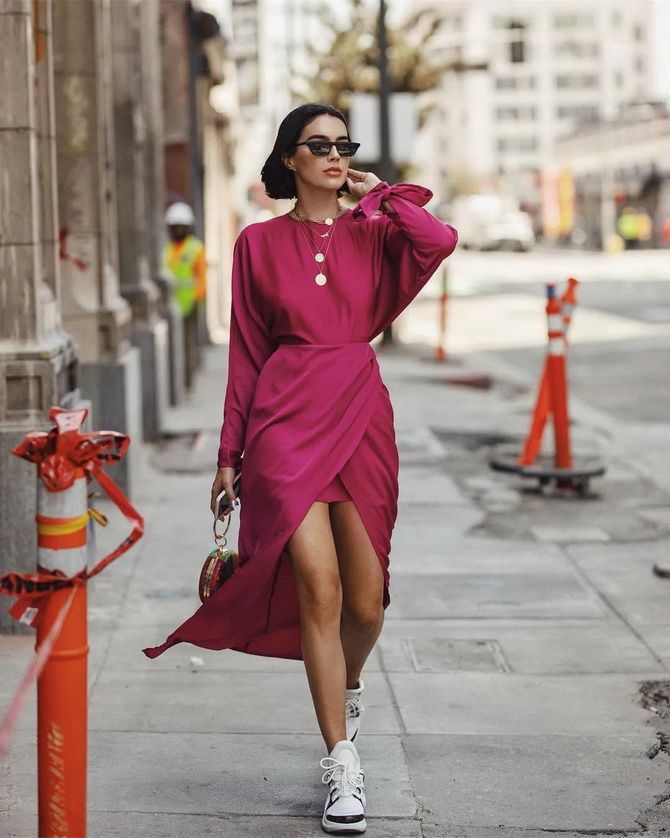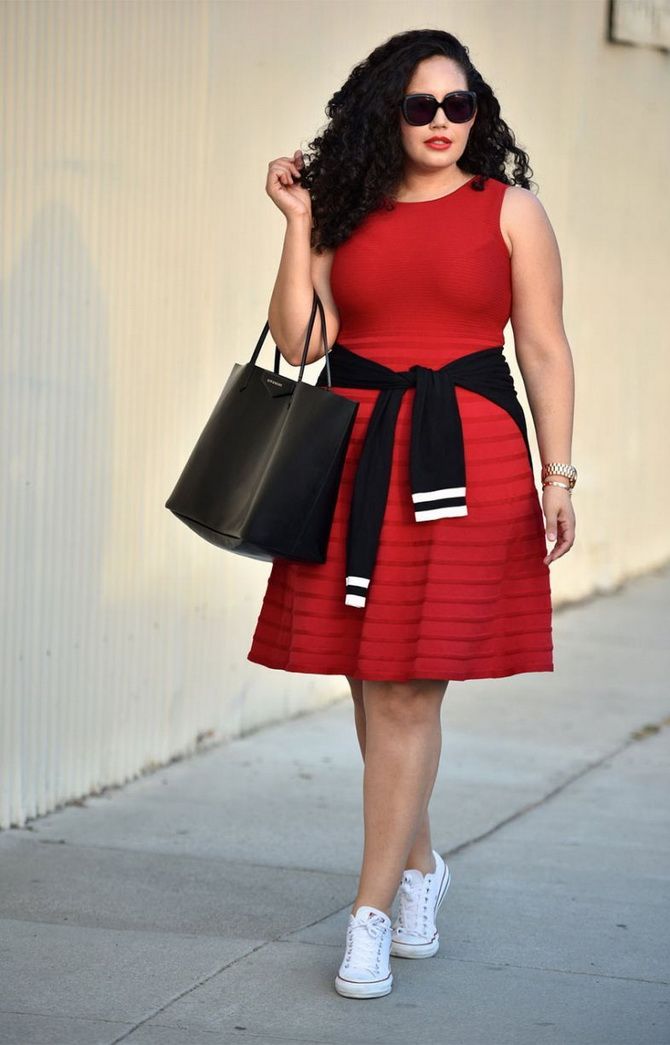 Mini, midi, maxi: stylish sneakers + skirt combinations
The most popular styles of skirts (flared, straight, pencil, pleated) are ideally combined with sneakers: You can choose from a wide variety of materials (jeans, satin (hit 2023-2024!), leather, knitwear) and try on different skirt length, from seductive mini to floor-length models.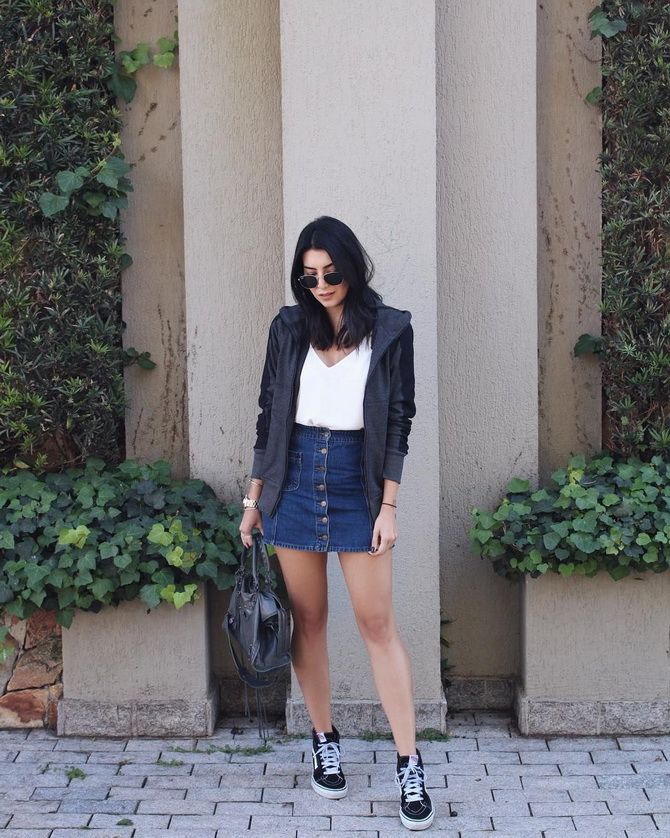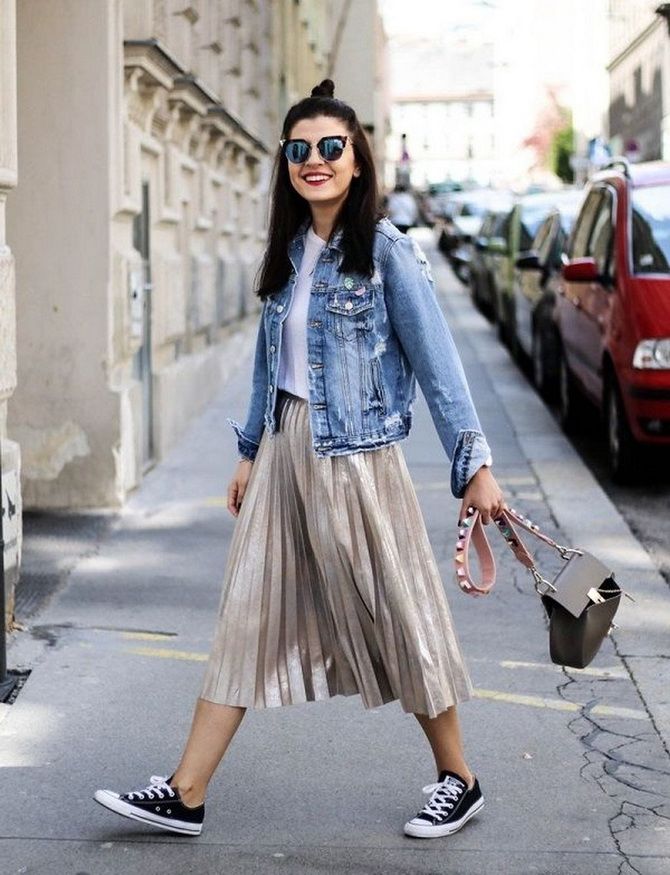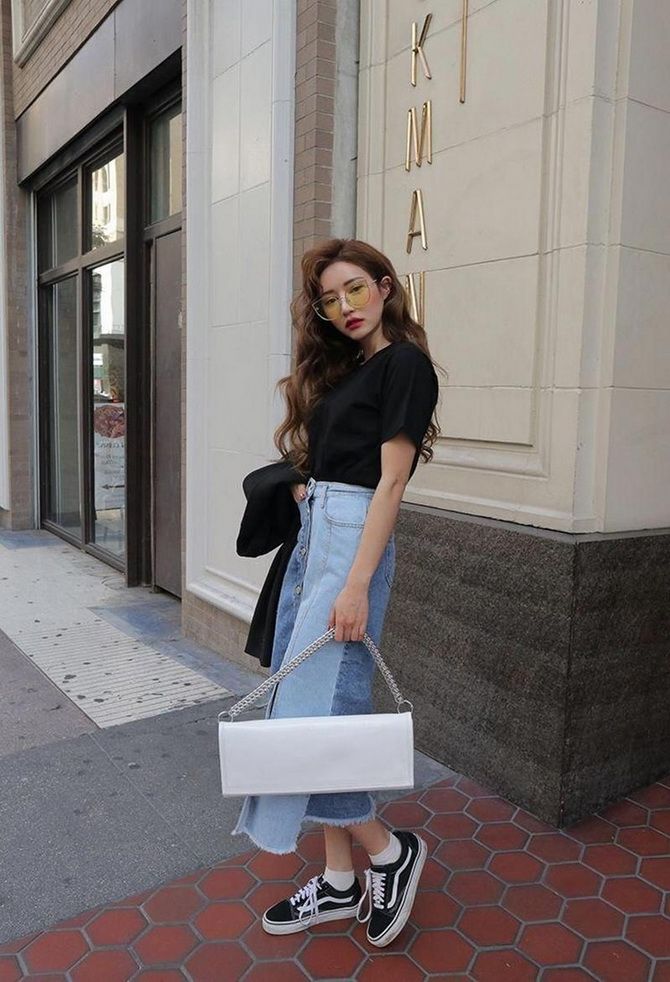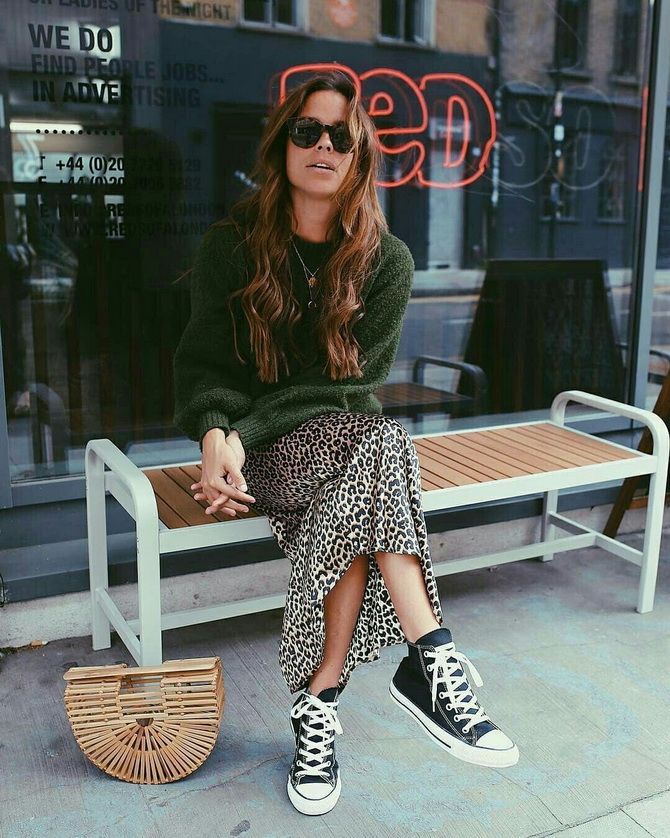 A slit pencil skirt, a stylish T-shirt and snow-white sneakers are a great option for summer and fall 2023-2024.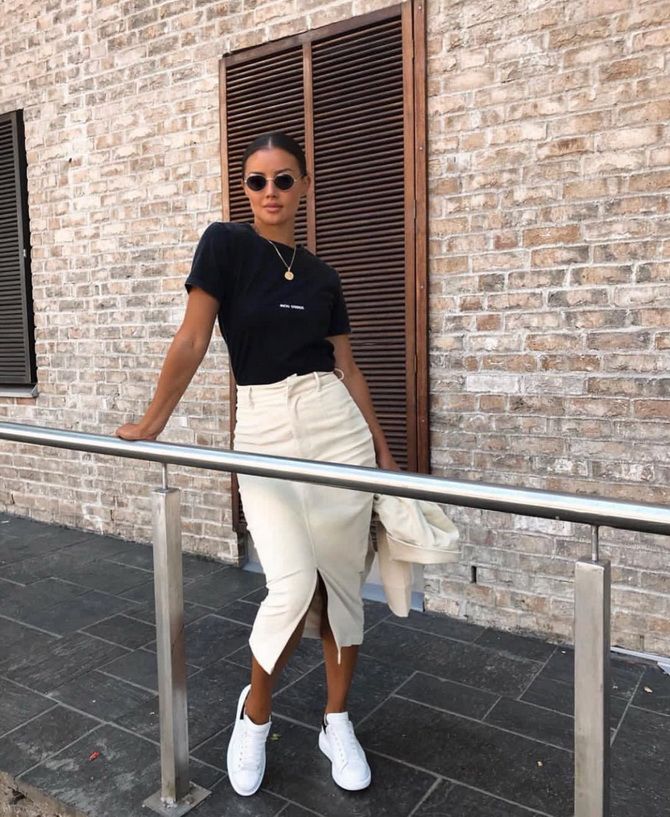 For every day: what pants to wear with sneakers
Girls can sometimes have doubts about wearing sneakers with other types of trousers except jeans. There must be no doubts. Leather or textile canvas shoes are combined with black leggings, joggers, cargo pants and even classic trousers.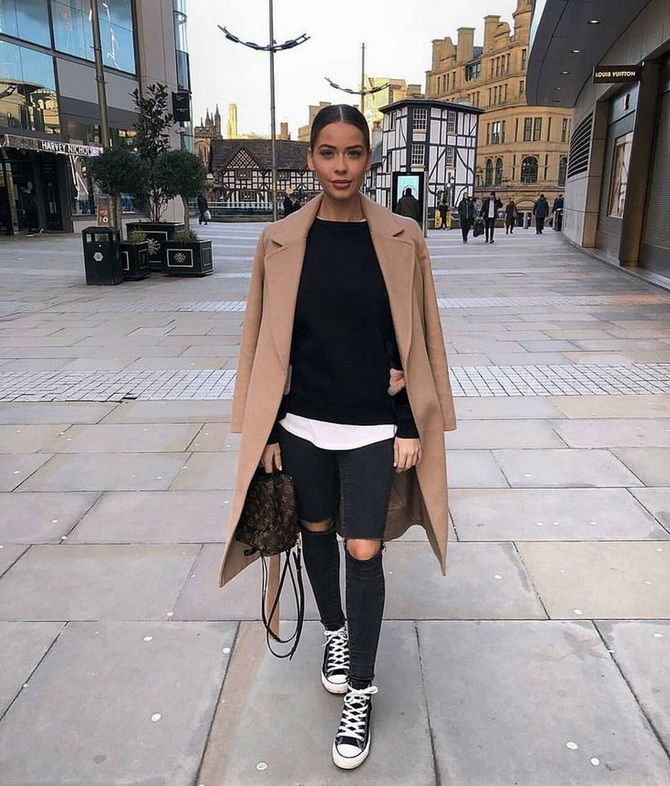 Chic look 2023-2024 consists of white sneakers, leather pants and a black blazer.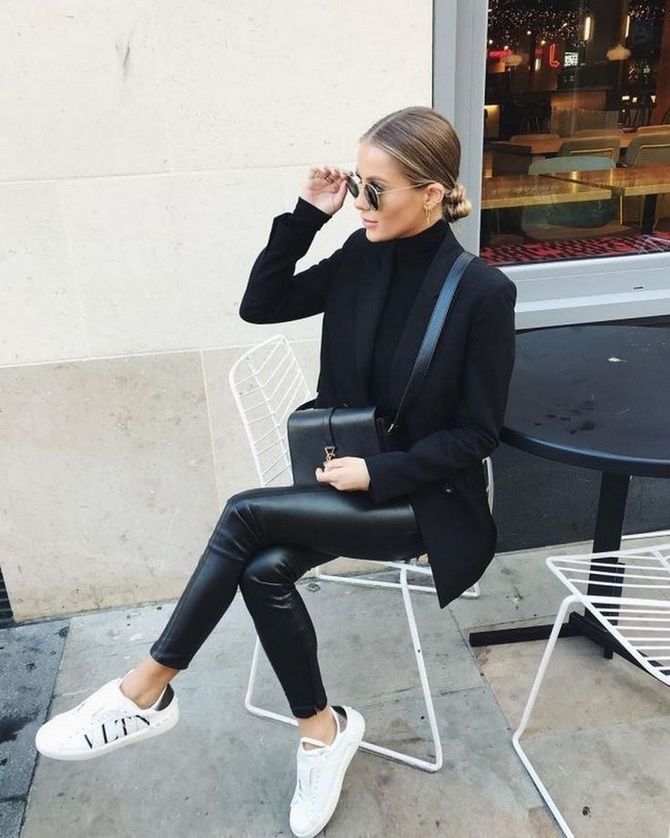 If you're looking for ideas on what to wear with high top sneakers, try on khaki pants and an oversized sweatshirt.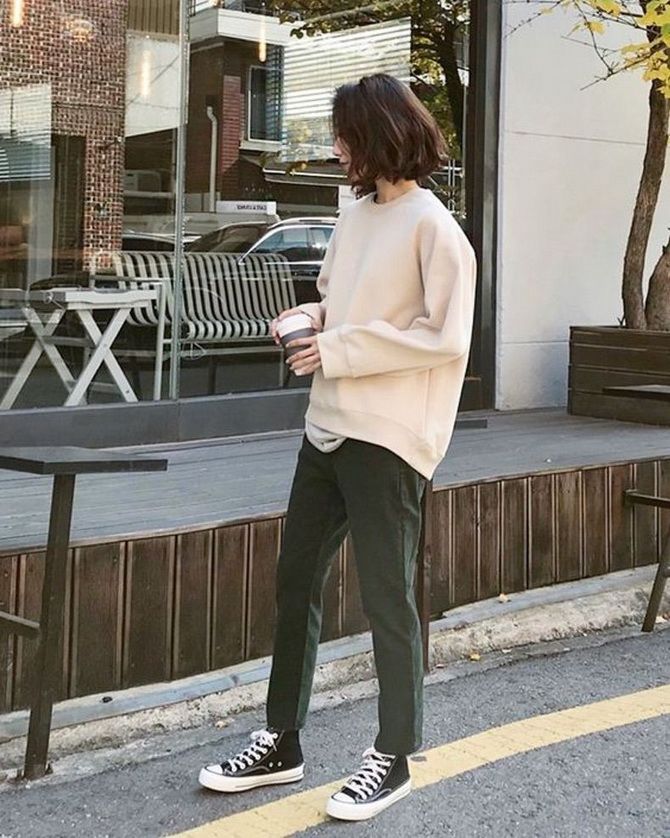 How to wear canvas shoes in 2023-2024: fashionable options for office and evening looks
If your office dress code allows you to wear different styles of shoes (at least on Fridays), catch some stylish ideas on how to combine canvas shoes with business clothes.
With a trouser suit
Three-piece suits with vests and jackets became a hot trend in the spring of 2023-2024. Fashion brand Rag & Bone decided to go further and presented its spring-summer collection of classic clothes in combination with white sneakers. It turned out to be beautiful and elegant.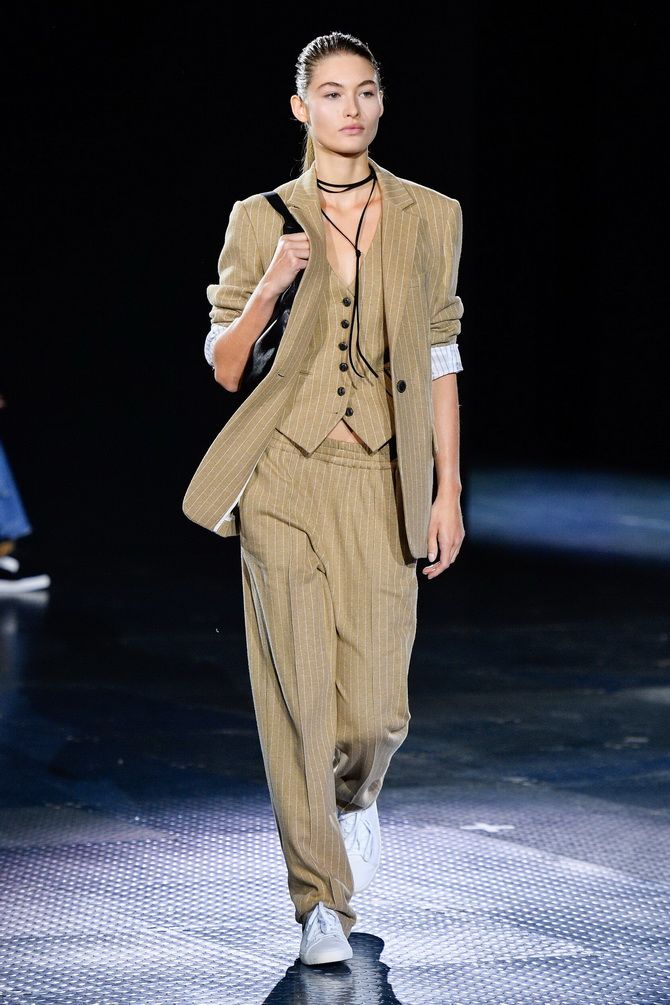 Another option is a summer pantsuit and beige canvas shoes.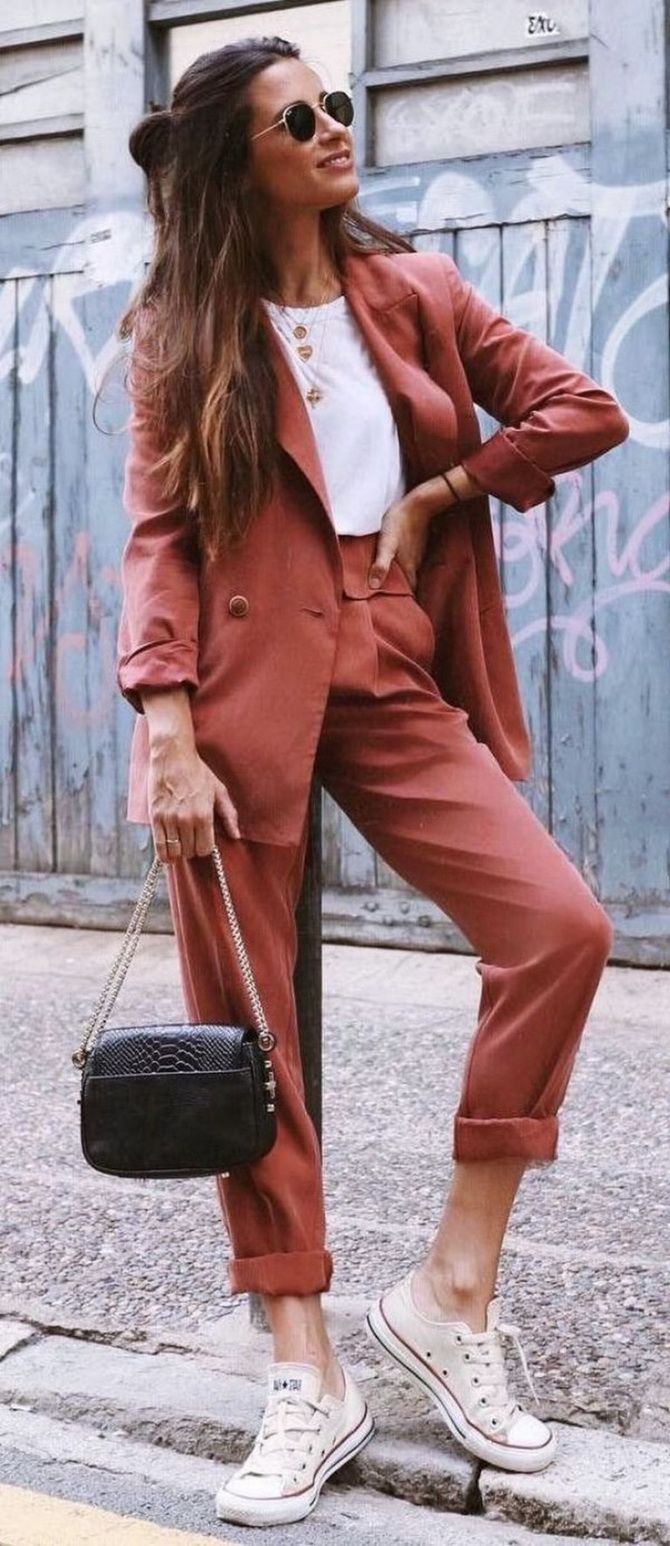 With a blazer
All stylists claim that the jacket or blazer has become the most desired purchase of the season. And fashionistas simply try on cool outfits with a jacket, jeans, skirts and sneakers on the platform. Take a look at the photos!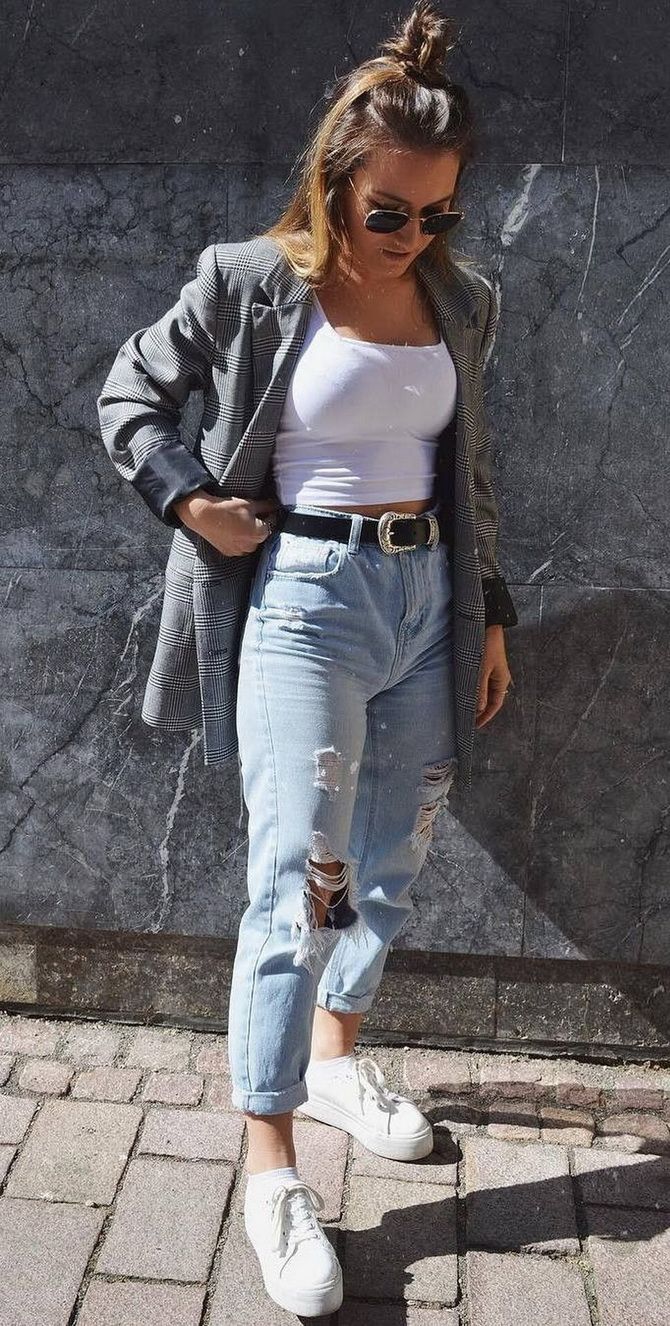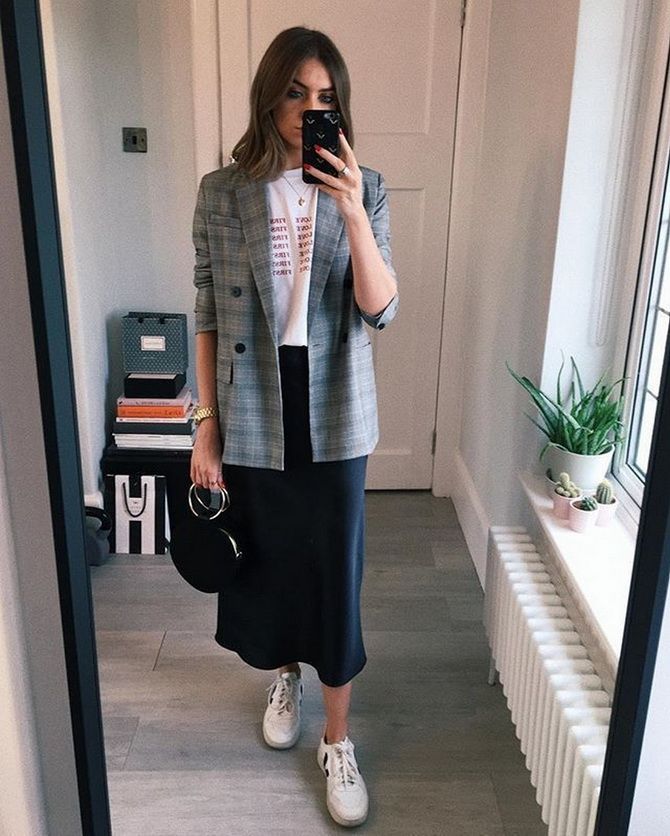 With a classic skirt
Slit skirts, that are really popular today, perfectly fit into the business outfit with sneakers. How do you think?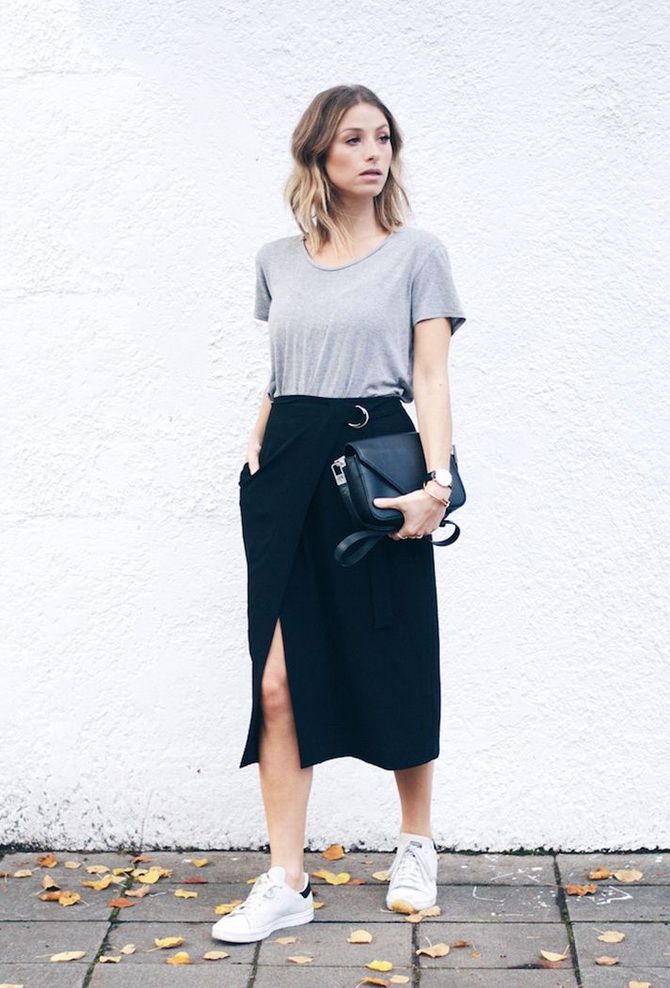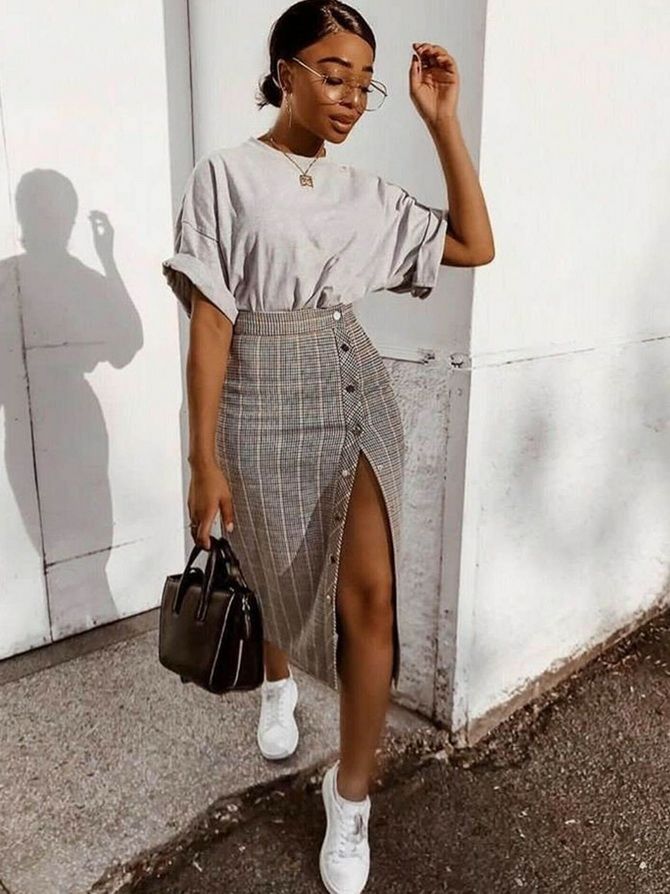 With culottes
Wide culottes have become a godsend for many women. Combine them with elegant blouses and low canvas shoes if you want to create a laconic business look for the summer of 2023-2024.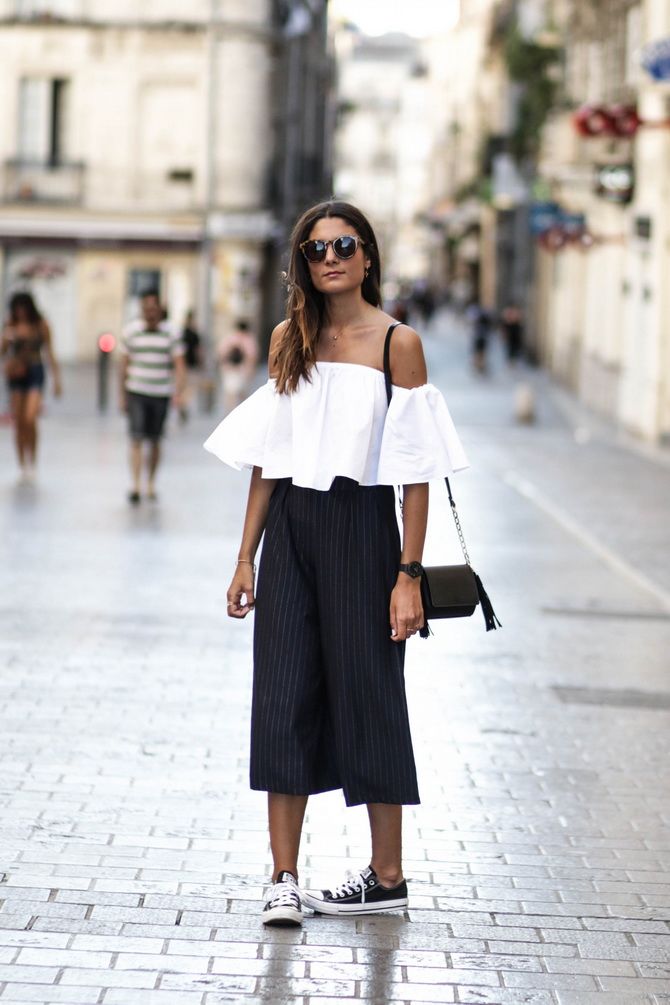 With a dress
An office pencil dress or a light A-line model with an elegant waist belt. A chic sequin dress or velvet floor-length dress can be worn with sneakers.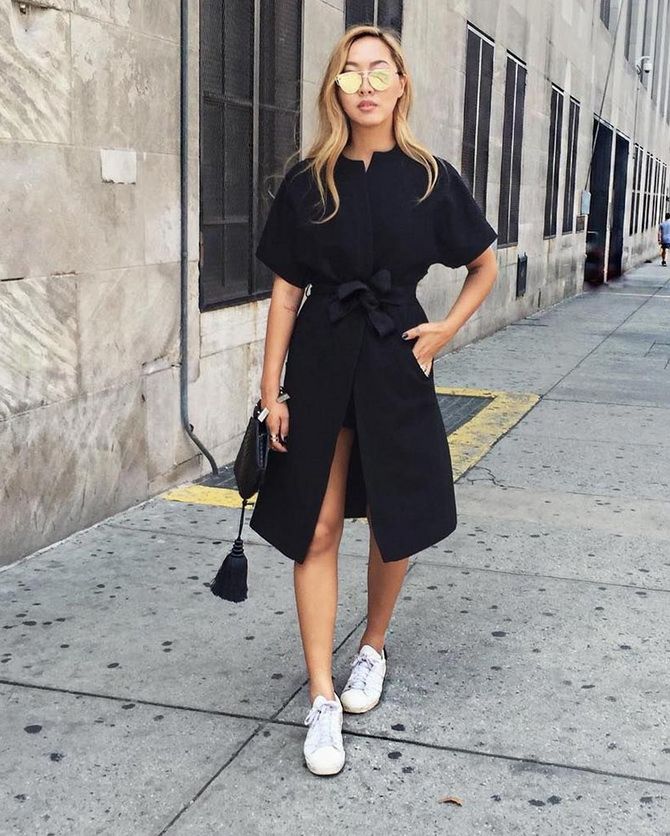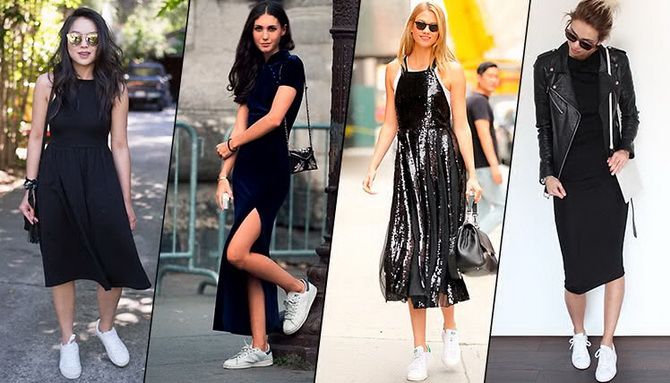 With outerwear
For fall 2023-2024, take a look at the options where white sneakers are combined with a classic trench coat, coat, or even a fur coat.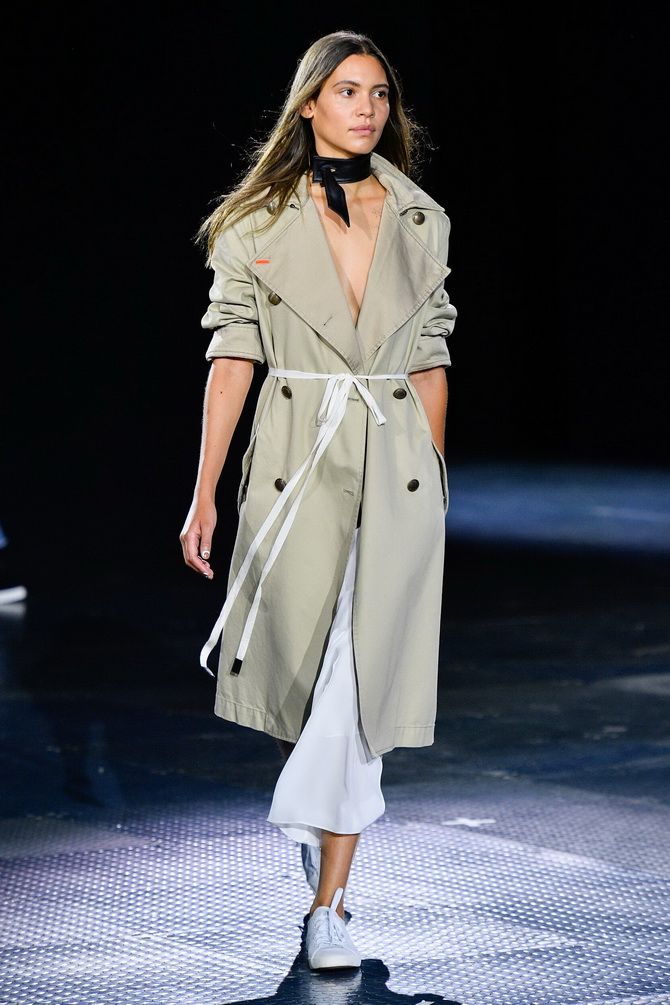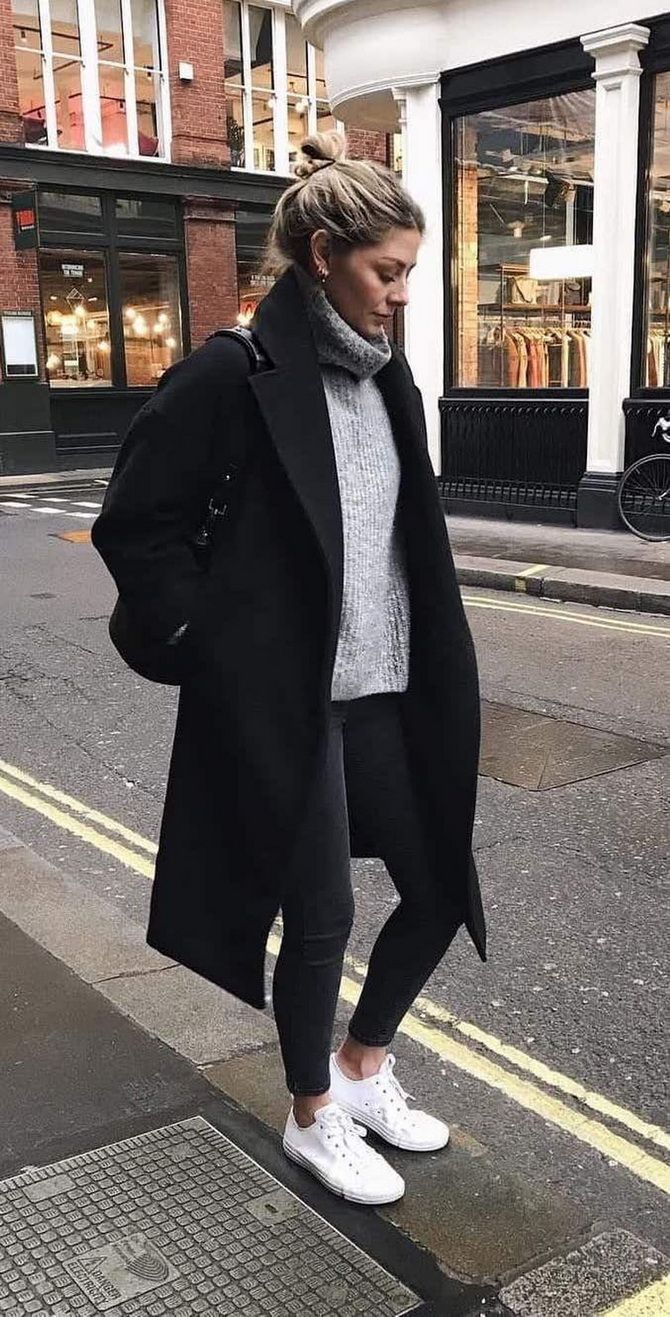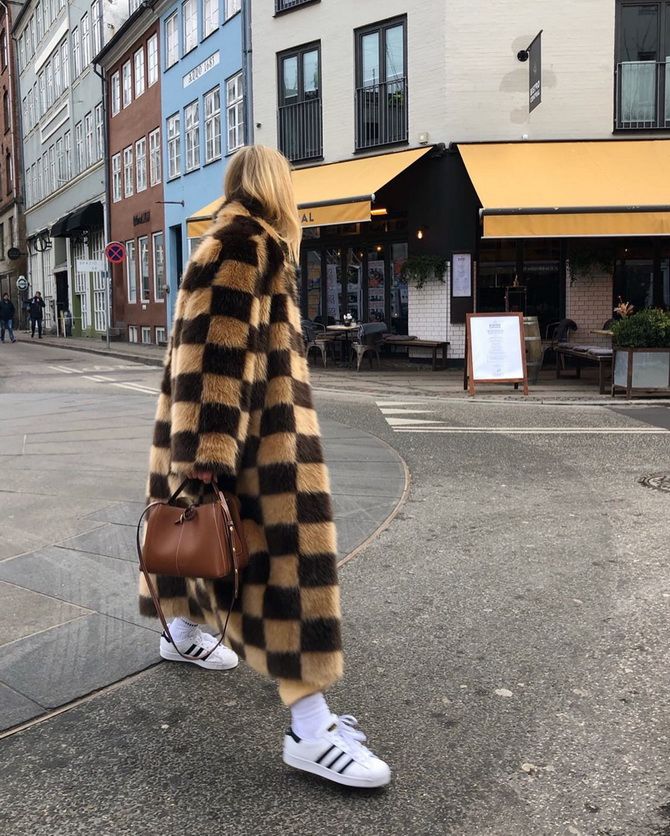 A checked faux fur coat will make an excellent duet with striped Adidas sneakers.

Similar articles / You may like this