Rice is a tasty and healthy cereal that should certainly be in our diet. Pilaf is traditionally prepared from it, but it is also great as a side dish. And it can also be combined with a variety of components, including meat and vegetables. At joy-pup, we offer easy rice options for every day.
Rice with meat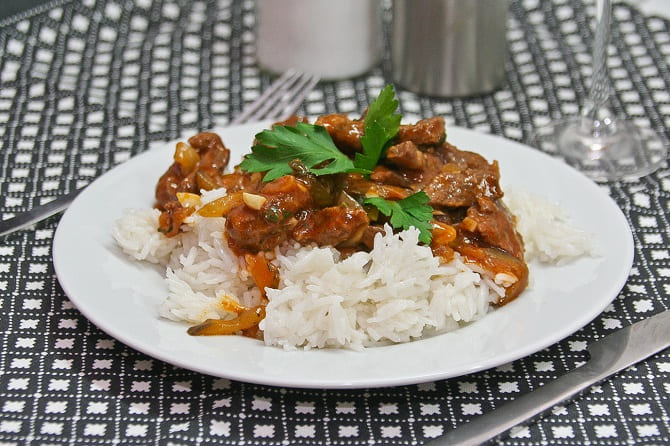 This delicious dish will appeal to anyone who loves a nutritious and healthy side dish. It is somewhat reminiscent of pilaf, but cooking it is much easier.
You will need:
Meat (lamb or beef)
Spices to taste
Finely chopped onions and carrots
Rice
Greenery
Step by step recipe:
Cut the meat into pieces.
Salt and pepper the meat.
Heat the oil in a deep frying pan and add the meat. Fry it until done.
Salt, pepper and add spices to taste.
Add onions and carrots, stew them with meat.
Add rice and cover it with half a cup of water.
When the rice boils, close the lid and bring to a boil over medium heat.
Add seasonings and herbs to taste.
Garnish the finished dish with lettuce leaves.
The resulting recipe for rice with meat can be considered complete. Enjoy a delicious meal!
Rice with vegetables
A dietary dish can be prepared almost every day. At the same time, you can safely add a variety of your favorite vegetables to rice. We offer the simplest recipe.
Ingredients:
3 cups rice
4 cups vegetable broth
1/2 cup diced onion
1/2 cup celery, diced
1/2 cup chopped carrots
1/2 cup broccoli, minced
Salt and pepper to taste
Step by step cooking
Bring water to a boil in a saucepan, add rice and cook for 20 minutes.
While the rice is cooking, sauté the vegetables in a separate saucepan over medium heat until tender.
When the rice is ready, drain the water, return it to the pot with the vegetables and mix well.
Rice with egg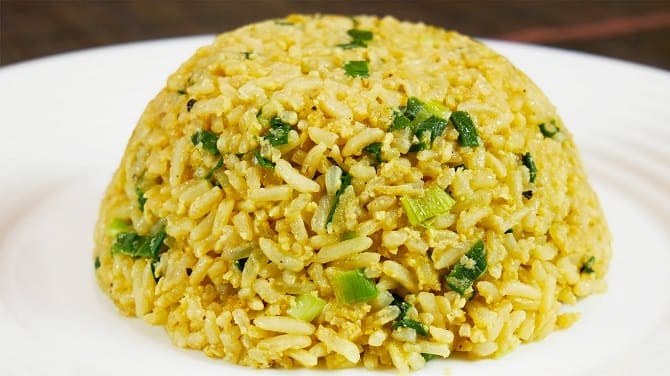 Do you want to treat your family to an original and unusual dish? Try making rice with eggs. And you can combine it with tomatoes or any other vegetables.
Ingredients:
1 cup boiled rice
3 eggs, beaten
1 cup milk
Onion garlic
Salt and pepper to taste
How to cook?
Melt the butter in a frying pan over medium heat.
Add onion and cook until soft. Add garlic and cook for another minute.
Add rice and stir until combined with onion and garlic.
Pour the eggs into the skillet, stirring constantly until the eggs are on top of the rice, then pour in the milk.
Season with salt and pepper and cook until tender (about 5 minutes).
Serve warm with your favorite toppings!
Rice with seafood
A great option for those who love hearty and at the same time dietary dishes. You can choose from a variety of seafood options for this dish.
Ingredients:
1 cup rice, unprocessed
2 cups of water
0.5 kg shrimp, peeled
Soy sauce
Sesame oil
Honey
garlic powder
Corn starch
Black pepper, salt
Step by step recipe:
Add rice to a large saucepan and cover with water. Bring to a boil over high heat, then reduce heat to low. Cover and cook for 20 minutes until all water has been absorbed. Remove from heat and let stand covered for 10 minutes. Whisk with a fork, set aside in a large bowl and cover with foil to keep warm while you prepare the rest of the ingredients.
In a large skillet over medium heat, sauté the shrimp in 1 tablespoon of oil until pink on both sides, about 3 minutes per side, or until cooked through (remove excess liquid). Remove from the pan and set aside in another bowl, covered with foil to keep warm while you prepare the sauce for this dish!
In a small bowl, combine soy sauce, sesame oil, honey, garlic powder, black pepper, salt, and corn starch. Whisk together until smooth.
Combine ingredients and serve hot.
Similar articles / You may like this