When the temperature rises outside, cravings for hearty and hot foods decrease. Summer soups give strength for everyday work, refresh, are easier to digest than rich winter stew, and the flavors of summer are captured in cold dishes. At low temperatures, the flavors are not as strong, so summer soups always need to be seasoned a little more. We at Joy-pup offer soup recipes that are served cold – they will not only cool you down, but also surprise you with completely new tastes.
Cold vichyssoise soup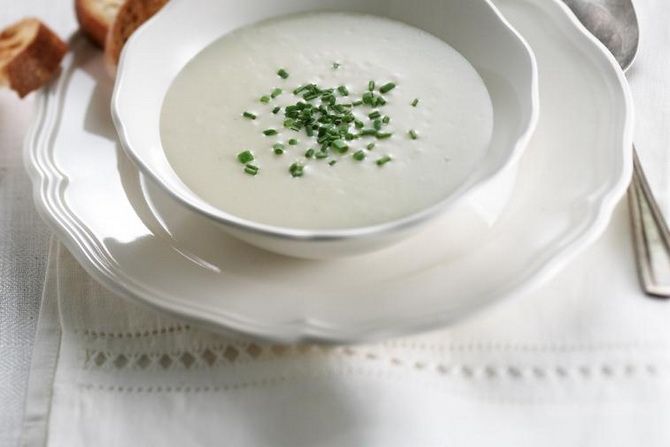 Ingredients:
butter – 30 mg;
leek – 3 pcs.;
onion – 1 pc.;
potatoes (medium) – 3 pcs.;
cream (20%) – 200 ml;
vegetable or chicken broth – 750 ml;
salt and pepper – to taste;
green onions for decoration – 15 mg.
Recipe
Peel, wash and cut all vegetables.
Fry the leeks and onions in a skillet with butter, stirring, not allowing them to brown.
Put the potatoes in a saucepan, add the broth, salt and pepper to taste. Cook without a lid over moderate heat for 30 minutes, 10 minutes before the end, transfer the browned onions to the pan.
Transfer the mixture to a blender or food processor (or remove from heat and use a hand blender in a saucepan) and puree until smooth, add cream.
Let the soup cool and refrigerate for at least 4 hours or overnight. Season to taste with salt and pepper and serve sprinkled with green onions.
Cold gazpacho soup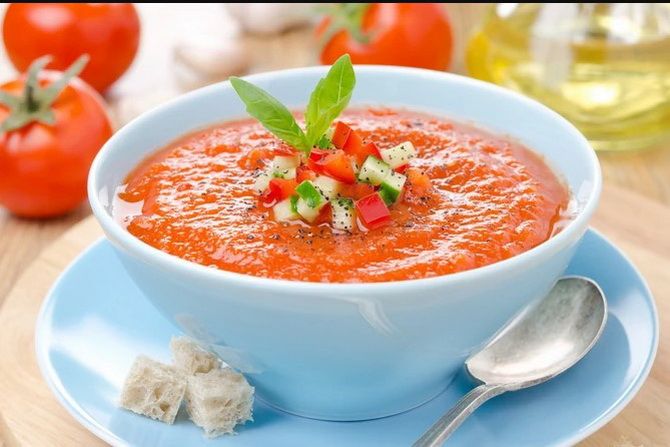 Ingredients:
garlic – 3 cloves;
large tomatoes – 3 pcs.;
medium cucumber – piece;
green pepper – 1 pc.;
red pepper – 1 pc.;
onion – 1 pc.;
olive oil – 80 ml;
balsamic vinegar – 2 tbsp. l.;
greens of your choice;
salt, pepper – to taste.
Recipe
Tomatoes and peppers can be scalded with boiling water or grilled for about 8 minutes. Allow them to cool slightly, remove the skin from the vegetables, and then chop everything coarsely.
Put everything in a blender, add chopped cucumber, onion, garlic and chop well.
While the blender is running, gradually add the olive oil and balsamic vinegar.
Add chopped herbs, salt and pepper to taste.
Put the gazpacho in the refrigerator for 3-4 hours to cool, then serve.
Cold soup with cucumber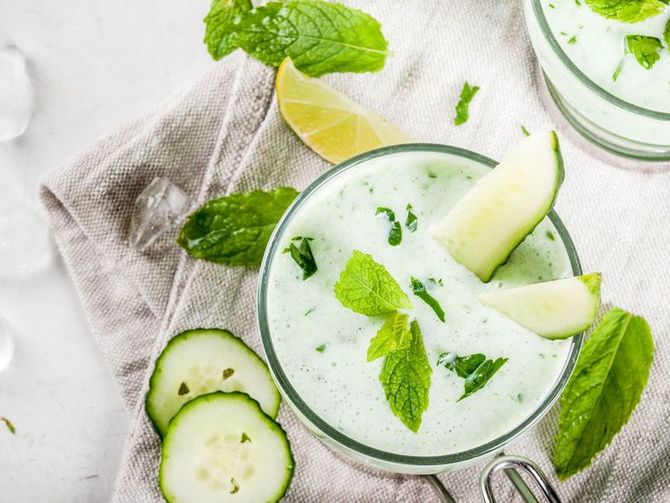 Ingredients:
cucumber – 1 pc.;
yogurt – 400 ml;
buttermilk 150 ml;
dill – 1 bunch;
mint – 1/2 bunch;
salt – 1 pinch;
cayenne pepper – 1 pinch;
olive oil – 1 tbsp.
Recipe
Wash, peel and grate the cucumber on a coarse grater.
Mix cucumber with yogurt and buttermilk. Puree half of the mass, then mix everything together.
Wash the dill and mint, dry and chop finely. Add greens to yogurt-cucumber mixture.
Season everything with salt and cayenne pepper and refrigerate.
Serve in soup bowls, drizzling with a little olive oil.
Cold beetroot soup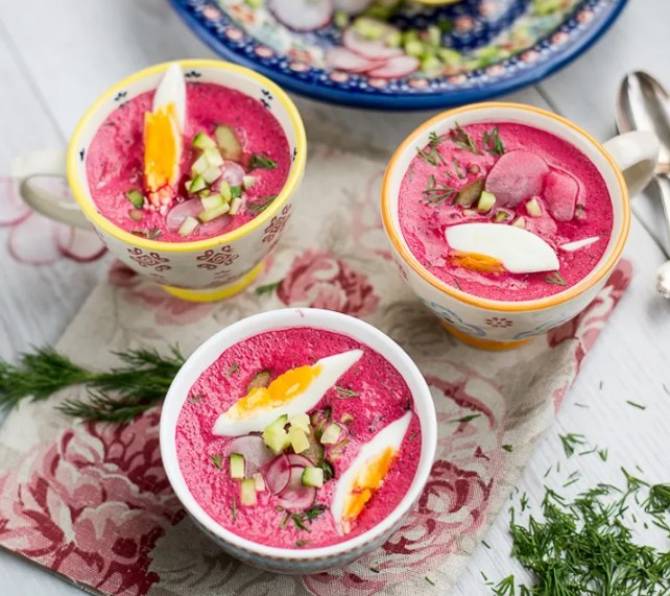 Ingredients:
beets – 600 g;
chicken or vegetable broth – 500 ml;
sugar – 1 tbsp. l.;
buttermilk – 300 ml;
Greek yogurt – 150 ml;
lemon juice – 1 tbsp. l.
sugar – 1 tbsp. l.
salt, black pepper.
For decoration:
fresh dill;
green onions;
cucumber – ½ pc.;
radish – 4 pcs.;
hard-boiled eggs – 2 pcs.
Recipe
Wash the beets well, but do not peel them. Place in a pot of water, bring to a boil. Reduce heat and simmer covered for about an hour or until soft. Instead of boiling, beets can be baked in the oven for 45-60 minutes until soft.
Remove the beets from the pan or oven and cool. You can boil beets the day before cooking.
Grate chilled beets on a coarse grater, pour in chicken or vegetable broth, add sugar. At this stage, you can, if you want, lightly beat the soup with an immersion blender – this will give a richer color and creamy consistency.
Add buttermilk, yogurt to cold soup and stir. If the soup tastes sweet, add lemon juice. Season with salt and a pinch of black pepper.
When serving, add finely chopped fresh dill to the plate and garnish the soup with cucumber and radish. Traditionally, this cold soup is served with boiled eggs.
Tarator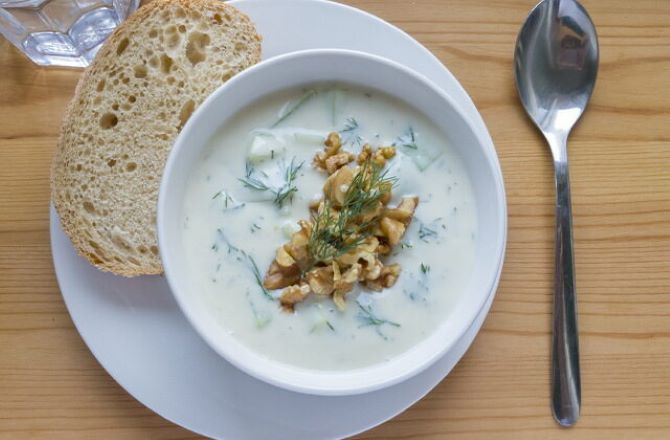 Ingredients:
cucumber – 1-2 pcs.;
yogurt – 600 g;
garlic – 3 cloves;
water – 50 ml;
chopped walnuts – 100 g;
fresh dill – 1 bunch;
olive oil 2 tbsp;
salt.
Recipe
Wash the cucumber, peel and cut into very small pieces or grate on a coarse grater.
Lightly salt to taste and add yogurt, chopped walnuts, olive oil.
Wash the bunch of dill and finely chop, add to the cucumber and mix.
Peel and crush the garlic, add it to the soup and dilute with a little water if necessary to get a thinner consistency.
Put the tarator in the refrigerator for 2-3 hours or serve immediately with ice cubes.
Read also:
How to cook okroshka: a favorite summer dish
Cold borsch: how to cook a nutritious dish for the summer?
How to cook green borscht
Similar articles / You may like this